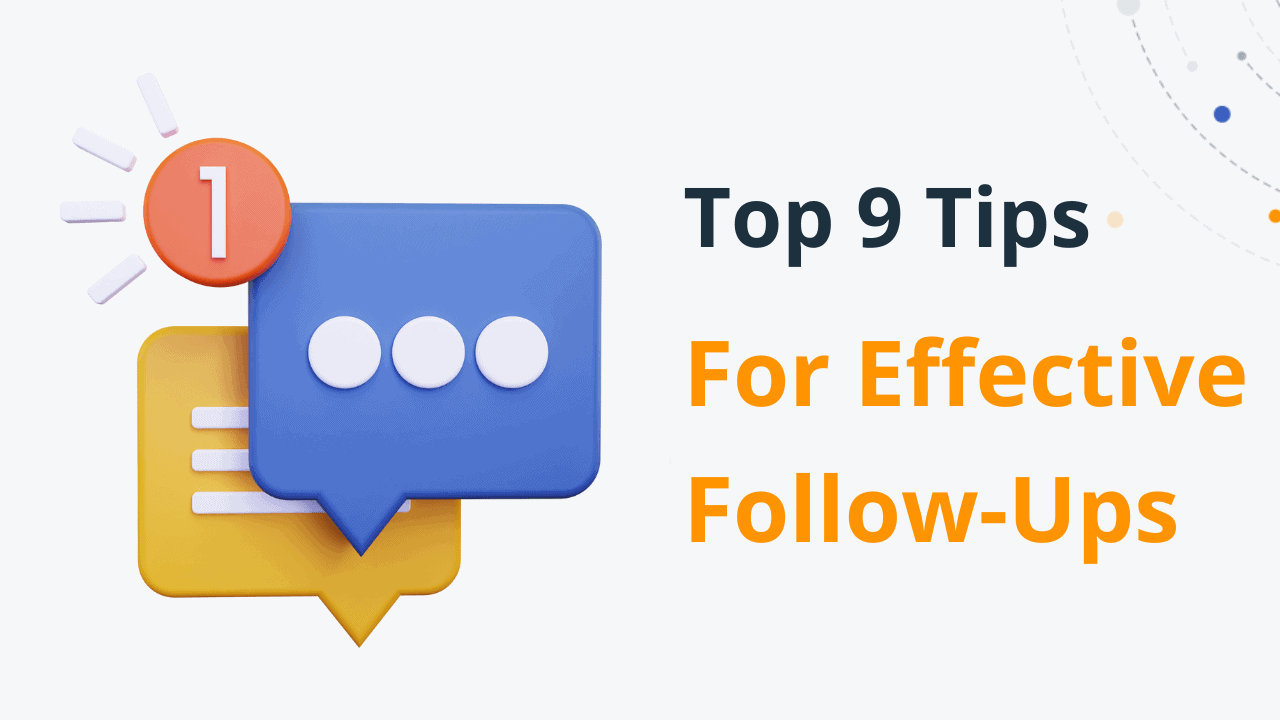 9 Practical Tips: How To Effectively Follow Up With Clients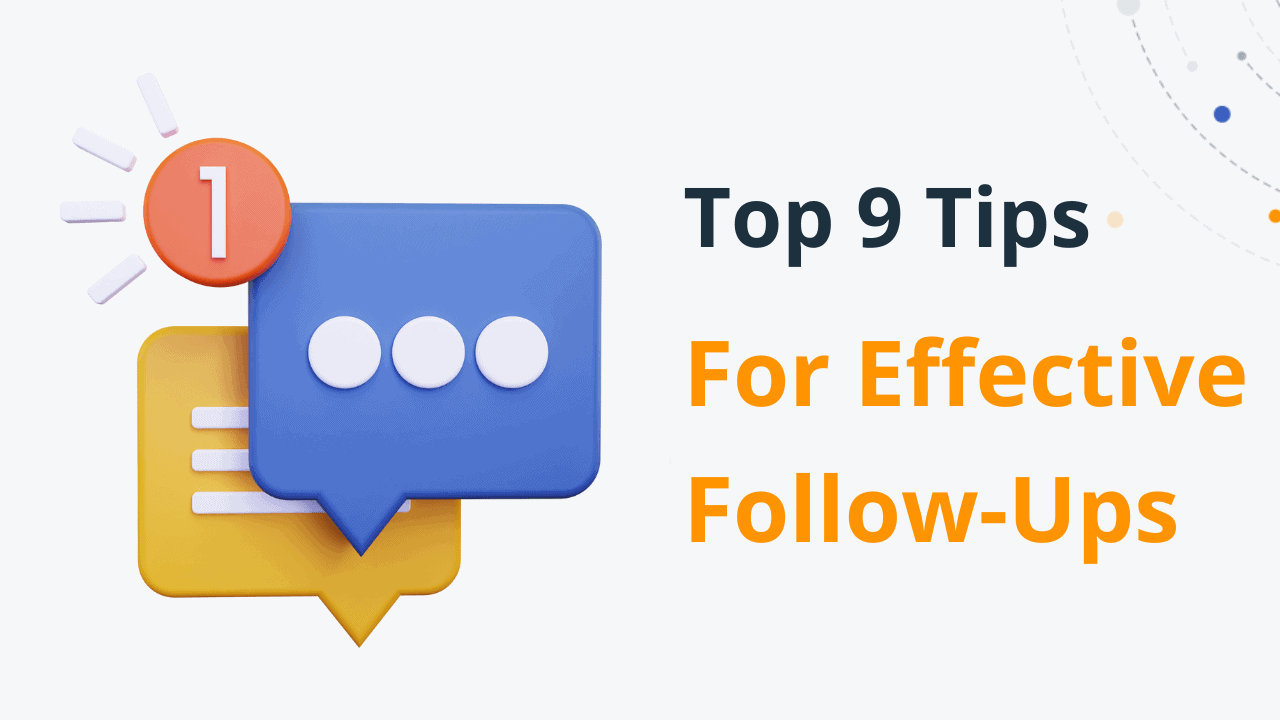 Knowing how to follow up with clients and prospects is one of the most useful skills in business.
No matter how much your existing or potential client is interested in your products or services, similar to all of us, they have an information overload and their attention has to switch from one task to another constantly.
Follow-ups are an effective way to win your potential client's attention over and reconnect. While following up might not seem the most comfortable thing to do, when done right, it is highly effective.
In this article, you'll learn 9 tips on how to follow up with clients effectively.
Examples when you need to follow up
There are different reasons why you might need to follow up with a client:
Get feedback;
Remind about payment;
Close a sale;
Ask for more information;
Get a referral;
Ask for a testimonial;
Request project details;
Get a contract signed;
And so on.
Depending on your goal, you'll need to adjust your follow-up routine from client to client.
For example, if it's a warm contact and you want to ask for their feedback or referral, your follow-ups will be different from the ones that you send to cold contacts that you've never talked to before.
That's why next time you're drafting your follow-up email, make sure to keep in mind the goal of your message: what do you want to achieve and how to do this in the best way possible?
Top 9 tips to follow up with clients
Following up might not always be an easy task, but there are ways to take on these tasks more effectively.
Here are a few things you can do to follow up with clients and prospects more effectively:
1. Use different communication channels
There are many ways to follow up with a client.
You can send an email or a text message. You can also give them a call or connect with them on LinkedIn. You can even set up a quick call or video conference. In some cases, you might even want a face-to-face meeting.
Depending on the situation, you can try reaching out to your client or lead via different channels and see which one works best for them.
Pro Tip
. Once you find a communication channel that works for a specific client or lead, make sure to
leave a note in your CRM
. This way, the next person who'll be working with this contact will know what type of communication is more effective for this client or lead.
2. Ask what's the best way to follow up with someone
If you already have a connection established with a potential or existing client, it's better to ask them what communication method they prefer.
Some would ask you to give them a quick call while others prefer emails. By making sure that you're connecting with them via their most comfortable (or most used) channel you increase your chances of getting a response.
3. Space out your follow-ups
If you're trying to build a connection with a prospective client, keep in mind that it is not built overnight and cannot be rushed. It's better to space out your follow-ups instead of trying to squeeze them all in a short period of time.
Not getting a response straight away doesn't always mean that a lead is not interested. Sometimes it's just not the best timing. They might be wrapping up an important project or be busy with other tasks on their list.
Spacing out your follow-up messages gives you a higher chance of connecting with them once their busy period is over.
Pro Tip
. You can use the
Next Action method
to optimize your follow-up routine and space out your follow-ups.
It's so simple that you can apply it on the go without any training. According to this method, you need to have a follow-up task (a Next Action) with a due date next to every client in your database.
In OnePageCRM, you can create a locked loop of Next Actions: once a follow-up task is done, it disappears, and the system asks you to set a next one, up until the sale is made or there's no reason for any more follow-ups.
4. Don't give up straight away
Consistent follow-ups are highly-effective.
In most cases, it's not enough to follow up only one time: your clients and leads are busy and you need to do your best to get their attention. This doesn't mean that you need to spam them but a good practice is to send 2-3 follow-ups at the very least.
Be persistent while maintaining some level of patience. Some processes might take time: the more decision-makers are involved, the longer it'll take for your client to get back to you with a response.
5. Use different follow-up templates
One of the best ways to follow up with customers is to use templates. These templates can be canned messages that you send to clients. Using templates can save you time and keep your communication more streamlined.
Here are a few things to keep in mind:
Include all relevant information in your follow-ups. For example, if you ask for invoice payment, you need to provide all invoicing details. This will help avoid any unnecessary back-and-forth communication.
Personalize every email. A repetitive follow-up can look like spam. With a bit of personalization, you have a higher chance of receiving a response.
Be creative. Follow-ups don't have to be robotic. That's why you can try injecting a bit of humor. For example, sometimes there's no harm in using a funny GIF image.
6. Automate your follow-up routine
Try automating your routine as much as possible. It can be something very simple that will free up your time. Some tools can trigger a follow-up email when a specific event happens.
For example, once you create a call note, your CRM can automatically create a task for you "Follow up after the call" or even send a pre-saved email template with an introductory slide deck or any additional information you usually send after calls with potential clients.
To make the most of automation, start by mapping out your follow-up process. If there are repetitive tasks that you're doing with every new client, there's a high chance that your CRM (or any other tool you're using) can help you automate some of them.
And if there are no native integrations, you can turn to Zapier.
7. Mind the timing
If you've just finished a meeting or a call with a prospective or existing client and there's a follow-up needed, do it the same day. If you wait for too long, you'll lose momentum or even lose a lead to a competitor who can be just a bit faster with follow-ups than you are.
By sending a follow-up message or giving a phone call at the right time, you'll have better chances of getting your message across and receiving a response:
Don't send messages when you know your clients might be busy.
Avoid the morning rush or the last few minutes of the work day.
The best time to send a message might generally be around early to mid-afternoon, but this can differ from case to case.
Adjust your timing to your client's schedule (even if you don't know their schedule, you can take an educated guess on what's the busiest time for them).
You can also schedule emails or messages to go out at a certain time.
8. Always be polite
To have a profitable business, you need relationships. As they say, instead of B2B or B2C, businesses are now becoming human-to-human (H2H). We didn't invent this word, it's a legit term—you can google it.
When talking to your clients, don't forget that first and foremost they are people. As obvious as it might seem, sometimes businesses forget their manners and the importance of great follow-up etiquette.
9. Give an extra nudge if appropriate
There are different reasons why you need to follow up. Sometimes you just need to ask a client for a review. In this case, you can enclose a bonus or a voucher for every successful feedback submission.
In other cases, you need to follow up to remind clients to complete a transaction or update their application. To get their attention, sometimes you'll need to explain what will happen if they ignore this step.
What is the best follow-up tool?
The first thing to include in your follow-up workflow is customer relationship management (CRM) software. This is a system that can help you track clients, store client information, and log interactions.
If follow-ups and regular communication with clients are your number one priority, you need a CRM with proper functionality for managing follow-ups.
That's why many client-oriented businesses use action-focused CRMs that help them stay in touch with their clients in a consistent and timely manner.
Action Stream makes your follow-up routine more efficient
The Action Stream is the main feature that differentiates action-focused CRMs from all other follow-up tools. Besides the traditional A-to-Z client listing and all the usual CRM features, action-focused CRMs turn a client database into a dynamic list of contacts.
Every contact in these CRMs has a follow-up reminder with a due date assigned next to them. Contacts are automatically sorted by urgency in the Action Stream which lets you easily visualize and manage your workflow without switching from one app to another.
Follow-ups help your business grow
Follow-ups can help you reconnect with clients and win over your leads.
They are most effective when you treat your client database as a business asset and ensure that every contact has a Next Action assigned next to them. In this way, follow-ups become easy and transparent.
Although following up might seem like a daunting task sometimes, there are several ways to make them more effective:
Use different communication channels
Ask what's the best way to follow up with someone
Space out your follow-ups
Don't give up straight away
Use different follow-up templates
Automate your follow-up routine
Mind the timing
Always be polite
Give an extra nudge if appropriate