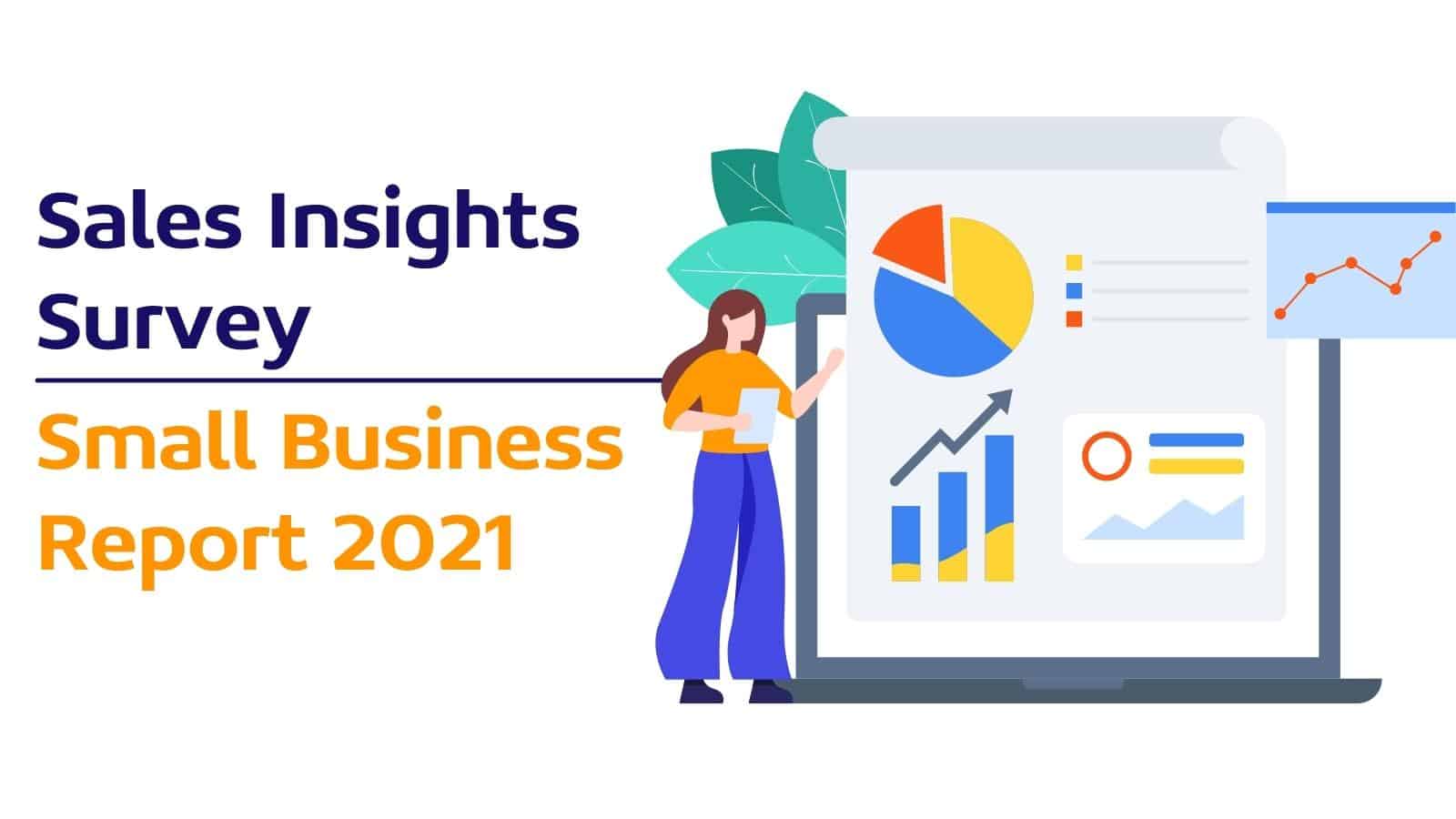 Small Business Trends for 2022: Sales Insights Survey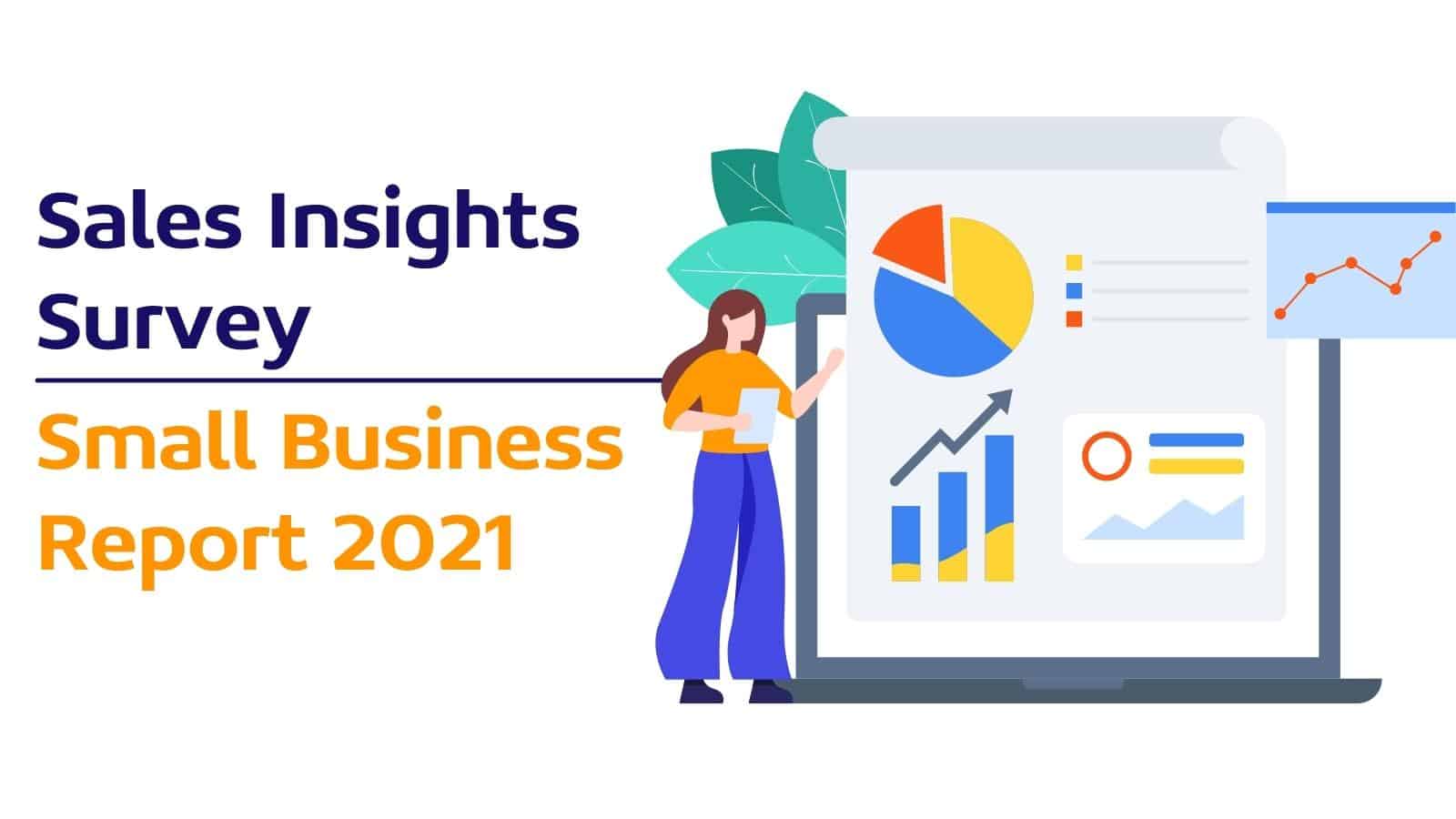 Although small businesses are the backbone of the world's economy and represent a whopping 60-70% of global employment, there is a limited number of studies that focus on their state of sales and their trends and challenges.
To better understand the sales trends and challenges in small businesses, OnePageCRM compiled results from the 2021 Sales Insights Survey.
The survey was running in December 2021 and collected responses from 108 sales professionals and business owners about their sales and business expectations, priorities, and challenges.
Here are some takeaways from the survey.
What are your top three sales priorities for 2022?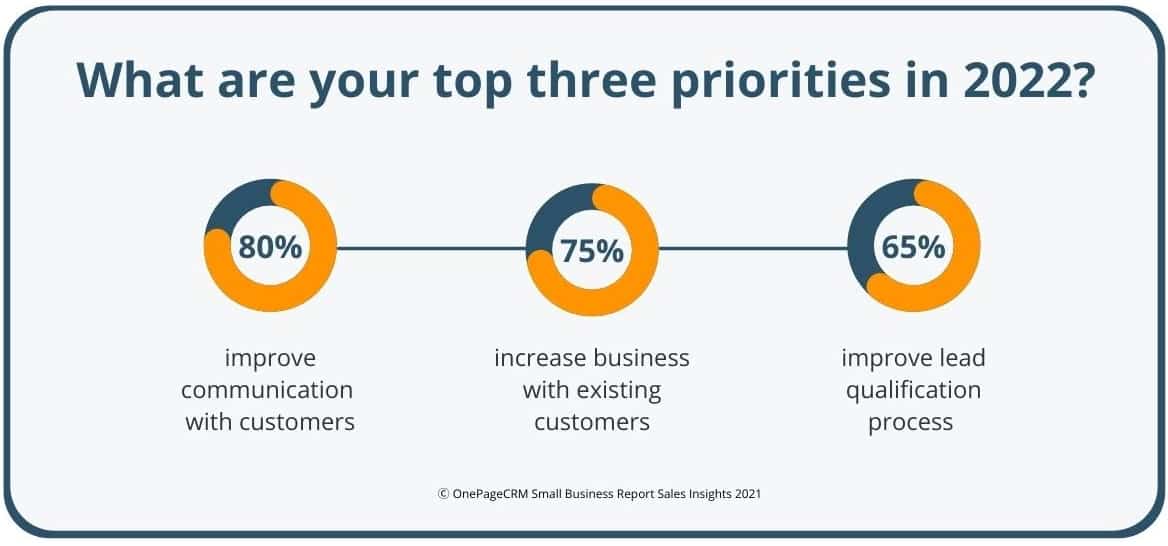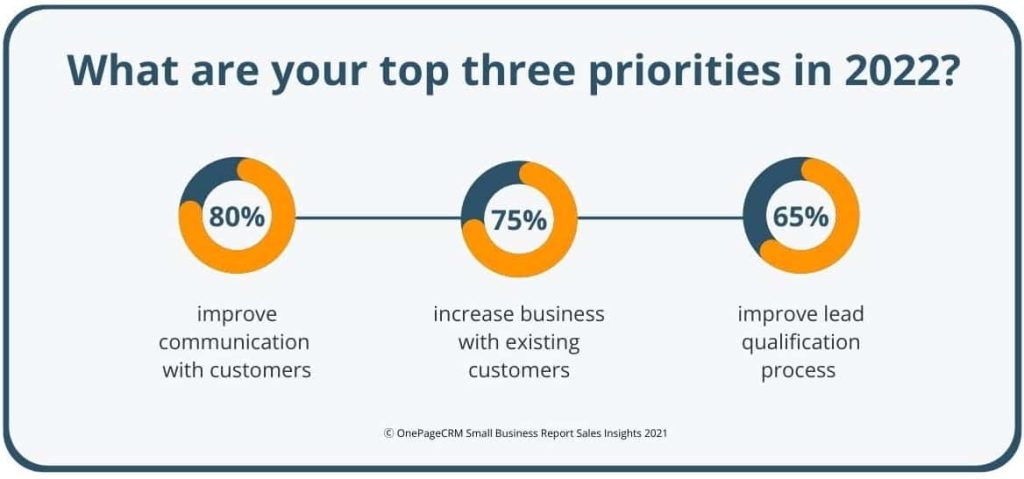 While new customers are certainly important for driving revenues, they are not the only part of the business success formula.
There are also ways to increase sales with the existing customer base. And the majority of survey respondents want to focus on building and nurturing these relationships in 2022:
80% of participants will be working on improving communication with existing customers,
75% are looking for ways to increase business with them.
65% want to refine their lead qualification process. Although there are multiple tools that help small businesses generate leads quickly and easily, not every lead will become a customer. Therefore, more businesses are now looking into how ways to qualify leads more efficiently.
What are your top three business skills to improve in 2022?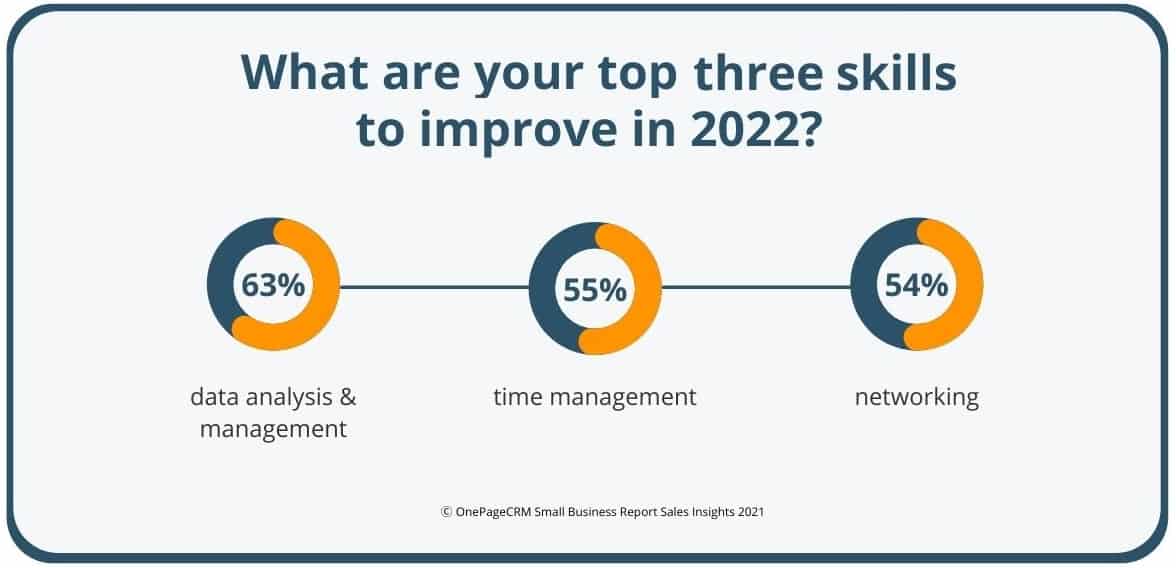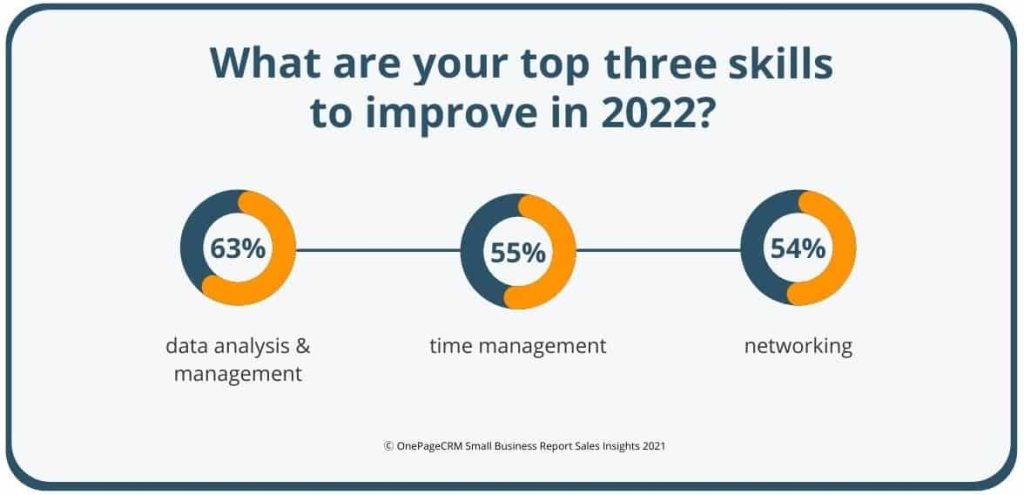 Businesses depend on data. So if you know what data you need and how to read it, you'll have a better understanding of what's going on in your business and what processes can be improved.
A few years ago everyone was talking about big data. But now it's not enough to simply collect and store data. Businesses have to learn how to translate it into actionable insights.
That's why it's not surprising that the majority of survey participants (63%) want to improve their data analysis and management skills. Interestingly, only 32% plan to use more data analytics technology in 2022.
What are the most common daily challenges in sales in small business?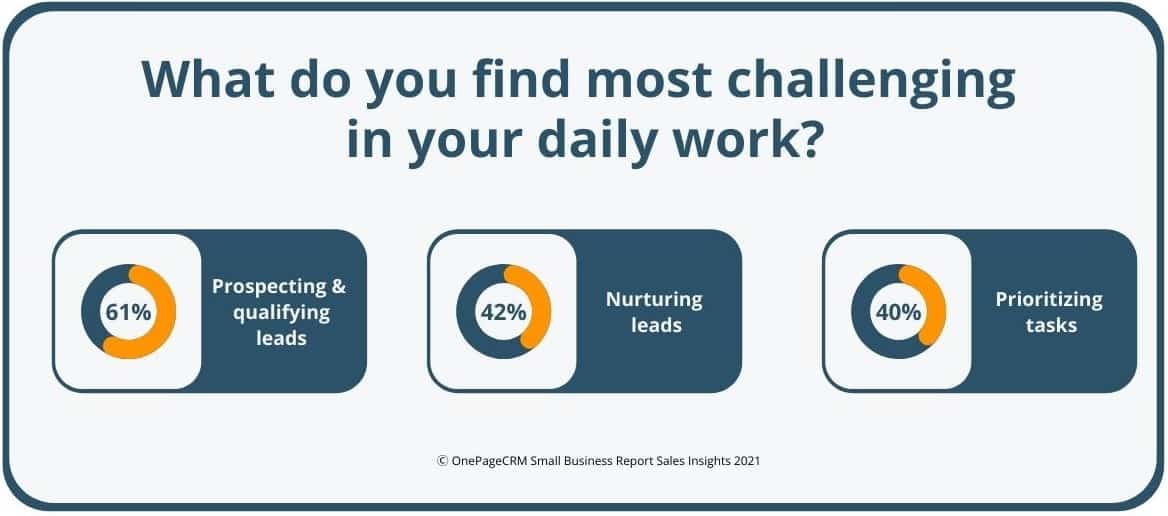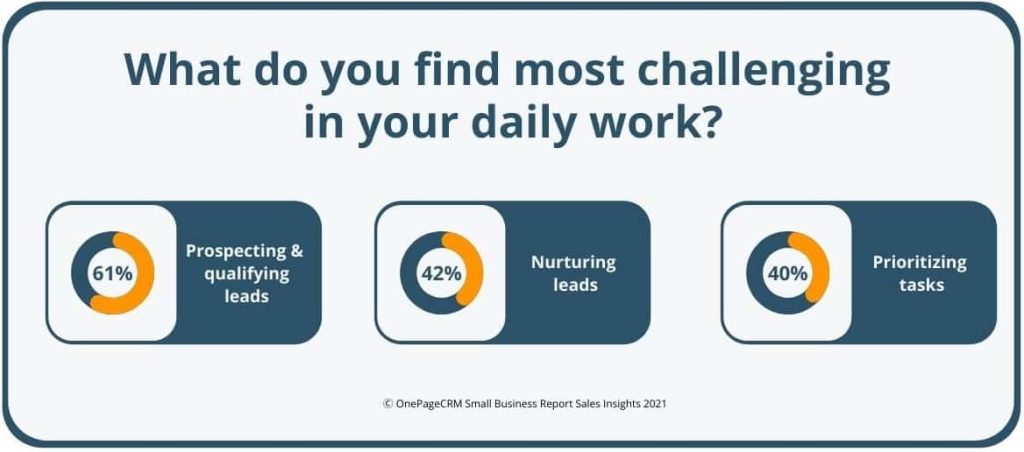 Lead management is one of the most talked-about topics in sales. It takes time to find leads, reach out to them and store their data in the CRM system. In other words, low-quality leads cost businesses money.
Most of the survey participants (61%) want to improve their lead qualification and prospecting process.
42% plan to enhance their lead nurturing techniques.
40% of sales professionals and small business owners struggle with task prioritization. And this is not surprising: with so many tasks requiring our immediate attention, it's easy to feel overwhelmed.
What is the optimal number of follow-ups?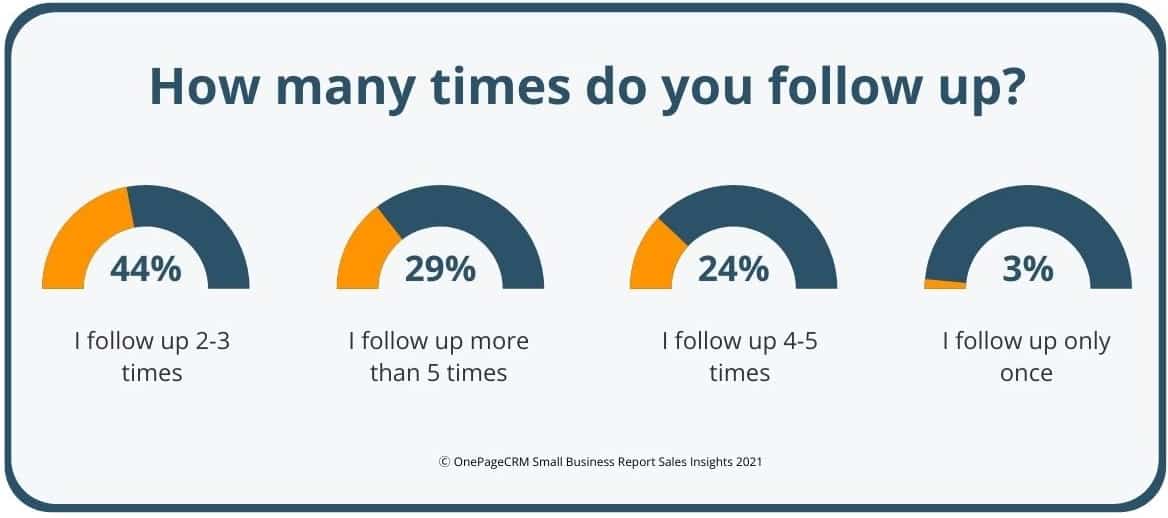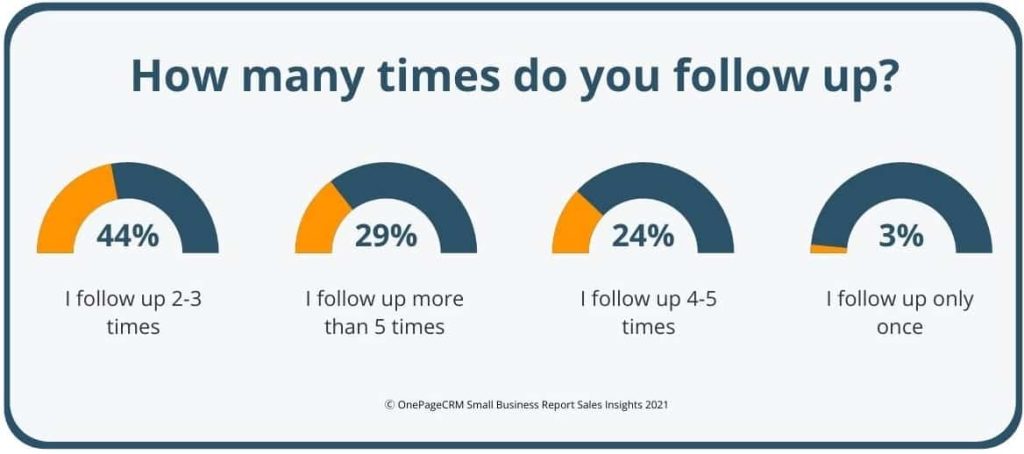 Well, the truth is: there is no magic number.
Nevertheless, there are a few things worth pointing out:
All 108 survey participants follow up at least once.
68% of respondents take a balanced approach and follow up 2-5 times.
29% follow up more than 5 times.
3% follow up only one time.
As you can see, there is no consensus on what the perfect number of follow-ups is that will get your lead to respond to your message or call.
So the real question should be "How do I follow up properly?" And there are a few things to keep in mind.
Check out the full report for tips on how to improve your follow-up game, automate routine tasks more efficiently, speed up some sales processes, and much more.
Where do small businesses find their best leads?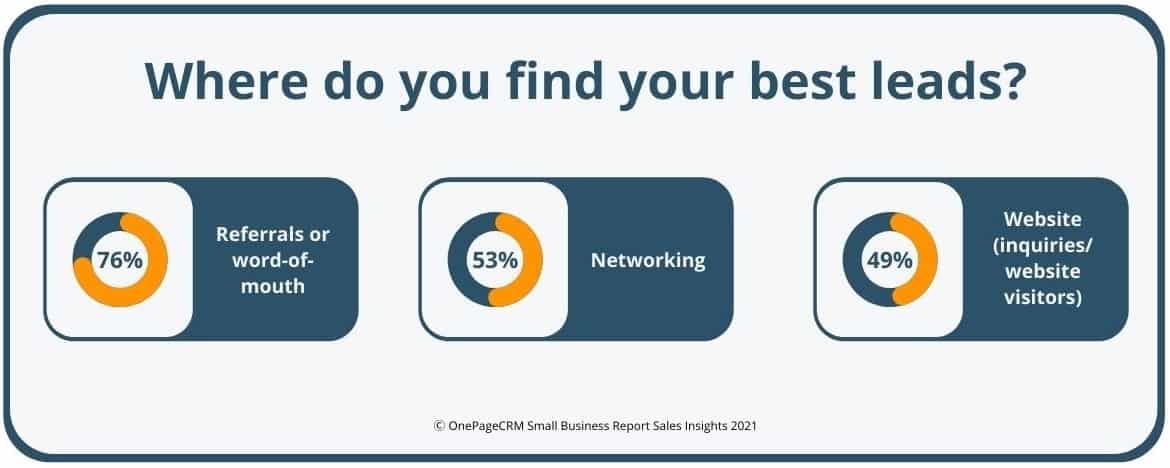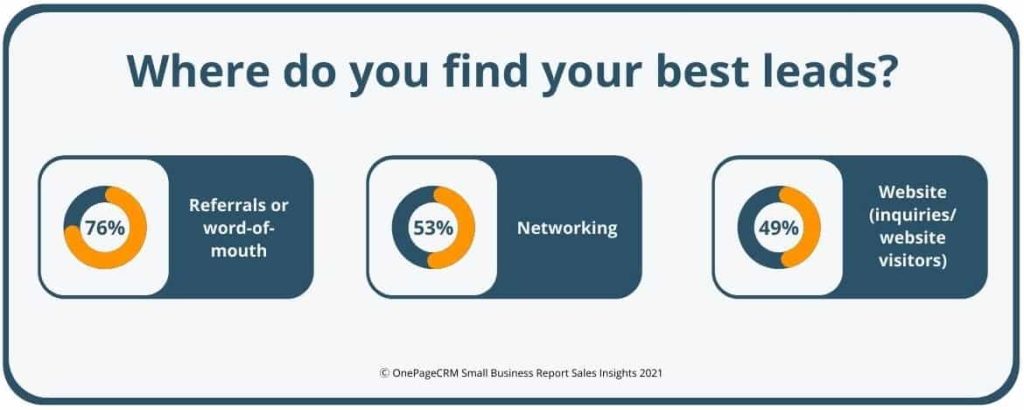 76% of survey participants find referrals (or word-of-mouth marketing) to be their best source for getting high-quality leads. After all, there are not a lot of things that can beat the good old positive customer review.
53% of survey respondents believe that networking is also an effective way to find high-quality leads.
While the world is becoming ever more digital, properly optimized websites are one of the top sources for capturing high-quality leads. If you've been thinking about optimizing your website in terms of content, performance, or overall user experience, 2022 might be a good year to start.
How do small business owners and salespeople stay on top of sales trends?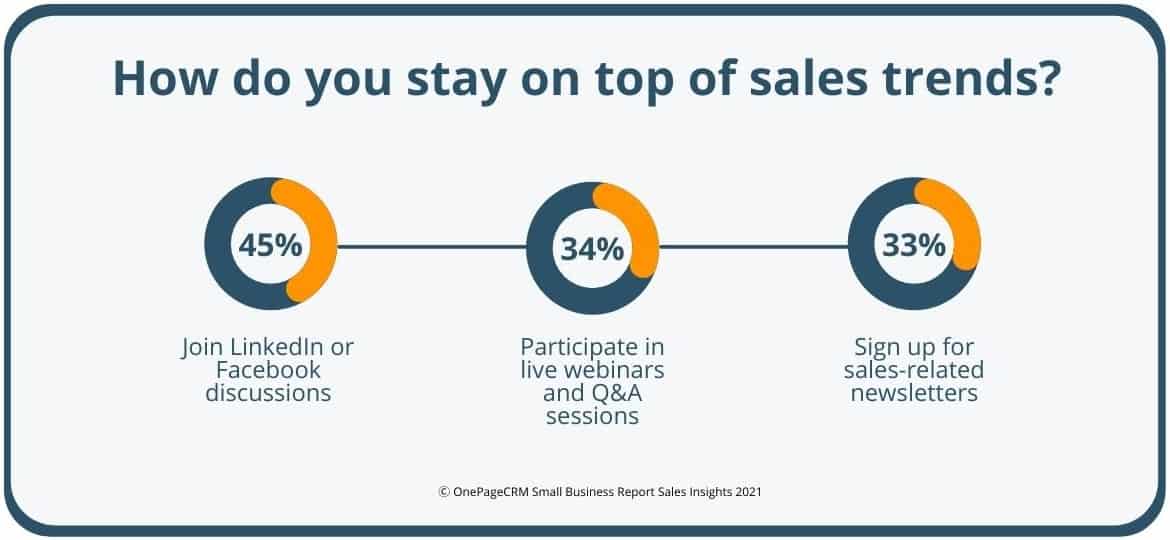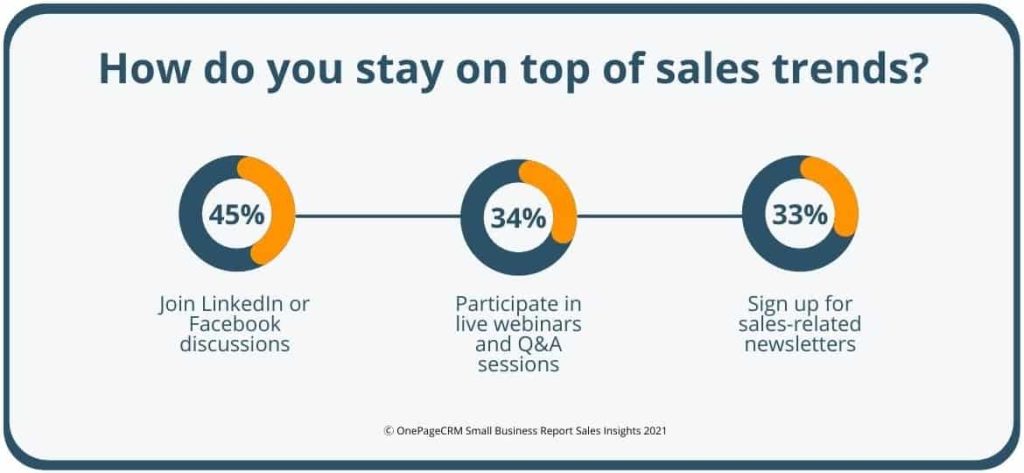 Keeping up with everything that is happening in the business world can be tough. Besides, the current business environment is rather competitive. But small business owners and sales professionals do keep their fingers on the pulse:
45% of survey respondents join LinkedIn or Facebook discussions. While LinkedIn and Facebook discussions may not be the best learning method for everybody, they provide an opportunity to talk to colleagues and peers all over the world and ask about their opinion or experience.
34% of respondents participate in live webinars and Q&A sessions. This is another form of active learning that allows for a direct dialogue between webinar attendees and industry experts.
33% of survey participants sign up for sales-related newsletters. It can be easy to drown in the information noise, but newsletters usually structure information and include only the most relevant insights. For example, OnePageCRM has a sales- and business-related newsletter, feel free to check it out.
Conclusion
There are several main insights from the survey results:
The majority of small businesses (74%) expect their revenues to grow in 2022.
Small businesses want to focus on improving communication with customers (80%) and/or increasing business with them (75%).
76% believe referrals to be their best lead source.
63% want to improve the way they analyze and manage data.
61% plan to focus on refining their prospecting and lead qualification process.
100% follow up at least once.
We are very grateful to everyone who took their time to complete the survey and share their experience and observations.
OnePageCRM is the #1 action-focused CRM that helps small businesses focus on building relationships and improving processes. In OnePageCRM, you can turn a customer database into a simple to-do list and set specific tasks next to every contact (say, send a follow-up email or schedule a call).
Learn more about how OnePageCRM works for small businesses.