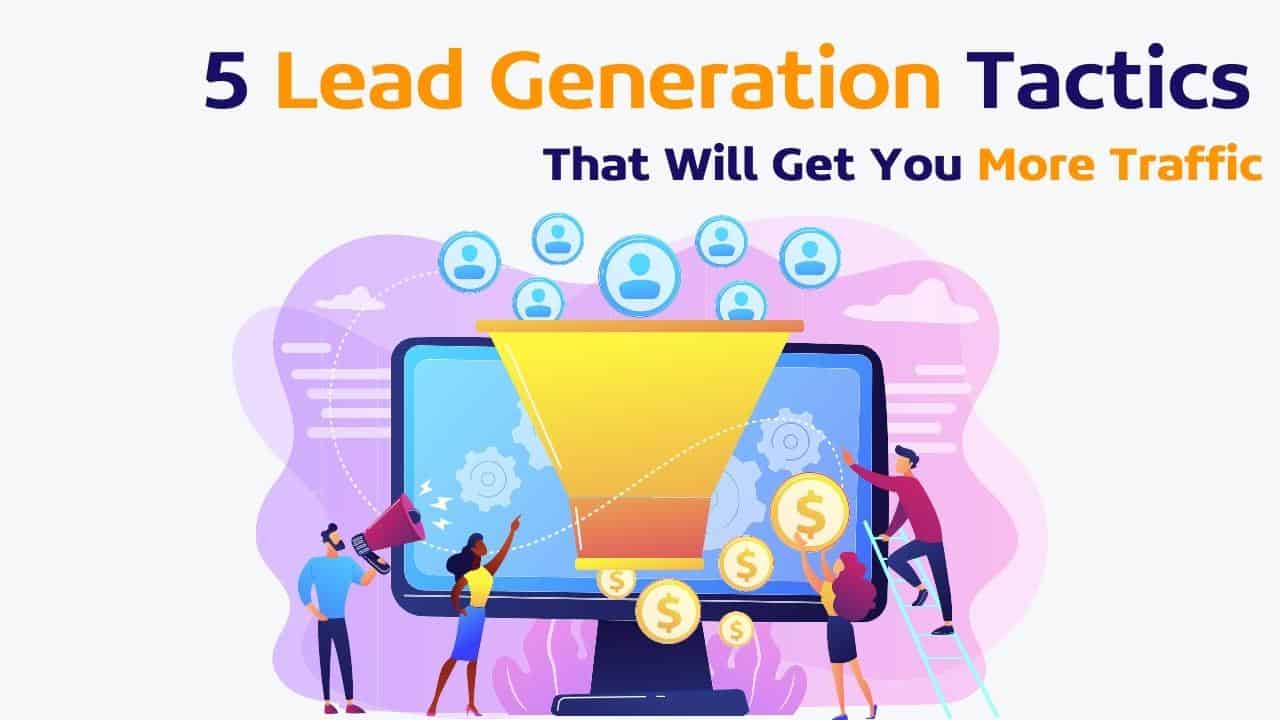 5 simple lead generation tactics that will get you more traffic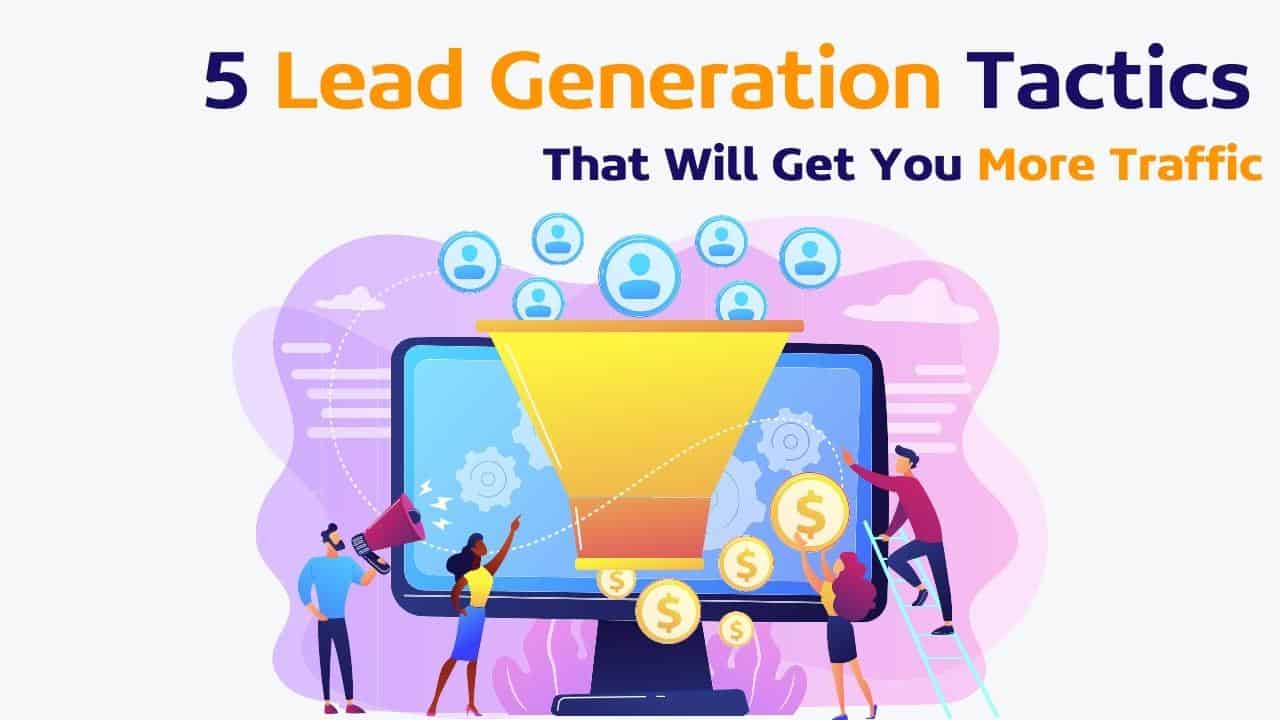 Somewhere over the past five to ten years, the curve shifted, and the lead generation process has changed. Instead of focusing on finding customers, businesses must now focus on being found.
It doesn't matter if we run a small service company or a large online shop – dealing with potential prospects and preparing them for purchase can often prove time-consuming and expensive.
What is a lead?
Let's start with the basics.
A lead is anyone who has actively shown interest in your company's product or services. Your highest converting leads will be those who engage with you before you've even realized they're on your radar.
It's much easier to sell products and services to potential customers who already know about your company. That's why lead generation is often on the very top of the small business agenda. Lead generation is the process of attracting and capturing interest in a product or service.
We all strive for that 'pre-evangelized' lead that comes ready to purchase. This is the hot prospect that knows what your store offers and what they need. Sure, they might have some questions, but they're already over the line in terms of intent to buy.
Lead Generation Techniques
Here are 5 great ways to kick start your lead generation and attract interest in your product or service:
1. Email Marketing
Email marketing remains one of the most effective and highly converting lead generation strategies.
Identify your target audience and create different segments.
Design concise and clean emails with catchy subjects. You can use one of our cold email templates for inspiration.
Create a series of funnel emails with strong calls to action (CTAs).
Include content that brings value to your subscribers. There are multiple content ideas that you can use depending on what works best for your business.
Tailor each email to your audience.
Measure results and optimize.
We also have a good webinar recording (no registration required) for those who want to learn more about how to solve the most common email marketing problems.
Recommended tool: Mailchimp allows you to send targeted email marketing campaigns to your prospects.
2. Landing Pages
Landing pages are great for generating leads as they can be highly customized.
That's why before creating a landing page, you first need to determine your target audience. Different buyers personas require different landing pages.
For example, a website offering accounting services to small businesses can have an optimized landing page for IT consultants with different imagery, text, and use cases to demonstrate its value.
Although the content of every landing page should be different and valuable to a specific audience, there are some common guidelines when it comes to creating landing pages for lead generation:
Work on the structure of your landing page. Make it both simple and informative.
Include calls to action throughout the page (where necessary).
Add testimonials from your customers. Besides listing all your benefits, let your clients explain why your product or services are great.
Optimize text for search engines.
Pay attention to user-friendly design.
Recommended tool: Unbounce and Colorlib offer a variety of templates that you can customize and embed on your website for capturing leads. 
3. Social Media
By using social media platforms such as Twitter, you can target leads who are actively searching for a product like yours. What's more, you can see if any of your competitors have already contacted them and adjust your message accordingly.
Determine where your audience is. Do you really need to have multiple social media profiles if most of your existing and potential customers are on Facebook?
Assign specific, measurable, achievable, realistic, and timely (SMART) goals to every channel. For example, you might want to use LinkedIn to grow engagement and Twitter to decrease your customer service response time.
Be consistent with your messaging across different social media platforms.
Adjust posts to meet the specifics of each channel. For example, Instagram is great for visuals whereas Twitter is a text-rich platform.
Don't forget to optimize your profile. Make sure that the company description is up-to-date and relevant.
Identify the key search terms your customers are using and reply to them.
Recommended tool: Hootsuite is a go-to social publishing tool for targeted lead generation.
4. Trade shows and events
By attending trade shows and events, you have the opportunity to engage with prospects who are actively seeking a business like yours to fulfill a need. This is the perfect opportunity to showcase your product and its effectiveness in meeting these needs. Ensure you are prepared to capitalize on these leads by making it easy for them to register their interest.
Recommended tool: Use your CRM to record their details and always set a Next Action to follow up.
5. Content Marketing
Become a thought leader in your industry by sharing valuable content with your network.
Make it easy for potential customers to learn more about your business and industry by offering blogs and e-books.
Be consistent in your approach, devise a 6-month content promotion plan, release fresh content on a weekly or twice-weekly basis, and adhere to it. Your customers and potential customers will come to anticipate your updates, with your business being seen as a trusted knowledge resource.
Why is lead generation important?
Marketers need to find new ways to reach buyers and get heard through the noise.
Lead generation can mean the difference between your sales team, cold calling, and 'interest' calling. It is not an aggressive tactic; think of it as a way of warming up potential customers, getting them on the path to eventually buying.
For example, a perfect stranger could stumble upon your website, having clicked through from a killer blog post headline they saw on social media. They value your content so much, they decide to subscribe to your newsletter and hey presto…. the perfect stranger becomes a high-potential lead!
Your marketing team can now begin the lead nurturing process by emailing this lead with high-value content. As the lead becomes more engaged, you'll begin building a customer profile, including their interests, pains, etc.
Then it's over to sales to hopefully finalize the deal.
How to make lead generation effective?
Let's say you managed to generate traffic to your website.
Potential customers visit your homepage and read about products and services, and advantages over other products. I am assuming you already have a contact webform on your website. Someone fills it out and submits it – but what then?
In most cases, you (or someone in the office) receive an email with visitor's data, have to type it into your CRM, assign a new task to the selected person, set a deadline…ufff – lots of things to do, lot's of stages that may interrupt the whole sales process.
And we want to scale our business without additional big costs!
To achieve that, you need to automate some of your tasks. For example, if your web forms are integrated with your CRM system, all of these steps above can be done automatically as soon as a new lead submits their contact details.
Besides integrating your CRM with an online web form builder, you can also connect it to Mailchimp or any other marketing automation software. This way, by using features of different apps, you can explore what the best way is to speed up your lead generation.
Pro Tip. With OnePageCRM's smart Web Forms, all new leads will also be assigned to a selected team member with a predefined task and due date (e.g. ASAP). You will also know how many people submitted your form, since all the leads can have a lead source assigned.
Infographic: 5 strategies to use lead generation in a small business
While lead management falls into the domain of sales, lead generation is mostly done by marketing.
By making sure that your sales and marketing goals are aligned, you can grow your business more efficiently.
Below you'll find five strategies to grow your business:
Build a strong website. Did you know that 68% of online experiences begin with a search engine? (Source: Ahrefs) Your website is an important part of the lead generation process. It helps prospects to learn more about your company, products and services. But keep in mind that a great website is not only about a nice design, you also need to test your website for accessibility.
Host local events. Whether it's a virtual, hybrid or in-person event, it can help you connect with potential customers in your area and tell more about what you do.
Create coupons. Who doesn't like perks? Besides, digital coupons can be a great way to track your lead generation efforts.
Build an email list. In email marketing, you need a relevant audience who's interested in your products. It takes time to build a trusted email list. Make sure that you action every new contact and provide value to your customers (both existing and potential ones).
Build a social media presence. According to Statista, in 2020, more than 3.6 billion people were using social media. And the number will continue to grow. This means that social media will be remain one of the main channels to reach new customers.
Let's summarize these strategies in a nice infographic below (including LinkedIn tips for small businesses).

Editor's Note: This blog post was originally published in June 2016 but updated for freshness in January 2022.