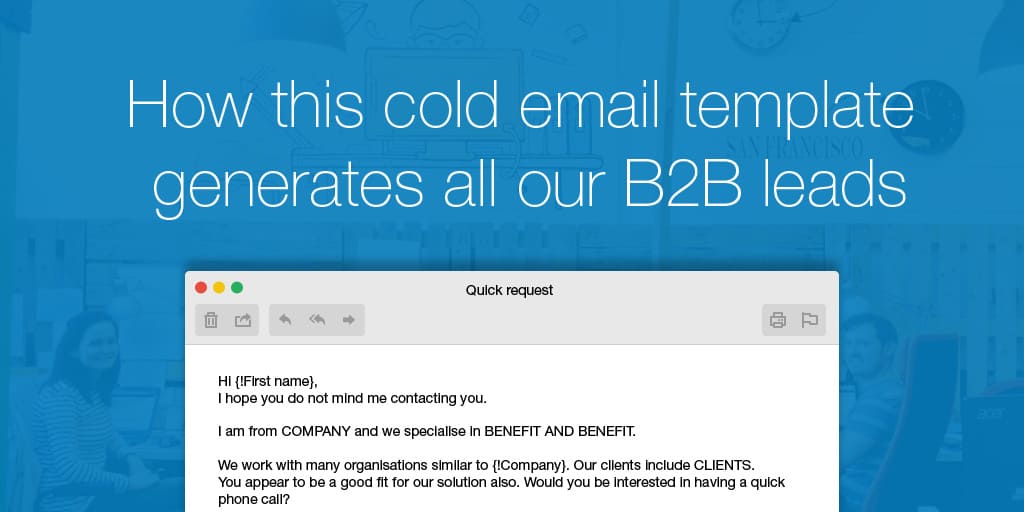 The cold email template that generates all our B2B leads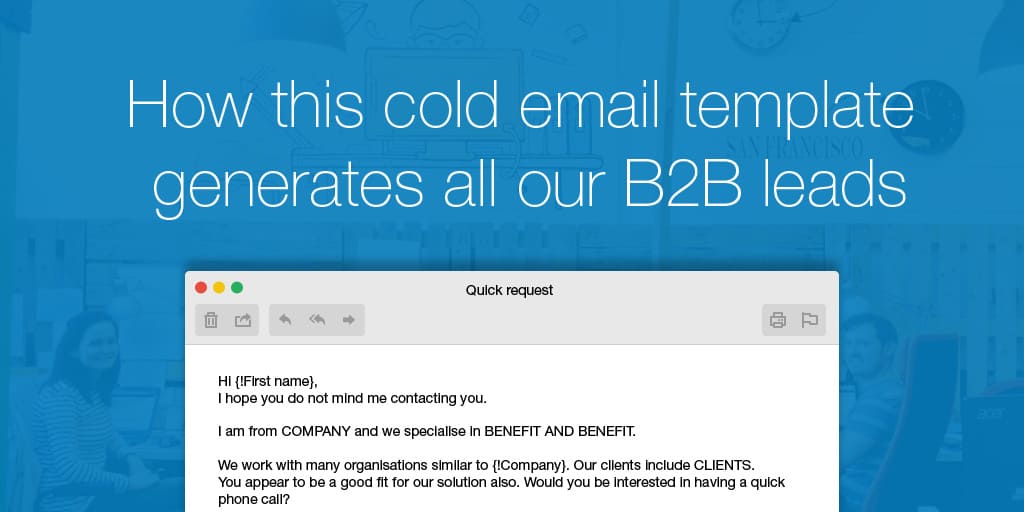 In this post I will cover:
Where to get leads from.
How to run an outsourced lead generation team.
The cold prospecting email that will get you business.
The costs of running this process.
BONUS: You can download free cold email prospecting templates.
Hello (waves), my name is Alan O'Rourke.
You might know me from such places as that page on the internet and that guy who posts stuff on Twitter. Michael, our great and holy CEO asked me to join the great team here as VP of Growth. Growth is one of those newfangled silicon valley type job titles that reaches across sales, marketing, and product for ways to attract more happy customers. The more cynical among you might suggest that it is a way to get me to do three jobs instead of one, but I am sure that is not the case…
Last year, I gave a talk at the DMX and Growth Hacker events about the process I used when prospecting for sales in my last company, which I am happy to share below.
I will primarily focus on outbound email prospecting, using my own experience and testing, combined with the Predictable Revenue framework from the book by Aaron Ross. It was a process that needed the involvement of both sales and marketing as both teams needed to discover the ideal buyer persona of our customers. We needed to find our own marketing voice, what works, and what doesn't work, and I need to adjust our sales and marketing pitch to this audience.
There are some practical / process aspects that aren't covered in the book. I will cover what I have discovered here, and I'll show you using some examples from projects I completed in the past.
The prospecting flow that I operate is as follows:
Prospecting flow
Some people are going to wince here, but I go out and scrape the web for our target companies. I scraped our contact details, I do some data cleaning on those, I pop them into the CRM, send them a prospecting message, and if they are interested I give them a call. I will go into that in a bit more detail.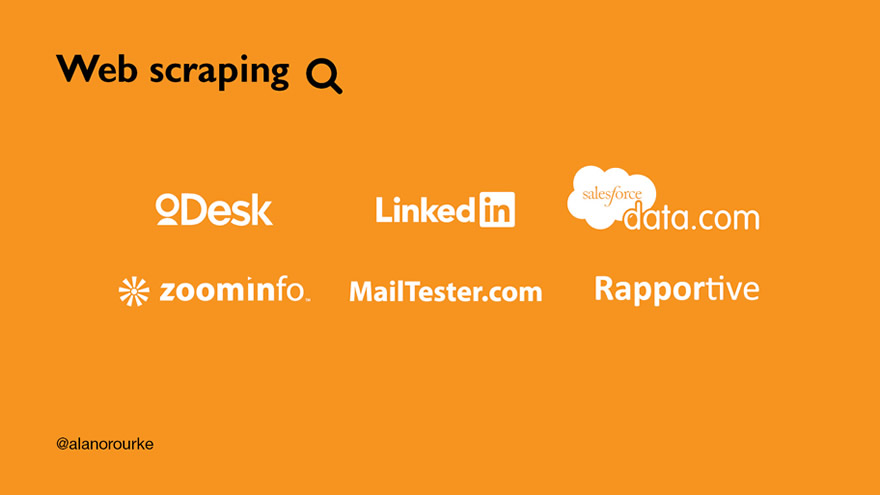 Web scraping
I built a team based in the Philippines, Upwork. Their job is to go out and get contacts for us in our target companies. I have five people. They each generate 200 leads and this takes them each, individually, around sixteen hours.
When interviewing for these people on Upwork, I would expect them to use LinkedIn and other platforms where they can find leads and get additional information on those contacts. They tested the contacts through a MailTester and Rapportive.
If you're interviewing lead-generating people, they really need to be mentioning these tools and if they're not then it's a red flag.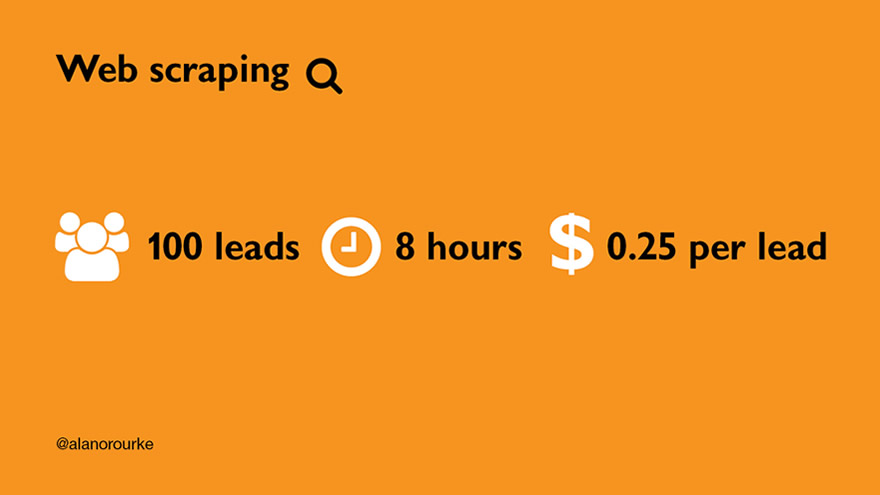 I found on average that for every 100 leads that are generated, it takes one of our team 8 hours to do that and will cost on average 0.25 cents per lead. So that's a good ballpark if you're starting up.
Actually, just to go back again, when you are interviewing prospective lead generators for this, ask them how long it's going to take. Say I need a hundred leads, how long is that going to take you?
And if they don't answer around about the 8-hour mark, then that's a warning and you should probably move on. When you start using these people, when you start building a lead generation team, you probably want to check who's actually delivering good leads and who's not.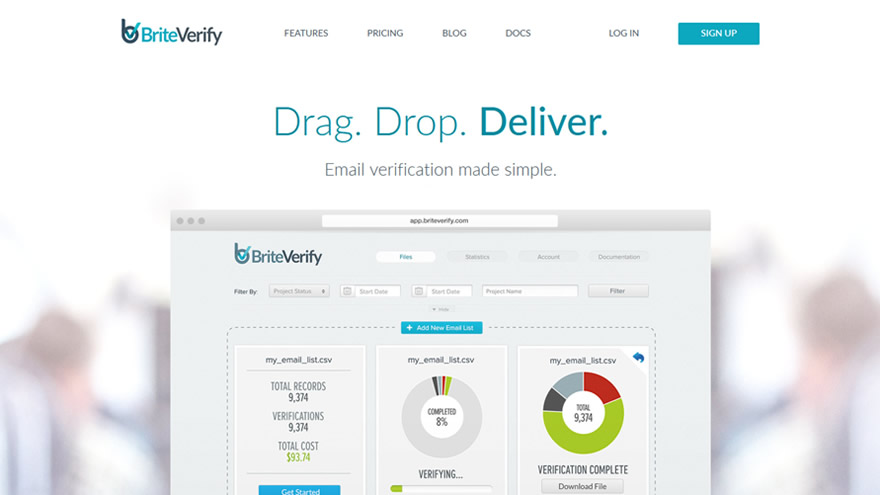 This is a good tool to use. BriteVerify, and basically you upload a list of emails and it will test them all for you and will give you back whether they're good quality or not. At this point, I have the leads, and I pop them into an Excel spreadsheet, where duplicates are removed. Duplicates are unavoidable with a team.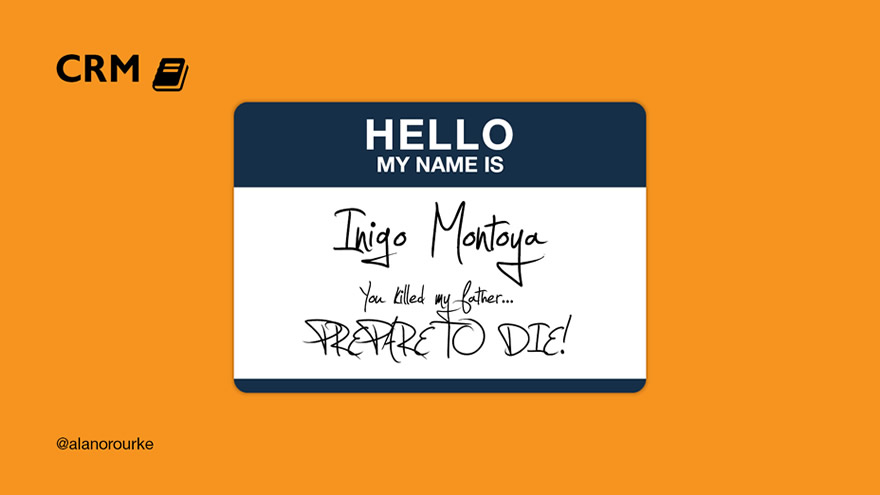 CRM
The leads are tagged to track the source of who created them. Then, once I start measuring I can go back and see what was the cost of the success. Also, I can see who the low-performing members of the team are and I can perhaps move on to others.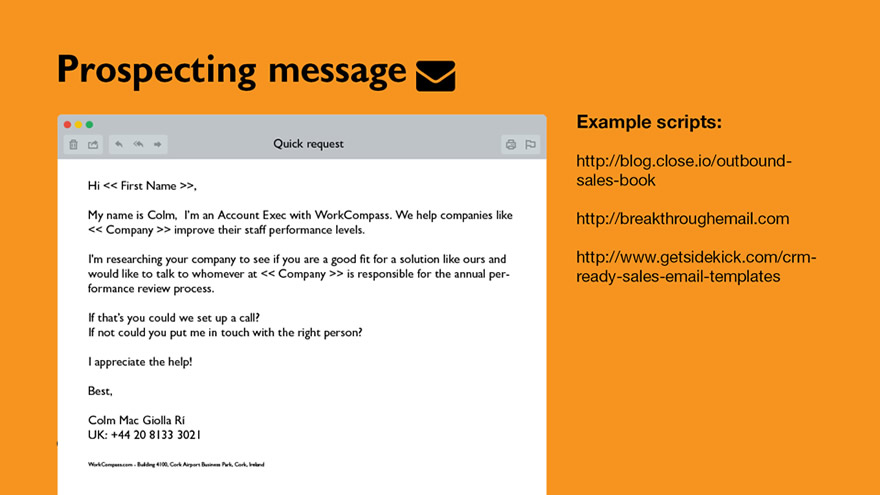 Prospecting message
This is a real example (above) of the prospecting message that I send out. The beauty of Predictable Revenue when creating prospecting emails is not to ask for the sale. Instead, you actually ask for a referral for your target in the company. Once you get that referral, it turns a cold prospect into a warm referral. At this point, the sales guy gives them a call. Because they have been referred, internally in their company, they're a lot more likely to listen and respond to you.
The mail, as you can see is asking for help. People by default really want to help so it's a great foot in the door.
Prospecting message results
This is our actual results after a few weeks using this process. I sent 870 prospecting emails in one week:
Very low Bounce Rate: 13%
Pretty high Open Rate, I actually have 40% in one mail
Pretty low unsubscribes
This is the killer, absolutely 0 abuse complaints from sending this prospecting message. (I've had marketing emails where I haven't got that low, just incredible.)
I got an interest rate of 1.57%. (It's low but it's actually pretty good for what we're doing.)
Using this data, I was able to set goals for the following week. I was aiming for 2.5%, with an overall target of up to 30%. Whether I hit 30%, I had no idea, but that's our overall target.
Call
Then it's over to the sales guy. The goal is to get a demo of the product. I find that for every two demos I do I get one sale which is a pretty good return.
UPDATE: Before you jump into cold email prospecting, consider what you charge for your service to see if the returns work for you. Nik in the comments below has a great calculation you can use to find out.