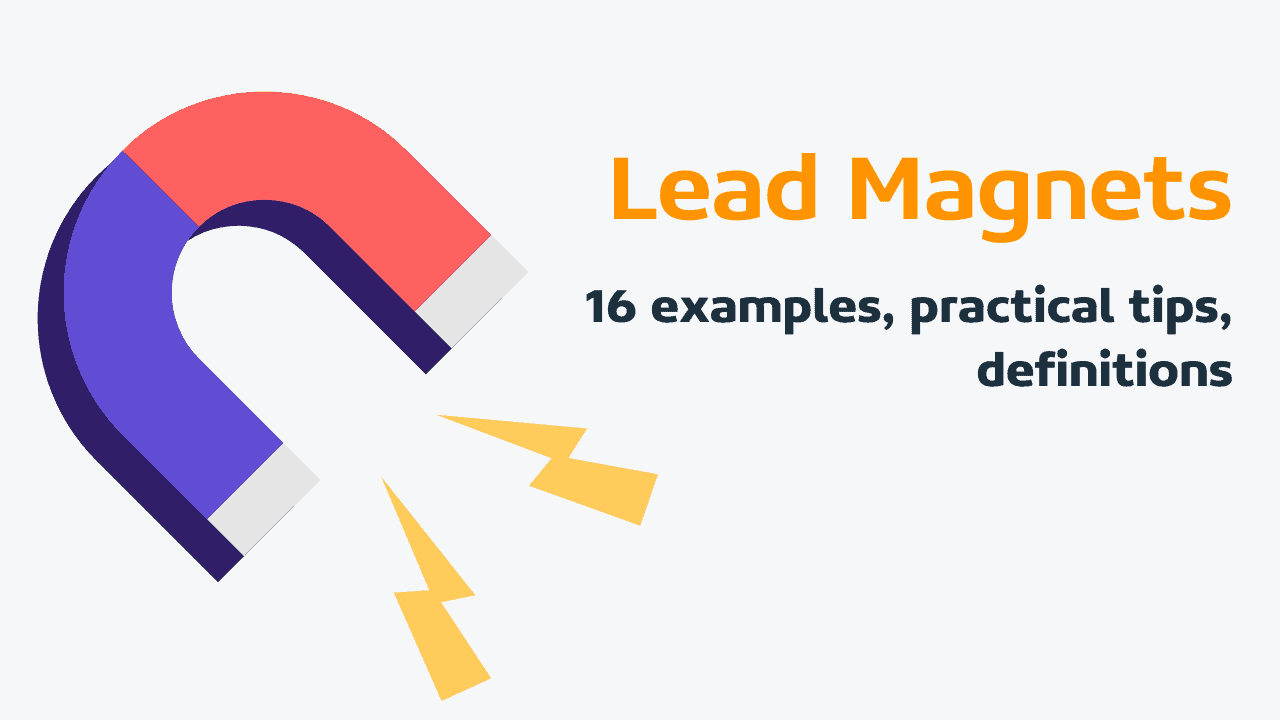 What is a lead magnet: 16 best examples, ideas, and tips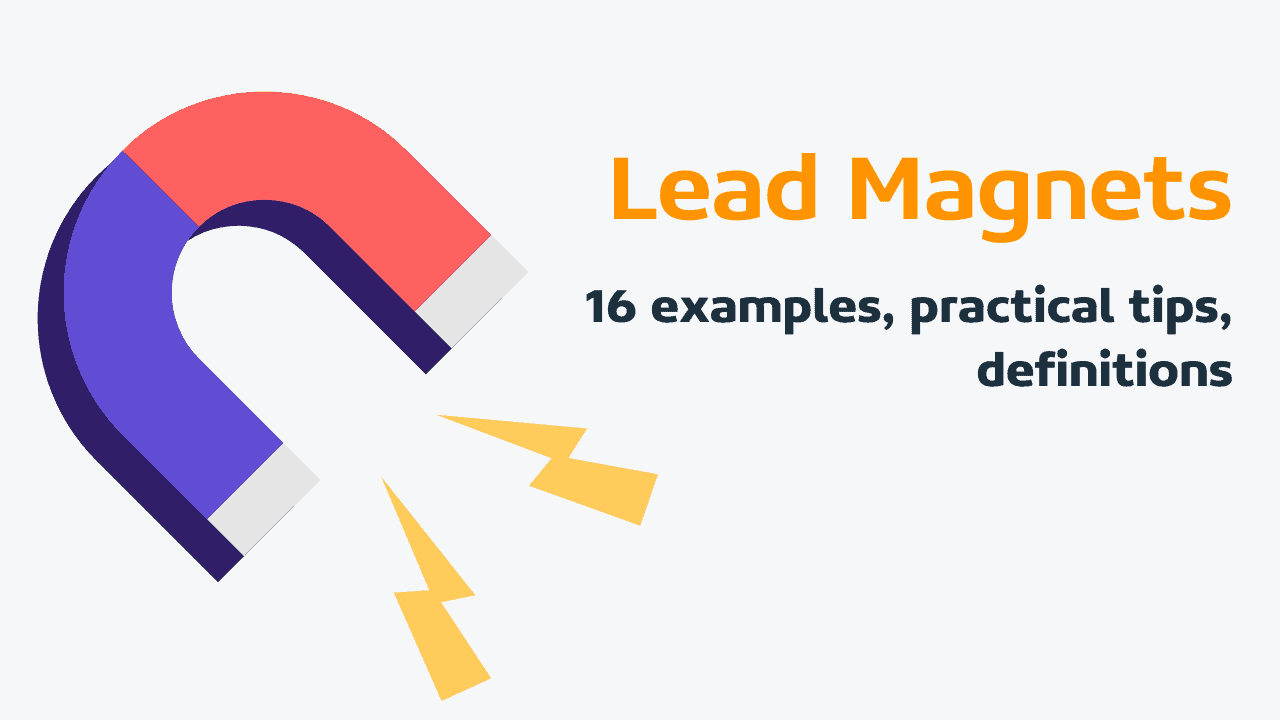 Your marketing team is doing a great job creating killer content and attracting traffic to your site; providing you with the perfect opportunity to sell to an engaged audience.
But as we in sales know, you always need a final call to action to capture the lead. This is where lead magnets are especially useful.
In this post, we listed 16 ideas for gated content with real-life examples.
What is a lead magnet?
A lead magnet (or gated content) is a type of content or product that is free in exchange for the lead's contact details. For example, their email address or phone number.
There are different types of lead magnets. It can be either an ebook or a newsletter. It can also be a free consultation call or a demo.
Lead magnets help businesses capture leads by providing relevant and high-quality content that solves (or at least genuinely tries to solve) the most common pain points that their leads might have. By creating great content, businesses manage to first attract prospects to their websites and then convert them to leads by offering exclusive additional content behind an opt-in form.
When creating lead magnets, most businesses use the following three-step approach:
Write a blog post.
Create an additional piece of content that goes into more depth about some or all of the post.
Offer this additional content behind a subscription form.
What makes a good lead magnet?
To create a good lead magnet, you need to keep in mind three areas.
Content
Although the main goal of your lead magnet is to capture leads' contact details, you won't be able to get people to download something that they are not interested in. So the content of your lead magnet should be of high quality:
Relevant. Make sure that the topic is relevant to your target audience. If you're a marketing agency that works with large organizations, there's no reason for you to publish an e-book that zooms in on the problems of small companies.
Valuable. Include information that your clients and leads will appreciate and find valuable in their work or lives. If your target audience is comprised of experienced IT professionals, then they need in-depth content rather than a general introduction to a very broad topic.
Practical. Ideally, you want leads to have practical information at their fingertips. Most of the theory can be easily accessed via a simple Google search. If you provide them with insights that they can implement and try out, then chances are they'll be interested to download your lead magnet. In other words, a lead magnet should aim to solve a problem.
Format
Having high-quality content is no less important than making sure that it is easy to understand. Even if you have the most valuable insights, how can readers extract value if your lead magnet uses very complex wording?
Short. The internet is oversaturated with content. Make your lead magnets easy to consume and straight to the point. If time is money, avoid charging too much for your lead magnet. Otherwise, even if a potential client downloads your lead magnet, they might not have time to consume it, which means that although you'll have their contact details, they won't become a warmer lead for you.
Simple. This is similar to keeping it short. By creating a simple lead magnet, you show that you appreciate your clients' time. Simple doesn't equal superficial. You can provide in-depth insights and observations without overcomplicating information.
Well-designed. To stand out, ensure that your lead magnets look and feel good. After all, if leads download your lead magnets in exchange for their contact details, they'll treat them as products. They pay for these products with their personal data and they'll want to get good value for their payment.
Social currency
People like things that make them look good and help them build authority among peers, and your lead magnet is no exception. If it has good content and is designed well, there's still one aspect that you need to look out for: Is it worth sharing?
Exclusive. Focus on creating unique lead magnets to differentiate yourself from competitors.
Shareable. Help readers spread the word about your lead magnet. Make sure that the page has social sharing buttons and that it's easy to share the link to your lead magnet.
Credible. Include tips and quotes from industry thought leaders or recognized experts. With the increasing popularity of AI-based tools that can produce generic content in a split second, credibility (and source citations) will become more important.
How to get the most value out of lead magnets?
Here are a few practical tips that will help you get the most out of your lead magnets:
1. Play around with copy
Advise your marketing team on the calls to action that resonate with leads in your industry, so that marketing can test different copy on the site's opt-in forms. You'll be surprised how much the results can differ! Dedicate one month to an experiment, adding a fresh copy to the form each Monday.
At the end of the month compare the results and run the copy with the most successful. Lifestyle entrepreneur and blogger Lewis Howes, converts leads on his website by asking them to 'Sign me up for Greatness'.
2. Offer a membership, not a subscription
Brú Bar & Bistro do something interesting when asking people to share their contact details with them. Instead of asking people to subscribe to their newsletter, they ask them to become exclusive members. Members then get news and special offers via email. Same thing, different name.
Tip: Send out your emails with titles like "Members only Offer!" to maintain that special feeling for prospects.
As Luke Guy puts it, "You've got to offer benefits. Make them feel part of a secret club. People love feeling like they're in".
3. Newjack other events
Newsjacking other events is a fantastic way of capturing leads in your industry. Set up an IFTTT, where everyone that Tweets with the event hashtag gets added to a Google sheet. Use these Tweets to write a blog post on the 'Top Takeaways' from the event. Share the article on social media, tagging the event speakers.
We used this strategy in targeting the 2016 Sales Kickoff Summit. The blog post was shared by a number of the speakers at the event and it brought some substantial traffic to the website. Check out the article here.
Tip: Follow everyone that Tweets with the event hashtag, if they're interested in the event, they're probably quality leads for your product.
4. Put a Subscribe box everywhere on your website
Visitors to your site should not have to look very hard to find an opt-in form, if they do, then that's a problem. Add an email subscribe form to the high-traffic areas on your site, starting with your blog sidebar and your About page.
5. Partner with others to share leads
It is very easy to become overprotective of your content and resources, but what if you intentionally let other companies take it? WorkCompass.com wrote a great ebook targeting their audience of managers and HR directors. After doing all the work, they then approached a complementary organization and offered it to them for free.
The organization (IMI, Irish Management Institute) jumped at the opportunity. The ebook was branded by both IMI and WorkCompass and was offered on both websites. All subscribers were then shared between both parties. By offering the resource free, both parties got to double their number of new leads.
Tip: Set up a subscription form that will immediately send the subscription details to both parties. If you have to wait for the other party to send the contact details to you it may be too late and the lead may lose interest.
16 examples of great lead magnets
Here are our top picks for lead magnet examples:
LEAD MAGNETS EXAMPLES
1. Blog posts as .PDFs
2. Checklists
3. Short videos
4. Packages with relevant resources
5. Templates
6. Quick start kits
7. Swipe files or lookbooks
8. eBooks
9. Podcasts
10. Whitepapers
11. Quizzes and surveys
12. Event tickets
13. Tools
14. Free trials
15. Webinars
16. Courses
1. Blog posts as .PDFs
Minimum effort for maximum impact; this may seem like an odd one but it really works. Some people want to save your blog post to read it later, share it, or just want it in a different format.
Create a .PDF by copying your blog post into an MS Word or Google doc and save/export as .PDF. From experience, readers are generally happy to hand over their contact details to download quality content in a convenient format.
Your blog is the most powerful inbound marketing tool you have at your disposal, offering huge potential for lead generation and reconversion. If you're not taking advantage of all the lead capture opportunities your blog offers, you're missing out on a huge piece of your company's lead gen pie.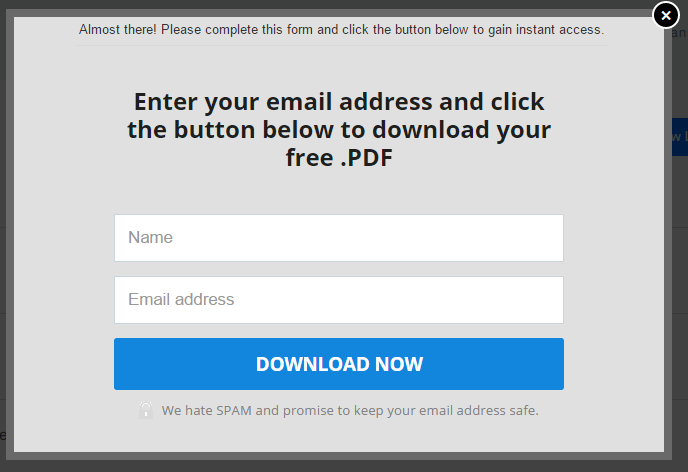 2. Checklists
Re-formatting blog content into a handy, downloadable checklist is a simple, smart addition to any blog post. For example, if you just read a blog post on how to get people to link to your website, offer a checklist of the top 10 things to remember to do when asking for links.
Brian Dean from Backlinko achieves a 5-8% subscription rate on his content (instead of a normal 1-2%) by offering a download focused on the blog post a person just read. His most common type of download is a checklist.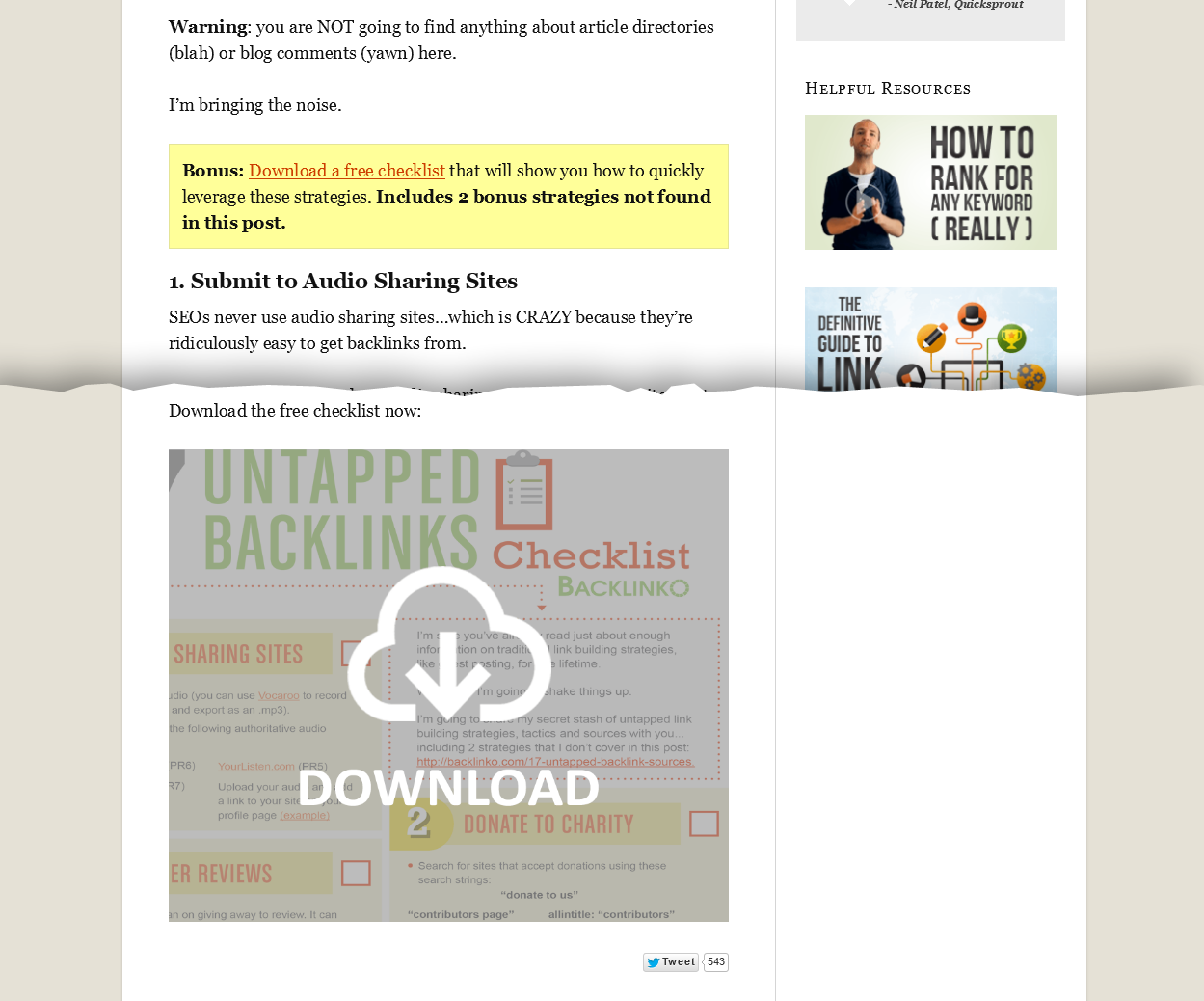 3. Short videos
It's the classic storytelling advice, 'Show, don't tell', and in an era of information overload, it never rang truer.
Using screen capture software, record your screen as you demonstrate your blog post in more detail. Then, offer the video as a bonus to watch or download. No one's expecting an epic Hollywood production, so don't worry if it's not quite Tarantino. Record your guide in one take, a little rough and ready is fine, charming even. From start to finish, spend no more than 30 mins on this.
We added a quick video guide to a recent article, 'How to export your LinkedIn contacts to a spreadsheet and import into OnePageCRM'.
The video received 75 opt-ins in 7 days. That's 75 new leads in a week we would not have captured if we just offered the article alone.
4. Packages with relevant resources
Bryan Harris of VideoFruit uses this tactic when doing how-to-type blog posts. He shows readers how to do something; in this case, it is how to upsell customers to a bigger offer. As part of that, readers need to set up a one-click purchase using their payment platform of choice.
Bryan then searched for help guides from the main payment platforms on how to do that one thing and collected them together as a single bonus download. Bryan reports that this type of content upgrade converted 42% of all people that read it.
He also suggests 5 types of links you could include in your content package:
Support documentation
A YouTube video that goes into more depth
Other relevant blog posts on the topic
Equipment or software that would aid the implementation of your post
A checklist or a template that someone else created
5. Templates
The quickest way for a reader to get started after reading your blog post is if you provide them with all the tools necessary for implementation. We've implemented this tactic with great success on a number of our posts, ''The cold email message that generates all our B2B leads''.
The content upgrade was a spreadsheet that contained the exact text of the cold email and follow-up messages that a reader could simply copy and paste. It also included the text of a job description to hire a contractor to do the prospecting for you and a report template to track the success of the email.

6. Quick start kits
You might be teaching something complicated. Help leads get over any initial barrier by providing the ultimate 'how-to' guide. Group similar content into a resource kit and format it as a zipped file for download. Have your content act as sales collateral by making sure it is well-branded. Include relevant articles, links to YouTube videos & a checklist. You can't help but be intrigued by WorkCompass' Performance Kit below: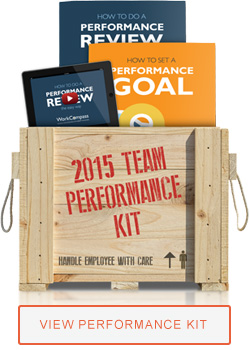 7. Swipe files or lookbooks
A swipe file or lookbook is a collection of proven examples for a reader to 'swipe' inspiration from. A great example of this is the email service providers like Mailchimp. Every now and then, they do a series of posts on how businesses can succeed. Along with these posts, they provide a downloadable examples of email campaigns that readers can take inspiration from.
Check out BEN's 'Best of Christmas Emails' swipe file for festive inspirations.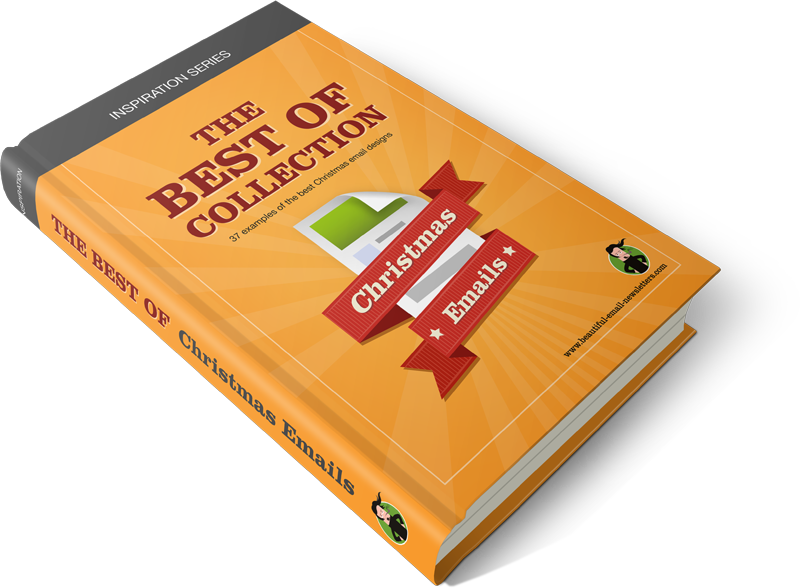 8. eBooks
If you fancy yourself as an expert or have a considerable knowledge base on a specific subject, why not curate an eBook? How-to guides work particularly well. It can be small, about 6-7 pages, but it must cover the topic well. Big text and lots of pictures. You've invested your time, efforts and resources so offer it as exclusive content for subscribers only.
9. Podcasts
Engage leads by offering a recording/podcast of a recent webinar. A webinar is an excellent way to showcase the benefits of your product to potential customers. Or why not interview an industry expert on a topic your readers are interested in and provide a recording of the interview as bonus content?
10. Whitepapers
If your company has the capacity to curate original, data-intensive reports that can be published publicly, it can prove a fantastic way to build your company's authority on a specific topic. One of the least expensive ways to compile original data is to run a survey with your subscribers, leads, customers, and industry professionals. Have your marketing team compile the results into a glossy report, complete with company branding, and use the report as sales collateral when prospecting new leads.
11. Quizzes and surveys
Evaluate how strong of a lead the prospect is and how good a fit they are for your product using a survey. Try building a survey for your own industry or job role; 'The top 10 skills needed to be a great X.' Offer the survey at the end of the blog post behind an opt-in form and make the answers shareable for even further brand exposure.
Tip: Instead of asking people to rate themselves, allow them to share the survey and ask others to rate them instead, for further exposure. SurveyMonkey provides great free templates that are fully customizable.
12. Event tickets
To capture leads for his own marketing events, Jason Roe would buy tickets for a similar event, earlier in the year. When the first event sold out, Jason would then offer the tickets in a competition to attract those still looking. The killer part of this tactic was that Jason would first approach the event organizers about the competition, who were more than happy to promote it to their own audience as it made them look great.
Tip: The competition works best about 3 days before the first event and of course, only when it is sold out.
13. Tools
Email marketing company Toddle.com was offering a handy marketing return on investment (ROI) calculator for a while. You put in how much money and time you spent on a marketing campaign, how many leads you got back, and how much money you earned. The app will then calculate your % ROI and the value of a lead. You can give your email address to download this report or if you wish, you can download an excel version of the calculator and do it yourself.
Tip: If relevant to your industry, create a calculator yourself in Excel. You can also find a developer on Upwork to turn it into an app. Allow your leads to test their %ROI in return for their contact details as per tip.
14. Free trials
Offer something free and you're already onto a winner. Invite potential customers to trial the full version of your product/service for a set period, with no strings attached. Most people do not realize they need a product until they've tried it. Leads are easier to convert to customers once they have evaluated the system and seen the benefits for themselves.
Tip: Avoid asking for credit card details at this time. Once customers are prompted to type in their credit card details, the free trial may be perceived as no longer free, even if it is.
15. Webinars
Hosting a webinar is an excellent way to showcase the benefits of your product to potential customers. Seeing is believing, so don't bore your audience with slides, and demo product features that are sure to excite. Promote your webinar in advance on your social profiles with a link to register and send non-attendees a recording.
Tip: Invite an industry expert or even a celeb that you know your audience is interested in, to speak at it.
16. Courses
Good, content is not hard to find.
Seth Godin is a great example of a wine merchant who used free information, provided to him by his suppliers, to create a wine appreciation course by email. Instead of putting an ad in the paper for the latest wine offers, he placed an ad for the course. Newsletter by newsletter, he explained the virtues and characteristics of the wines in his shop and along with it, gained the trust and confidence of would-be purchasers. He became known in his locality as an authority on wine; he converted readers to purchasers and ultimately grew his business.
The information he gave out was free, provided by the winemakers. Like the wine merchant, think of the expertise you have in your field and see how you can repackage it to capture more leads. Keep it simple and relevant to the needs of your clients.
Tip: Instead of advertising your business, advertise a resource or course.
Note. This blog post was first published on April 3, 2016 and was updated for relevance in March 2023.