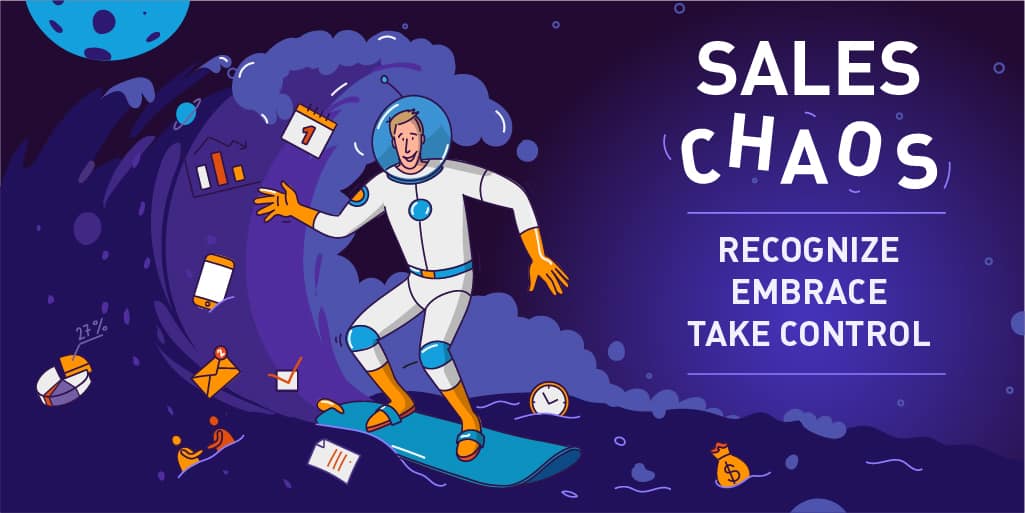 How to sell more: 8 sales tips (+ actionable examples)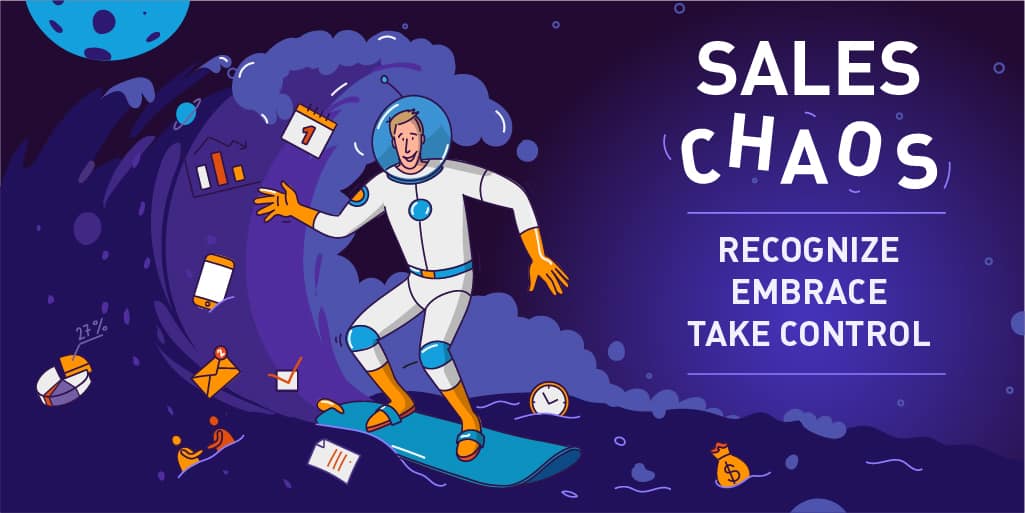 The pipes were old, so you've lost a deal. Wait, what?
Bear with me. Today, you're finally supposed to have a meeting with a prospect (Jack), head architect in a firm you've been trying to score a deal with for months.
Jack's colleague (Tom) happens to live in an apartment with old pipes that haven't been checked in a while. Yesterday afternoon, one of the corroded pipes burst, flooding Tom's apartment. He had to rush home and asked Jack to fill in for him on an important project.
As a result, Jack had to stay late and missed his anniversary dinner. Which led to a fight with his partner the following morning, i.e. today. So during your meeting, Jack is tired, frustrated, and wondering about his sleep arrangements for the night.
Given all that, how likely do you think is he to focus on your solar panel pitch?
Cause and effect. The Butterfly Effect, to be precise.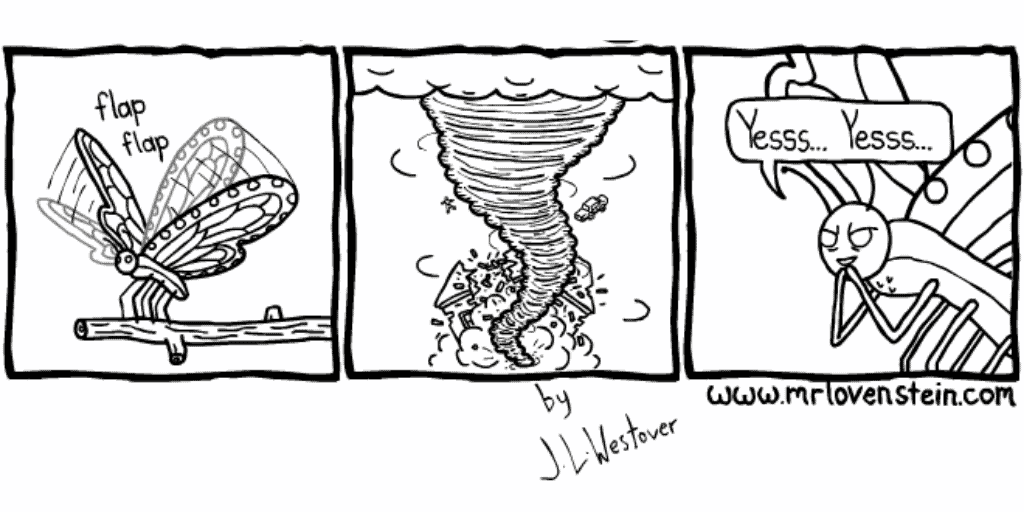 The Butterfly Effect (Jurassic Park flashbacks, anyone?) is a part of the Chaos Theory that suggests that small, almost imperceptible changes in one part of a complex system can produce huge, unexpected results elsewhere. And, if anything can be said about the world of sales, is that it is 1. complex and 2. chaotic.
So how do you go around it?
Here's the practical guide to overcoming sales chaos, staying organized, and, consequently, selling more.
Focused & Actionable Sales: How to Sell More
If you're wondering about how you can keep your sales organized and stay focused at work, here are top 8 ways to do this:
Accept the difference between controlling the sales process and the outcome.
Increase time spent on selling vs. admin.
Put an efficient follow-up system into place.
Get your contacts in order.
Prepare for meetings and calls with prospects.
Start selling as a team.
Maintain relationship post-sale.
Ask for referrals.
For each of these tips, we've included both the problem description and a piece of actionable and simple advice on what you can do.
1. Accept the difference between controlling the process vs the outcome
It's almost unfair. In one way or another, all other parts of a business can be controlled. When developers start a project, they know more or less when and how they are going to launch it. Accounts don't really worry about whether or not they'll be able to produce a quarterly report—the numbers will be there. While in sales, the outcome strongly depends on the third party. You've got a winning pitch ready, but, as we mentioned above, the whole deal can crumble because of a small thing like old pipes. Not to mention external factors like, say, a housing market crush or even a global pandemic.
So does it mean you should drop it all and take up some bookkeeping classes? No (well, unless you really want to). It just means that while you can't fully control the outcome of your sales interaction, what you can control is the efficiency of your sales process.
By making sure you stay focused, and your process is honed, ever-improving, and based on action, you can maximize the chances of your success. The rest is a numbers game.
So let's have a look at the sales chaos components that you can control, improve, and make the most of.
2. Increase time spent on selling
Seems obvious, right? But the numbers show that today's sales reps spend less than 36% of their time on actual sales, and the rest is wasted on admin tasks like manual data entry and generating reports. Just think about it for a second. Can you imagine a customer support member taking only a third of the calls? Or a developer coding for just 13 hours of each work week?
Here's how you can increase time spent on selling:
Automate as much admin as you can to save time and free your head space for closing. Things like email templates and sending emails in bulk can help speed up your communication while remaining personal.
Lead generation shouldn't revolve around manual data entry either. For example, Lead Clipper is a free browser extension that allows you to scrape contact data from any web page with just a click and auto-create contacts in your CRM.
3. Put an efficient follow-up system into place
Michelle Moore, the author of Selling Simplified, puts it nicely,
"Not following up with your prospects is the same as filling up your bathtub without first putting the stopper in the drain."
While following up is essential, what's even more important for battling sales chaos is ensuring your follow-ups are consistent.
42% of people are more likely to buy if the sales rep calls them back at the agreed time. Makes sense. Consistent, timely, and relevant follow-ups are what builds trust. And, unless you're looking for a quick one-time win, trust is what you need to go after for building strong client relationships.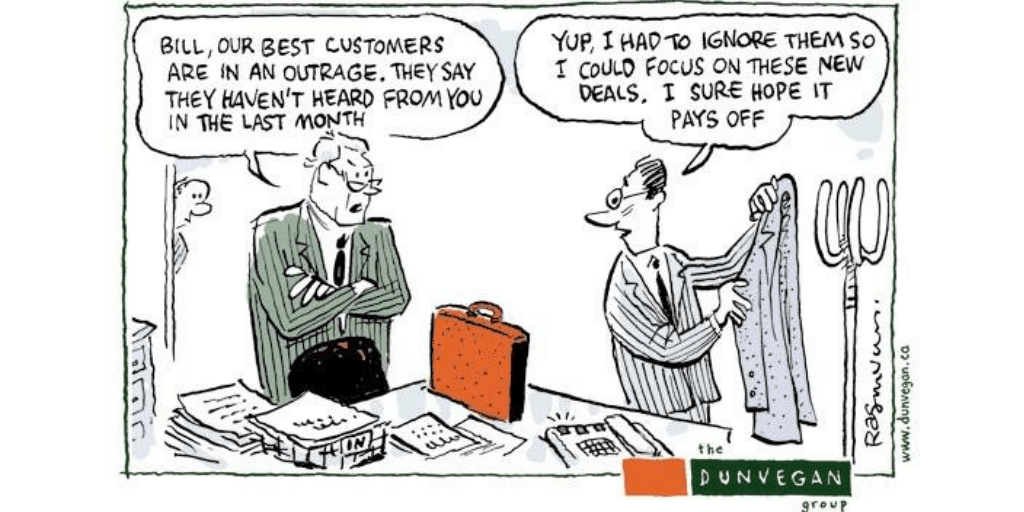 Here's how to create an efficient follow-up system:
It's all about upfront thinking. The moment you complete an action, like reply to an email or get off a call, is when you know best what needs to be done next. Is your prospect away on holidays until next Tuesday? Give them time to get their bearings and schedule a follow-up call for next Wednesday.
If you postpone making a decision even for a day, you lose the momentum and can forget some crucial details. So instead of subjecting yourself to 30 minutes of sifting through the email threads, spend 1 minute now and schedule that follow-up straight after the call.
This simple principle is a foundation for the Next Action method. By implementing this method in your follow-up process, you can make sure that you can create an efficient follow-up routine.
4. Get your contacts in order
Post-its get lost, Excel sheets get messy, and don't even get us started on holding all the contact information in your head. Implementing a CRM system to bring all your contacts in one place and get your sales chaos under control seems like a logical solution.
CRMs are proven to deliver a great return on investment, have a significant impact on customer retention and satisfaction, and increase productivity.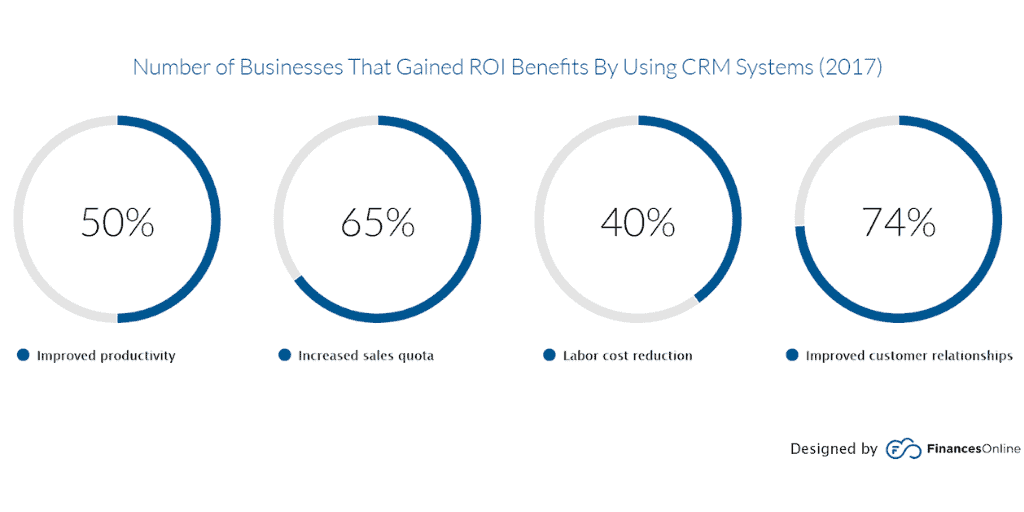 (Here comes the "but").
But between 18% and 69% of all CRM implementations fail. Why? According to Entrepreneur.com, the two main reasons are the fact that most CRMs are "focused on executives, not sellers" and that rather than being built on methodology, they are "just a system of record." Or what we call a "dead database."
So while the management enjoys pretty graphs and detailed reports, the actual sales reps dread using a CRM as it becomes yet another tedious admin task.
Here's how to organize your contact database in a better way:
Make sure that your chosen CRM becomes an integral part of your sales process and accelerates it rather than hinders it. For that, you need to make sure that no contact is added to the system just for the sake of adding it. If it makes it to your CRM, it needs to have a defined and scheduled next step. In other words, you need to know how and when you're going to action them. For this, action-focused CRMs are especially useful.
5. Prepare for meetings and calls with prospects
A study by Forrester Research showed that 70% of salespeople aren't prepared to answer prospect's questions, and 77% don't even understand their issues. The thing is, the most thought-through sales process will crumble if you don't take time to prepare for your sales meeting.
Have you done your research on the company, their industry, the actual people you're about to meet? What about their issues and needs? A good prep will not only reduce the risk of being caught off-guard but will also show your competence.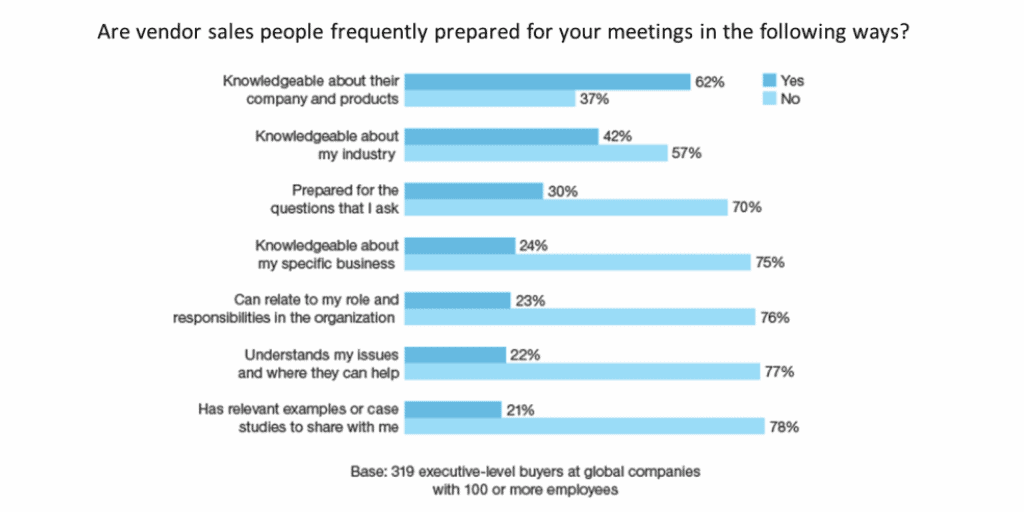 Here's how to be prepared for prospect's questions:
Do your research on the industry
What industry are they in? What problems are common for it? Is there any recent industry news?
Who are the main players? Use reputable sources like Forrester or Gartner to get accurate information.
Check out your current customer base. It's always good to have a confident "yes" answer to the prospect's question of whether or not you worked with similar companies before, and back it up with examples.
Do your research on the company
Check out their website, blog posts, latest press releases, financial statements, mission, and values.
Look them up on AngelList to see their funding history, information on their current and past employees (LinkedIn is useful for that as well), product launches, open jobs, etc.
Check out Crunchbase for the company's acquisition history, investors, sub-organizations, board members, and more.
Who are their competitors? How are they different from them?
Check out the industry's biggest review sites and hear it directly from the customers. For example, if you're meeting a software company, try G2 or TrustRadius, and if it's a consumer company, have a look at Trustpilot.
What's their latest news? Tools like Google News or Owler, as well as the company's own News Room, can come in handy here.
Do your research on the people
Check out their LinkedIn and Twitter profiles.
Find out about their background, previous positions, and interests.
Do you have any shared connections?
6. Start selling as a team
"If you want to go fast, go alone; if you want to go far, go together."
No matter how used-up this saying might seem, for sales, it still rings true. While, yes, many salespeople are lone wolves by nature, the fact is having an aligned team with you both in the meeting room and along the sales process can help solve several problems.
Here's how to keep your team aligned:
Combine your expertise
Buying cycles now involve more and more people. According to Harvard Business Review, the number of people involved in B2B purchasing decisions climbed to 6.8 people. Each person on a buying committee comes with their own expertise and expectations of your product or service. They want to know whether or not your offering suits their particular role and needs. They will ask you questions based on their personal expertise—and they will expect you to know the answers.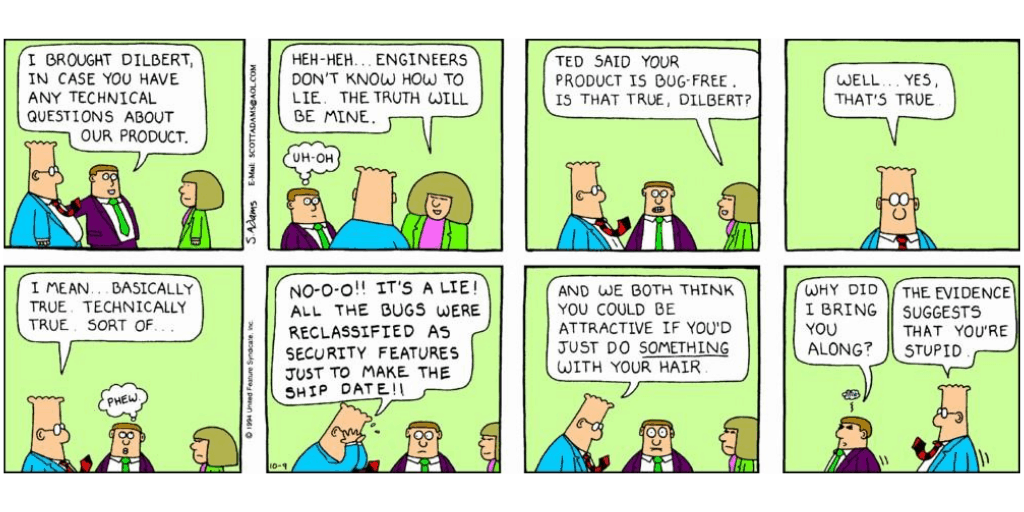 Instead of trying to be a jack of all trades, why not bring the experts from other departments or areas of focus to the room?
This way, if one of the prospects asks about the technical details of your product, the sales engineer would be able to give the most competent and insightful answer. And if another one would like to hear more about the onboarding process and the required training, your customer success expert can walk them through it in detail.
And when it comes to really big, high-priority, strategic deals, why not bring in the CEO as well? On one hand, their presence will add a weight of credibility to your offer and make your prospects feel special. And on the other, they will be able to ok the deal's terms there and then, drastically accelerate the decision-making process.
Still not convinced? Gong.io's research showed that having at least one call that contains multiple participants from the sellers organizations correlates with a 258% higher likelihood of closing a deal.
So, go it together.
Sell as a company
You don't necessarily need to be in sales to sell your product. Customer success teams can do a brilliant job at converting new trials or upselling to existing customers. And marketing can reinforce the sales reps' efforts by nurturing the leads with the right type of content. But all that can only work if your company-wide sales process is perfectly aligned.
To avoid sales chaos there, you need to have one central hub for all contact information that is always up-to-date and can be easily accessed by different members of the team. If everyone can see where the contact is in their sales journey, they can contribute accordingly.
7. Maintain relationship post-sale
Some reps might think that once the contract is signed, it's all done and dusted. In fact, that's only the start of your relationship with that client. Play your cards right, and it will be the beginning of a beautiful friendship long-lasting collaboration.
It makes sense from the financial perspective as well. It costs five times as much to attract a new customer than to keep an existing one. Planning to launch a new product? Your existing clients are 50% more likely to try it and spend more money on it to boot!
Here's how to maintain post-sale relationships:
Stay on top of their minds (it's a win-win!). As Dane Rossenrode, Founder at Touchdreams, rightly put it,
" They may need help with their website, but they're too busy to get in touch so you reminding them that you're around is not only good for your business but it's also good for theirs. Win-win!"
So don't forget to follow up and be there when they need you.
8. Ask for referrals
Ask and you shall receive? More like—if you don't ask, you'll never receive.
91% of customers say they'd give referrals if asked. Do you know how many salespeople actually do the asking? 11%.
Your satisfied clients are your best sales asset. In fact, word of mouth and referrals are our main sales and marketing tools here, at OnePageCRM too.
Referred customers have a higher retention rate, tend to trust your product more, and are likely to refer other people later on. So create a referral program, add a submission form, send them a template to follow, offer an incentive…
Whatever you choose to do, stay proactive, stay personal, and don't forget to ask.
Selling more is easy with the right tools
We live in the world of sales chaos. You can't really control your prospects, their old pipes, or any unexpected butterflies. What you can control is how efficient and effective your sales process is. If you take control of its every element, keep fine-tuning it along the way, ensure your sales are actionable and you yourself stay focused and productive, your chances of success will skyrocket.
Note. This blog post was first published on September 2, 2022 and was updated for relevance in March 2023.