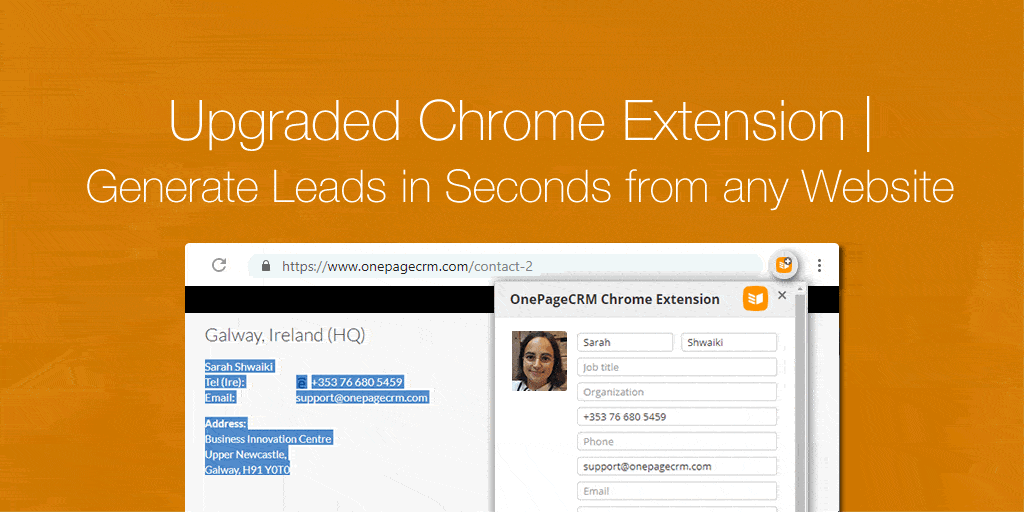 Upgraded Chrome Extension | Generate Leads in Seconds from any Website
According to CSO Insights, 68% of marketers are still struggling with lead generation. We decided to fix that. With our newly upgraded Chrome Extension you can generate leads from any website in seconds. All it takes is a click or a simple text select.
Select, Clip, Action
When you're on a lead hunt, the last thing you need is to waste time on copy-pastes or hopping between your search and CRM. With the latest update to our Chrome Extension, you can select lead info on any web page and automatically generate a contact in our app.
To do so, simply highlight the text you need, click on the extension icon in the top right corner of your browser window, and watch it transform into a OnePageCRM contact! Details like title, phone number and email address will be recognized and added into the contact fields. The remaining information will be added into a contact's background, making sure that no vital piece of lead data is lost. We don't stop there – we'll look for any corresponding social data and add that too.
At OnePageCRM, we don't believe in 'dead databases'. So along with creating a contact, we'll prompt you to set the Next Action for it. This way, you can hit the ground running!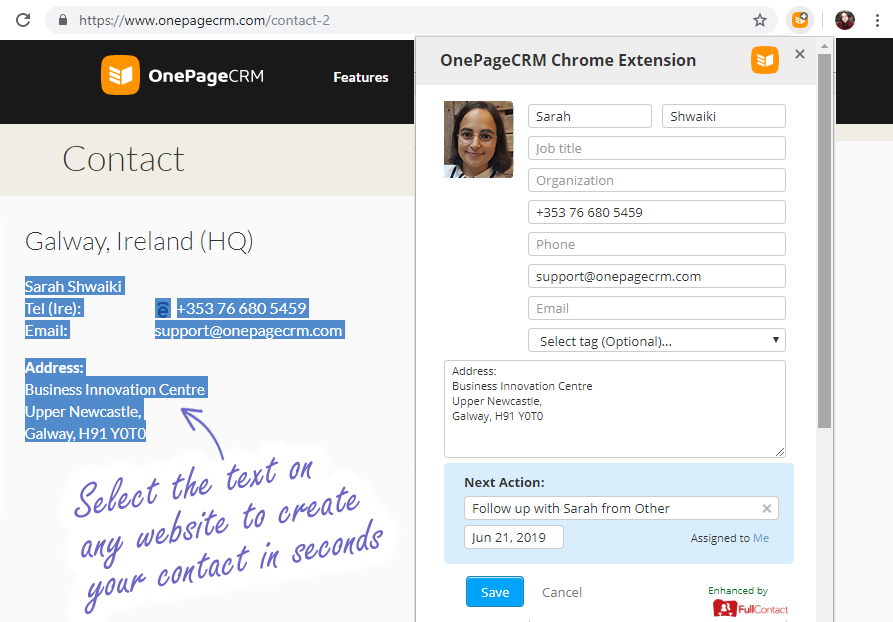 Boost your email lead gen
Email is one of your biggest lead generation platforms – we simply help you harness its power. If you've received an email from a potential lead, just highlight their email signature, click on the Chrome extension icon and watch the magic happen.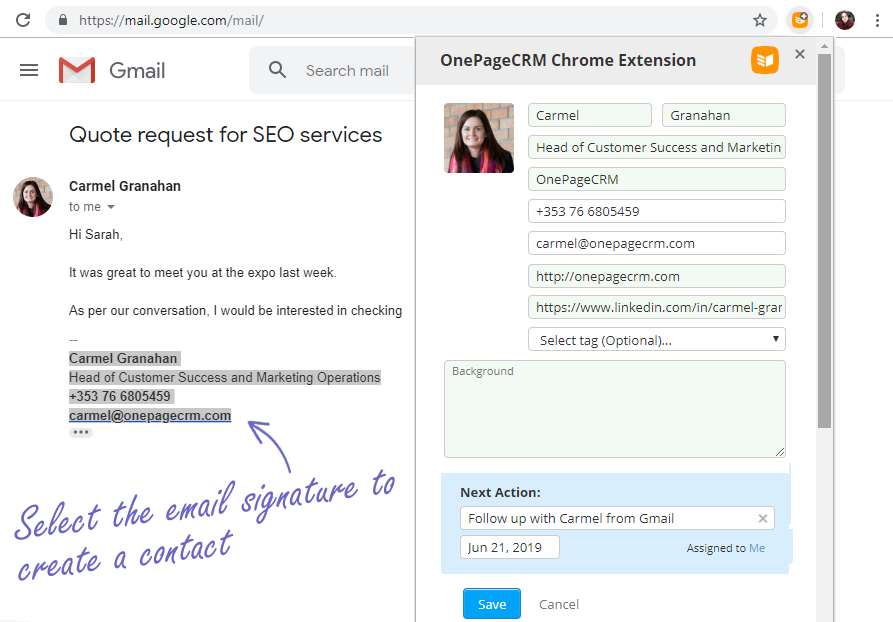 Gmail, Outlook, Twitter, Facebook, and Xing generate leads with one click
The previous – and much beloved – functionality of the OnePageCRM Chrome Extension is still there. When it comes to clipping leads from Gmail, Outlook, Twitter, Facebook and Xing, all you have to do is open the page you need and hit the extension icon – we'll do the rest.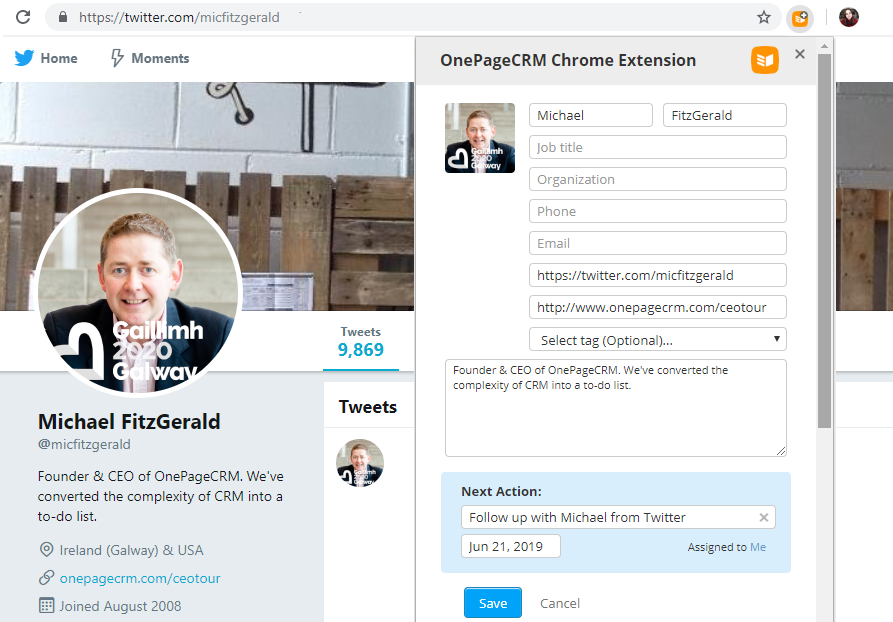 Quickly switch between multiple OnePageCRM accounts
No more signing in and out or hopping between different browsers. With Chrome Extension, you can easily switch between your OnePageCRM accounts in a couple of clicks.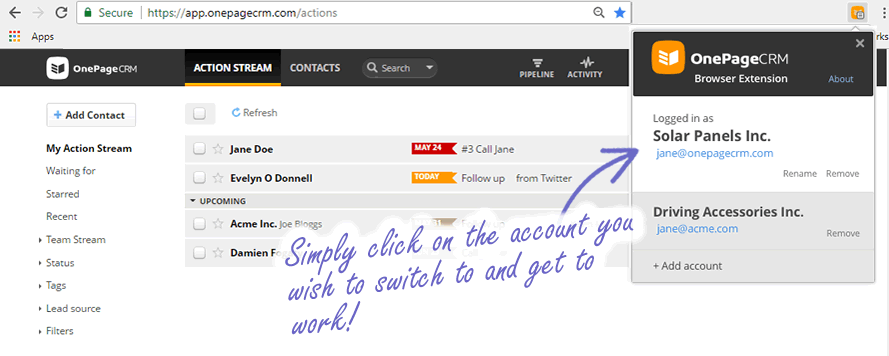 Always stay on schedule with Desktop Notifications
Often timing is everything. If your Next Action is time-sensitive, you can set not only a date but a precise time for it as well. With the enabled Chrome Extension, you will get a desktop reminder when the action is due, so you can get on it straight away!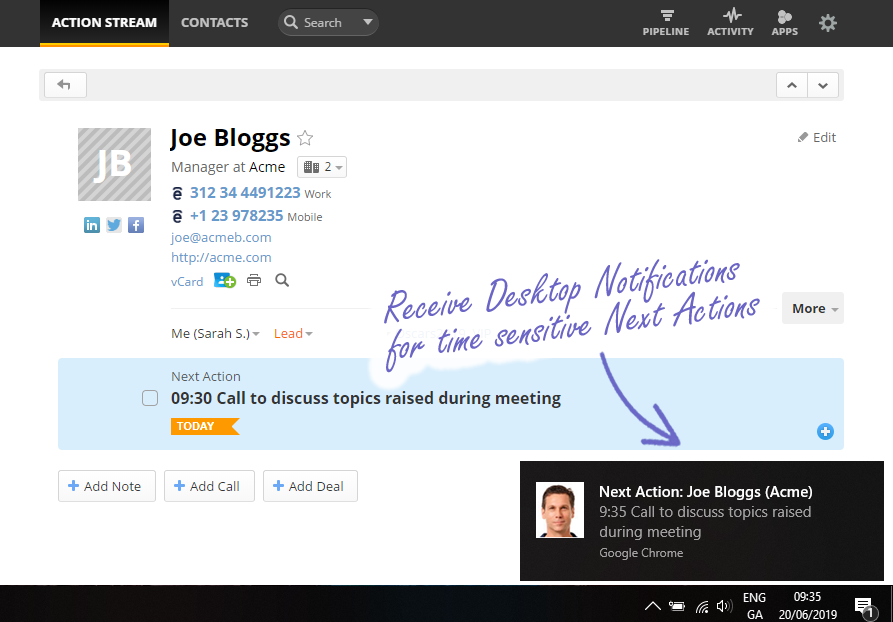 If you don't have Google Extension installed already, it's time to do so and reap its full benefits. Go to Apps > All Integrations > Chrome Extension, click install and add it to your browser. Now, all you need to do is sign in and start clipping! See full details here.
Note: To enjoy the new features, make sure your Chrome Extension is updated to the latest version – 2.9.24.
Have you tried the upgraded Chrome Extension already? Share your thoughts in the comments below or tweet us @OnePageCRM!