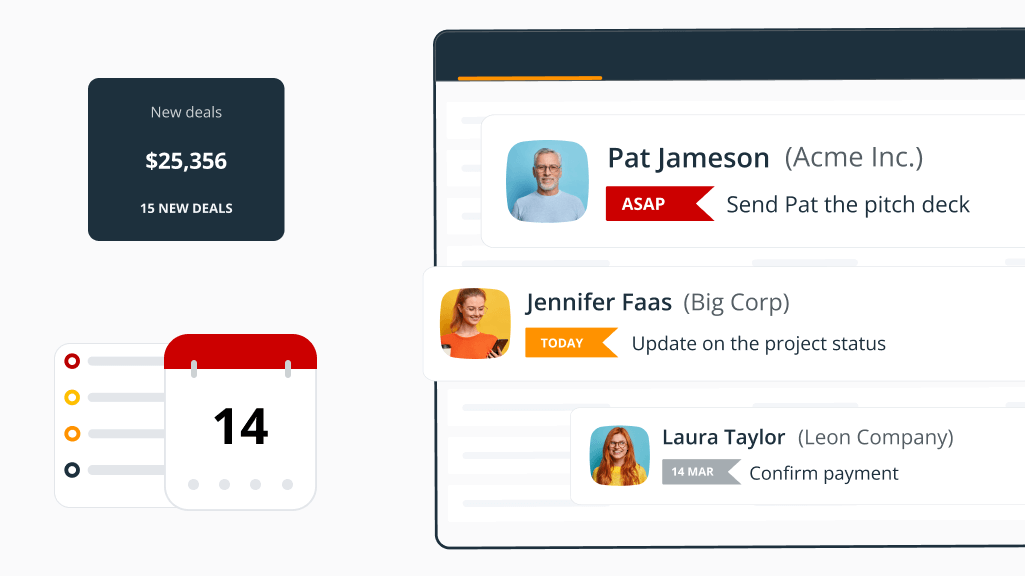 How to get better at sales [Next Action sales method]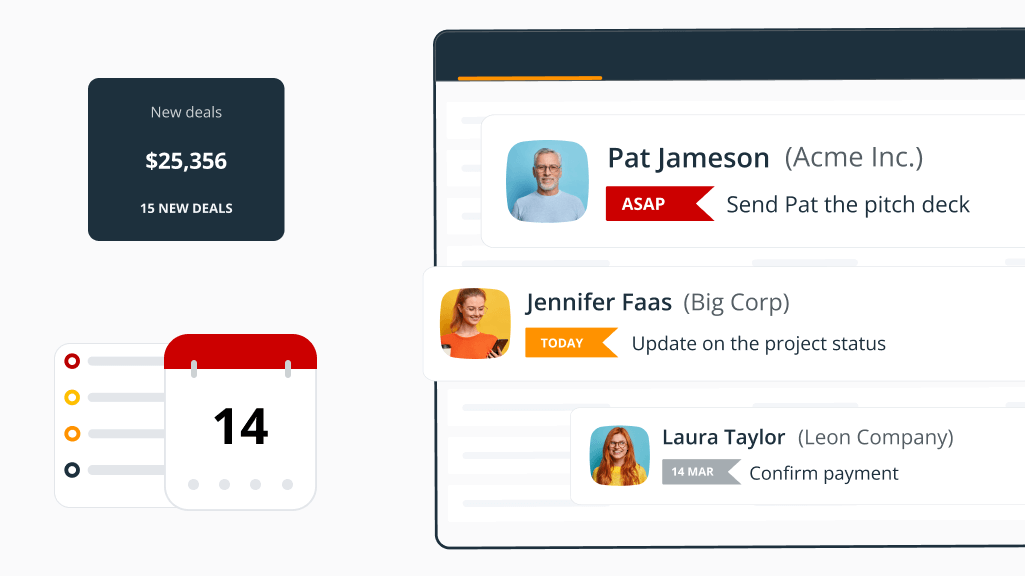 Developed exclusively for OnePageCRM, the Next Action sales methodology is inspired by David Allen's GTD, or Getting Things Done, productivity principles.
The beauty of the Next Action sales method is in its simplicity.
It does not require hours of training, you don't have to read multiple productivity books to understand the concept. It really is that simple.
What is the Next Action sales method?
In its simplest form, a Next Action is a task that needs to be done next in order to keep a project moving.

For example, if you're trying to win over a new client, there's a series of steps that you usually take. These steps are your Next Actions.

By writing them down and visually organizing them, you can clearly see your process, improve it, and move from one step to another at a steady pace.
In the same way that GTD increases productivity and improves time management; when the Next Action is applied to sales, it becomes a powerful tool that focuses you 100% on taking action.
By encouraging upfront decision-making and applying a Next Action to each of your leads and customers, you can ensure you never miss out on an opportunity to sell.
"The Next Action Sales once applied within any sales system will help to minimise slippage and maximise deals."
How can Next Actions improve sales?
Imagine that it's just after mid-day and among a slew of other tasks, you have to follow up on about a dozen potential clients.
With each of them, you have some previous communication. Be it an invoice with a note, a reminder, or a series of emails. There are lots of bits and pieces that you've been doing to build a relationship with your leads.
All of this information is—hopefully—diligently recorded in your CRM system: from meeting notes to email threads. It would have been impossible to keep track of who said what, when, and how you're meant to follow up without a CRM system.
However, storing this information is not enough. To get new clients, you need to put this information into action.
This is where the Next Action sales method comes into play.
Next Actions are follow-up reminders inside your CRM system that make sure that you keep an eye on every sales opportunity.

They can be assigned to any contact in your database and eliminate the need for an additional to-do app.

With Next Actions, every contact in your CRM is treated as a business asset.
What are the main elements of Next Actions?
The Next Action sales method involves a number of elements, namely: the diary, the strikethrough, the next action, the locked-in loop, the note, and finally, the nudge.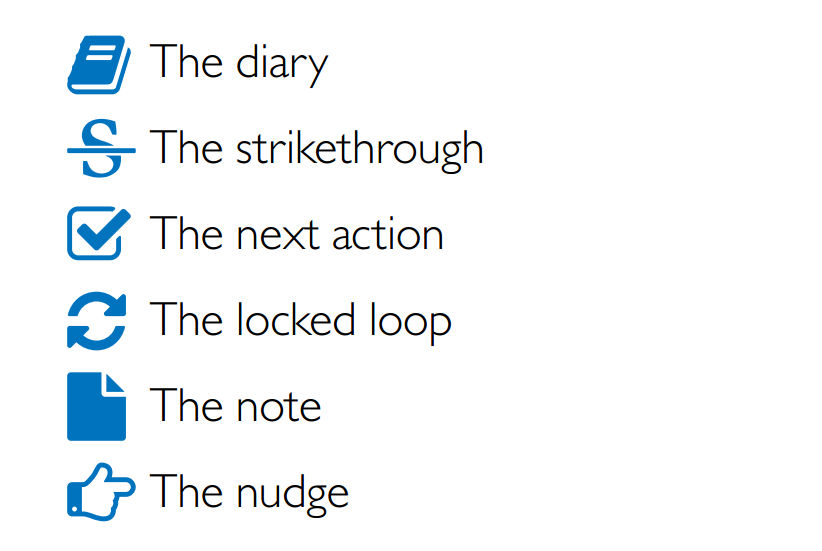 1. The Diary
First, you need to record every interaction (however seemingly insignificant) you have with your prospects and customers inside your CRM. Keeping track of these interactions will help you personalize your approach and remember all details during your next meeting or call.
Once you record the last interaction, add a Next Action to this contact straight away.
For example, you can save a quick note with what you talked about during your last meeting—and add a reminder to follow up and confirm if they will have received your contract in 2 days.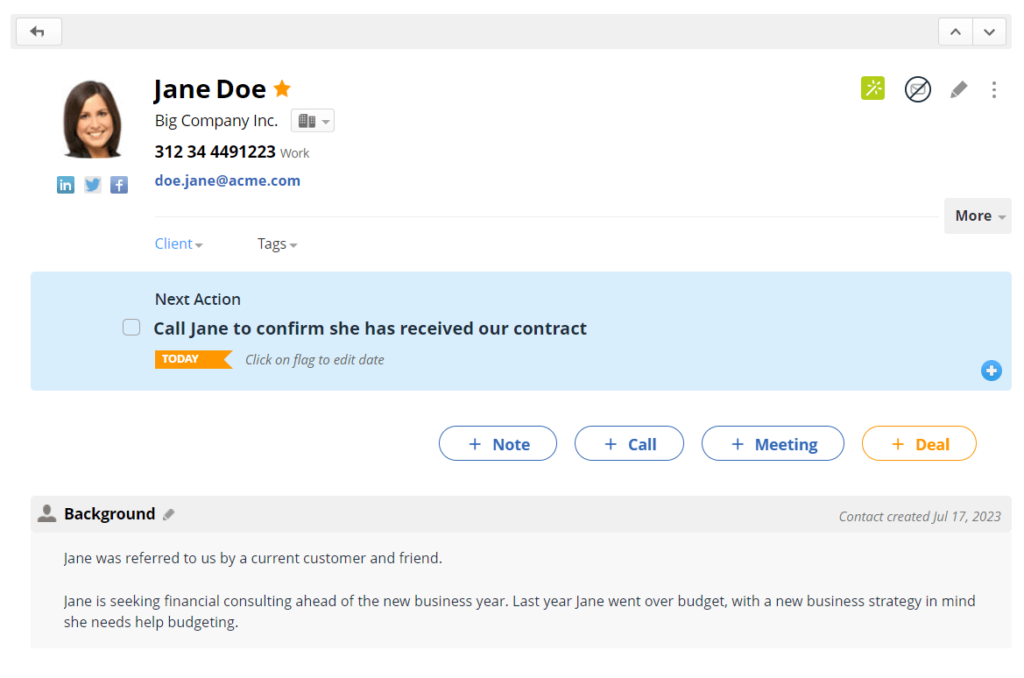 2. The Strikethrough
Once you complete your Next Action, the next element is the strikethrough.
There's an undeniable satisfaction in crossing off items from your to-do list—and the Next Action sales method lets you do it.
See how it looks inside OnePageCRM: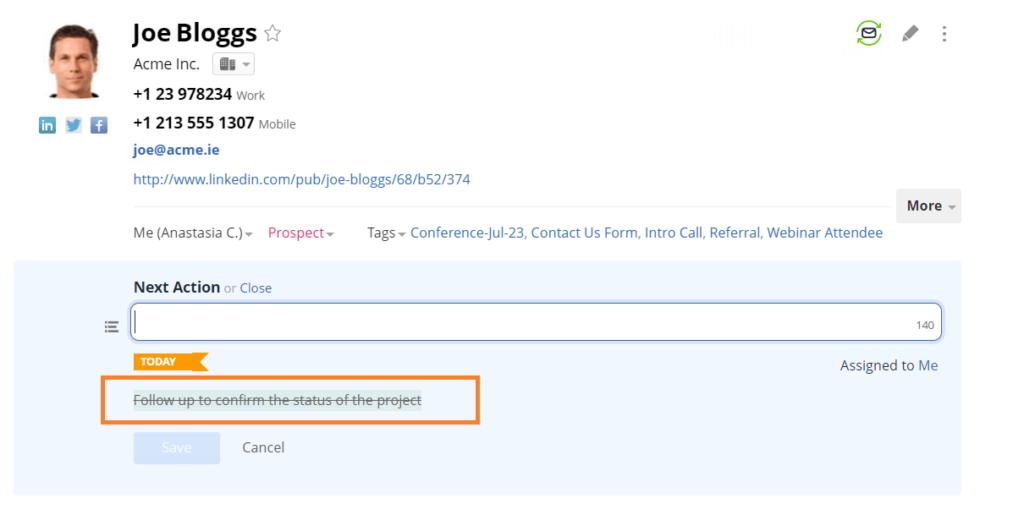 What's more, once the Next Action is completed, OnePageCRM automatically asks you to set a new one (see point 3 below).
All Next Actions for the day are organized in your color-coded Action Stream. This way, you can easily move from one task to another
3. The Next Action
It is important to keep a proactive approach to setting your Next Actions with a client, by deciding on the follow-up action directly after completing the last.
This is the time when you have the clearest perspective of the situation and what's required next. Being proactive at his stage, will improve the quality of future actions, making them easier and more automatic to execute when the time comes.
Once you have decided on the next action required to move the sale forward, you can write this into your diary on the date of proposed action. Once noted, you can then forget about that action for the time being, freeing up your mind for other tasks.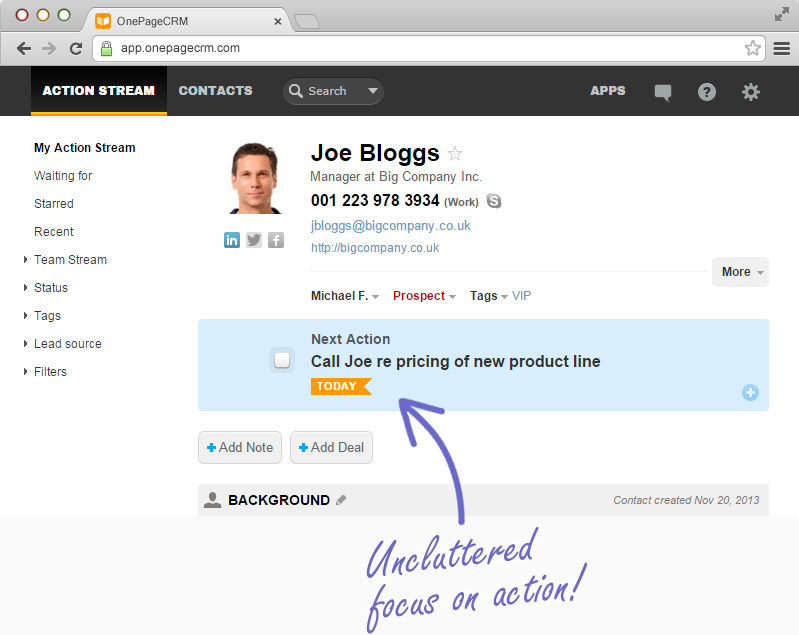 4. The Locked Loop
All your Next Actions are locked into a system, moving around in proactive cycles; disappearing from view when not relevant, and reappearing when the time is right, thus creating a locked loop of sales actions.
The sales loop is not complete until either a sale is made or the contact is put on hold (or deleted).
Remember: For every Action, there is a corresponding future Next Action. Below is the locked loop in action.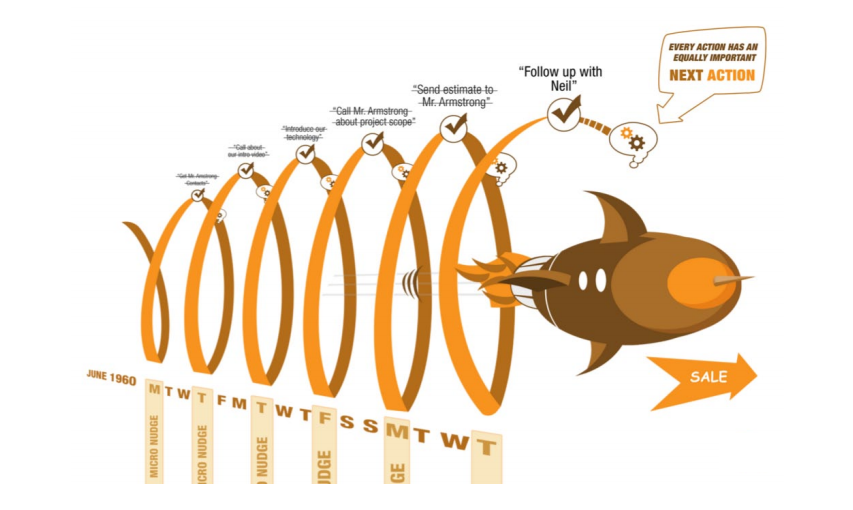 5. The Note
As well as dates for Next Actions, you also need to keep notes on your communications with people.
Your notes should provide you with just enough detail to enable you to make the right move. Notes should be linked to each customer and where necessary, each action. Notes might cover things like what the person said on each occasion they were contacted, what you replied and what tone the person used.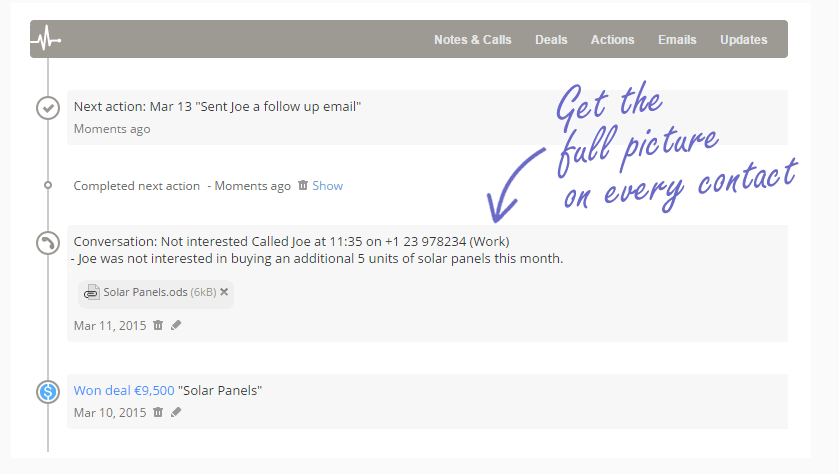 6. The Nudge
Consider your Next Action as a 'nudge', a gentle push in the direction of finalizing a deal with a prospective client.
The days of the 'car salesman' approach to customer acquisition are thankfully, long since past. Building strong relationships with customers is the measure of modern sales success.
You can use a simple notebook and manually strike through your to-do list. But in this case, you need to trust your discipline to check your notebook regularly in order not to miss any Next Actions.

Contrary to a notebook, OnePageCRM takes care of reminding you about upcoming sales actions. You can choose to receive email reminders with summary of your daily agenda every morning.

This is what we call a Nudge.
A nudge gives the sense of moving things forward that is so important in sales but without being too pushy. A nudge could involve anything from being patient with a client while they make their decision, to helping them "sell" it to their colleagues/bosses.
Always set a Next Action to follow-up, regardless of whether the time is now or later.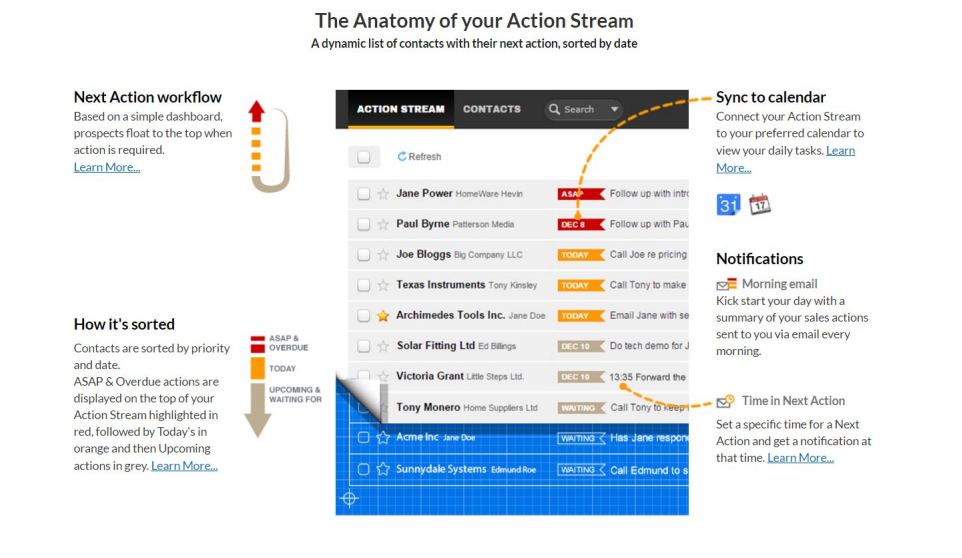 Tips for setting Next Actions
Next actions should be constructed in very simple and direct language.
Start with an action verb – call, email, meet, schedule etc. – something that will trigger the necessary action.
Be clear about what needs to be done and for whom.
Keep it to just a few words so that it's quick to read when its time comes around (hence, the limit of 140 characters).
Your systematic approach to sales
So, there it is; the systematic approach to sales based on setting Next Actions, performing them in a timely and well-informed manner, moving the situation forward with a series of nudges, until hopefully agreeing a deal.
Keep administration to a minimum and selling at a maximum with the Next Action Sales method.
Note. This blog post was first published in May, 2016 and updated for relevance in September, 2023.