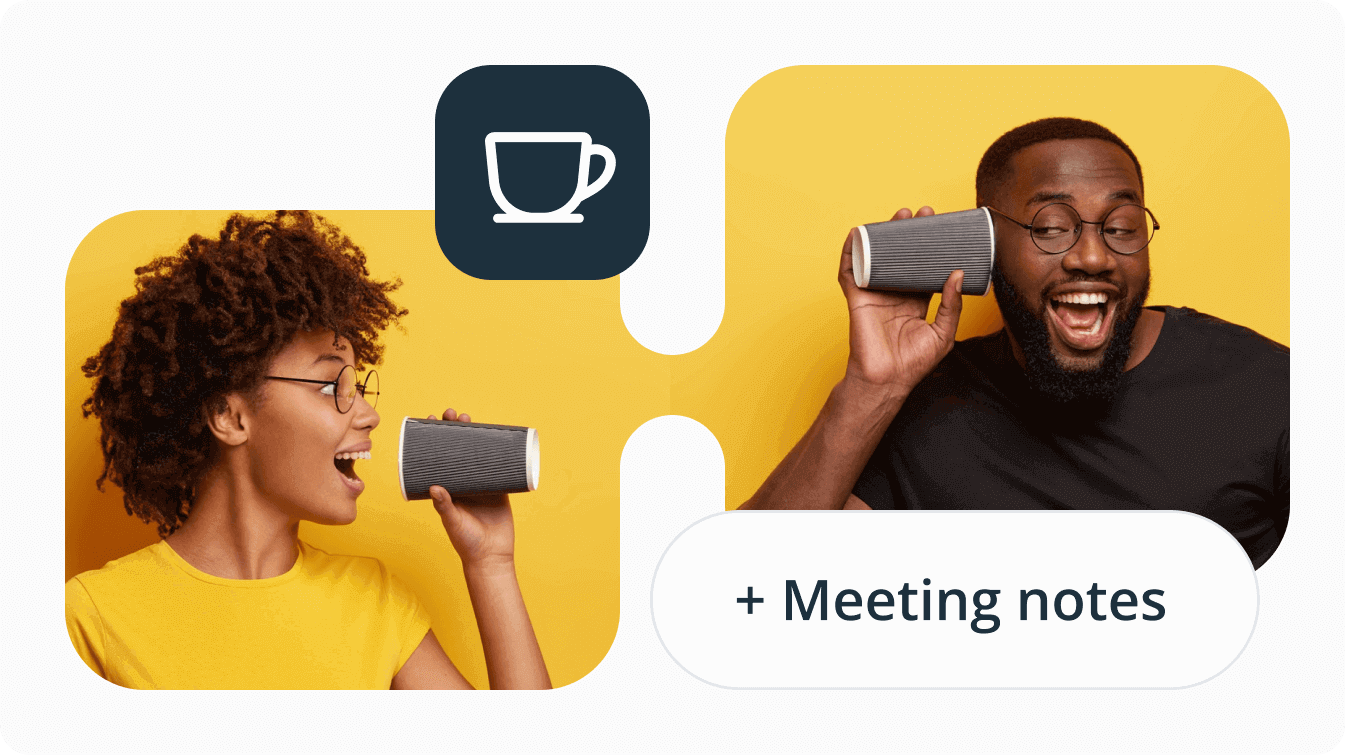 Organizing meeting notes has become simpler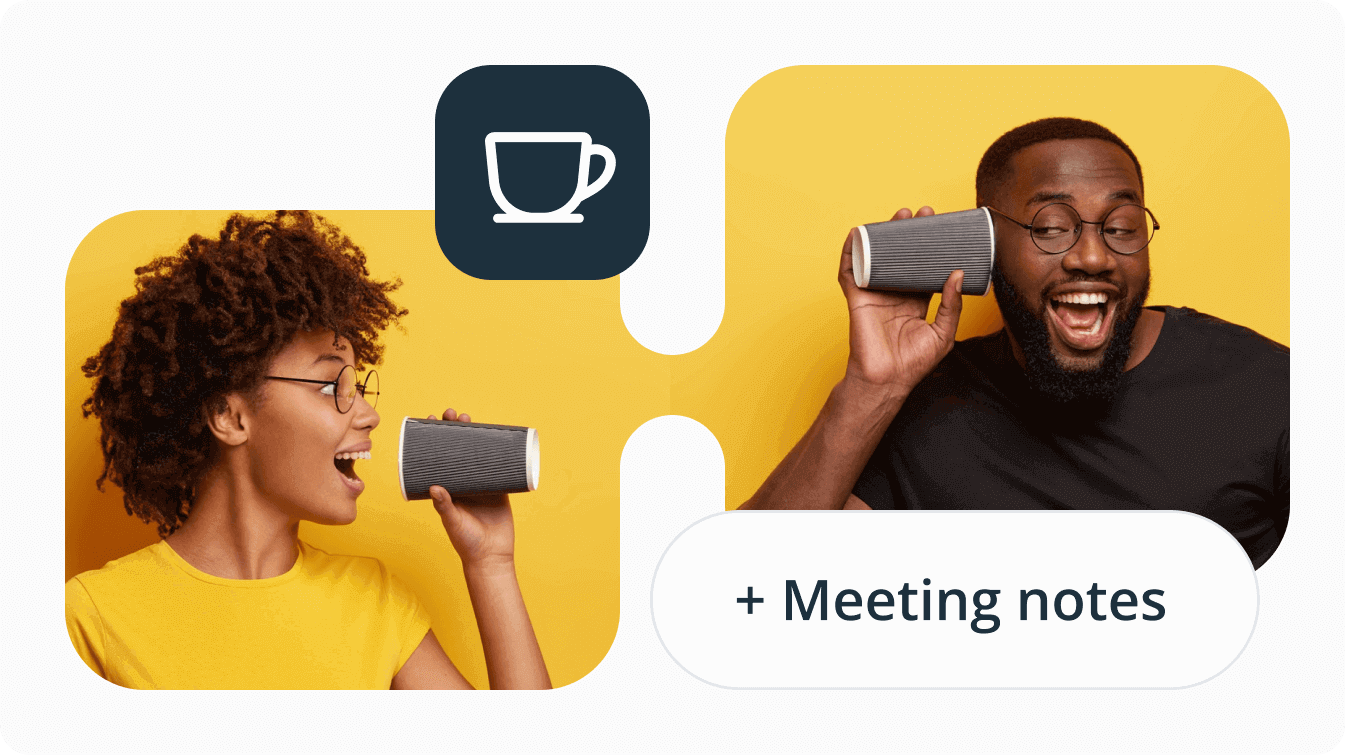 Notes-taking comes in all shapes and sizes.
Imagine you've just had a meeting with a client. Where do you put your notes? Do you send them to your assistant or use a note-taking app? Do you keep them in your email inbox or prefer taking handwritten notes?
In any case, OnePageCRM has made note-taking easier and much more centralized.
You can now differentiate between different types of notes in your CRM: general notes, call notes, and meeting notes—and keep them all on your client's Contact Page.
So for all of you who like to have your databases clean and tidy, we have great news:
Now you can organize and categorize your notes in a better way and pull up data pretty quickly by using our powerful filters.

Besides the contact's Background, call notes, and general notes, you can now add Meeting notes and organize your client records in a more efficient way.
What type of notes can I keep in OnePageCRM?
Here's a list of notes you can keep in OnePageCRM:
Background
Some of you see it as a sticky note.
The Background is a grey area that is always at the top of your Contact Page and gives you a quick overview of your history with this contact.
You can add here the most important information that you want to keep in front of you all the time: where you met them, on what occasion, if they are connected to someone in your network, etc.
You decide what information should be included and highlighted in the Background.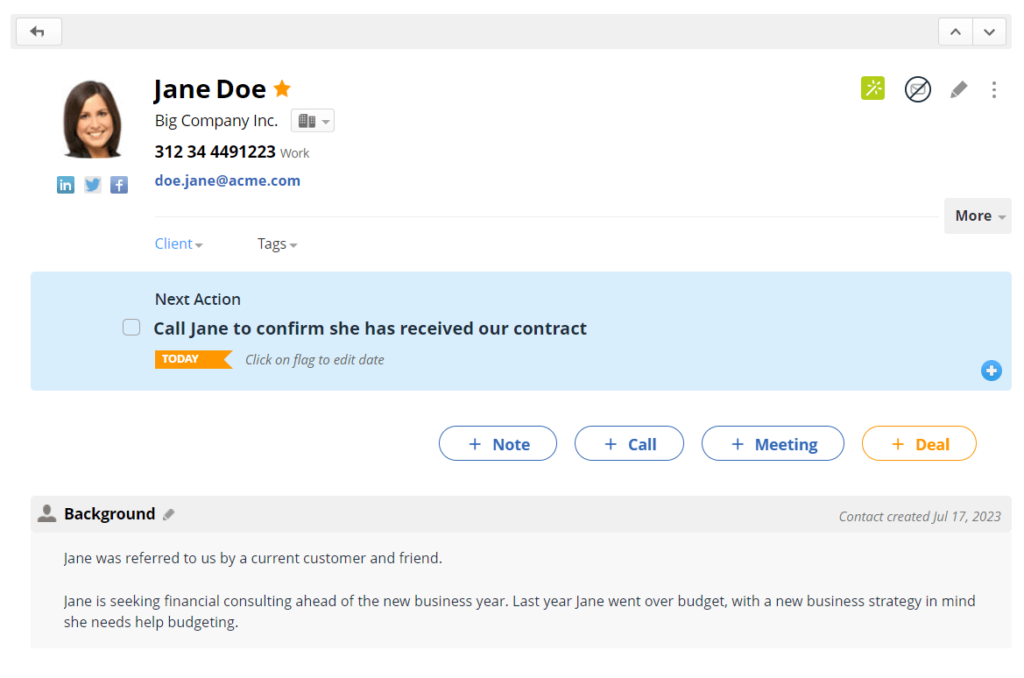 Note
This is a general note.
You can add here more information about the client or prospect as you get to know them better. Add attachments via Google Drive or Dropbox or upload files from your computer.
This way, everything you need to know about a particular contact will be neatly organized and saved on their individual Contact Page.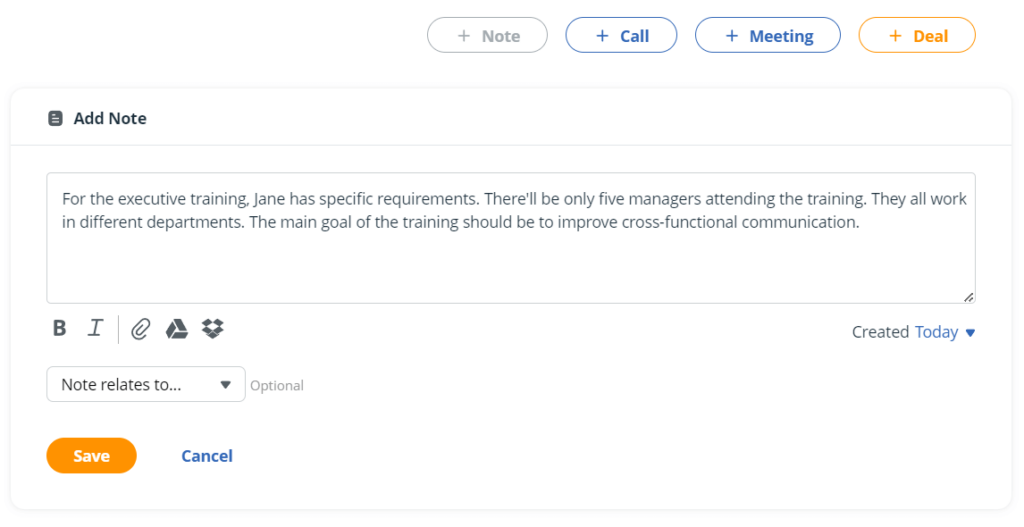 Moreover, this note doesn't exist in isolation. If it relates to a specific project or deal, you can also define this relationship when creating the note. This will help you easily piece the whole picture together.
Call Notes
In OnePageCRM, you can add a quick note after your call with a client on what was discussed and agreed upon. The next time you speak with them, you can always go back to the call note—it'll help you remember the conversation.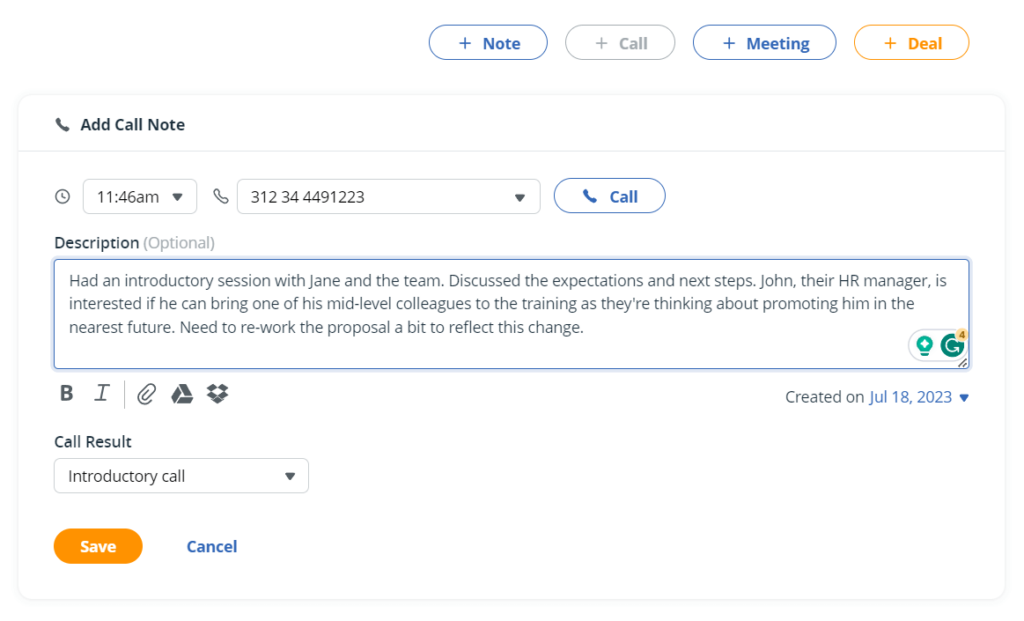 OnePageCRM has pre-defined call results options.
They are especially useful for those who use OnePageCRM for prospecting. Salespeople can quickly build filters and find those leads who were marked as Interested. But if this classification doesn't work, you can customize call results to fit your needs: Is it a check-in or an introductory call? Or maybe you're just catching up with an old client of yours?

With OnePageCRM, it's easy to categorize your call notes the way it works for you and your business model.
For example, as a consultant or coach, you might want to differentiate between different types of calls: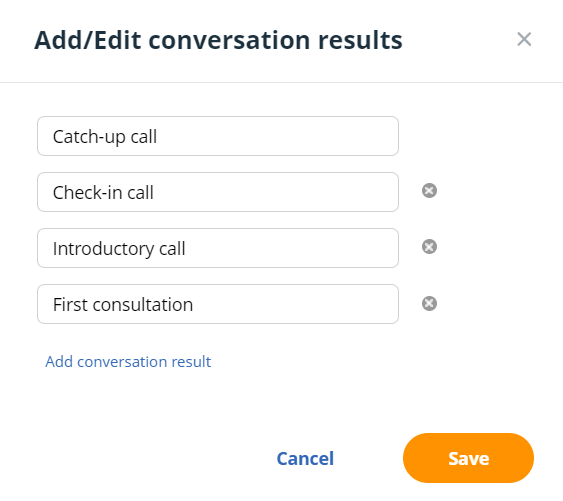 Meeting Notes
And now you can record meeting notes inside your CRM too!
Similar to all other types of notes, you can add attachments—and also specify where and when the meeting took place.
In case you're meeting clients face-to-face and don't have too many calls, this note type can help you be even more organized than before.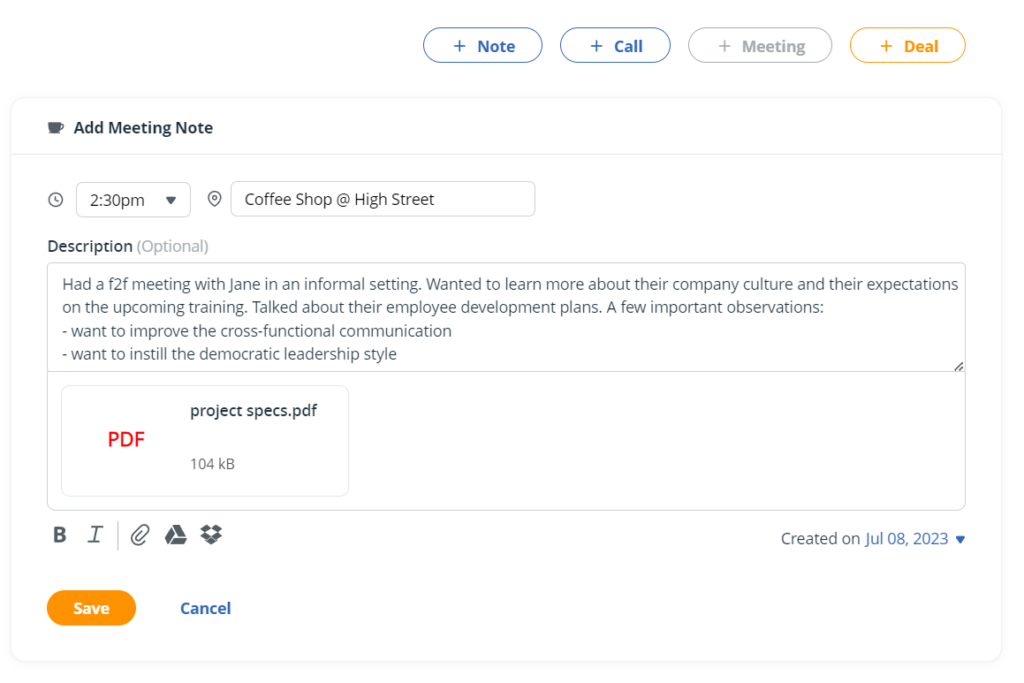 How to organize meeting notes efficiently?
If you're reading this blog post, you're probably well aware of all the benefits note-taking brings: from helping remember information and freeing up memory to reducing stress and so on.
Here are a few tips you can use to organize your notes in a better way.
1. Write down the main points
During a phone call or a client meeting, you're probably short on time. It's not possible to take long and coherent notes. Instead, pay attention to what your client is saying and stay present.
By taking quick notes, you can focus on the most important points of the conversations and come back to them later once you have a bit of alone time.
2. Revisit your notes shortly
Typing quick notes is a good way to capture the gist of the meeting. Our short-term memory is a powerful tool but the longer your notes are left unedited, the harder it might be to remember what you meant with a particular abbreviation.
Get back to your notes shortly after a meeting or a call and edit them a bit to make sure they're reader-friendly.
You don't need to create a short story based on these notes (you probably won't submit them to The New Yorker). Double-check that they make sense and that you won't be confused in a couple of months when re-reading them.
3. Experiment with the note format
The way your notes look is a personal preference.
Some people like paragraphs while others are happy with a simple bullet point list. Try experimenting with different note formats and see which one works for you better. There are pros and cons to both of them.
4. Include personal observations
Keeping meeting notes factual is important but your thoughts and observations are noteworthy too (no pun intended).
Did you notice that the prospective client was a bit hesitant during the call? Maybe it wasn't the best time to call? Or maybe your pitch could have been better? Write down any observations you have. This will help you improve your delivery over time.
Besides, if a client mentions something personal over a phone call (for example, an upcoming vacation or adopting a dog from a shelter), you can always start your next call with a friendly question and build rapport from there.
5. Keep your notes in one place
Building long-lasting business relationships requires effort and discipline. Ideally, you want to get as much information on your leads as possible before reaching out to them. This would give you an edge in your outreach.
A CRM is a great place for keeping track of all your client-related notes, be it meeting notes, phone call notes, or just general background information.
By keeping client information on their Contact Pages, you and your team will be able to quickly pull up the data you need instead of searching for it through different apps.
Organizing notes in a CRM saves time
Imagine John runs an event management company. There are three people on John's team, including himself.
John was talking to a new vendor yesterday and sent Luke, his assistant, a few notes after the call.
Since it's a small company, besides working as a personal assistant, Luke is juggling a few other tasks and didn't get time to put the notes into the CRM by the end of the day. Today, Mary, the Event Project Manager, had a follow-up call with the same vendor and ended up asking the same questions.
This could have been avoided if all three people used a CRM as a central place for keeping all their business-related notes. The more people there are on the team, the more difficult it will become to keep everyone on the same page.
That's why a simple CRM system can be an invaluable tool for organizing and managing notes across the team.