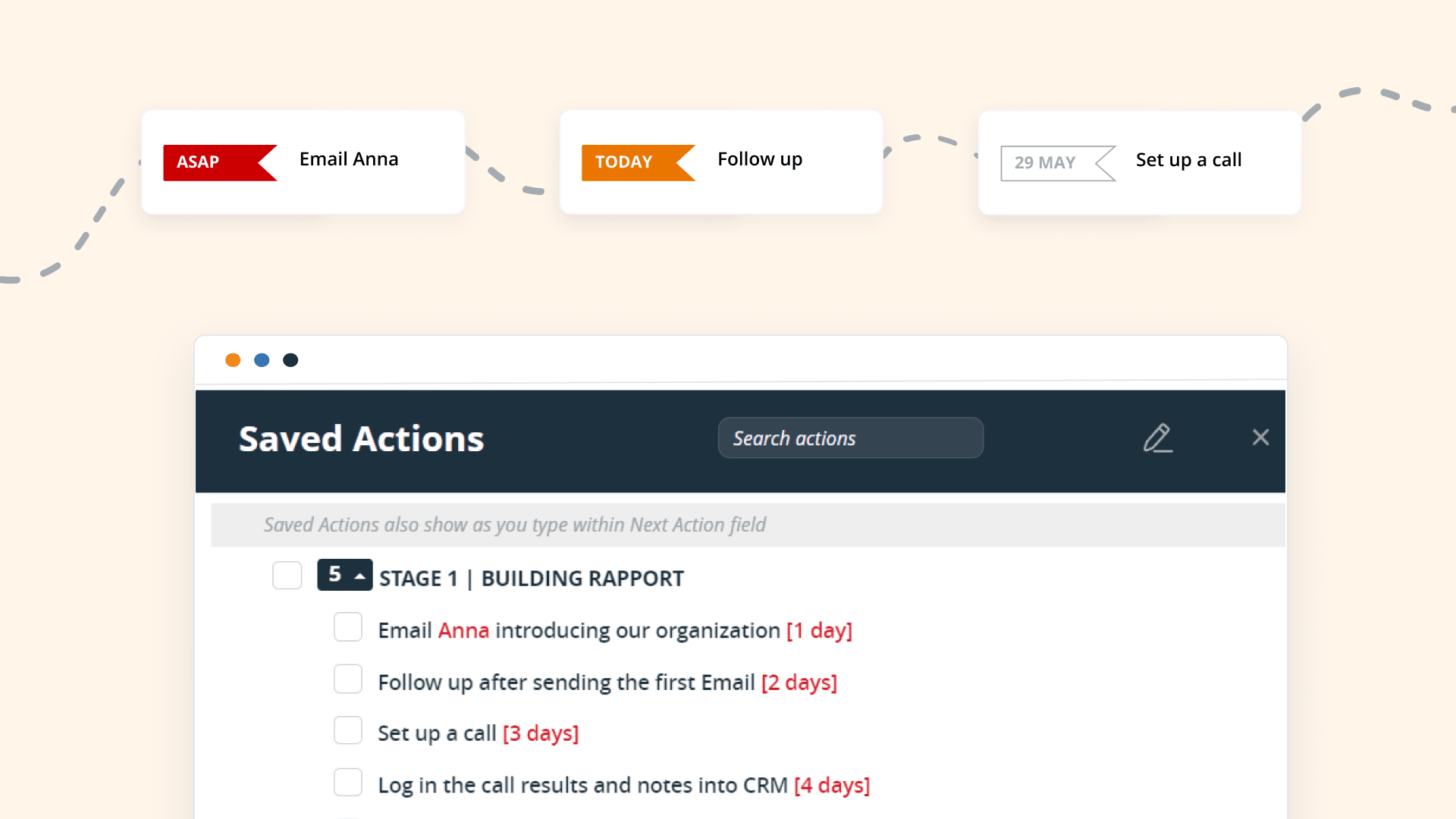 Saved Actions: The Simplest Way to Organize and Manage Repetitive Tasks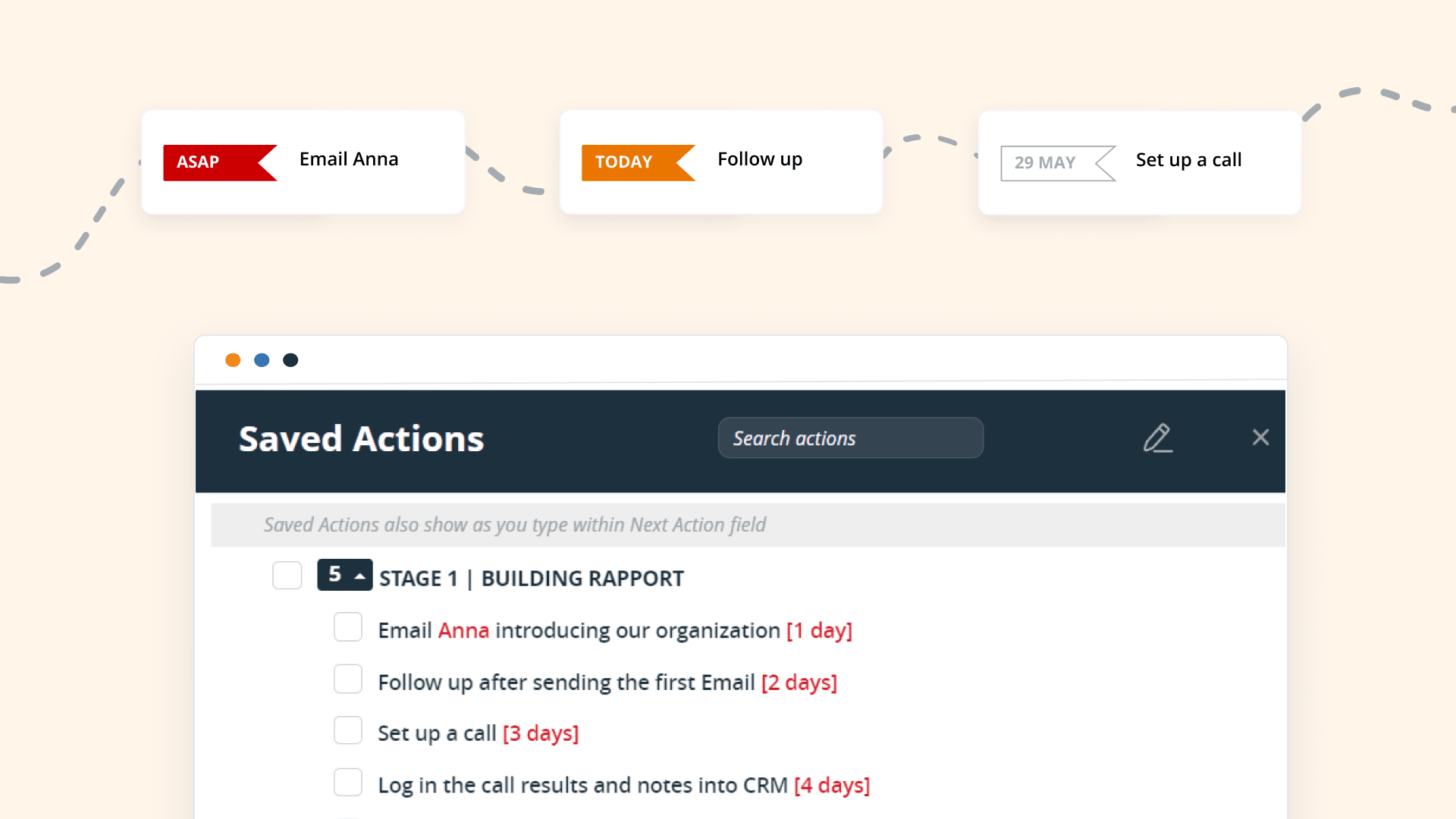 With OnePageCRM, it's simple to organize and manage your step-by-step processes, be it a sequence of actions for lead nurturing or client work. Write down the list of actions you usually take and save them in your CRM. This sequence will be easily accessible from the Contact view and can be added to any lead or client in just a few clicks.
Saved Actions is a great feature for creating a step-by-step process and re-using it when needed.
Have a look at how it works:
Saved Actions help you save time on managing repetitive tasks
Easily create repetitive tasks from the Contact view
Organize them into groups
Add multiple tasks at once, e.g. your full sales process
How do Saved Actions work?
Saved Actions are sales activities that are used repeatedly in your sales process. Simply create your most frequent sales actions within OnePageCRM for all your sales team to use. It's easy to get started — just click on the icon to the left of the Next Action field and set up your sales activities for your sales process.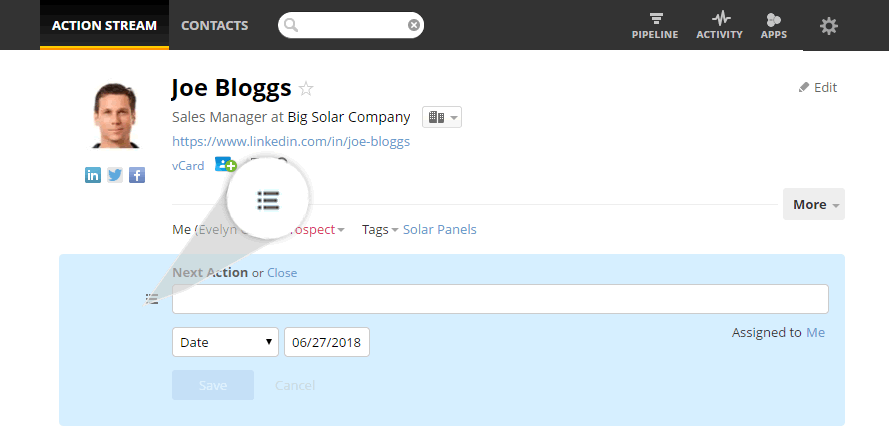 Benefits of Saved Actions
Easy setup: reduce admin on repetitive tasks
Saved Actions are accessible and easy to create.
Reduce your workload by adding Actions suited to your organization and sales process. You already know what actions sales reps need to follow when it comes to a new lead, so now it's time to build them into OnePageCRM.
Using Saved Actions the sales team can open the contact and with one click, set up a set of Next Actions from the saved list.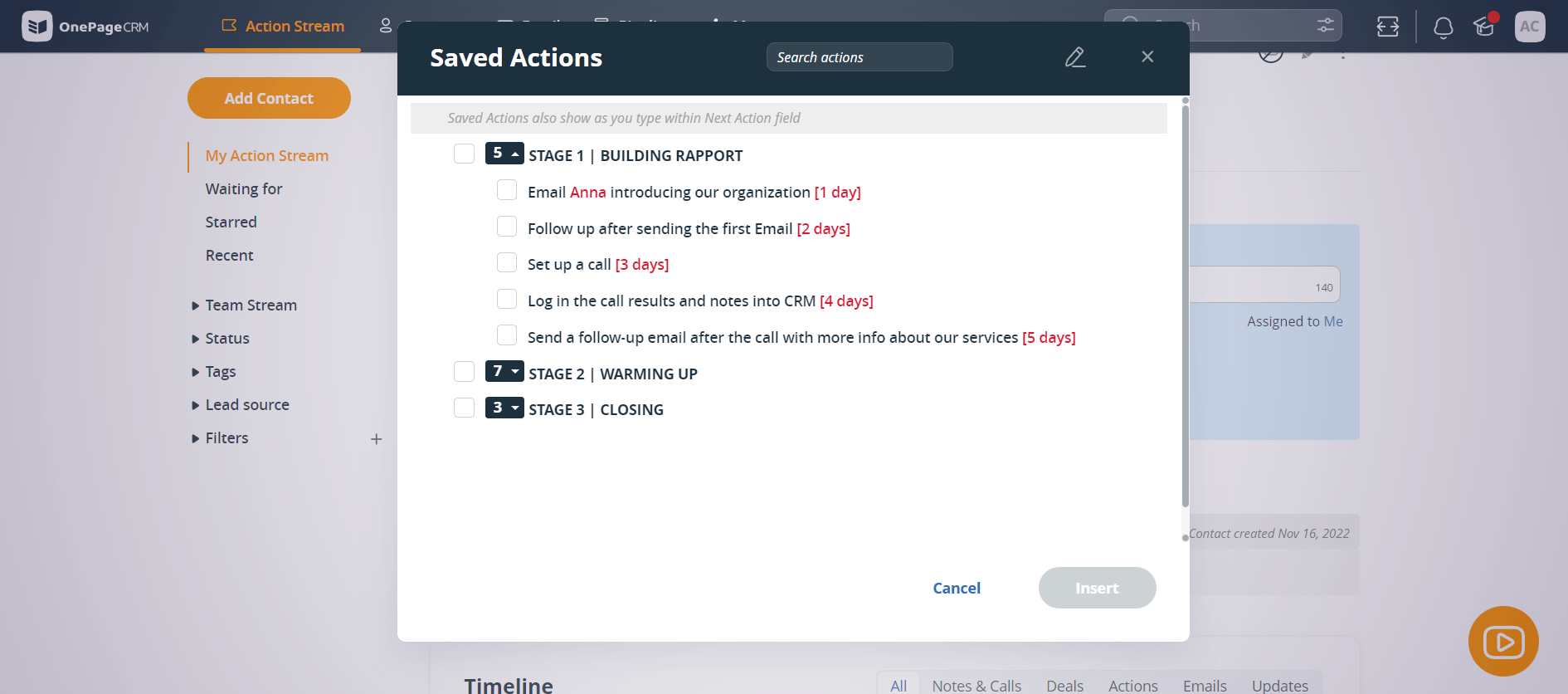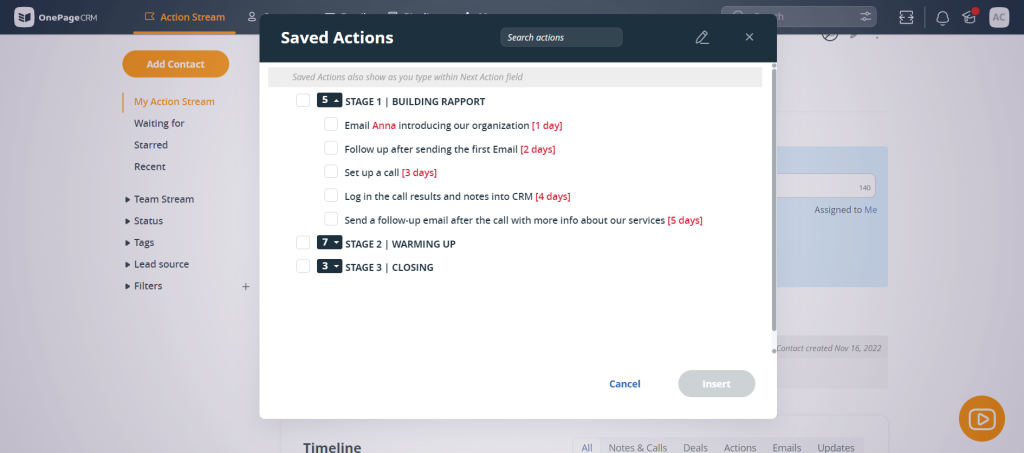 Eliminate manual typing
How many times have you typed in the same Next Action?
Using Saved Actions will eliminate the need for repetition. Saved Actions will appear as you type within the Next Action field.
Using auto-complete functionality you can set Next Actions faster and spend less time typing. In addition, you can easily insert saved actions directly from the Saved Actions list.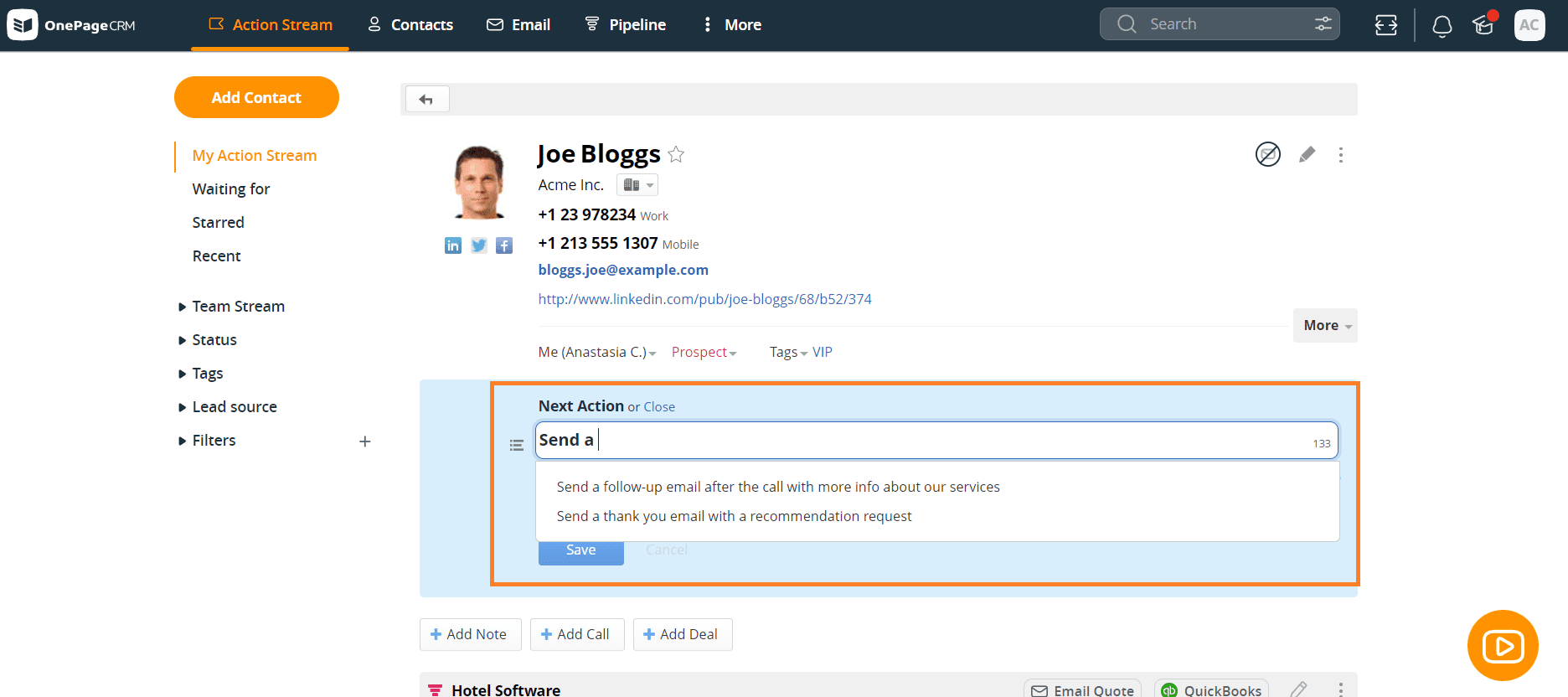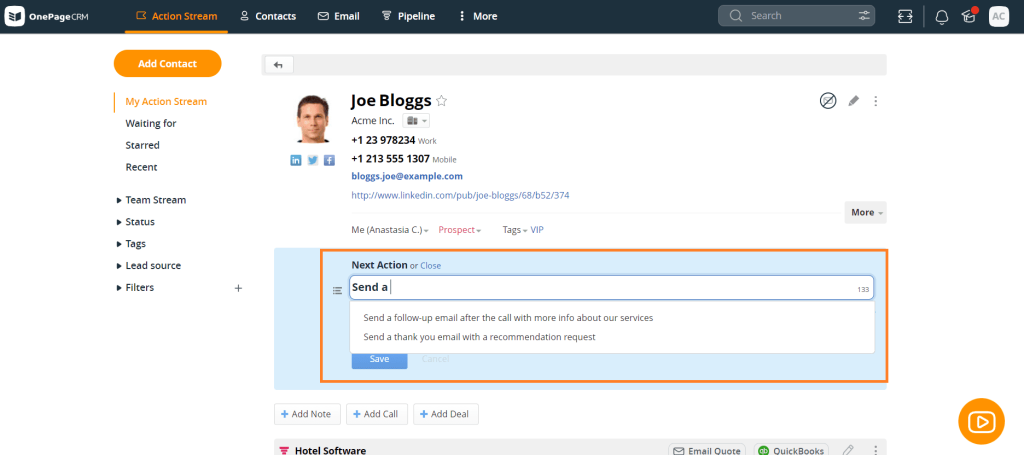 Organize repetitive tasks into groups
You can group tasks depending on different criteria. For example, if your lead nurturing process consists of several steps that entail more specific actions, such as tasks for social media. You can group them in one cluster.
This will enable you to add multiple actions at once in just one click (the upcoming tasks will be displayed as Queued Actions).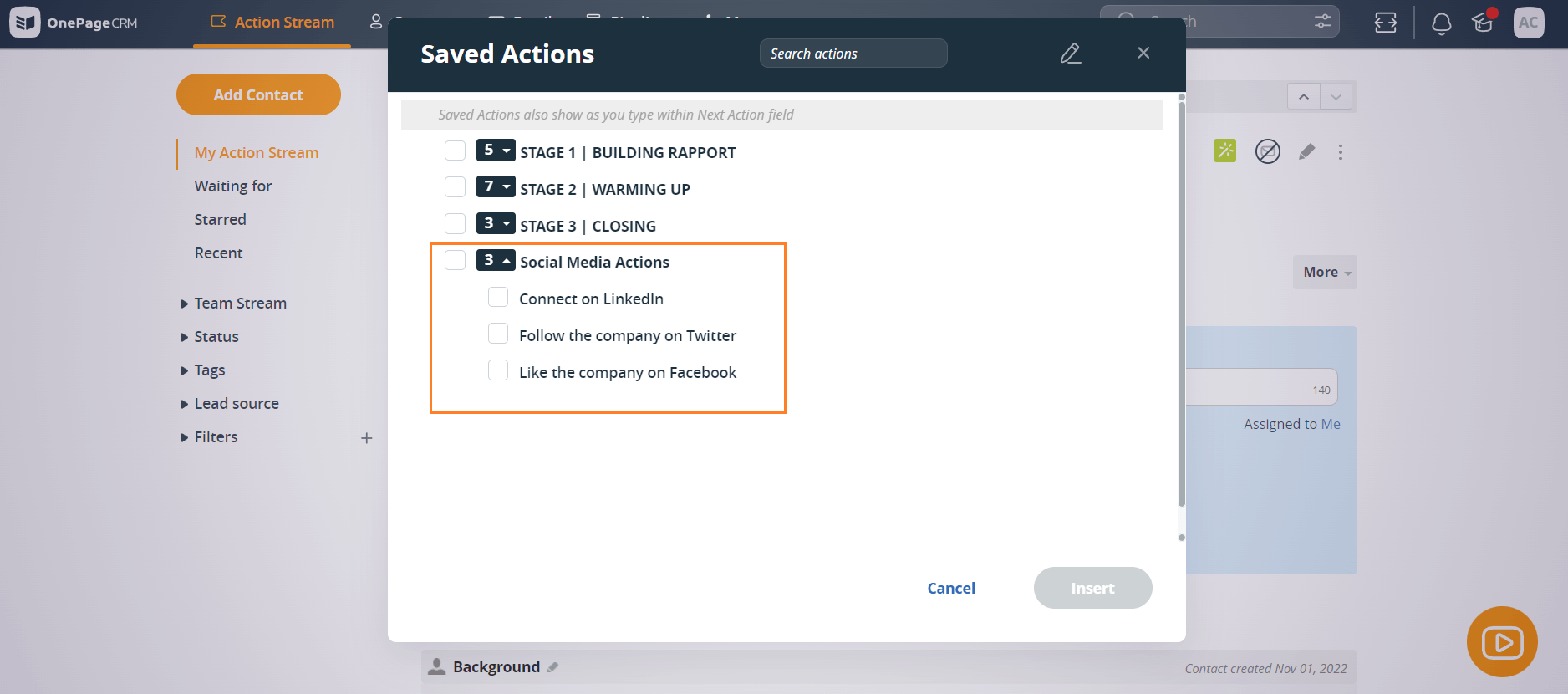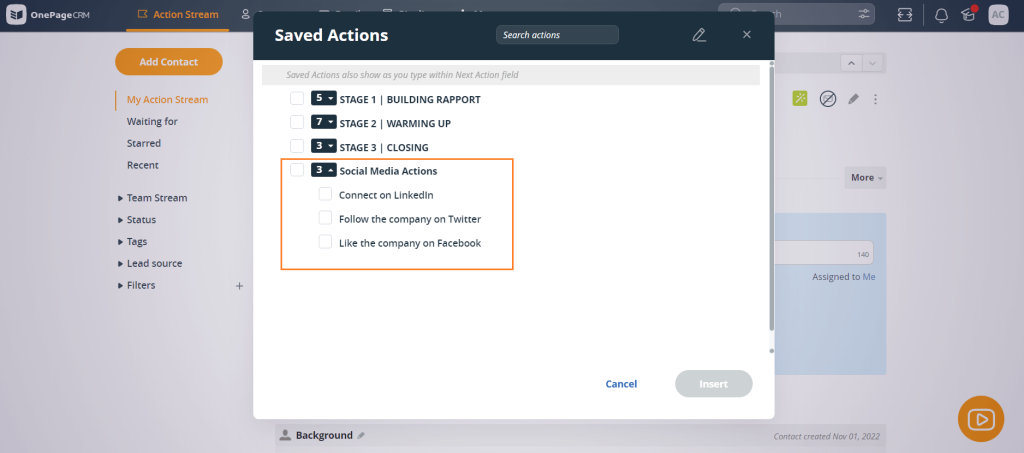 Define the time frame and space out your tasks
You have the power to specify when the action should fall due. This way, you can be certain to follow up at the right time.
Example: Email [Firstname] introducing our company [3 days].

Sometimes your sales process changes. It's very easy to incorporate any changes to your Saved Actions. The easy edit function allows you to quickly edit or ungroup existing Saved Actions from within the Saved Actions popup.
Mark Queued Actions complete
You can mark Queued Actions complete. Great for when you have lots of small tasks associated with a contact. If you notice that some of the tasks are redundant, you can cross them out from your to-do list.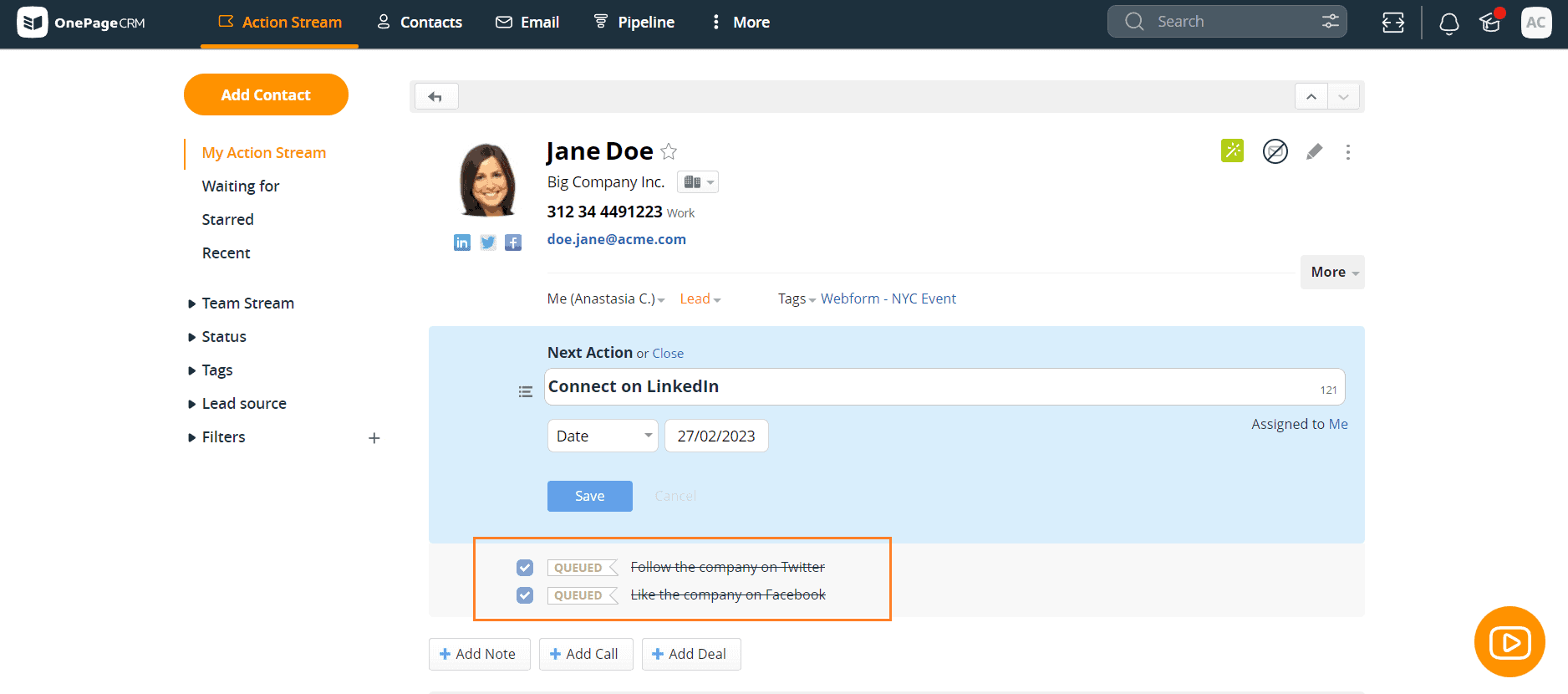 Organize and manage repetitive tasks
With Saved Actions, you can speed up repetitive processes at your company and keep them streamlined.
Instead of always thinking about your next best step with a client, you can outline your process one time and then easily add the pre-defined task sequence when needed. This will free your mental space for other work rather than being constantly distracted by planning your daily tasks.
If you're looking for other CRM tips to increase your productivity, make sure to check out this short video: