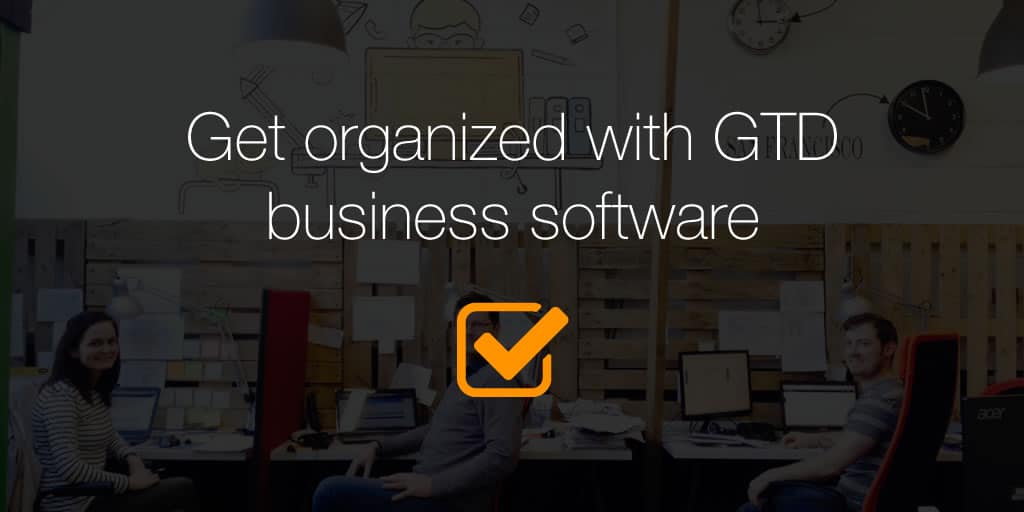 Best GTD apps for Getting Things Done as a small business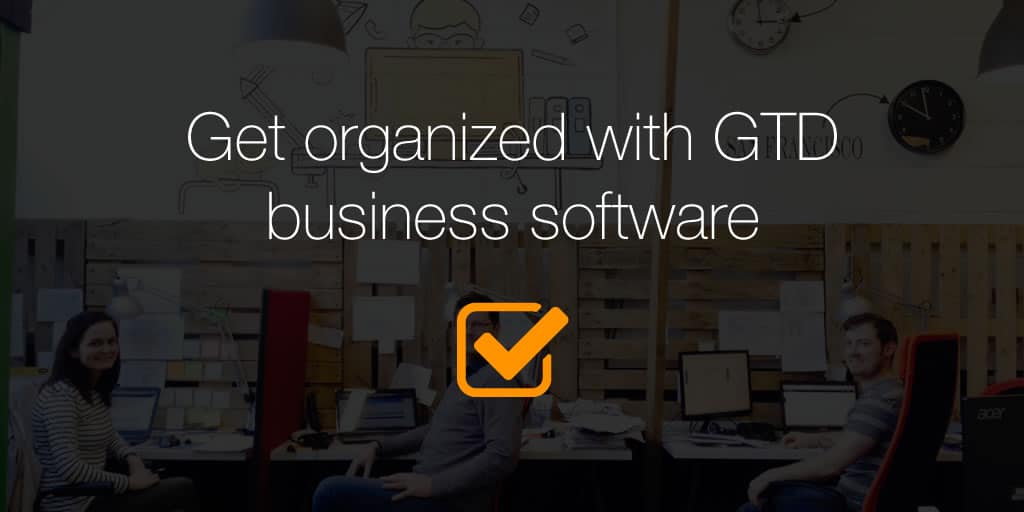 These days we hear lots of calls to be more organized, efficient, and productive.
"Achieve more in less time", "Beat the work overload", and "Work smart" all sound inspiring, but are they really achievable? And if so, what are the magic actions to take to get to this degree of perfection?
Today we'll take a look at one of the time management methods called Getting Things Done (often referred to as GTD) whose core promise is to boost your productivity in a stress-free manner.
In this article, you'll also find a couple of business apps that will help you implement GTD ideas, and make them an integral part of your daily life.
What is Getting Things Done (GTD)?
Getting Things Done (GTD) is a productivity methodology pioneered by David Allen.
The premise is that today people—especially business people—have to remember a lot of things they need to do. Keeping track of them takes up an inordinate amount of your brain's capacity and energy, and results in stress and frustration.
According to GTD, we have to free our mind from remembering tasks and concentrate on actually performing them. With GTD, it's possible to transform the workload into an organized system and do it in a stress-free switch.
Your mind is for having ideas, not holding them
So what's the secret?
There are four steps to make GTD work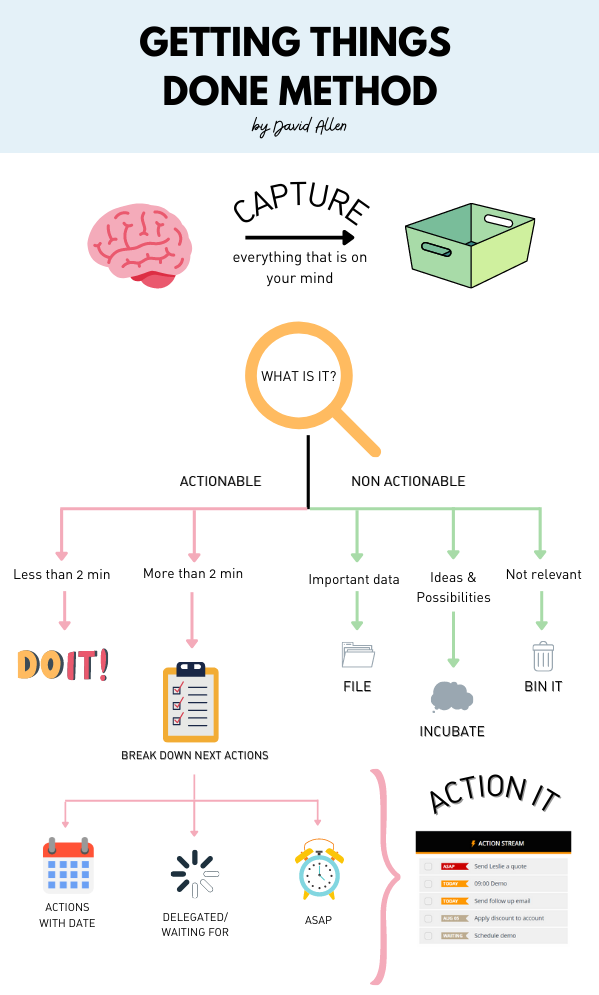 1. Capture
Collect any relevant inbound information, coming through emails, phone calls, articles, requests from colleagues, ideas, etc.
Empty this information from your brain into a trusted system. It can be anything—from a computer program to a notepad, as long as it's outside your head.
2. Ask
Ask yourself if every task on your list requires an action from you to move it forward. If it is not, maybe add it to a "Someday" list or keep it as a reference file.
Is it actionable? Then make a decision on what is the next action. If the action requires just a couple of minutes, perform it immediately.
Can you delegate the task? Then add a reminder to your "Waiting for" list. If the task is complex and consists of more actions, record it in your Projects list.
3. Review
Review your actions and keep your list up-to-date. A weekly review helps determine if the system is working for you and will allow you to make necessary adjustments.
If you don't keep your action list up-to-date you start to lose your confidence in the method. Once your 'external memory' is organized into a trusted system that works, you'll develop a great feeling of order and control.
4. Choose
Finally, before you start to perform the actions on your list, there is one more thing—choosing the right actions to do. GTD offers some criteria to help you choose the tasks you should be doing right now or today.
Best GTD apps for small business
Since the Getting Things Done method became popular, there are some GTD apps that use this methodology to some extent.
Here are three business applications that employ the GTD concept and will help integrate GTD into your small business.
1. OnePageCRM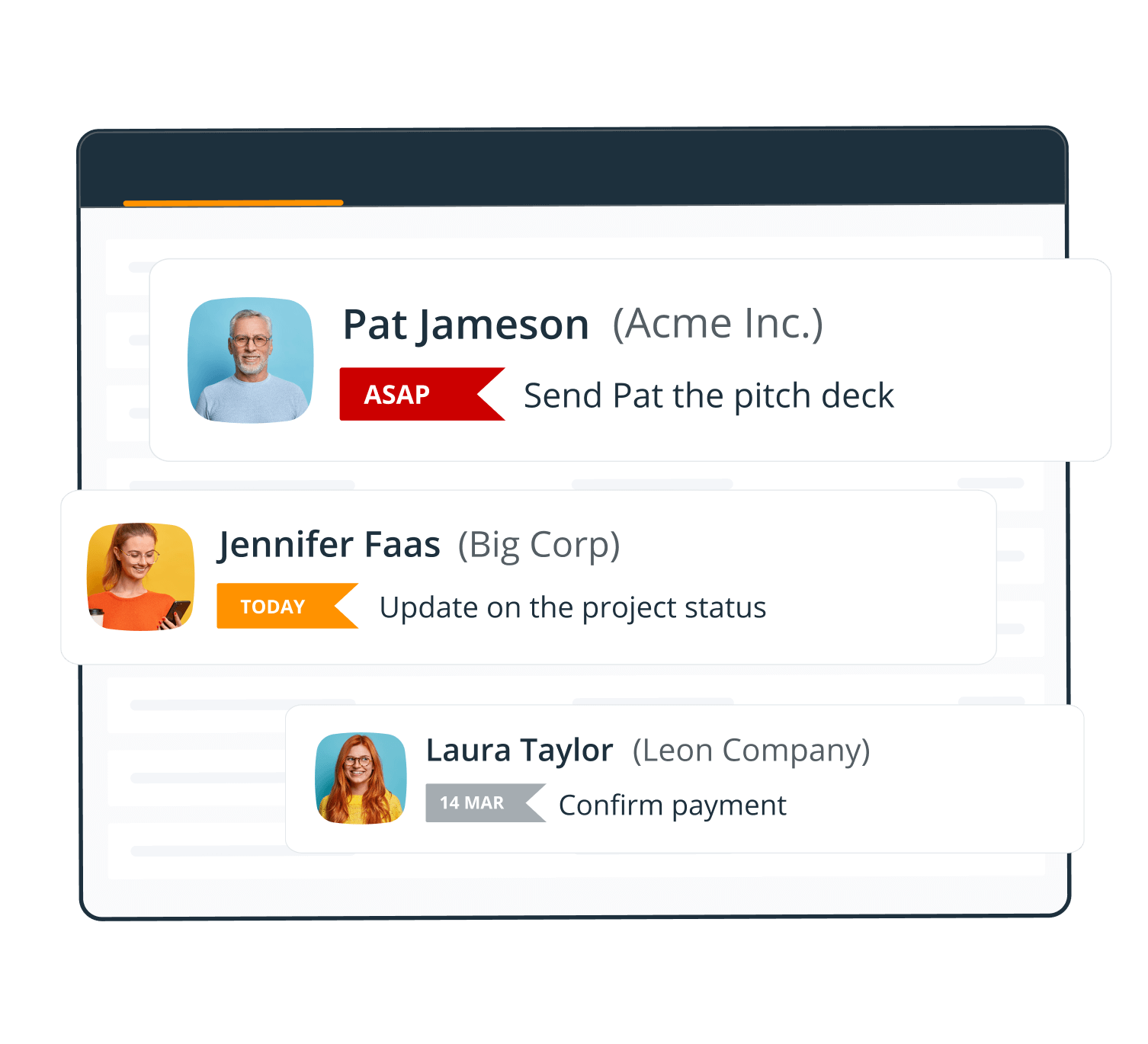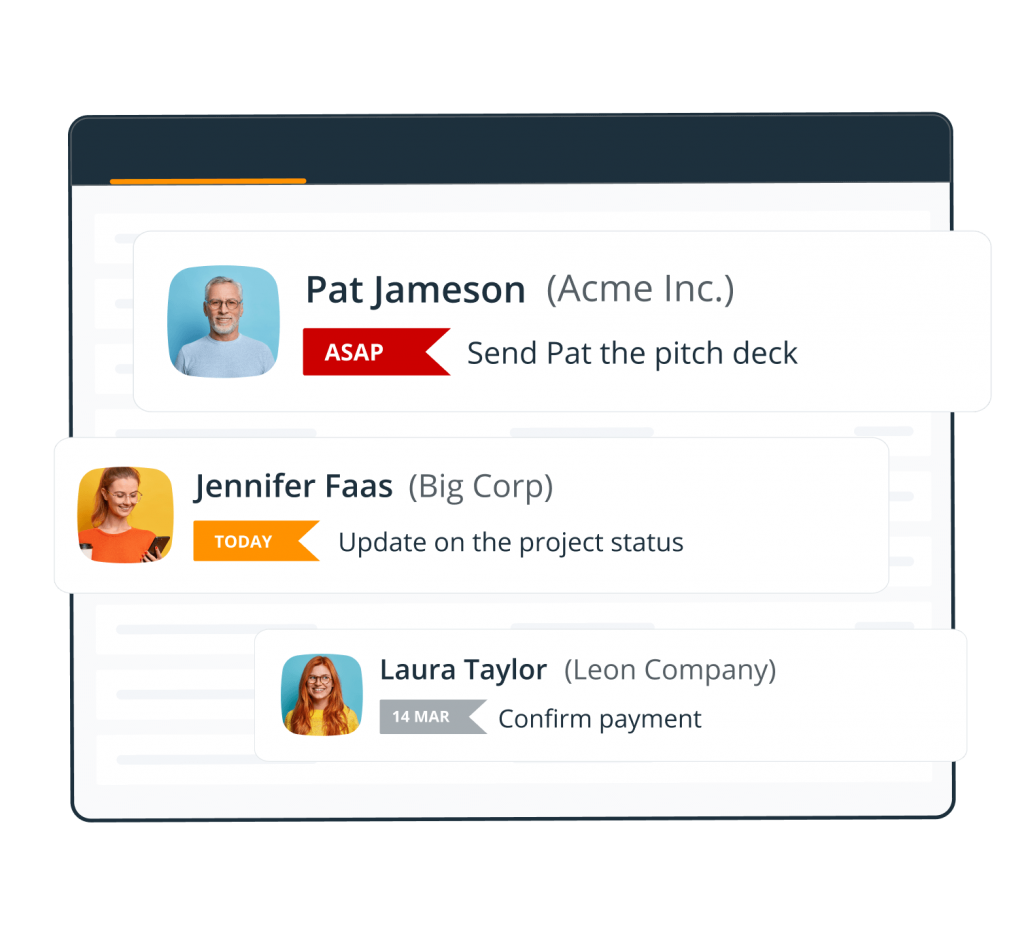 App core function:
OnePageCRM is a simple tool that helps businesses manage their relationships with prospective and existing clients. It provides a single application to store client-related information.
How GTD concept is implemented:
OnePageCRM is an unusual combination of a simple contact database and a dynamic to-do list.
This GTD app focuses on activities and encourages users to add Next Actions (follow-up reminders and tasks) to all contacts in the system. All clients and prospects are then sorted by the urgency of their assigned Next Action.
This way, you can clearly see what needs to be done today without jumping from one app to another.
2. Evernote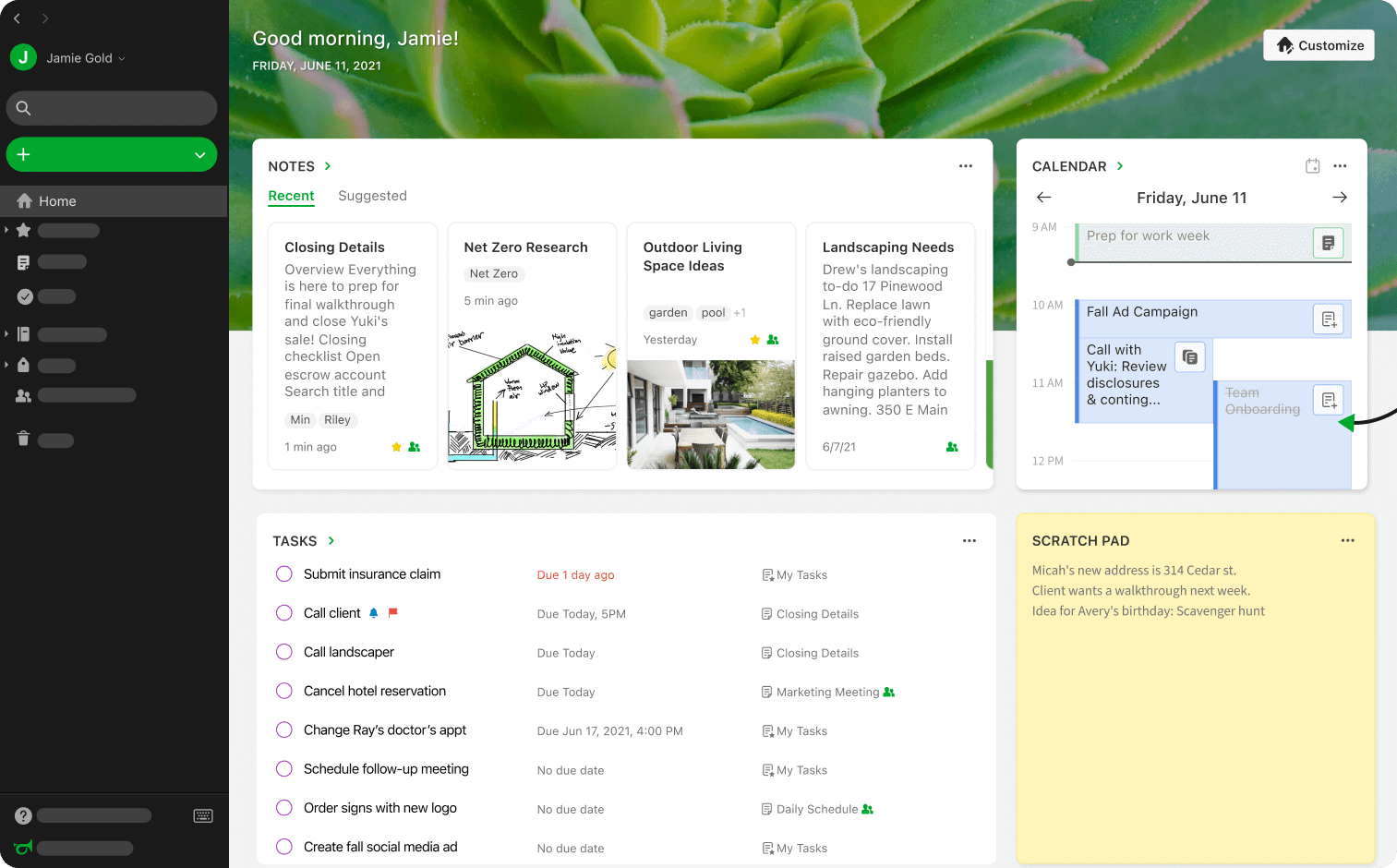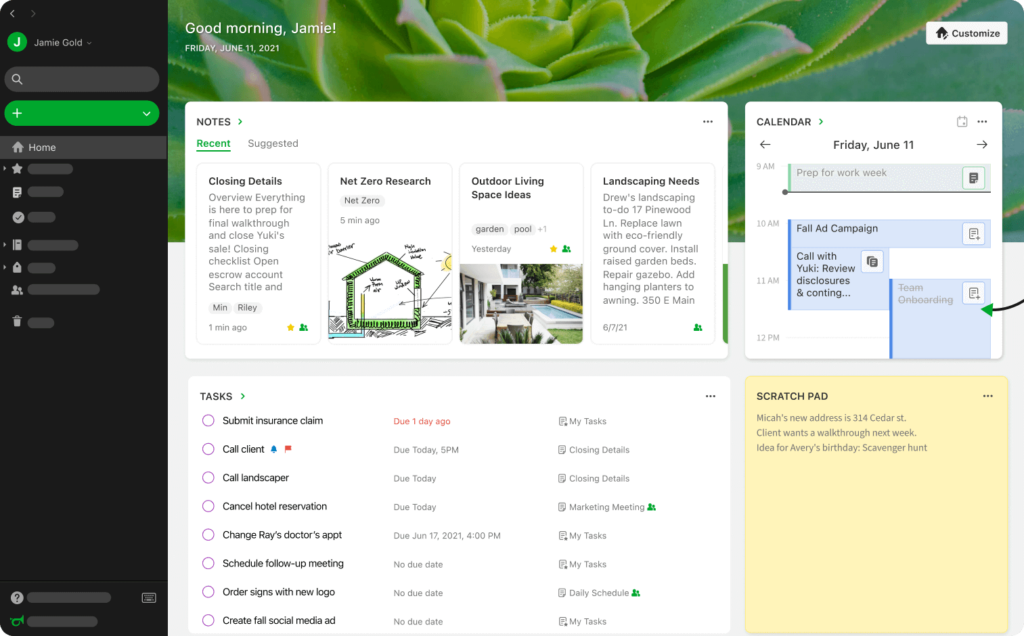 App core function:
Evernote is an app for taking notes, storing images and videos, and more. This GTD app helps organize and streamline notes so that no important detail slips off your radar. It's a great tool for capturing information and unburdening your mind.
How GTD concept is implemented:
Evernote focuses on helping you collect information easily and organize it in an efficient way. Moreover, it has a native integration with OnePageCRM which makes it super handy to use both of these GTD apps. This way, you can ensure that all client-related information is synced into your CRM.
3. Todoist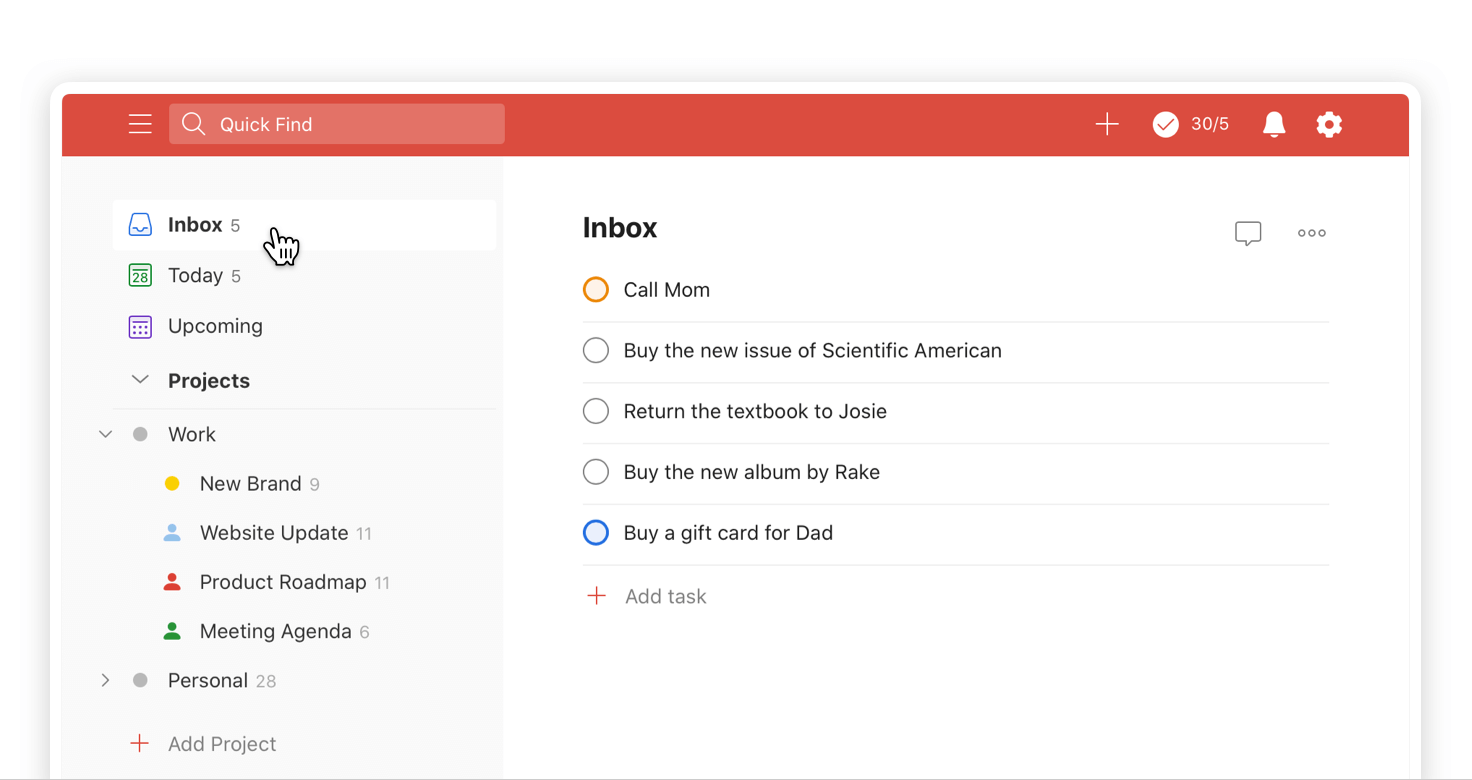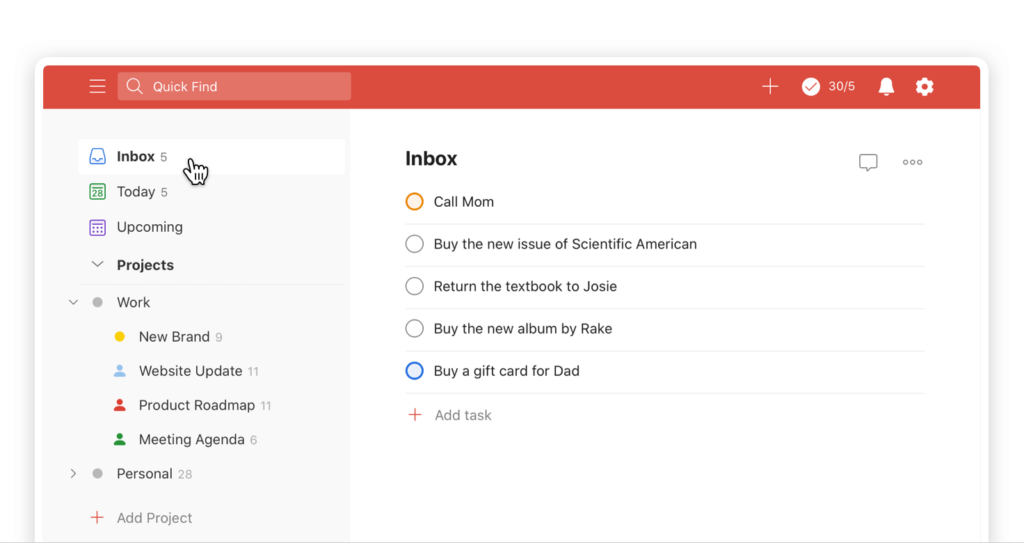 App core function:
Todoist is one of the most popular to-do list apps at the moment. It allows you to divide tasks into different Projects so you can easily separate work from home or prioritize tasks in a better way.
How GTD concept is implemented:
Todoist has a clean and simple user interface. The shortcuts make entering tasks fast and easy. Todoist even has a tab for Today's tasks which helps reduce distractions and put some structure into your to-do list.
4. Basecamp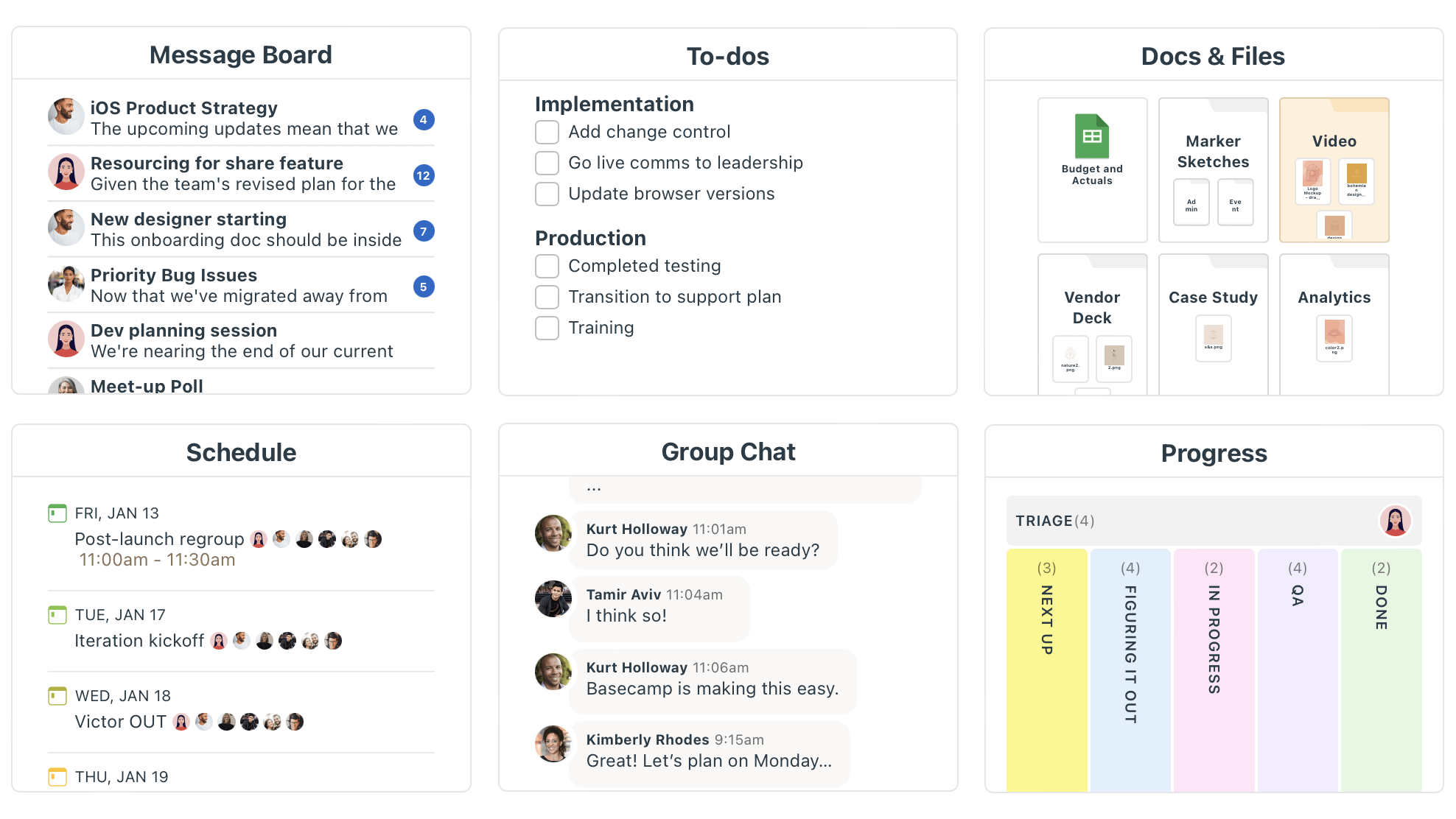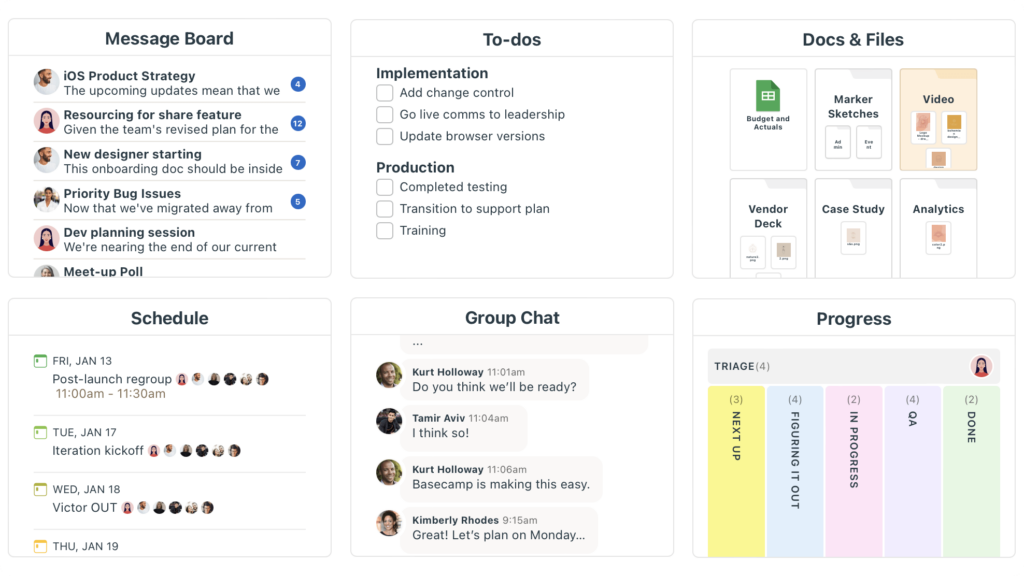 App core function:
Basecamp is a simple tool for project management used by small businesses around the world. It's more versatile than Trello and helps teams collaborate in an efficient and transparent way, schedule projects, and avoid spending too much time on meetings and back-and-forth email communication.
How GTD concept is implemented:
Although Basecamp is not a traditional GTD app, it has an in-built to-do list that you can customize to your needs. By re-arranging your to-do lists in Basecamp, you can implement the Next Action principle. Depending on how complex your projects are, you can create multi-tiered to-do lists and categorize your tasks accordingly.
Note. This blog post was first published in April, 2012 and updated for relevance in September, 2023.