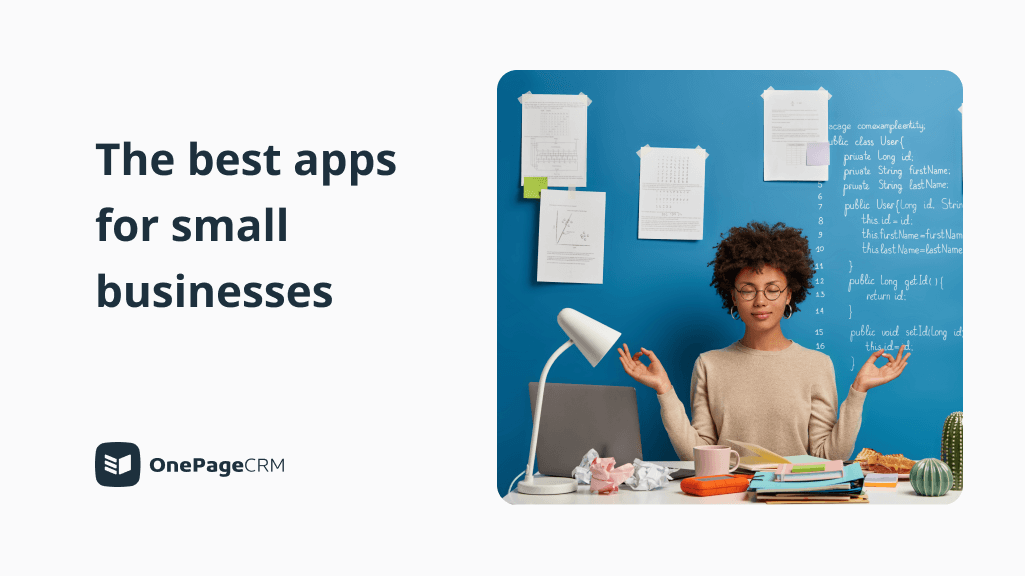 Best Small Business Apps of 2023 | Simple & Budget-Friendly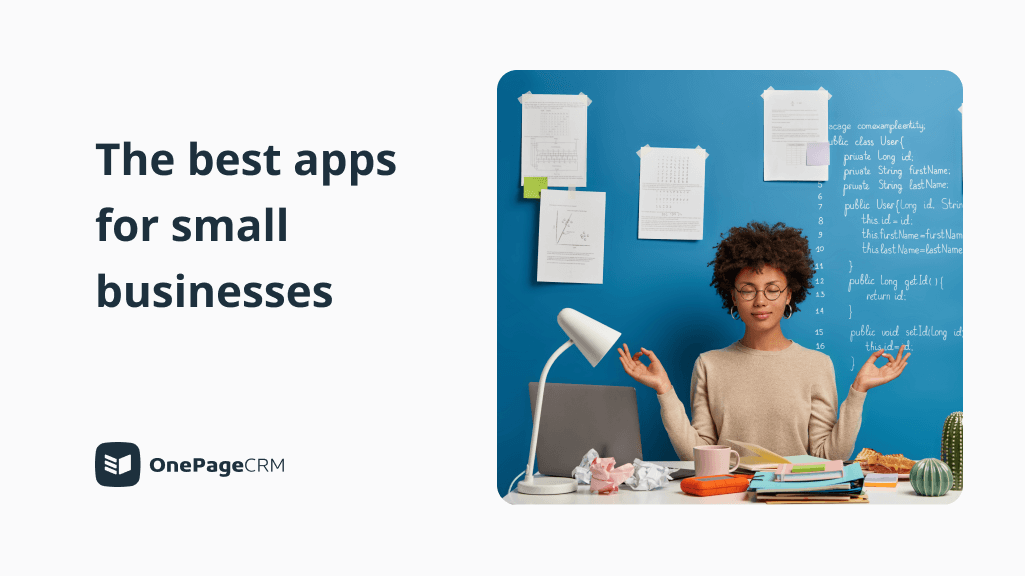 To run a profitable business, you need to stay productive and efficient.
There are a variety of tools that you can use to manage your processes. In this post, we listed the top 7 tools (and a few alternatives) that are very easy to use.
These apps are listed in no particular order.
1. OnePageCRM | Contact Management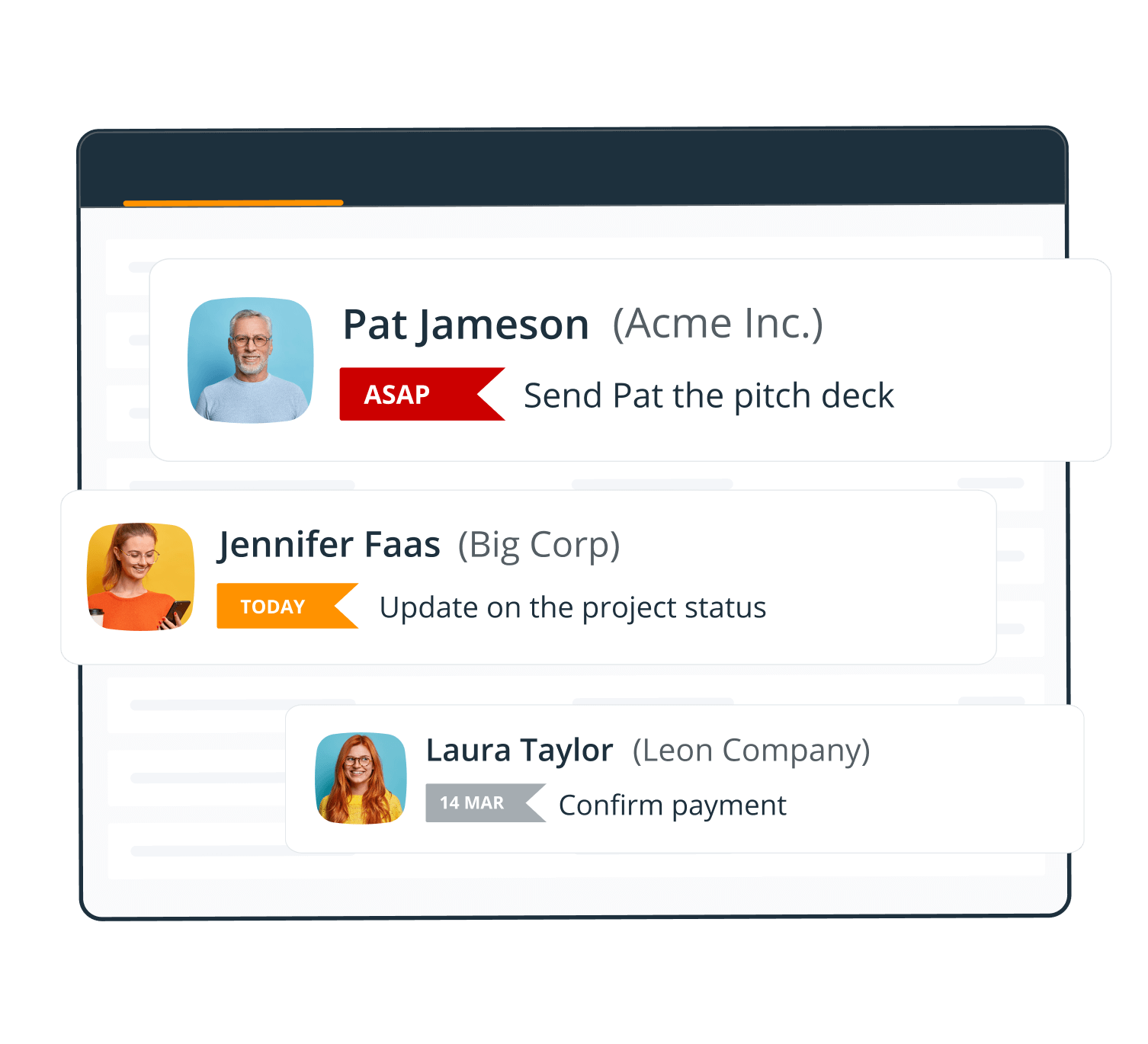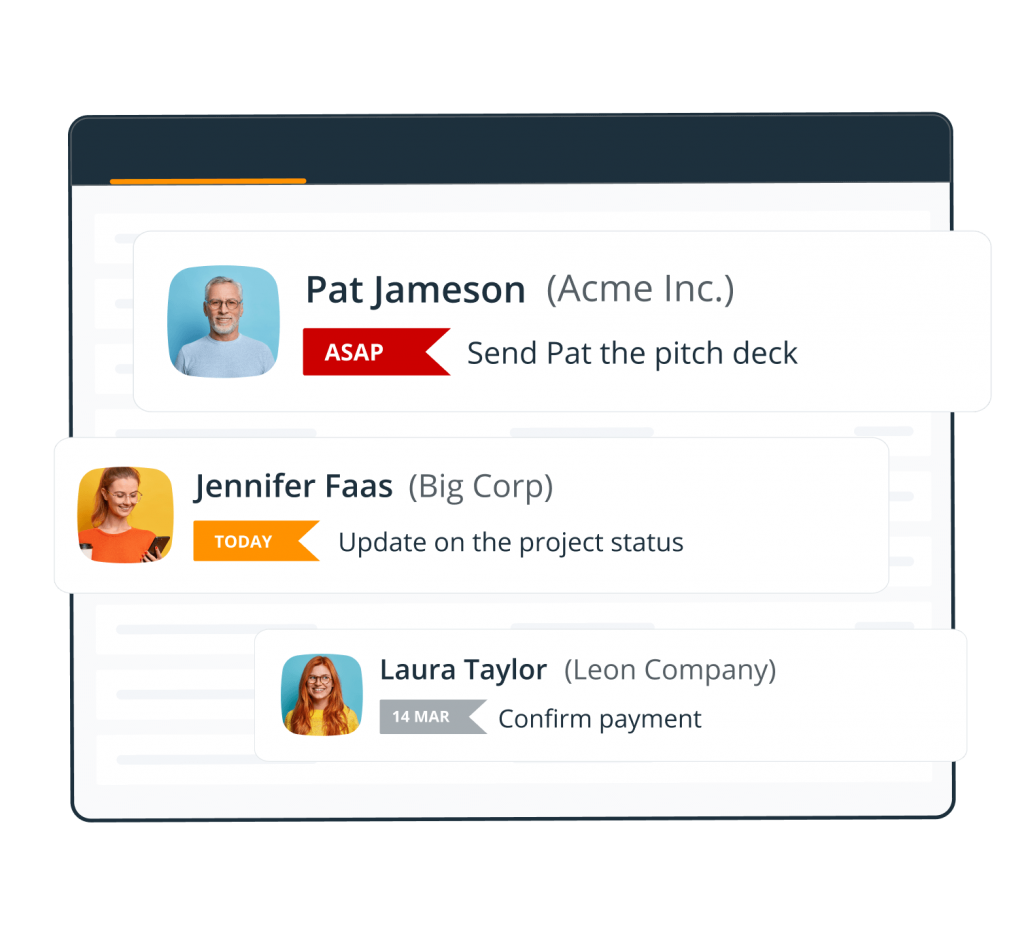 Many small businesses create their first contact database in a simple spreadsheet with columns for contact names, email addresses, and phone numbers.
But once the business starts growing, the spreadsheet bursts at the seams. That's why at some point small businesses start looking for a simple customer relationship management (CRM) system.
OnePageCRM is a simple contact database with in-built productivity tools. Contrary to other CRM solutions, it allows you to add tasks and follow-up reminders next to any contact in your database.
This way, your client database becomes dynamic, similar to a to-do list, encouraging you to be proactive and nurture business relationships.
Interested to see how it works? OnePageCRM offers a 21-day free trial, no credit card required. The registration process takes just a few clicks to complete.
Try Free
2. Trello | Project Management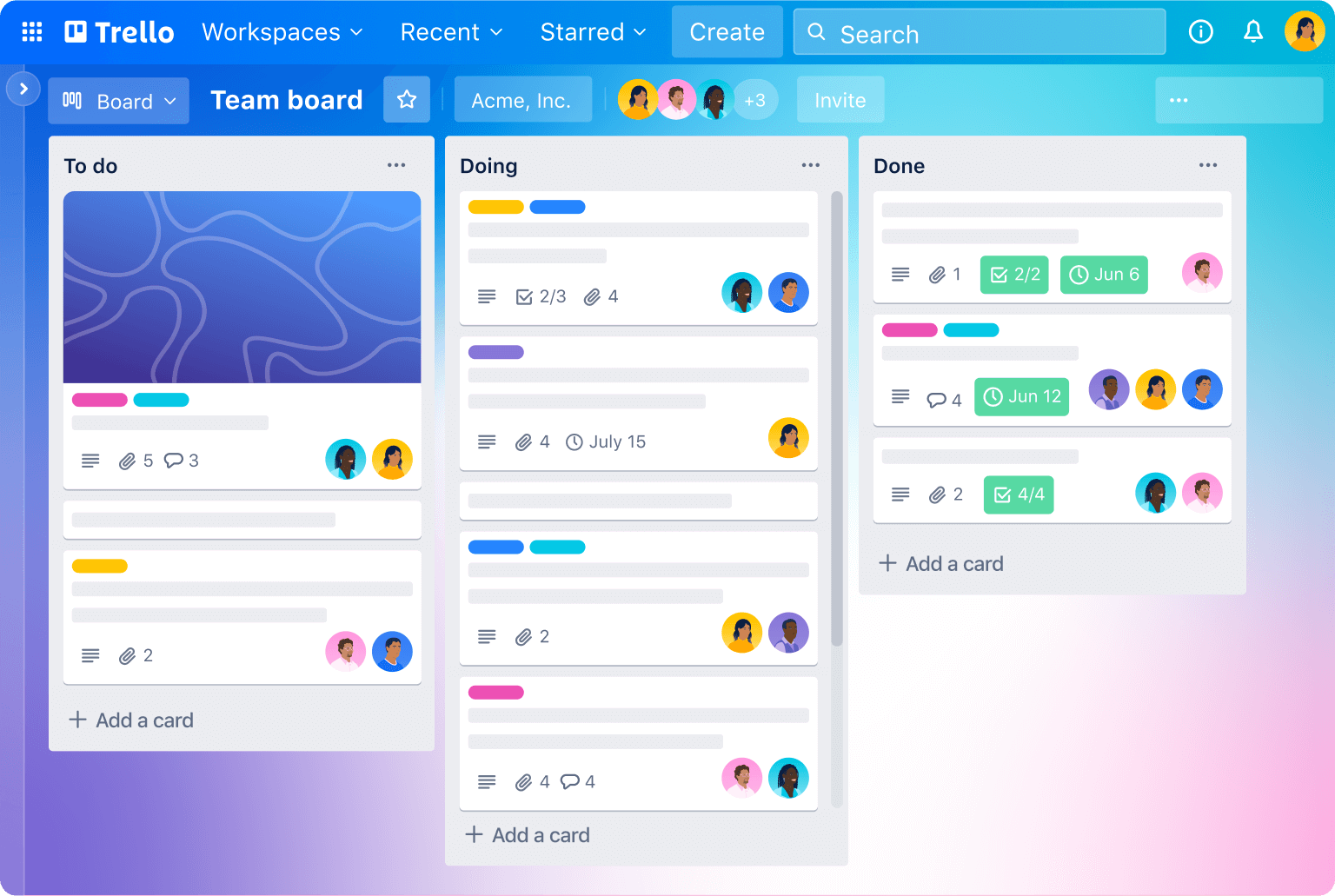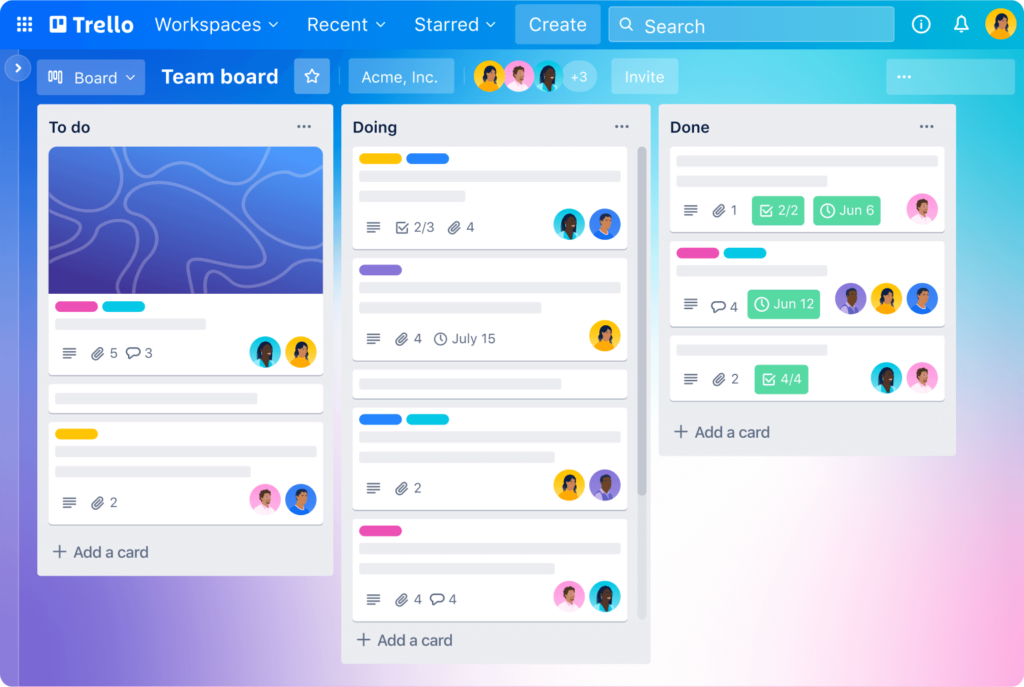 Trello is a project management tool for small businesses.
It helps you organize projects into interactive Kanban boards. In one glance, Trello tells you what's being worked on, who's working on what, and where something is in process. Tasks and projects can be assigned to members and comments can be posted ensuring everyone is up-to-date.
For small businesses, keeping track of projects is crucial. As an example of Trello use have a look at OnePageCRM's interactive development roadmap, where you can see new features in progress, vote, and comment.
Trello Alternative
. If you are not sure whether Trello meets your needs, check out
Basecamp
. It's a project management tool for small businesses. Its interface is a bit similar to Notion but is much less overwhelming.
3. Evernote | Note-Taking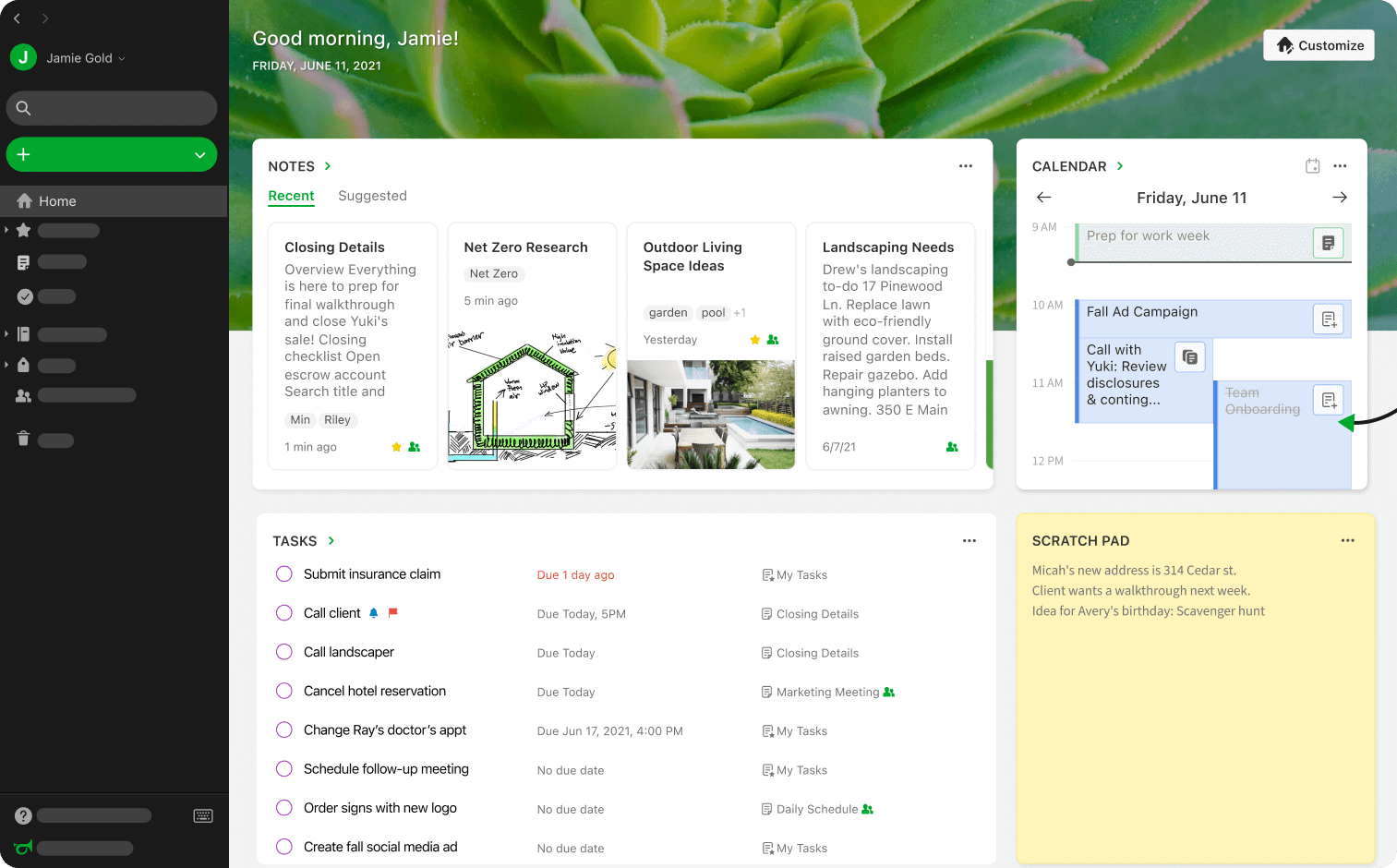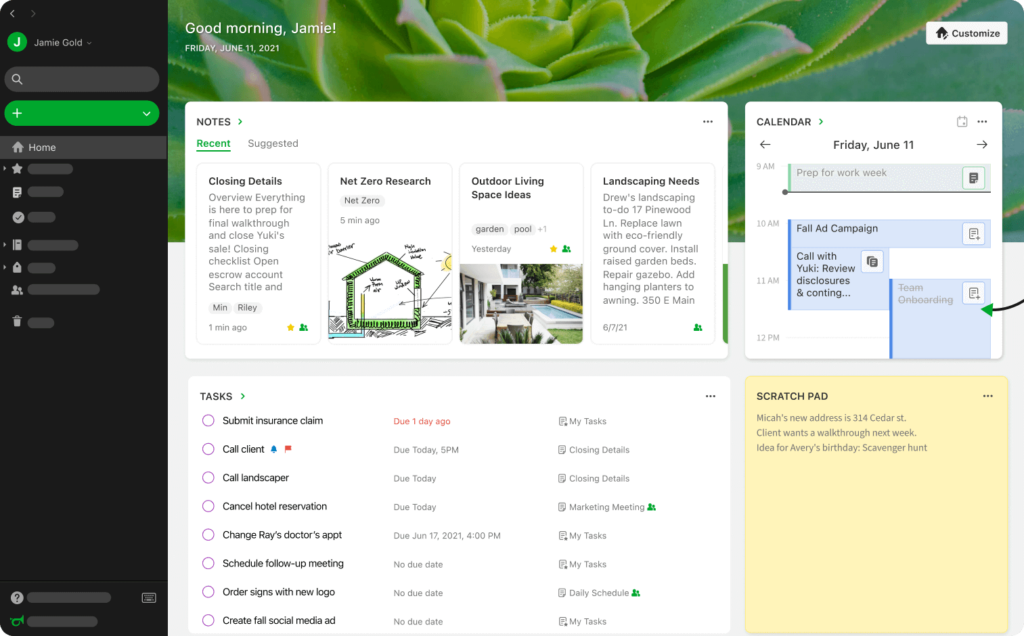 Evernote is a great app for taking down notes, storing images, videos, and more. It is a cloud-hosted app which means that your notes will be accessible from anywhere you have an Internet connection.
It also has some great integrations and apps that use Evernote in their 'trunk', one great example is Expensify. With this integration, you can take images of receipts and log them in a special notebook in Evernote that syncs to Expensify. This allows you to easily submit receipts and expenses.
Evernote is a great tool for organizing different types of information.
Pro Tip. You can use Evernote for all sorts of notes. For example, write down the stuff that is outside your periphery—and think about it later. Knowing that you're able to get back to it at any time will make it easy for you to continue focusing on other tasks.
4. Mailchimp | Email Marketing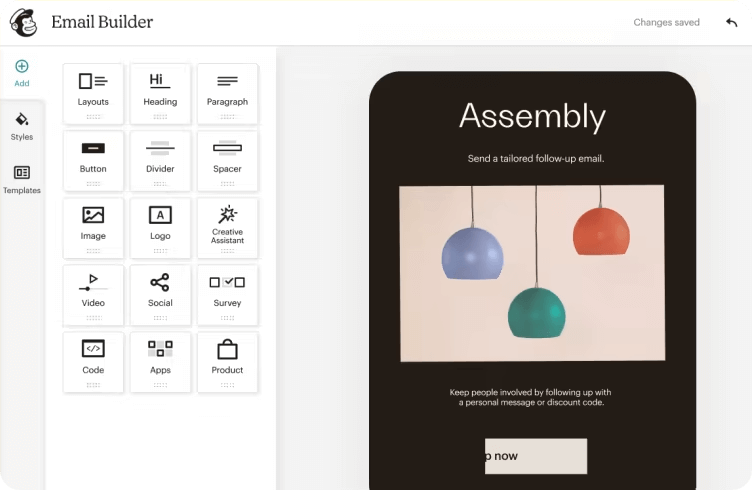 At some point, your small business will need to start sending newsletters. This is where Mailchimp comes into play.
Mailсhimp is an email marketing application that lets you easily design newsletters or use a variety of smart templates to reach your customers. It can also let you share them on your social media networks and can integrate with a lot of apps.
With deep analytics and reporting features, you can optimize your newsletters helping you engage better with your customers. It's a great system and has a whole host of pricing options to suit any business size and needs.
Mailchimp Alternative
. If you're a bit more experienced with marketing,
ActiveCampaign
might be a better choice. It's a marketing automation platform with email marketing functionality. With this app, you can build and deliver targeted campaigns.
5. Slack | Internal Communication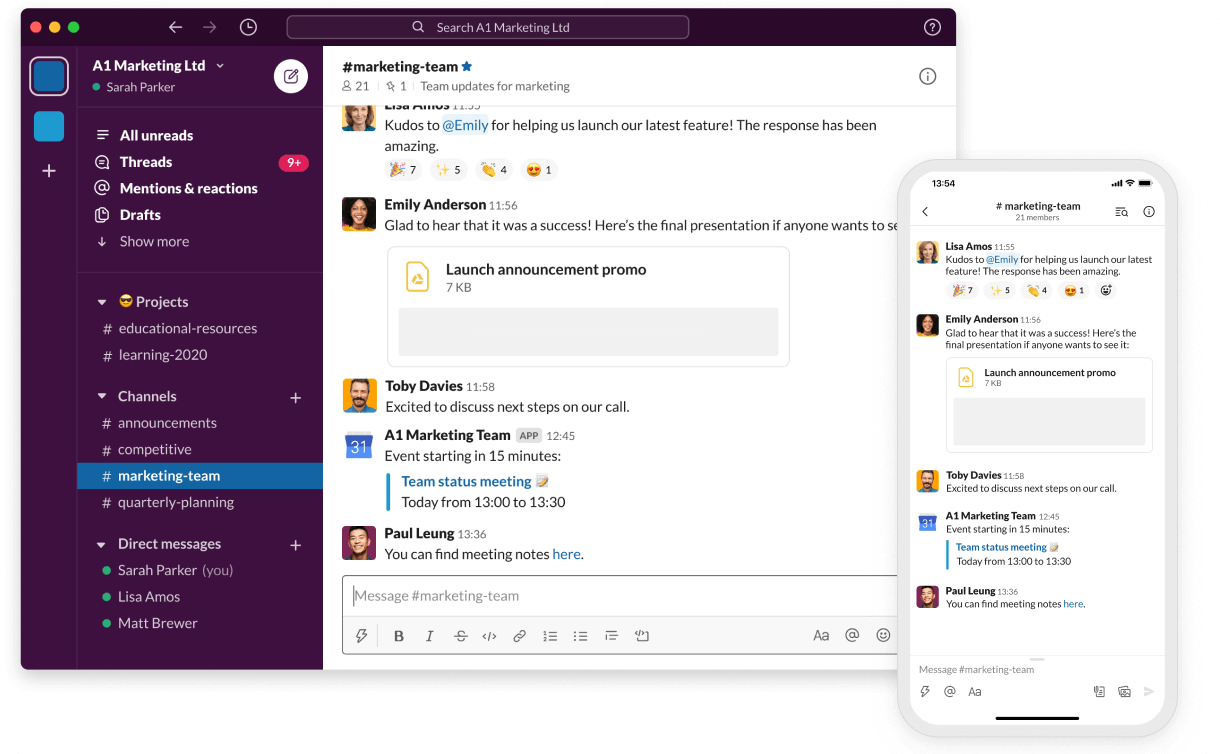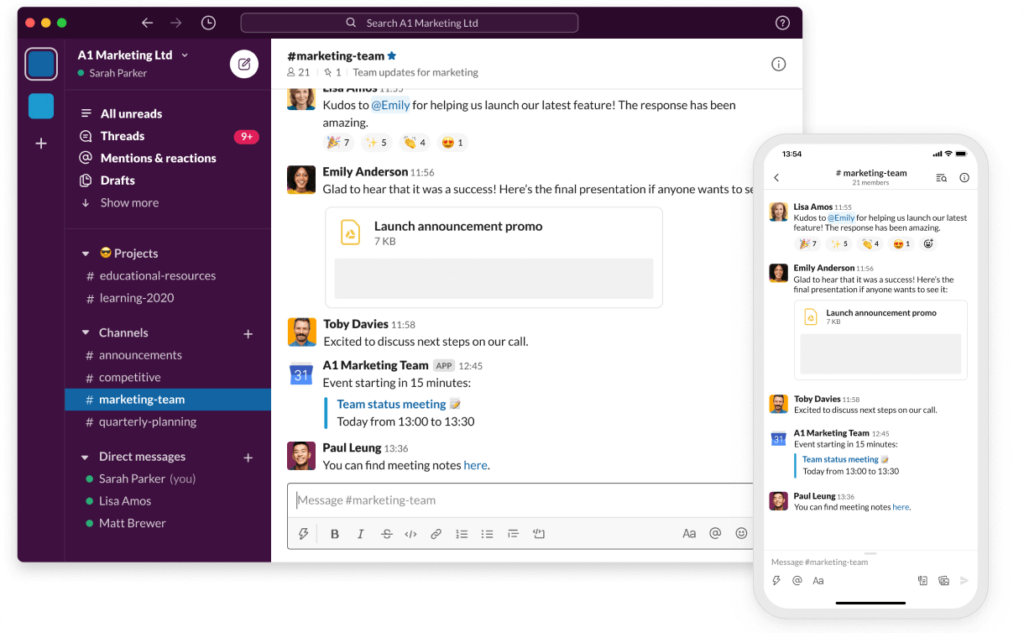 If previously, most small businesses were using Skype for their internal communication, now the preference is shifting towards Slack.
Slack has a free plan and offers many more features for internal team communication compared to Skype. It is also much more user-friendly and flexible compared to Microsoft Teams.
One of Slack's standout features is channels. Channels are a way to organize your communication into different spaces and bring a bit more structure into your work. Channels work a bit similar to group chats.
You can use channels to divide team communication into different types. For example:
Daily updates. Post daily updates on what every team member is working on and what was done.
General. Share company news and updates with the whole team.
Off-topic. Keep an informal conversation open.
You can also have personal chats. Similar to Skype, Slack is a great tool for keeping in touch with colleagues worldwide.
Pro Tip. Slack can also boost your productivity. It can remind you about some messages and save them for later. The feeling of always being able to catch up helps avoid unnecessary stress and stay focused.
6. Google Drive | File Storage & Organization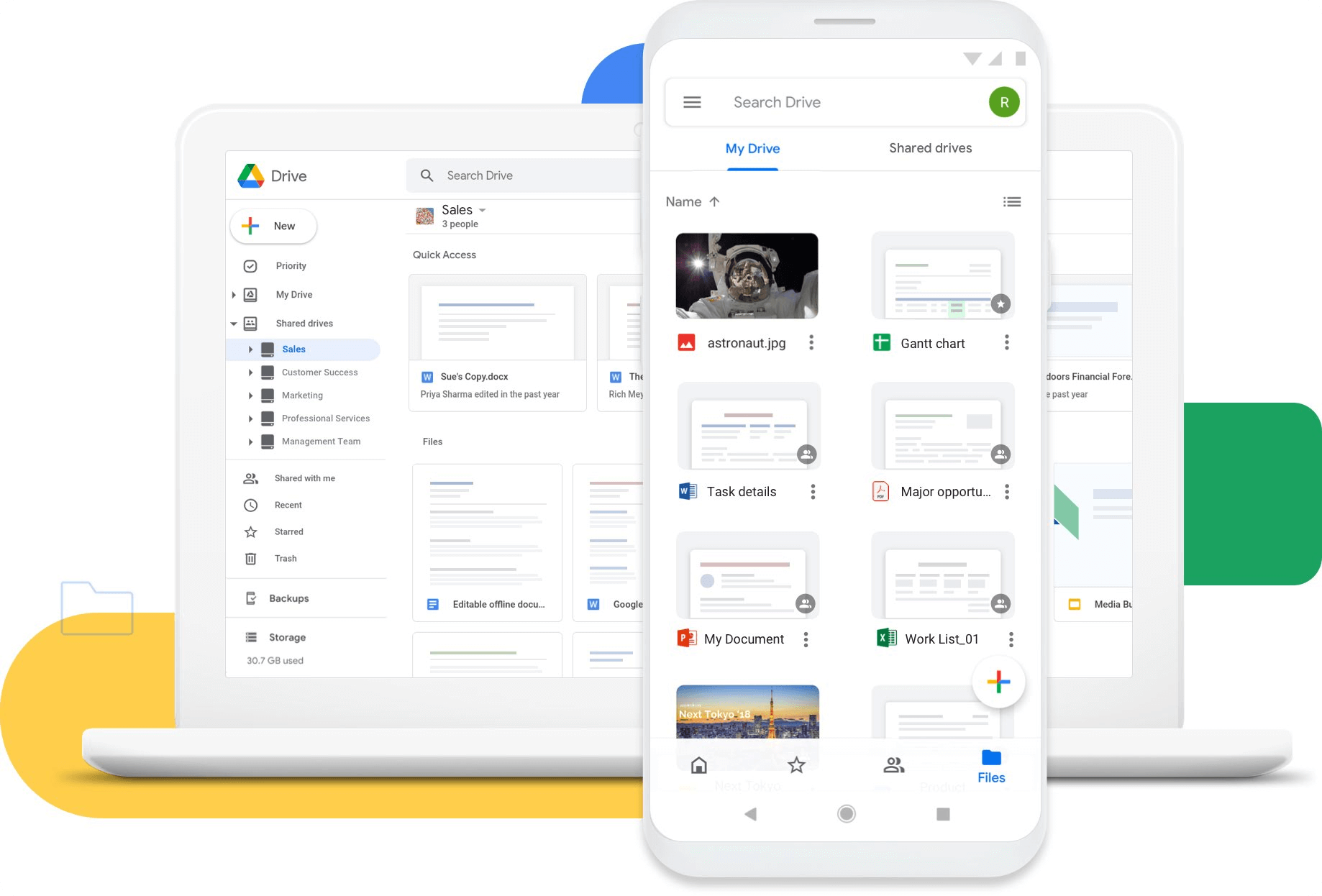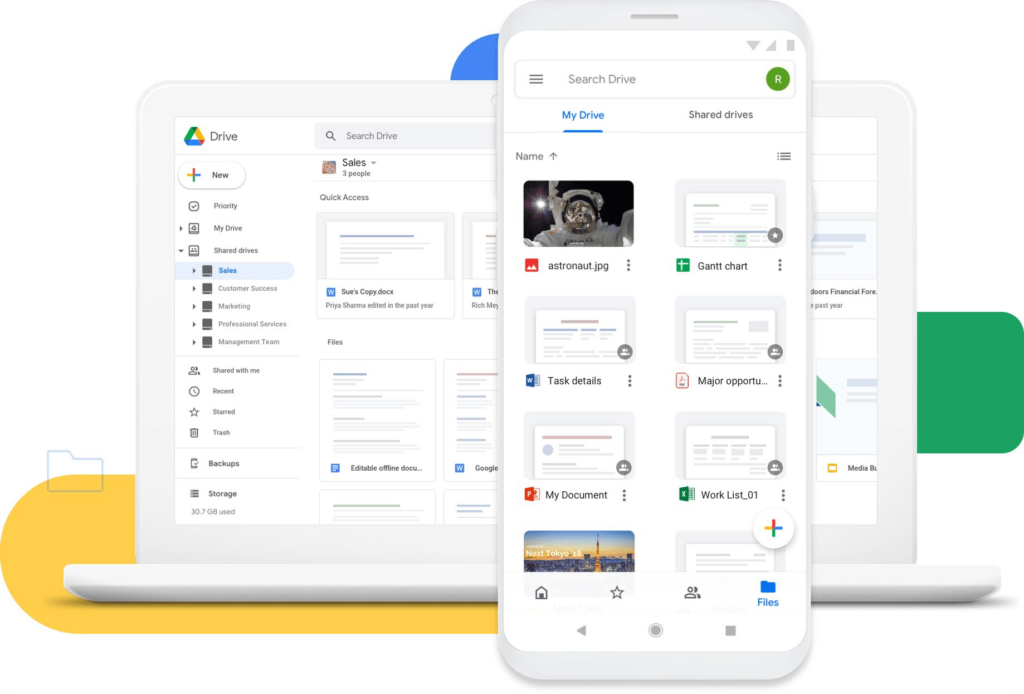 Google Drive is a cloud storage system that works like Dropbox but has one stand-out feature, online document editing.
On Google Drive, items such as documents, presentations, spreadsheets, and more can be edited in real-time by multiple users. Even this post was created in Google Drive before making its way to the website.
Google Drive enables fast data sharing and collaboration with team members.
Google also provides other apps for businesses such as Google Contacts, Gmail, Calendar, and a lot more.
Google Drive Alternative. Are you team Microsoft? If you're a big fan of Microsoft products, check out OneDrive and see if it fits your needs better. It is also a widely used cloud storage tool that offers editing functionality and file organization.
7. Clockify | Time Tracking & Management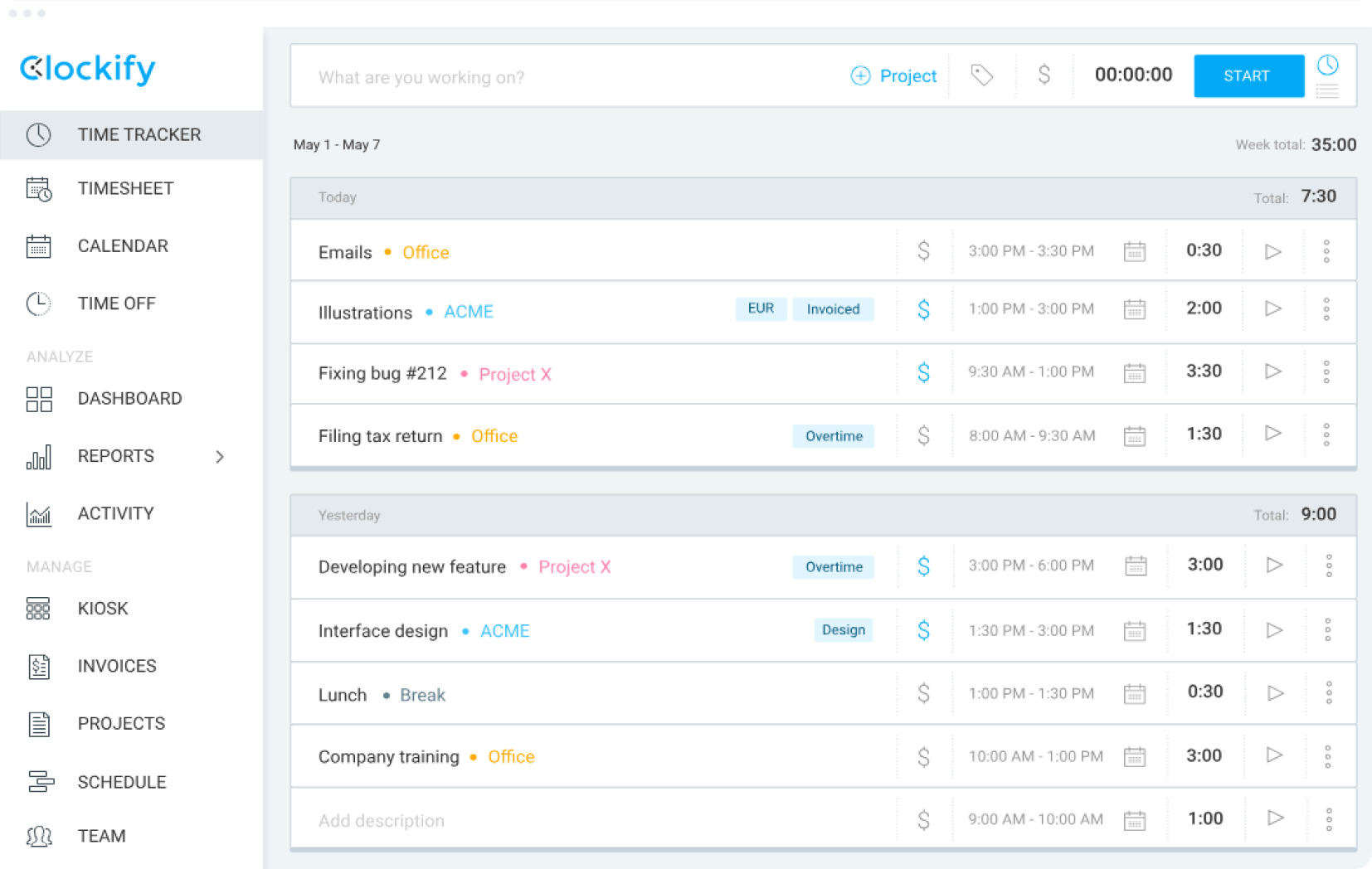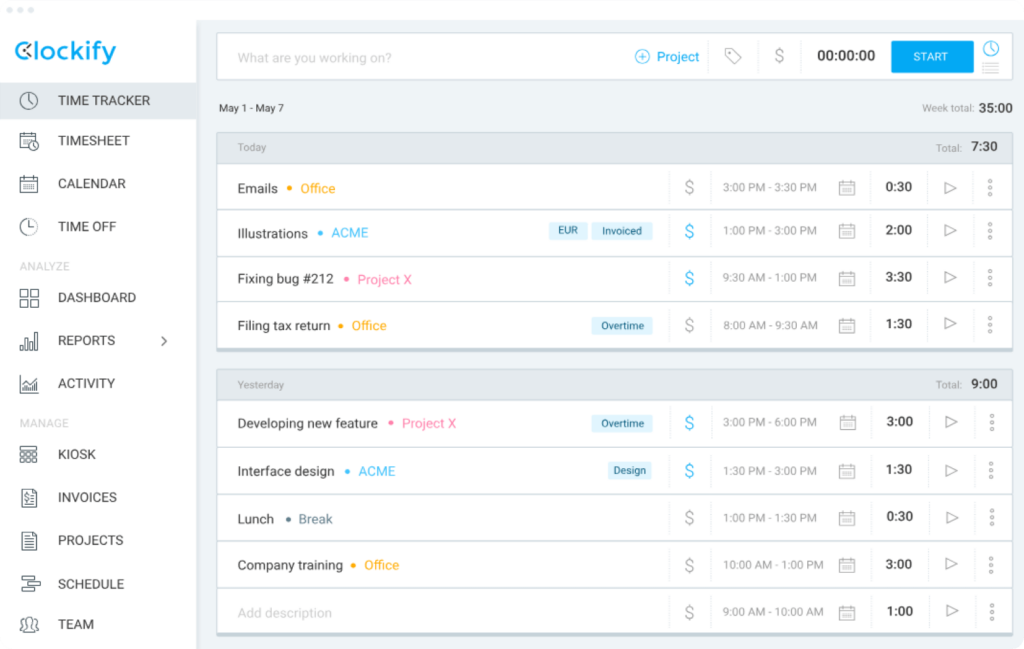 Clockify is a simple time-tracking tool.
It's free and very easy to use. You can use it as a team and track time across several projects and see reports for different members if the majority of the team are remote freelancers who need to track their time for invoicing.
It's also a helpful tool for coaches, mentors, and consultants who bill clients per hour.
Pro Tip. You can also use Clockify for personal needs. For example, if you're interested to see where your time goes and dig deeper into how to make the most out of your day.