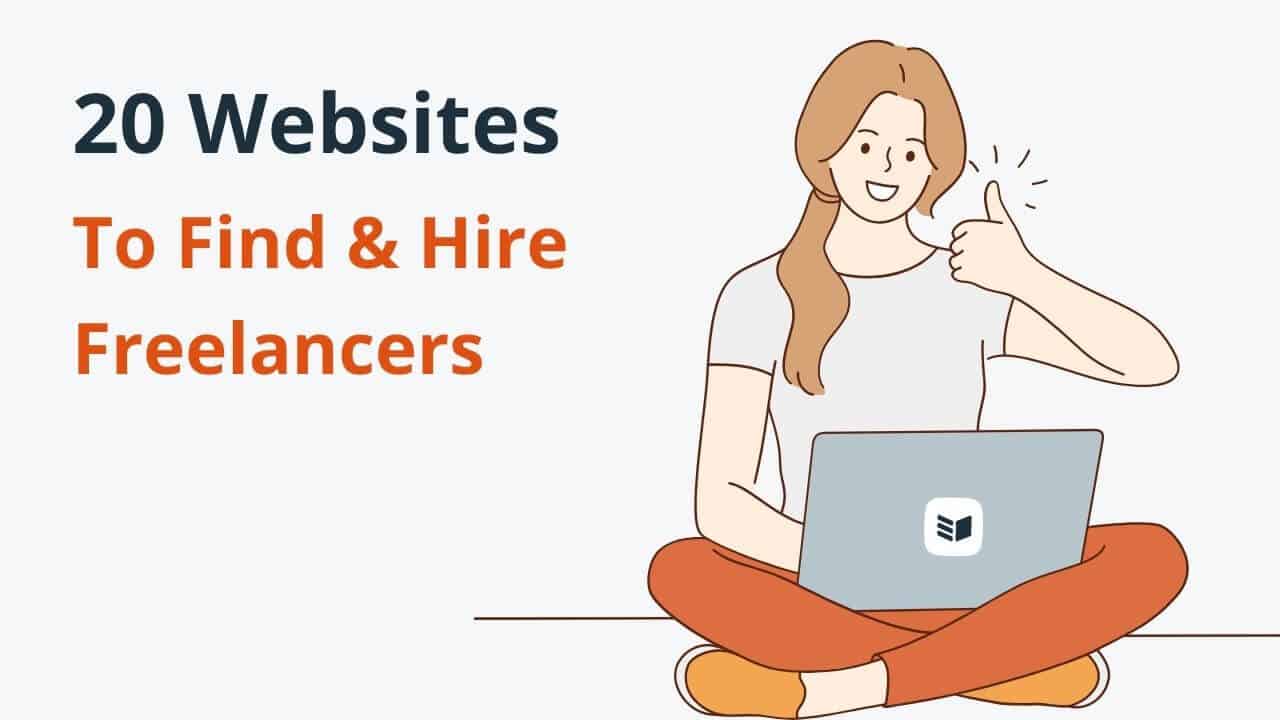 20 Best Websites to Find and Hire Freelancers for Your Small Business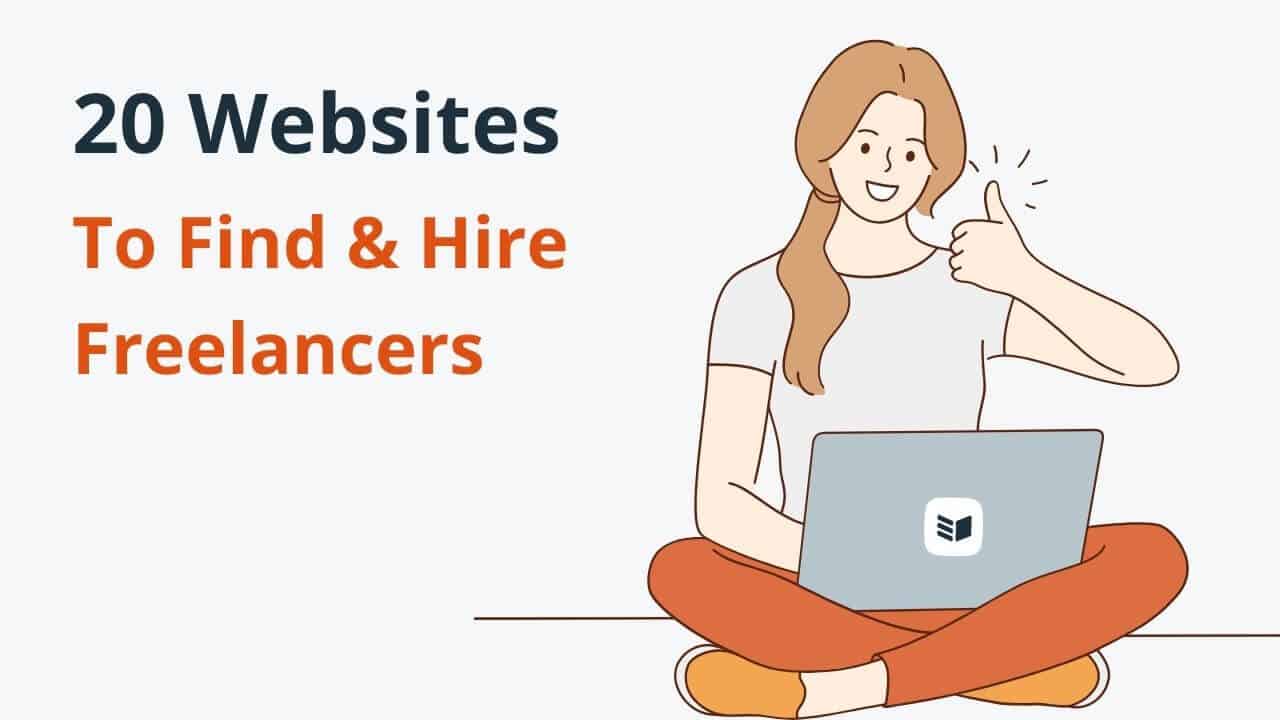 To manage their workload better, many small businesses are actively hiring freelancers and outsourcing different tasks to contractors.
Although hiring a freelancer is becoming easier, looking for one can be overwhelming.
To help you search more efficiently, we've compiled a list of the top 20 websites where you can find the best freelancers for your small business.
Why should you hire freelancers?
The workforce of today is constantly evolving. Earlier, the traditional 9-5 was considered professionally acceptable, but in recent years, employers and workers have started opting for more flexible working arrangements.
According to the Freelance Forward: 2021 report by Upwork, more than 30% of the U.S. workforce population performed freelance work in 2021.
Here are four reasons why many small businesses are working with freelancers:
1. Access to global talent
Hiring freelancers opens up a world of possibilities for small business owners. When you recruited people for an in-office position, you were restricted to hiring people from a close locality. But with freelancers, you can hire people from across the globe.
This means you have the option to choose from a larger talent pool and have better chances of finding the perfect fit for your business.
2. Networking and connections
Freelancers are experts who have worked with numerous brands worldwide and have managed to build an impressive network over the years. They can help you tap into markets that were not previously available to you.
3. Affordability
Freelancers are often independent contractors who work hourly or on a project basis. So you only need to pay them for the work done and skip the additional costs like insurance, paid holidays, and bonuses.
4. Wide range of skills
Freelancers come from all kinds of backgrounds—both in qualifications and work experience. Whether design, content, or even media planning, you can find a freelancer for almost any role you need.
Best Websites to Find and Hire Freelancers in 2022
If you are all set and ready to look for a freelancer, here are the top 20 websites to look for and find contractors.
However, keep in mind that this is a list of global freelancing websites. You can find freelancers from all over the world there but each country has its own freelancing marketplace.
If you're looking for services from a specific country, you might need to do more detailed research focusing on your country of preference.
TOP 20 WEBSITES TO FIND & HIRE FREELANCERS
1. Wishup
2. Upwork
3. Fiverr
4. Behance
5. Freelancer
6. ServiceScape
7. Oomple
8. MarketerHire
9. Guru
10. ProBlogger
11. Toptal
12. Belay
13. Gigster
14. Craigslist
15. Codeable
16. 99Designs
17. Aquent
18. SimplyHired
19. Dribbble
20. People per hour
Wishup is a virtual assistance agency with talented Virtual Assistants across categories—from administrative work, lead generation, marketing, design, and content to software testing. Wishup takes care of the hiring and training process and will pair you with a virtual assistant within 24 hours. They also have a no-questions-asked replacement policy, so if your assistant is unavailable in case of an emergency, your work won't get affected.
Being one of the most popular freelance marketplaces, Upwork gives you many options to browse by category and choose suitable freelancers depending on their profile. If you don't find what you're looking for, you can post a job opening and wait for freelancers to get in touch with you.
Fiverr is a freelance marketplace where "sellers" (freelancers) can offer their services to "buyers" (clients). Sellers can set their prices, and buyers can search for freelance services depending on factors like skills and price. The buyers pay upfront, and the website takes a 20% commission from the sellers at the end of the project. So check the seller's ratings before hiring them to ensure you'll be satisfied with their services.
Though it's not a freelance marketplace, Behance is an artist-showcasing platform where you can browse through photographers', artists', and designers' work. If you see something you like, you can contact the artist through the credentials given on their profile and make them a job offer.
Freelancer is a job outsourcing platform that connects freelancers from across the globe to businesses and entrepreneurs. An employer can create a job posting and wait for freelancers to pitch their services along with their rates. The employer can then go through the candidate's profiles and choose the freelancer matching their business profile in terms of cost and skills.
ServiceScape is a website that lets you outsource work to freelancers — specifically for the roles of writers, editors, proofreaders, and translators. Depending on the size of your team, you can choose either the Client, Professional, or Business membership to make it easier to hire multiple freelancers for your company.
Oomple is a talent outsourcing agency that deals with agile development talent. They do their own hiring and vetting and have an AI-pairing process to help match you with the right candidate for the job. At Oomple, you can hire freelancers in marketing, finance, operations, and technology.
If your business needs to hire a freelancer with expertise in marketing, MarketerHire is the right platform for you. They vet and shortlist a candidate that best fits your business. They deal with hourly, project-based, and long-term contracts. In addition, their freelancers are experts in multiple marketing concepts like SEO, Facebook, Email, Content Marketing, and others.
Once you create a membership, you can hire freelancers hourly. The basic membership is free, and the registration process is pretty simple. After that, you could either post your job or search for freelancers that fit the profile you're hiring for. Guru has freelancers across categories such as development, art, design, content, sales, marketing, and more.
Suppose you're looking to hire freelancers specifically for content — whether to create a blog or manage your social media content. ProBlogger connects businesses with professional writers. You can create a job posting with specifics like job description, duration of the project, and pricing, and writers will connect with you if they are interested.
Toptal is an agency that connects small businesses with freelancers. You schedule a consultation with a team member and give them your requirements, and they will match you with a suitable person. There is a trial period, so if you are unhappy with your freelancer, they will pair you with a different freelancer at no extra cost. Financial, tech, and marketing are some of the fields they specialize in.
Belay is a virtual assistant agency that helps businesses manage their staffing needs. They hire professionals in the accounting, marketing, and administrative sectors and match them with businesses looking for freelancers in those fields. A client manager will be in touch with you during the initial stages to ensure everything is going well and provide assistance if needed.
Gigster is a freelancer platform that connects small businesses with development testers. They prescreen their candidates and can deploy a freelancer to you within two weeks. They also do not charge a recruitment fee. The freelancers at Gigster can help you with projects like Design, NFTs, Blockchain, Innovation, and AI.
Craigslist is a classifieds company that lets you post ads for almost anything, including freelance gigs. Creating a posting is fairly simple, but it might take time for you to get any responses, especially if it's a niche role. So, if you are looking to hire immediately, this might not be the best website for you.
If you want to build your WordPress website or need to hire a freelancer for anything related to WordPress, this is the best website for the job. The freelancers help with theme development, customization, e-commerce development, design, security, and integrations.
As the name suggests, this platform helps businesses manage over 90 creative needs. Whether it's logo design, website design, or graphic design, they have professionals in every field. The selection process is simple—all you need to do is enter some details like the service you're looking for and the industry you're in. Then, you can browse through designers' portfolios and connect with the designer who suits your requirements.
Aquent is a recruitment marketplace centered around diversity. To hire a freelancer, you must create a job posting, after which you will be matched with recruiters. Their system reviews the track record of recruiters to check if they are credible before connecting you with them.
SimplyHired is a job posting platform where you can hire for both full-time and part-time roles. The way it operates is that business owners can create a job listing. The platform then suggests the job to candidates if it matches their skills and qualifications. Interested candidates can then apply, and you can either schedule an interview or assign a task before hiring them to see if they will make a good fit for your company.
Like Behance, Dribbble is a portfolio-showcasing platform where artists across sectors can upload their work and build an online portfolio. Interested business owners can browse different profiles and select artists who fit the criteria they're looking for. If you like an artist's work, you can independently contact them and hire them for projects.
Similar to most other platforms, you can use it to list your project, and interested candidates will apply for the role. You can then review the proposals and select a candidate. Once you've made the deposit payment, the freelancer will start working. At the end of the project, if both parties are satisfied, you can pay the freelancer rest of the promised amount.
Find and hire freelancers and grow your business
Hiring freelancers can help you manage your workload better, outsource admin, and let your team focus on more valuable tasks. Before reaching out to a freelancer, make sure that you do thorough research.
You can also register on several platforms and see which one works for your business. Sometimes your business might have very specific needs and the most famous platform is not usually the best one.
We hope you found this list of websites to hire freelancers helpful, whether you're looking to hire now or in the future.
---
Blog post author
Swapna Ravichandran is a content writer for Wishup based out of Chennai, India, with a background in Media and Mass Communication.