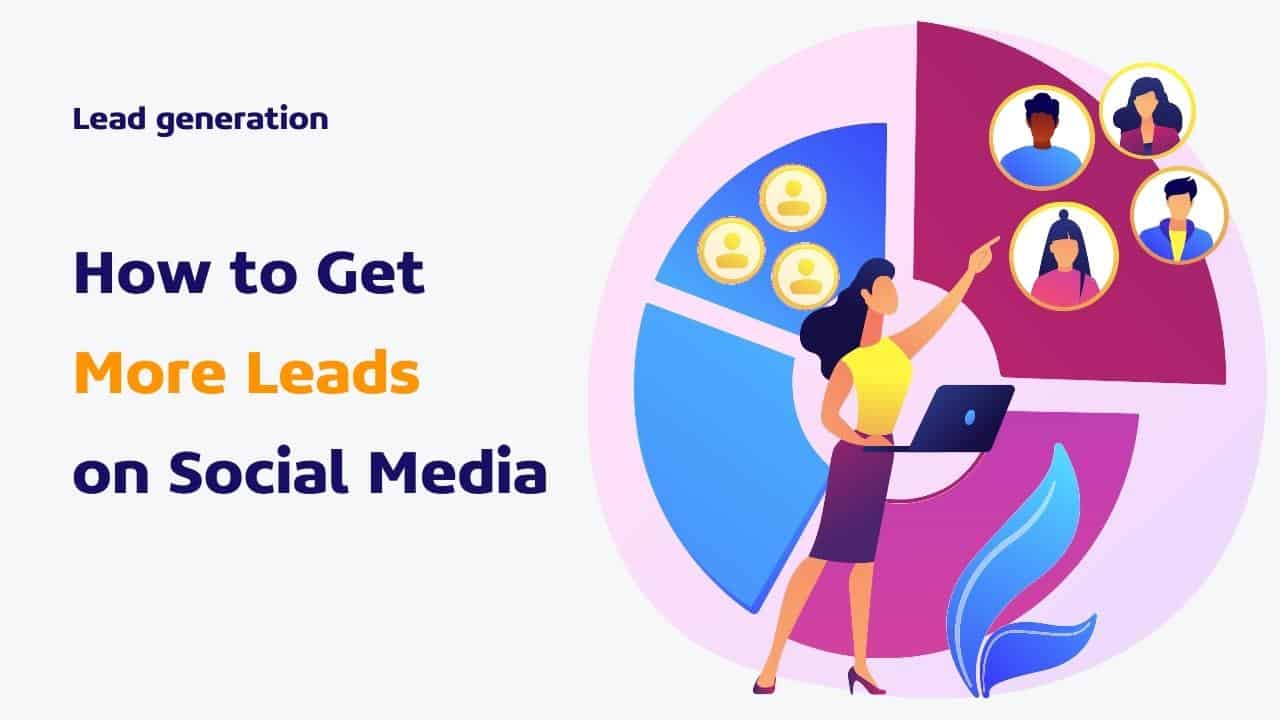 How to generate leads on social media: 10 effective tips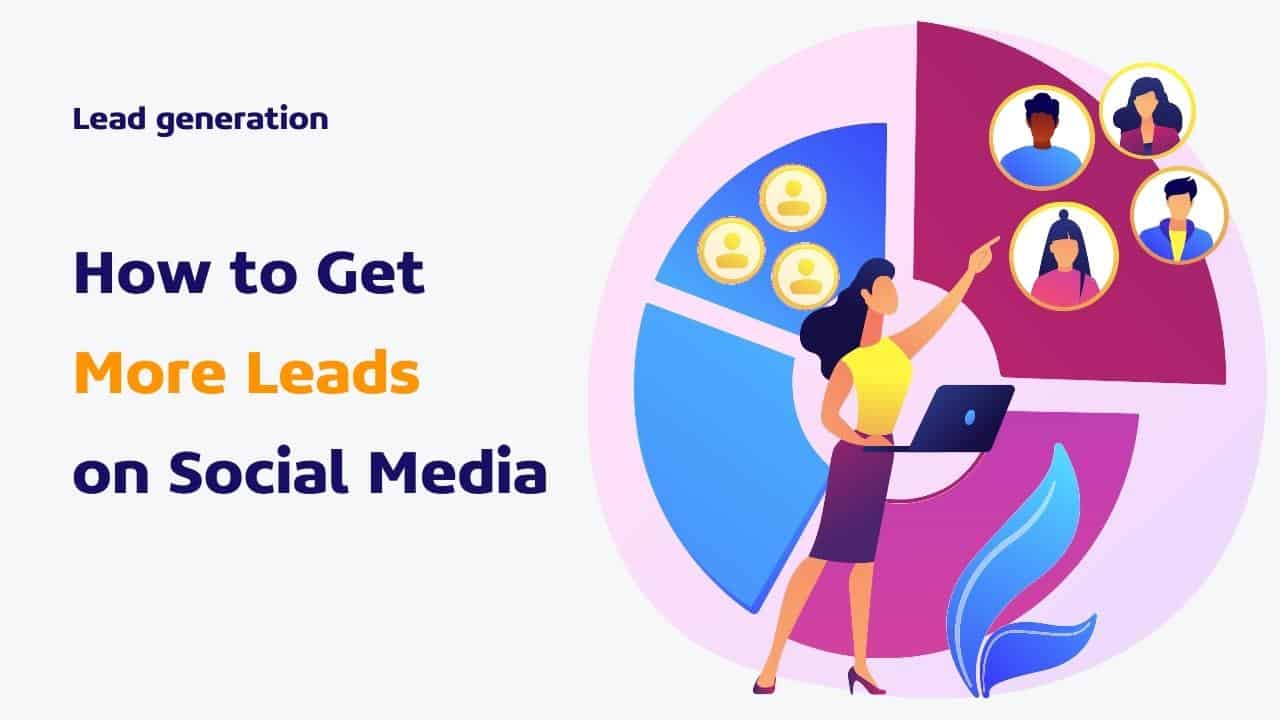 When you're just starting out, generating leads can be especially challenging.
That's where social media comes in handy to provide a low-cost, high-impact way to get your business in front of new customers.
In this blog post, we'll discuss some tips and tricks for generating leads on social media and turning social media into a powerful lead-generation tool.
What is social media lead generation?
Social media lead generation is a marketing tactic for using social media to get new leads. While social media can help create brand awareness, it can also help capture contact details of potential clients.

For example, the most commonly used technique is a lead magnet promotion. You've probably seen multiple times how someone shares only a part of their successful strategy or template and asks followers to DM them or add their email addresses in the comments to get the full template for free.

This is one of the examples of lead generation through social media.
4 reasons for using social media to generate leads
With billions of active users on social media, it's no surprise that businesses are using these platforms to reach new customers.
Social media is one of the most effective lead generation channels because it allows you to connect with potential customers and create relationships that can turn into sales.
Here are a few reasons why you should use social media for lead generation:
You can pinpoint your audience with laser precision, meaning you can reach the people who are most likely to be interested in your product or service.
You can build trust and credibility with your target group by providing valuable content and engaging with your audience, leading to more sales down the road.
You can create relationships with potential customers before they even make purchases. By interacting with them and providing valuable content, you can turn them into lifelong fans of your business.
You can do all the above in a cost-effective way. Social media is a relatively cheap way to reach new customers, and it's an investment that will pay off in the long run.
How to create an effective social media strategy for lead generation
Generating leads is essential for any business, and social media can be a powerful tool to help you do just that. However, it's not as simple as just posting a few links and hoping for the best.
1. Start by defining your social media lead
Creating buyer personas is one step. You also need to understand what information you want to get from your lead generation activities on social media. It can be email addresses, job titles, organization names, etc. Depending on what information you need, you can start building a social media strategy to get this data.
2. Evaluate your competitors
Before you start with social media lead generation, it's important to understand what the competition is doing. Take a look at their social media channels and see how they're generating leads. Are they using paid ads? What kind of content are they sharing? By answering such questions, you can create a more effective social media strategy.
Do not worry about competitors who target the same audience as you. Even this can be to your advantage with the correct use of social media lead generation. On many social media networks, you can see your competitors' ads by clicking on their profiles. For example, try searching in the
Meta Ad Library
to see ads running on Facebook.
Before setting up campaigns for your business, you need to conduct competitor research. Keep in mind that your competition is likely to do the same.
3. Pick the right social media platform for lead generation
The next step is to choose the social media platform that will work best for your business. Each one has its own strengths and weaknesses. For example, LinkedIn is great for B2B sales, while Facebook might be better if you run a B2C company.
Take these four factors into consideration:
Your audience: where does your target audience spend time online? Your lead generation campaign needs to reach the right people at the right place.
Your budget: some platforms might require larger budgets than others. That's why it's also a good idea to run tests before launching a campaign.
Your goals: what are you trying to achieve? Make sure the platform you choose aligns with your objectives and goals.
Your resources: do you have enough resources to maintain presence on multiple platforms? If not, choose one and do it well. To generate leads, you don't have to be on every social media channel.
If you're just getting started with social media lead generation, it's best to begin with one or two platforms that you're familiar with. Once you've mastered those, you can branch out to other platforms.
4. Prepare a social media plan
Create a social media lead generation strategy. You need a detailed plan of what kind of content you'll share, when you'll do so, and how often. This will help ensure that your social media presence is consistent.
Remember, your goal is to generate leads, so make sure your call-to-action (CTA) is clear and visible. A CTA could be anything from subscribing to your newsletter to downloading a white paper or e-book.
Your social media lead generation strategy should also include a plan for following up with potential customers. For example, you could add them to your email list or contact them directly.
Whatever lands in your social media strategy, make sure that your goals are specific, measurable, achievable, relevant, and time-bound (SMART). For example, a SMART goal can be "generate 50 new leads in the next month".
5. Match your lead generation strategy with your budget
If you're a small business, you probably won't have the same budget as a large corporation. That's okay, you can still generate leads with less money to spend. But you need to be strategic with your budget.
Here are a few tips:
Invest in paid ads. Paid ads can be a great way to reach new audiences and generate leads. Just be sure to track your results so you know what's working and what's not.
Use influencers. This type of marketing is a cost-effective way to reach new people. Find influencers in your niche and partner with them to promote your products or services.
Create quality content. This is key to attracting leads. Invest in creating high-quality blog posts, infographics, videos, and more. Check out a good guide on how to start your blog here.
By being strategic with your budget, you can generate leads on social media without breaking the bank.
How to generate leads on social media
Best practices for social media lead generation will constantly evolve as social media platforms are changing and introducing new algorithms.
However, there are some proven lead-generating checklists for you to take action.
1. Fill out your social media profile
This will make you appear trustworthy and check the first box for people who are still researching and haven't made a purchase decision yet.
Fill in all contact details. If you have a website, use the URL field to add it to your profile. If you don't have one, create a blog or a LinkedIn page and add links where necessary.
Be visible. Check if all of your social media accounts are connected and lead back to each other. This way, people who find you on one platform can easily follow you elsewhere too.
Keep it relevant. Ensure that the information in your profile is updated and relevant.
Look professional. Your profile picture and cover photo are important as they're often the first things people see when they visit your page. Make sure these visuals accurately reflect your brand.
Use keywords in your bio. This will help people find you when they're searching for specific terms.
2. Choose the right CTA that will speak to your leads
A call-to-action (CTA) is an essential element of every post or piece of content you create. Without a CTA, people won't know what you want them to do next.
Your CTA could be anything from subscribing to your newsletter to downloading a white paper or e-book.
CTAs should be clear and visible.
Your CTA should be relevant. For example, if you're sharing a blog post, your CTA could be "Read more posts on our website".
Experiment with different CTAs to see what works best for your business. Is it "Try free", "Give it a go", "Check it out" or something else?
Don't forget to track your results so you know what's working and what's not.
3. Create compelling and competitive content
You will not get your leads' attention and new sign-ups without offering the right stimulus.
Invest in creating quality and valuable content so that people will want to follow you and do business with you.
Experiment with various content forms such as blog posts, infographics, videos, whitepapers, and webinars to better present your services.
Create a sense of urgency. Offer something that is available for a limited time only or is in high demand.
Provide an incentive, such as a discount or a freebie.
Create targeted landing pages with unique selling propositions for each target group you want to reach.
Run a contest or a sweepstake, if it goes along with your brand values.
4. Keep things organized
If you treat social media as a channel for attracting leads, you need to have some organization and process in place.
Set goals and KPIs related to your lead generation activities on social media.
Recruit a team or at least one social media specialist to help you with content creation and distribution, as well as engagement with potential leads.
Use social media tools to automate some of your processes and save time.
Create a social media editorial calendar so that you can plan your content in advance and make sure you're sharing a mix of different types of content. You can use a social media management tool to schedule, manage, and analyze your social media posts.
Choose the right tools to help you with tasks such as content creation and scheduling, lead capture, and follow-ups.
5. Use lead-capturing tools
Depending on your marketing strategy and goals for this year, lead generation might look different to you compared to what it means to other businesses. It might resemble business development more than traditional lead generation.
If you are focused on filling your CRM with cold leads and then sending them introduction emails, then you probably spend a considerable amount of time searching through social media for potentially good leads.
With proper lead-capturing tools, you don't need to manually copy-paste new contacts into your CRM. For example, Lead Clipper, a free browser extension, can scrape contact details from any web page and automatically add new social media leads to your CRM.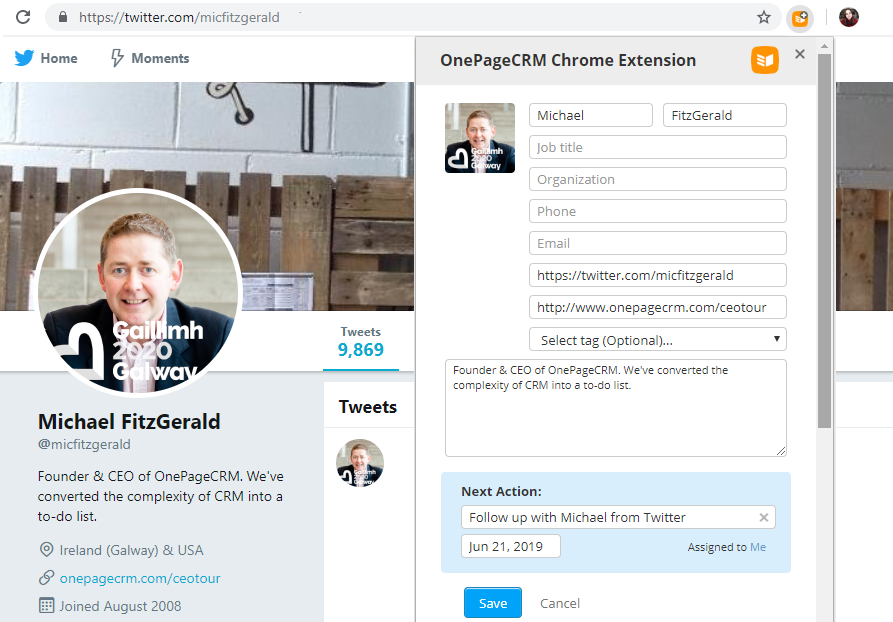 The role of retargeting in social media lead generation
Generating leads on social media is not a one-time action. You need to do more than release a few image ads into the air. The secret of closing a deal lies in following up. In the world of social media lead-hunting, this process is called retargeting.
It goes like this: a potential customer saw your lead-gen ad and might have even clicked on it, but simply had no time (or was not in the mood) to buy. Therefore, you have to follow leads like this by showing them your Facebook ads, for instance, while they surf the web.
There are many possibilities to adjust retargeting ads and offer more tailored incentives. Just like with other ads, you will need to prepare your retargeting campaign.
Retargeting is not only for gaining new leads who didn't become buyers after seeing your ad for the first time but it can also be used to upsell your existing clients.
Summing up
With the right process of social media lead generation, you can take your business to the next level. Simply by using some of the tips and tricks mentioned in this article, you will soon see an improvement in your social media performance.
But don't forget that lead gen on social media requires time, effort, and consistency. So be patient, keep trying different methods, and analyze your results to find out what works best for you and your business.
Note. This blog post was first published on May 12, 2022, and updated for relevance in August, 2023.