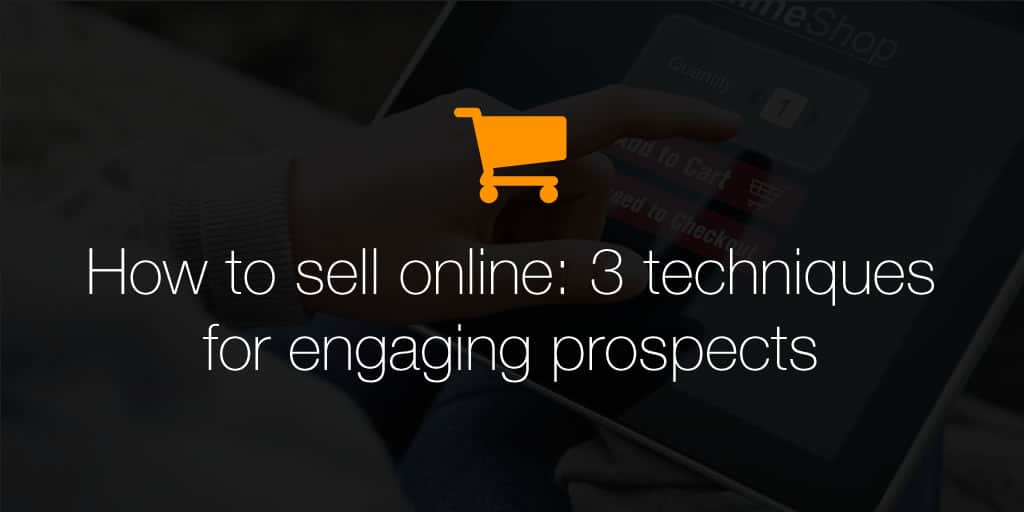 How to sell online: 3 techniques for engaging prospects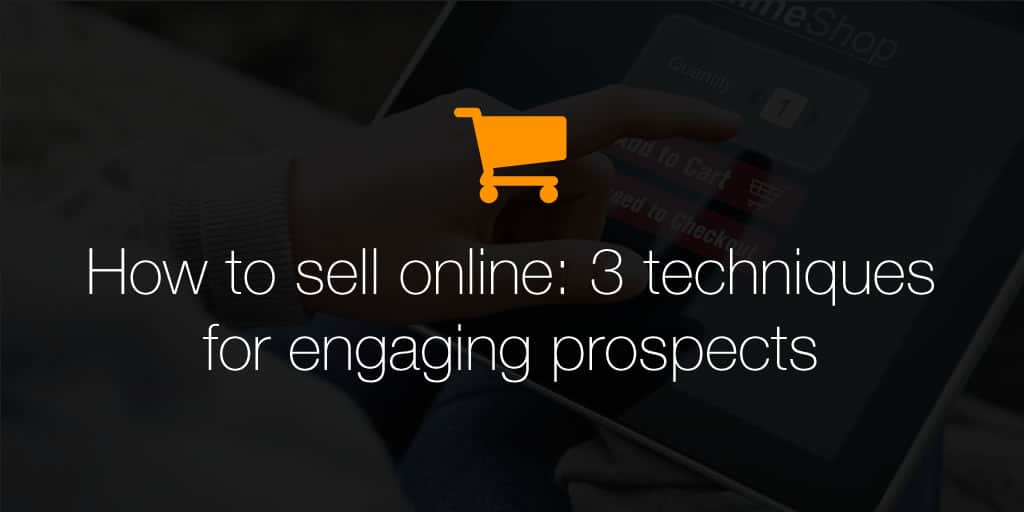 In the good old, bad old days, you had to do all business via personal contact. There wasn't any other way. When it was time to close the sale, you had to have built a relationship of trust that would lead people to buy. That can prove an even greater challenge now, because you may never meet the people you are selling to in person. Without the personal touch and verbal cues that face-to-face communication brings, you have to work harder to build trust and win the sale.
Here are three key areas to target to do that.
How to build trust via your website
Before people consider buying from you, they're going to check you out online. The first place they'll start is your website, so that's where trust-building starts.
A professional web presence makes you look like a legitimate business – no ad-ridden, cluttered home pages.
You need a well-designed site, which pays attention to user experience (UX) so visitors can easily find the information they want. Things they will expect to see include:
An about page that includes real photos of the people in your team
A contact page with many ways to get in touch, including your address
Links to your social media profiles
Consistent branding across the web, social media, and any materials you produce
Safe shopping logos and trust marks so they know any financial transactions are secure
These signals help to reinforce your professional image, build trust, and get your potential customers to see you as a real person with a legitimate business.
You can do even more. For example, you could create a video introduction to yourself and your business as a partial substitute for face-to-face communication. The research shows that people are programmed to pay attention to faces, voices, and movement and to tune into emotion. That's why video can help you connect with prospects you never meet. It's a great introduction and it says that you're willing to go the extra mile to make them comfortable.
You can also use video to answer your prospects' common questions, then reinforce that via your website with blog content and FAQs. Answer questions in advance and you remove another barrier to the sale.
There's one last aspect of your website to look after – social proof.
Social proof shows prospects that other people have worked with you and found it a great experience.
Amazon uses this all the time with star ratings and customer reviews. Some businesses with active social media followings showcase their Twitter stream or Facebook page to highlight the positive comments customers make.
Only you will know what's right for you, but consider getting some of your customers to talk about how great you are – it's an excellent way to build trust.
How to build trust on social media
You know those links to social media profiles mentioned earlier? Your potential customers are going to check them out. What will they find when they look there? It's important to create profiles on the main social media sites where your existing and potential customers are going to engage. This is not about making immediate sales; it's about being present and building trust so they think of you when it's time to buy.
Here are a few things you can do to build trust on any social media site:
Share authoritative content that your prospects will like, focusing more on others' content than your own
Give people a peek behind the curtain of your business (this works especially well on more visual networks like Instagram and Pinterest)
Have conversations on topics of interest (you can often find these via hashtags)
Respond as soon as you can to any concerns – people expect you to be responsive and quick.
Avoid automation (you can schedule content, of course, but it's important to show up too)
Harmonize cover image branding and your avatar with your website for consistency, recognition, and trust
LinkedIn
Let's talk about LinkedIn. Though it bills itself as a professional network, it's also a social one, in my view. (Come on; it's got avatars, hashtags, a news feed, social sharing, and groups.)
The point is, that's where people check out your professional credentials, so you need a credible profile. Getting your LinkedIn profile right can help you find new sales prospects and help prospects find you.
To build trust:
Fill out your profile as completely as possible
Get recommendations from people you have worked with
Share good content
Participate in relevant discussions
While some people hate LinkedIn's Endorsements feature, you can't deny that numbers talk. If more than 99 people have clicked a button to say you are an expert in your niche, that's pretty impressive.
How to build trust with communication
Once sales prospects check out your website and social media profiles, they will be ready to talk. That's where good communication practices can help build trust. Here are some elements to look after.
Email
Make sure you have an email address on your business domain. Business email sent from a Yahoo or Gmail branded address, instead of your own business brand, doesn't look professional and doesn't inspire trust.
While we're on the subject of email, be responsive. You don't have to spend all day chained to your email – that's counter-productive. Respond within a reasonable window (perhaps within 12-24 business hours) even if you're simply acknowledging receipt.
Phone calls
If it's time for a phone call, think about your communication style. Some people find a stiff, formal manner off-putting, so try a professional, yet friendly approach. For best results, figure out your ideal communication style before a phone meeting. These tips on successful sales calls will also help.
Using video
One key piece of technology that bridges the gap between online and face-to-face interaction is video messaging, available via Skype, Google Hangouts, and more. Video meetings allow all participants to see the visual cues and nuances that are missing from written communication. Everyone gets a better feel for what's happening, which helps cement the relationship.
Some businesses use messaging platforms similar to WhatsApp to connect with customers and prospects. Since these now allow video messaging, they are another option for communicating with people. Even if it's not always real-time, you still get the benefits of video.
Estimates and agreements
When you get nearer to closing the deal, there are a few more things you can do to help build trust with prospects:
Use branded templates for the emails you will need throughout the sales cycle.
Create professional estimates using tools like PandaDoc (integrated with OnePageCRM).
Make it easy to sign online contracts and agreements with a professional e-signature service.
Conclusion
A branded, usable website, active and engaging social media profiles and smooth communication can help build a trusted relationship even if you don't meet face-to-face. What are your favorite tools and tips for connecting with prospects online?