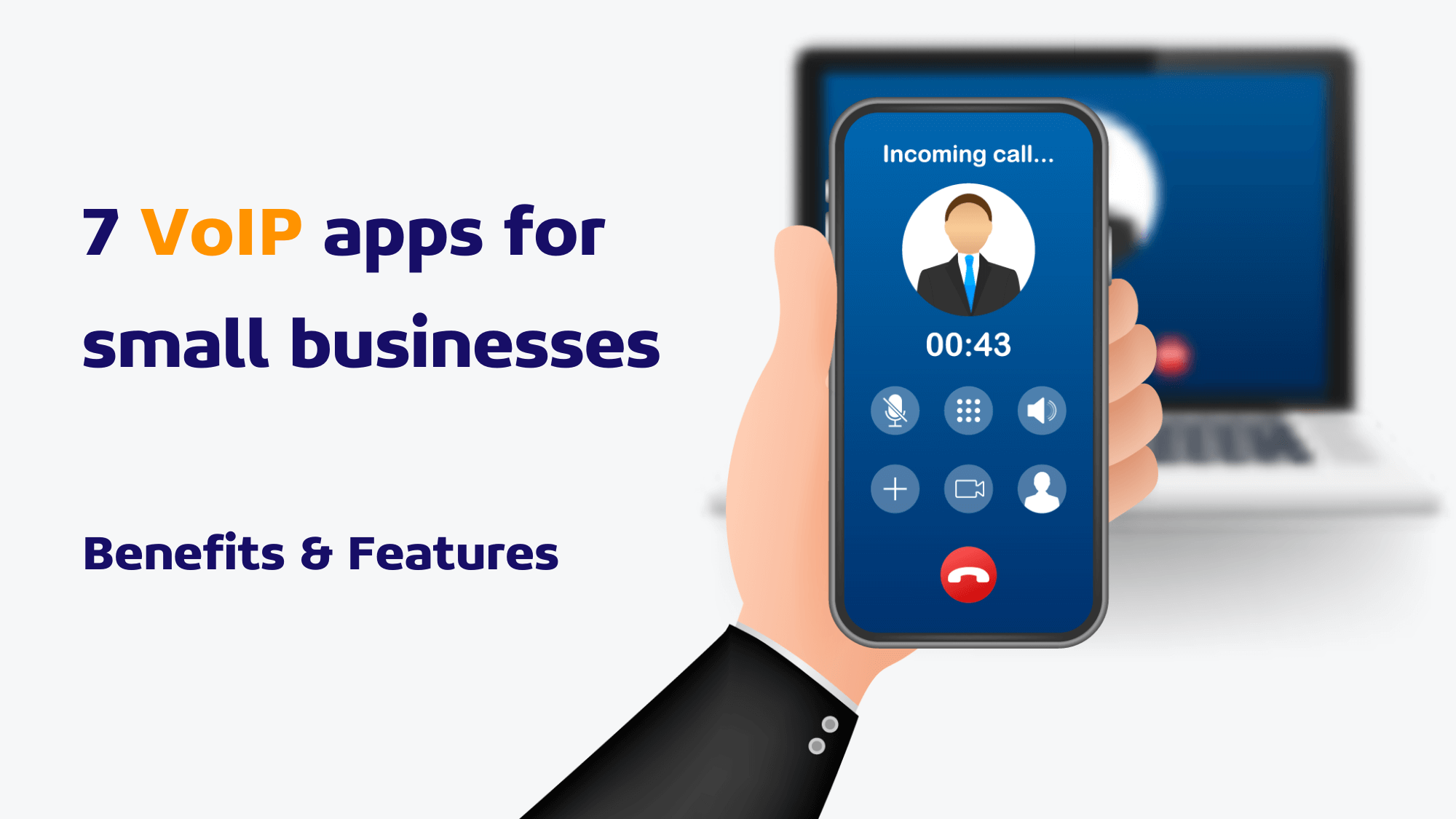 7 VoIP apps for small businesses | Benefits & Features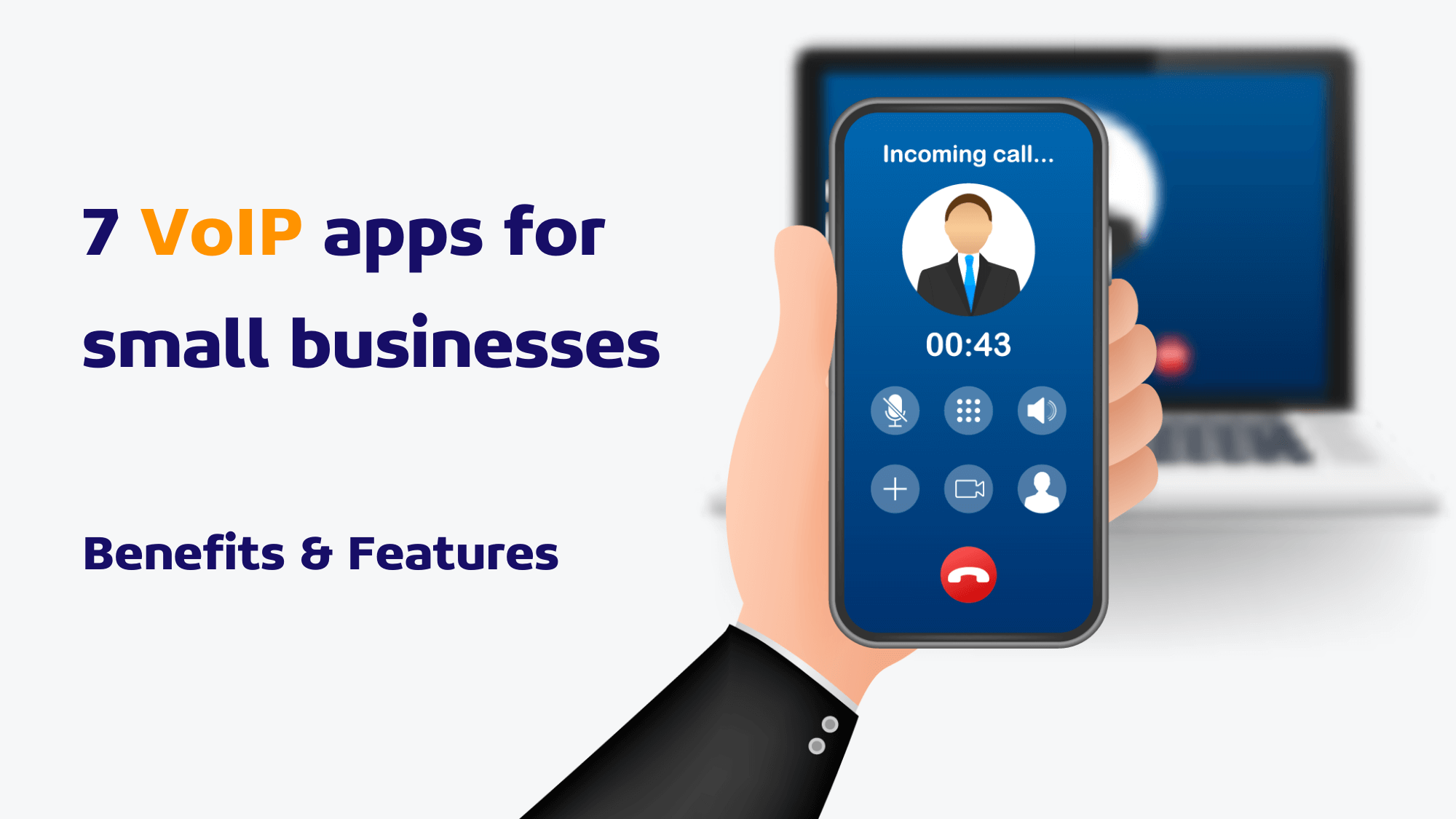 Running a business in a digital world is tricky. Customers are expecting personalized support, sales cycles become longer and leads can sometimes know more about your competitors than you do.
This all makes business communication much more complex than it was before. At some point, traditional communication channels become no longer enough and the way we do sales and build relationships with customers needs to change.
While phone calls have always been an important part of the sales process, they have transformed into much more than a simple cold call with a script. That's why more and more businesses are looking for ways to improve their calls and start exploring VoIP apps.
What is a VoIP app?
VoIP stands for Voice over Internet Protocol.
This abbreviation might look complicated if you've never encountered it before but chances are that you've already used VoIP technology. For example, when you are using Skype or WhatsApp to make or receive a call, you are using VoIP.
In other words, VoIP is a technology that allows users to make and receive calls over the internet without the need for landlines and cell towers.
Why do small businesses use VoIP apps?
There are several reasons why small businesses use VoIP apps:
Affordability. VoIP apps are usually cheaper than traditional telecom solutions. They don't require any additional hardware and use the internet connection to convert the sound into data and transmit it over the line. Small businesses don't need to install any additional equipment or account for maintenance costs. On top of that, the price of one call doesn't depend on where you are calling from and where the recipient is. Some VoIP apps can be half as cheap compared to traditional solutions.
Quality. Many businesses subscribe to VoIP apps instead of using free alternatives like Skype or WhatsApp. Contrary to free solutions, business-focused VoIP apps provide a high quality of service and offer reliable customer support. Since the VoIP technology had been first introduced, the sound quality improved significantly. Now it's difficult to tell the difference between a traditional call and a call over the internet.
Flexibility. VoIP apps are standalone business applications that offer a variety of features and can be used on web, mobile or desktop versions. This helps sales and customer support teams to be in constant touch with leads and customers. And what's more, since VoIP apps use the internet connection, they don't depend on the cellular coverage area of a specific operator and make it easier for your team to reach existing and potential clients all over the world.
Ease of use. VoIP apps don't require any technical setup and don't need any maintenance. They are similar to any other business app. You can use them on your phone or laptop without buying any additional hardware.
Depending on your goal, you can use VoIP solutions for different purposes:
Remote work. When you have remote team members, you need to keep in touch with everyone and make sure that communication is seamless. This is where free apps with VoIP functionality come in handy. Some companies use Google Meet, others prefer Zoom or Skype. By testing different tools, you can find an app that works best for you and your team.
Customer support. If you are a multi-location business, you will appreciate how easy it is to use click-to-call apps and reach customers all over the world. Most VoIP solutions also allow businesses to choose different phone numbers depending on which location they are serving.
Sales. Many CRM systems offer integrations with VoIP apps. This means that any call or conversation that happens between your sales rep and your potential customer will be safely logged into your CRM for future reference and a better customer experience.
What features should virtual phone systems (VoIP apps) have?
The answer depends on why you need a VoIP app.
Before choosing a new tool, it's better to ask two questions:
What are your main business objectives?
How does this app help you reach them?
In general, VoIP apps need to have the following features.
1. Call recording
If you are using a VoIP app to reach a business objective or solve a business problem, there's a high chance that you'll be using it to talk to your customers, leads, partners, suppliers or other stakeholders. There might be situations when instead of taking down notes, you need to record the call. For example, to assess the level of your customer support or to record a customer interview for further analysis.
2. Automation
In business, it's now all about optimizing existing workflows and saving time to focus on value-add activities. While there are different sales automation tools that can move your business to the next level, modern VoIP apps also offer a variety of automation features. You just need to decide which of them you need right now. With some VoIP apps, you can send automatic welcome messages or use auto attendants for a faster connection with the right person.
3. Call analytics
Do your business processes require data analysis? If they don't, you'll still need to look into your data at some point to make better business decisions. That's one of the reasons why many VoIP apps offer call analytics that can help you dig into conversation patterns and improve interactions with your existing and potential customers.
4. Text messages
VoIP apps are not only about making or receiving calls. Some of them have built-in messaging functionality. Besides, not all of your customers like calls. Some might prefer to receive messages instead. That's why you can also use VoIP apps to send notifications or reminders to customers and leads.
5. Security
To put it simply, end-to-end call encryption means that no one besides you and the person you're talking to can hear your conversation. Call encryption is an important feature that helps you ensure that your company-wide data is secure. Moreover, many VoIP apps allow users to block unnecessary calls or avoid spam.
7 VoIP apps for small businesses
There are a lot of VoIP apps available for small businesses.
For example, apps like Skype, which were built to make free calls over the internet. Some companies, like Talkdesk, offer advanced VoIP solutions alongside other products and services.
Depending on your sales process, you might need either a very simple solution or an app with advanced features. The main thing is that the app that you go with integrates with your CRM. This way, you'll be able to keep track of all communication.
Here are 7 VoIP apps for your small business.
WhatsApp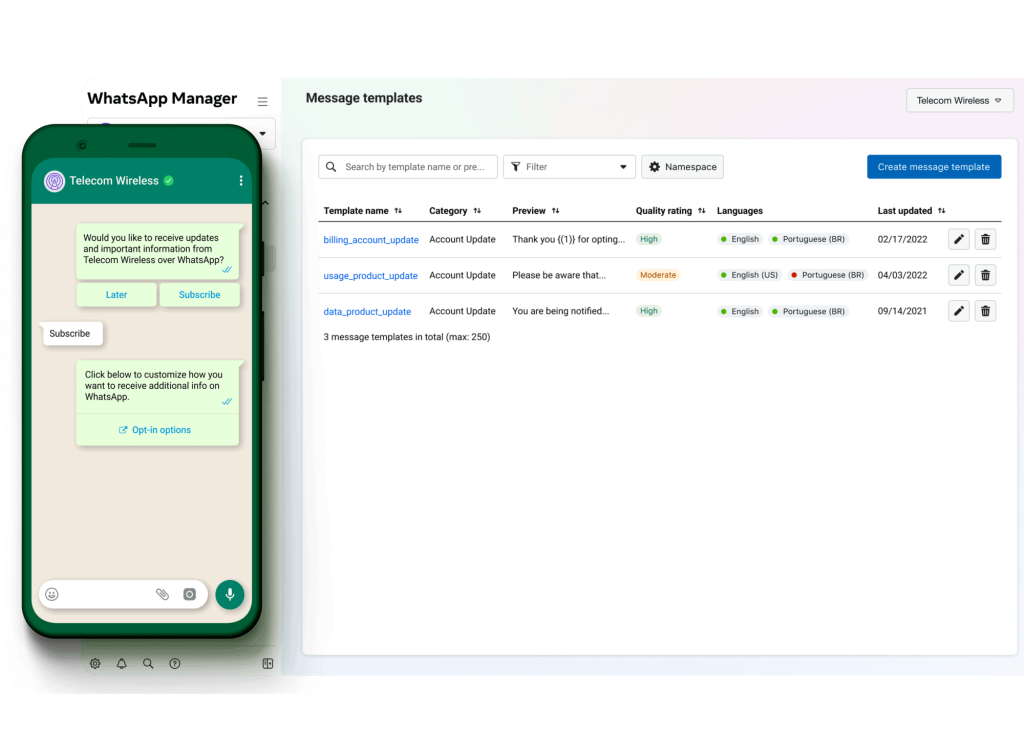 This app doesn't need an introduction: you probably have it on your smartphone or have used it at least once. For your business, you can use WhatsApp or WhatsApp Business depending on your needs and goals. WhatsApp makes it easy to connect with customers, automate some parts of your communication process and quickly respond to messages.
WhatsApp can be a great option for you because not all small businesses need a standalone VoIP app with advanced functionalities. Also, you can integrate WhatsApp with your CRM and make calls straight from within a contact page and log in call results in just a few clicks.
Skype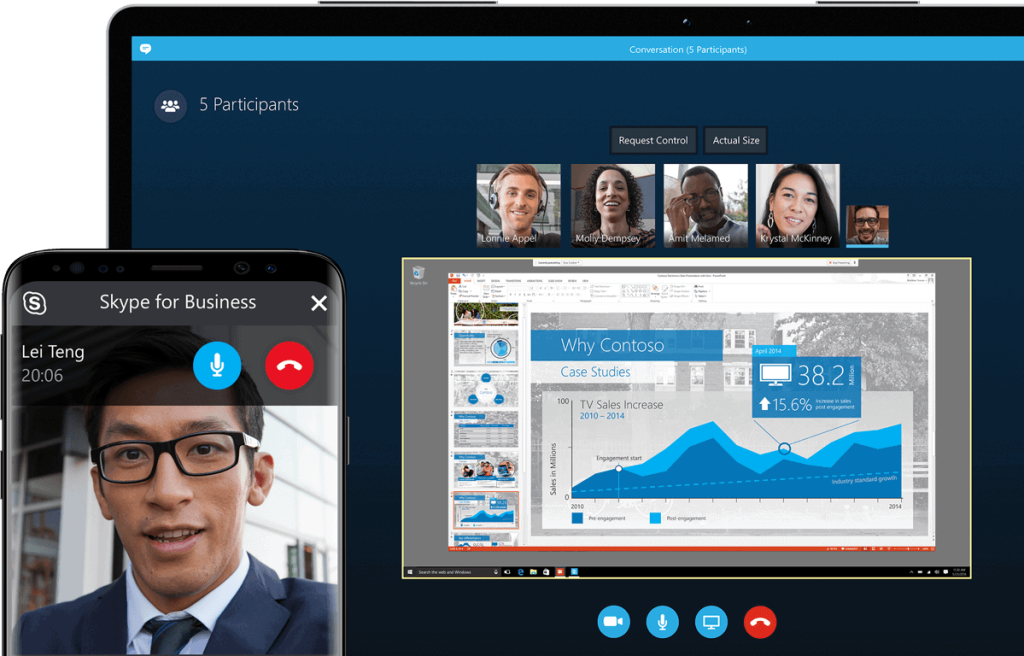 Similar to WhatsApp, you can use Skype if you are a small business with just a few employees. Skype is free to use only if you don't need calls to landlines or mobile phones. It also doesn't have reporting and analytics features that businesses sometimes need.
These two limitations make Skype a tool more suitable for remote team communication rather than sales and customer support.
Before 2021, there was another application called Skype for Business which is being replaced by Microsoft Teams. Microsoft Teams is a VoIP app where you can host and organize video and audio calls with hundreds of people. It works great for holding online conferences, webinars, or classes.
Skype is a popular VoIP app used by many small businesses. That's why you can also find many CRM systems, like OnePageCRM, that offer integration with Skype.
FaceTime
If iPhones and MacBooks are the go-to devices for your customers, you might find a CRM integration with FaceTime very useful. Similar to WhatsApp and Skype, FaceTime is a free VoIP app.
Like any other free device-specific app, it has its limitations so it might not be suitable for every sales team.
Talkdesk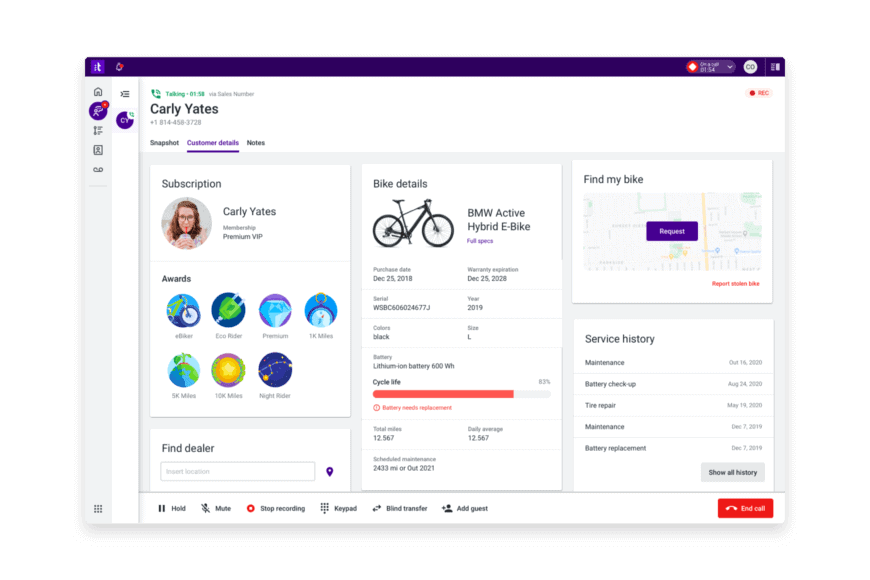 Talkdesk is a more advanced tool for businesses looking for ways to improve their customer support. It offers not only several automation features, a self-service experience, and omnichannel engagement, but also provides industry-specific solutions.
Talkdesk has features for your customer support as well as sales teams: a power dialer, voicemail drop, intelligent routing, speech analytics, and much more.
You can also sync data from Talkdesk to your CRM and see all customer information in one place. The integration between OnePageCRM and Talkdesk comes with some handy automations. For example, after each call in Talkdesk, you can automatically add Next Actions to your contacts.
JustCall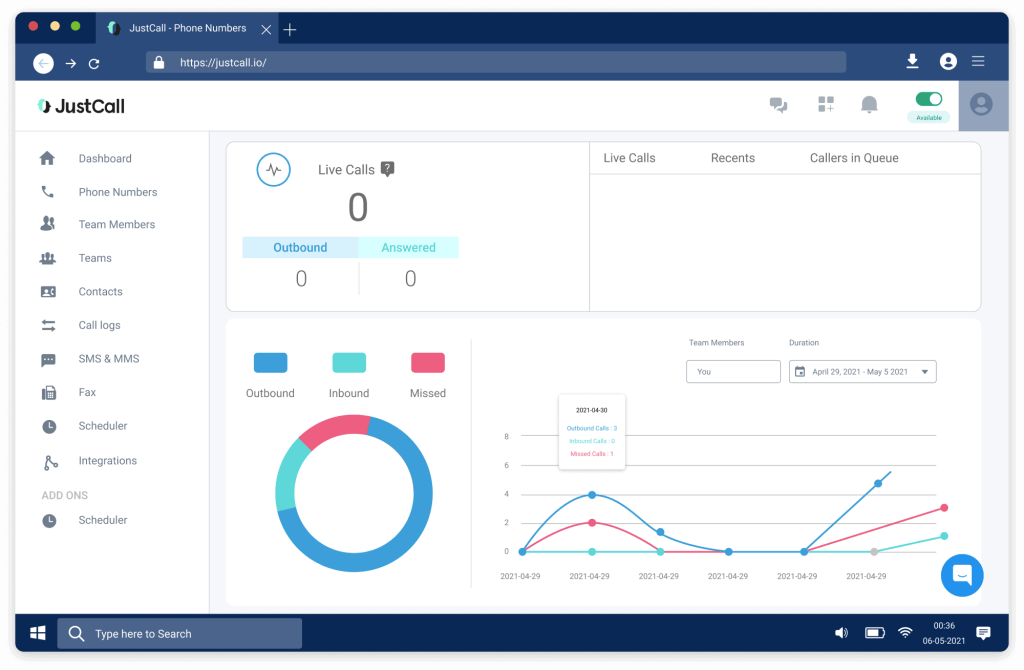 Contrary to WhatsApp, Skype and FaceTime, JustCall is a tool that was built specifically for salespeople. It's one of the most popular VoIP providers used by over 6,000 businesses around the world. 
JustCall offers a wide range of features that are tailored to different business needs. You can use a sales dialer, several automation tools, call center analytics, an appointment scheduler, and many more.
With JustCall you can either get a local toll-free phone number or use your existing number. Besides, the app has several CRM integrations making it easier to get calls and SMS details automatically recorded in your CRM.
NUACOM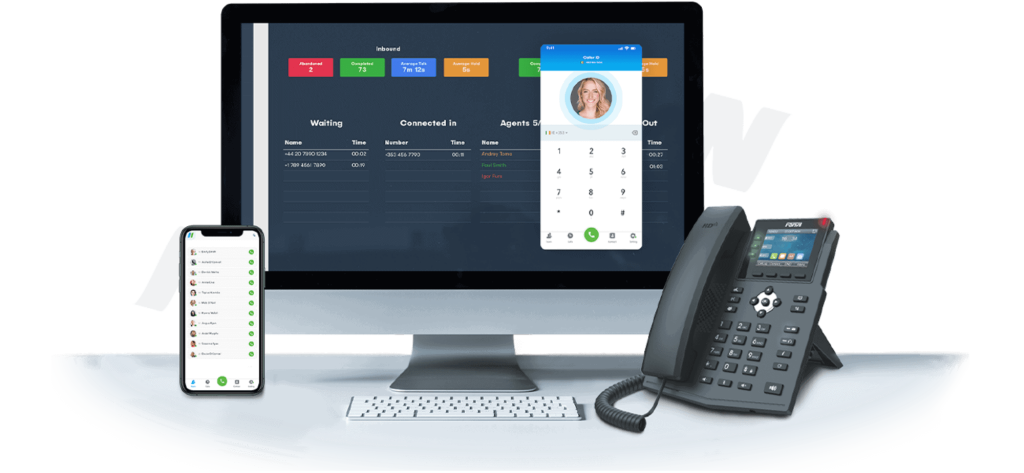 NUACOM offers cloud phone solutions for small businesses. It has more than 50 different features that can help businesses move their communication to the next level. It's perfect for both sales and customer support teams. 
NUACOM has solutions for companies that are just starting out with improving their business communication and for those who need advanced call center software. With NUACOM, you can maintain the same caller ID (your business phone number) and change locations at any time.
You can personalize the system around your business or use its advanced analytics feature to provide actionable feedback. Besides, you can connect NUACOM to OnePageCRM for improved sales performance.
Invoco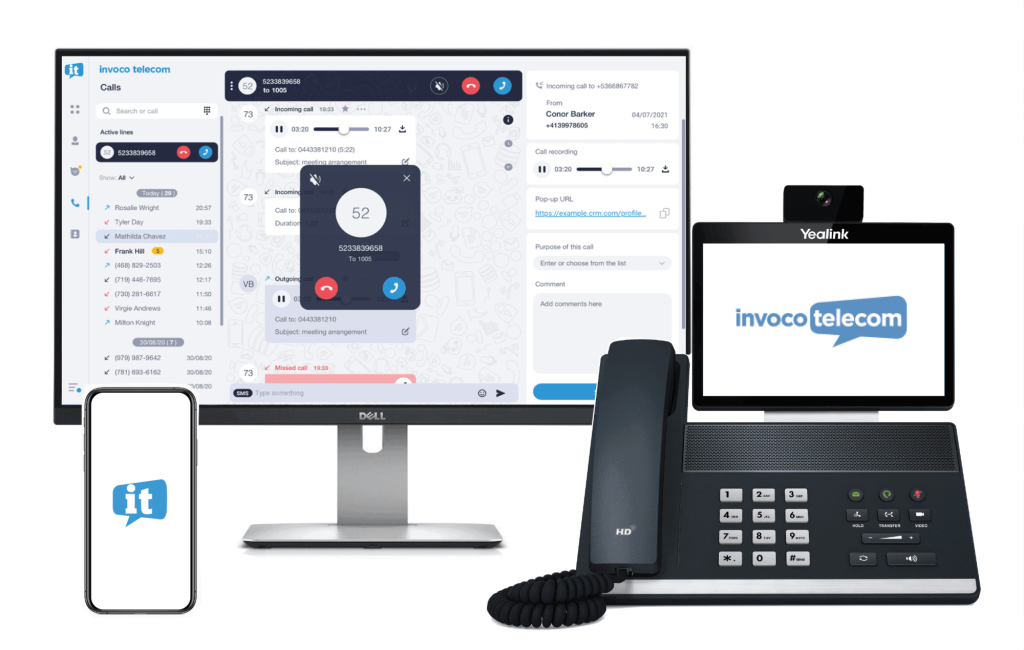 Invoco serves the UK market and offers a variety of telecom services, such as virtual numbers, hosted phone systems, call tracking, broadband, and much more. By being a one-stop telecom platform, Invoco makes it easy to manage all services from one place. 
You can create and update existing call records in your CRM straight from Invoco to have a comprehensive call history for every contact. You can also set up desktop call notifications to see who is calling you.
The features you can get:
Online management portal (real-time reporting and integrations)
Call statistics
Voicemail
Call blocking
Click2Dial (to make calls directly from a web page)
and several advanced features
Novocall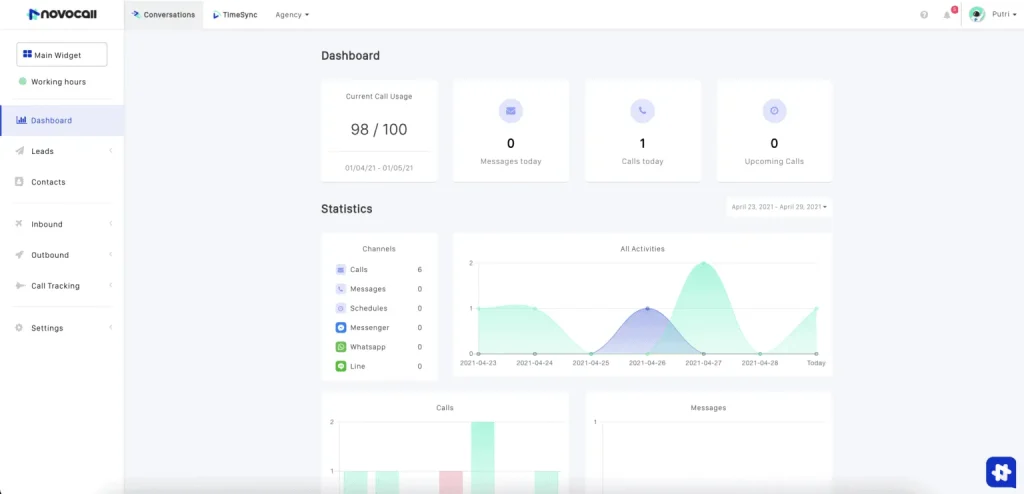 Novocall is a business phone system with a suite of call automation features to boost your business performance and lead generation efforts. Its click-to-call inbound widget is embedded onto a website where users can set auto-triggers to activate a pop-up and capture inbound site visitors.
Meanwhile, its outbound call dialer allows sales reps to automate the outbound calling process to quickly contact every lead on their list. Its call tracking feature allows you to trace calls back to its marketing source using Dynamic number insertion (DNI). It will automatically assign a unique phone number to each campaign so you can track multiple calls leading to the same campaign.
To add on, Novocall has a wide range of integration options, like OnePageCRM via Zapier, and Google Analytics. The software also integrates with Facebook Lead Ads so you can cast a wider net and capture more leads on Facebook.
Make the most of your VoIP apps
With so many different VoIP apps available, you might find it difficult to choose one that works best for your business.
There are a few things that you can keep in mind to make a better decision:
Does the app have all the features that you need right now?
Can you customize it for your business?
Do you need to overpay for features that you don't use?
Is this app part of a wider ecosystem and integrates with apps you already use?
By having a look at your current processes and identifying where the VoIP app fits in, you'll find it easier to make a decision.
OnePageCRM is the #1 action-focused CRM that helps small businesses focus on building relationships and improving processes. In OnePageCRM, you can turn a customer database into a simple to-do list and set specific tasks next to every contact (say, send a follow-up email or schedule a call).
Learn more about
how OnePageCRM works for small businesses
.