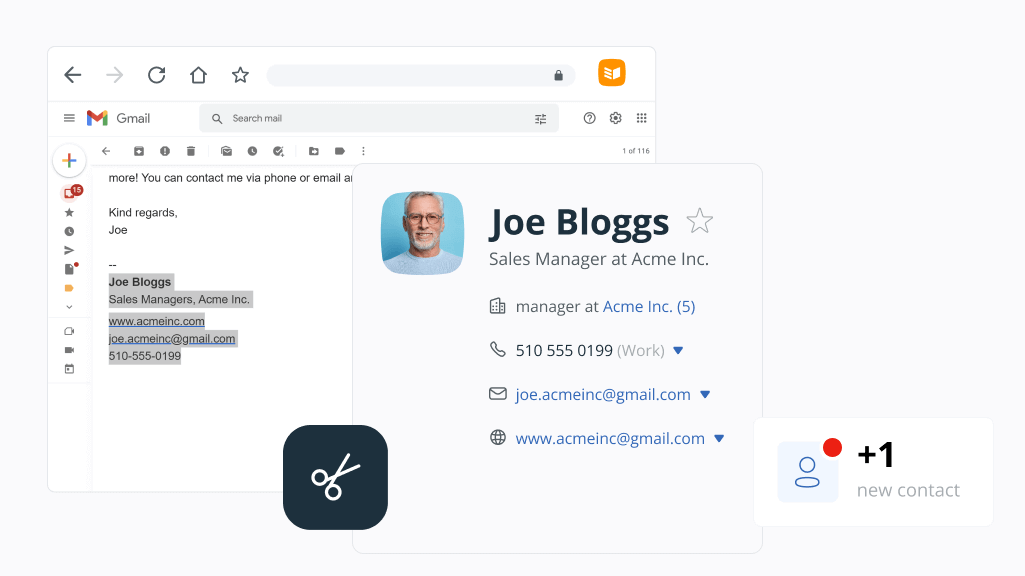 Scrape contact info from any web page and auto-fill your CRM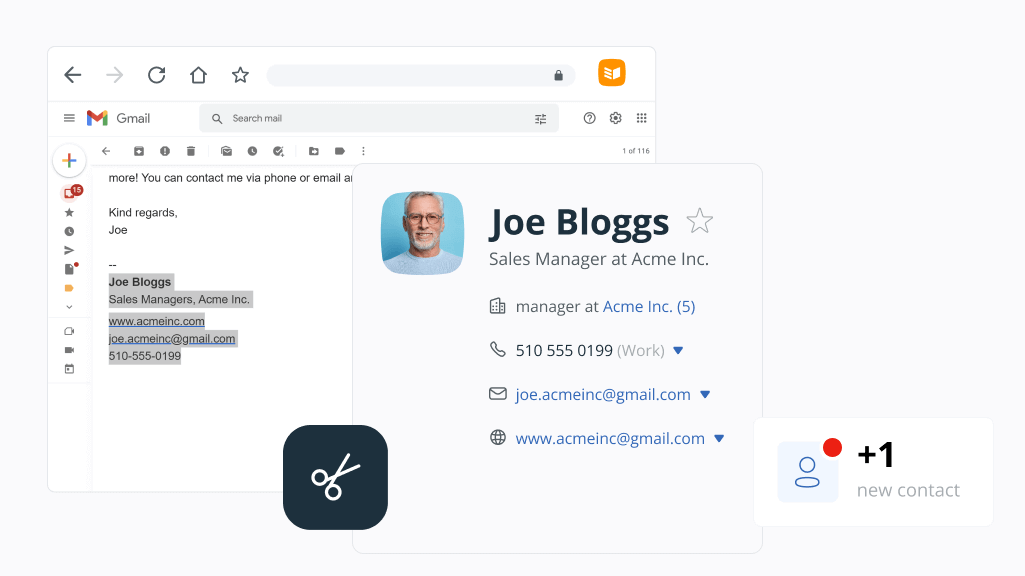 For most businesses, getting new clients is both a priority and one of the toughest challenges. It takes time and effort and requires a lot of manual work.
Whether you find new clients on social media, through emails, or by scanning the Contact Us pages of prospective clients, you know the struggle of copying and pasting contact details into your CRM.
OnePageCRM can help you automate this process.
That's why we built the Lead Clipper.
What is the Lead Clipper?
Lead Clipper is a free data scraping tool that small businesses use to extract contact information.

It is a browser extension that automatically detects contact information on any web page, email, or social media profile. With just one click, the Lead Clipper captures contact details and auto-creates a new contact in your CRM.

Note: The Lead Clipper works only with OnePageCRM, so you need to create a OnePageCRM account first.
How do small businesses use the Lead Clipper?
With the Lead Clipper, you can scrape and extract publicly available contact details from any web page and automatically create new contacts in your CRM.
It's a powerful way to generate more leads and avoid manual data entry.
Here are some examples of where you can use the Lead Clipper:
Scrape social media profiles.
Scrape emails (even in the Outlook desktop app).
Scrape the Contact Us pages of any website.
The Lead Clipper is not just a contact details scraper. It's a tool that is connected to your OnePageCRM account and auto-fills your CRM with new contacts.

1. Scrape contact details from social media
Whether you're using Facebook, Xing, Twitter, or any other business platform for finding new clients, use the Lead Clipper to quickly capture contact details from any social media profile and add them to your CRM in just one click.
You can easily extract their contact details along with their profile picture and background into OnePageCRM.
2. Scrape contact data from emails
The Lead Clipper extracts contact details from emails: contact names, phone numbers, job titles, email addresses, and any other relevant information—even profile pictures.
You can capture contact details from different mailboxes:
Gmail
Outlook (even the desktop version)
Hotmail & Office 365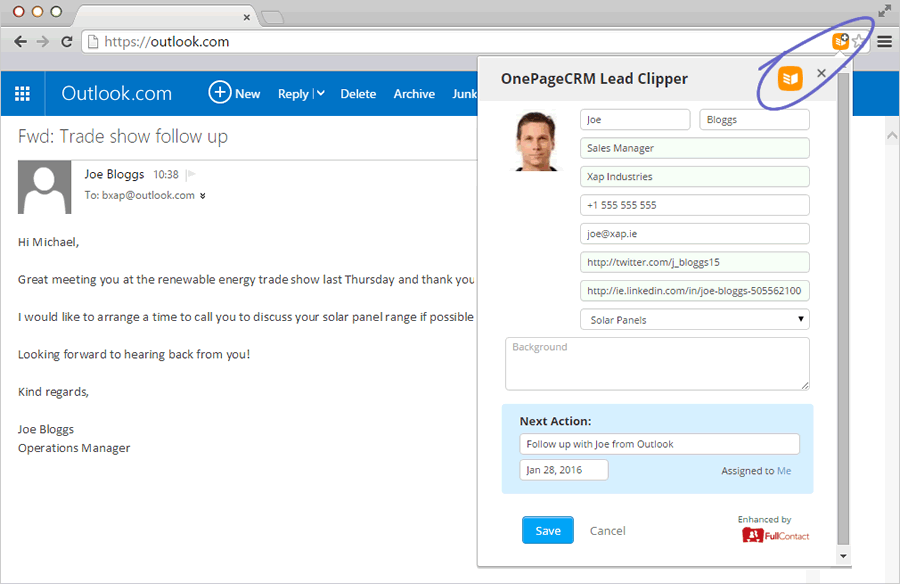 Click on the Lead Clipper icon and leave the rest up to us.
We'll do all the hard work by moving the information into your CRM account making it easy for you to create new contacts directly from your mailbox.
Note
: The desktop version of the Lead Clipper works for Outlook 2010 and 2013 only. For later versions of Outlook try our
Chrome browser extension
.
3. Scrape contact details from web pages
With the Lead Clipper, you can select contact info on any web page and automatically generate a contact in your CRM.
To do so, simply highlight the text you need, click on the extension icon in the top right corner of your browser window, and watch it transform into a OnePageCRM contact!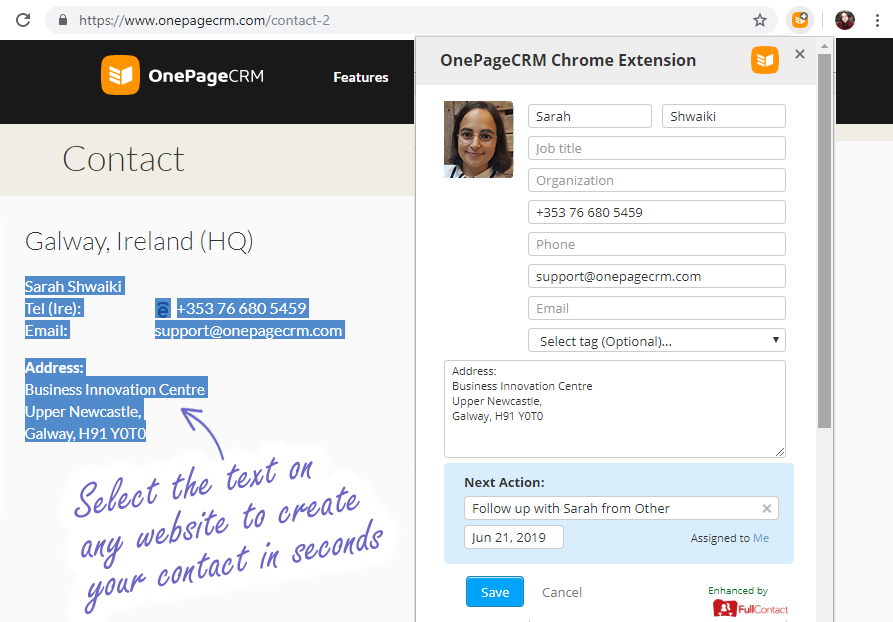 Details like title, phone number, and email address will be recognized and added to the contact fields.
The remaining information will be added to a contact's background, making sure that no vital piece of data is lost.
At OnePageCRM, we don't believe in 'dead databases'. So along with creating a contact, we'll prompt you to set a Next Action for it. It can be a task or a follow-up reminder. This way, you can hit the ground running.
Why choose Lead Clipper for extracting contact details?
Like everything else built by OnePageCRM, the Lead Clipper is very easy-to-use.
Once installed, the Lead Clipper icon will be visible in the extensions area of your browser toolbar. A simple click on the icon will gather all the available information on the contact and send it to OnePageCRM.
As simple as it gets
You don't need any special IT knowledge for scraping web pages with Lead Clipper. Install our free browser extension, log into your OnePageCRM account, open a web page you want to scrape—and click on the browser extension logo.
The Lead Clipper will automatically detect contact information and pre-populate relevant contact fields for you.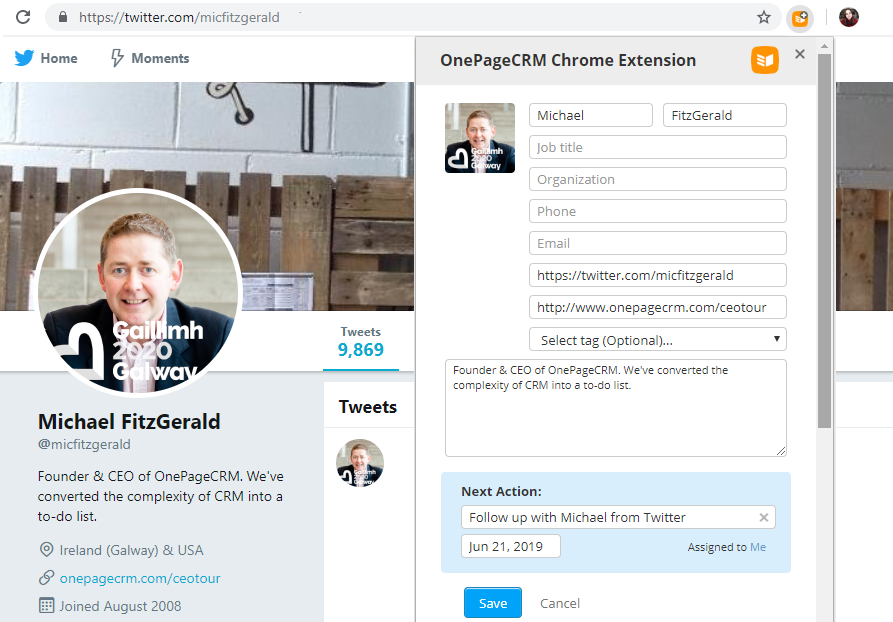 Takes the pressure off of you
Before auto-creating a new contact, quickly double-check if there's anything you want to add. For example, a note or a follow-up reminder. In the Lead Clipper, you'll notice the blue area with a Next Action field: this is where you can type a task or reminder associated with this contact.
Then click on Save.
That's it—you have a new contact in your CRM with a reminder set next to them.
This way, you can rest assured that you won't forget to follow up with new contacts in your CRM.
Saves you loads of time
When you're on a hunt for new clients and leads, the last thing you need is to waste time on copy-pastes or hopping between social media accounts, emails, and your CRM.
Take the situation where a new client has reached out to you via email. You want to add them to your CRM quickly before your attention switches to another task or their email become lost in the sea of mail.
With the Lead Clipper, you can create new contacts in your CRM in just one click. This frees you up to spend more time engaging with clients. If you've received an email from a potential lead, just highlight their email signature, click on the Lead Clipper icon, and watch the magic happen.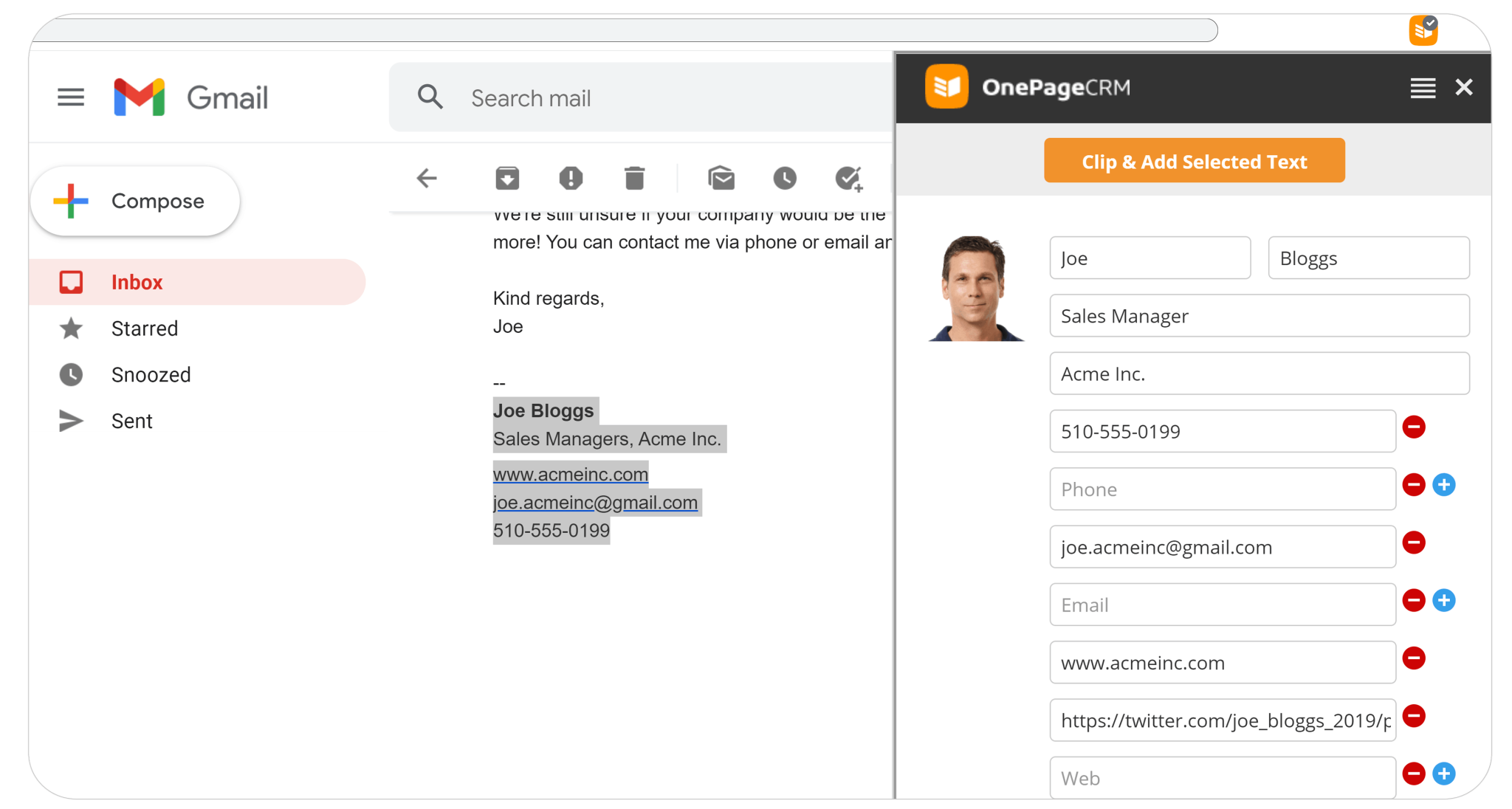 Copying and pasting is a manual task that can quickly become a chore.
All of the admin eats into your time that you could be using to actively build and nurture client relationships. So the Lead Clipper is here to help you focus on value-added activities.
Works on different platforms
Depending on the type of your business, you might be looking for new clients on different platforms. For some of you, social media is the primary channel whereas for others the majority of leads are coming from emails.
In any case, the Lead Clipper is designed to work with a variety of social media platforms as well as Gmail and Outlook. It also captures contact data from any web page, such as Contact Us pages or About Us pages.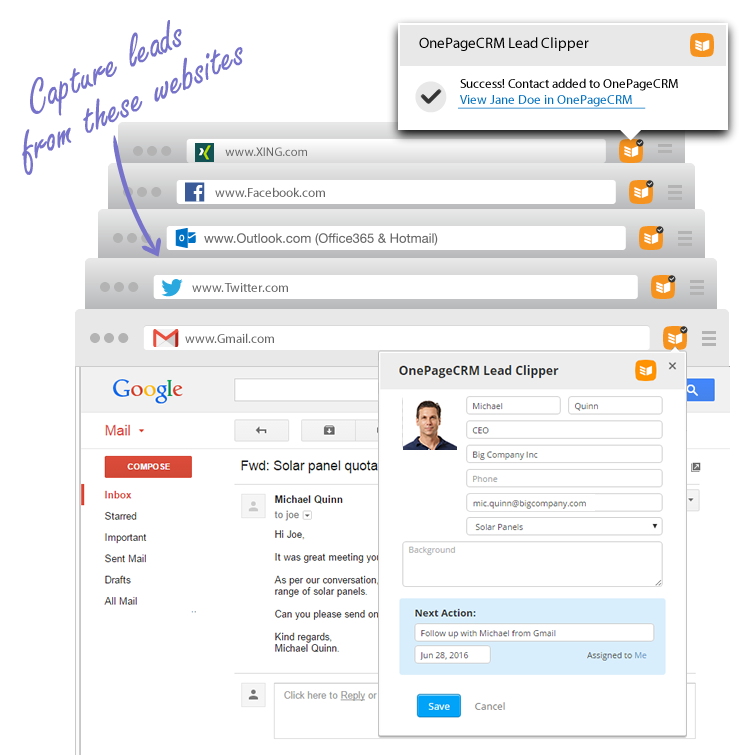 It's completely free
Growing a small business is challenging enough—and we are here to support your growth. The Lead Clipper is completely free for all OnePageCRM users regardless of your pricing plan.
It's one of the most essential tools for active lead generation and client discovery process so we made sure that it's available to everyone.
Helps with contact segmentation
In the Lead Clipper, when extracting contact details, you can create tags straight away and apply them to a new contact.
Say, some of your new leads came from Twitter while others came from email. When extracting their contact details, you can add a relevant tag—"Twitter" or "Email"—next to the newly created contact.
It's an optional field (see below) but can still make a difference and help you easily see where the majority of your new clients are coming from and which channel works better.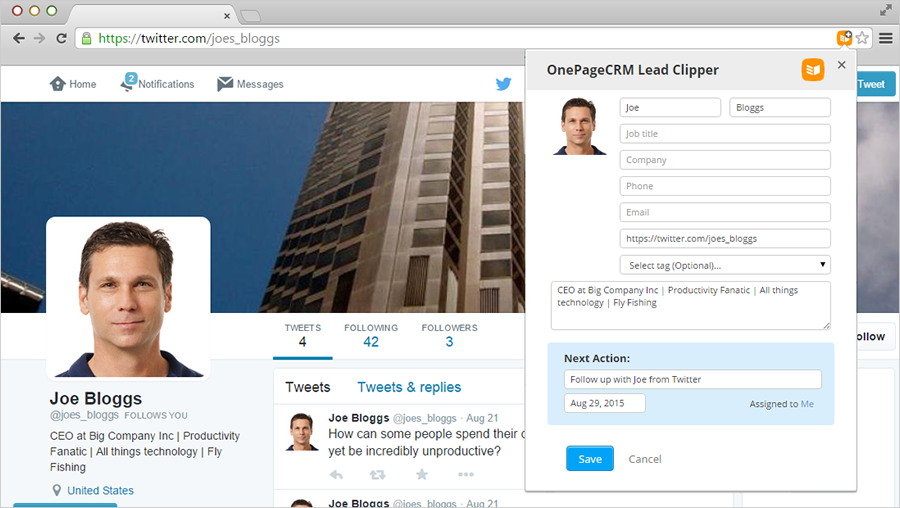 Keeps your team aligned
Sometimes you might come across a potential new client but you're not the one who's dealing with client acquisition and nurturing. You just don't have time for this and it's not your job.
Instead of copy-pasting the social media profile link to one of your team members and explaining to them that it's a potential client that they can get in touch with, you can use the Lead Clipper:
Extract the contact details.
Add a relevant tag.
Add a task or a reminder.
Assign the task to a team member.
Click on Save.
This way, you'll make sure that the relevant team member will be notified of a new contact in the CRM system and will take it from there. The Lead Clipper makes team collaboration much easier.
Aggregates data from multiple sources
In some rare cases, you're lucky enough to find everything you need to know about a lead on one single page. However, more often than not you end up hopping between multiple websites and social media pages trying to piece together a cohesive profile. Collecting and copy-and-pasting that data can be a time-consuming (and mind-numbing) process.
Say, you've just received an email from a potential lead. You can quickly select their signature, click on the Lead Clipper extension icon in the top right corner of your browser, and we'll automatically capture their details and fill them in a popped-up contact form.
However, what if you feel like you don't have the full picture just yet?
You can quickly look them up on Twitter or another social media channel, click on the Lead Clipper icon once again, select the missing data, and click Clip & Add Selected Text. We'll recognize all the available information and automatically sort it into the corresponding fields like phone number, email address, organization name, and more.
The details that don't fit into any of the fields will be added to the contact's background, so nothing slips through the cracks.
Is that picture still missing a couple of pieces?
Check out their Facebook profile, website, Crunchbase, or any other source.
You can easily pick up where you left off, even if you closed the previous page. We'll keep the profile form populated in the Lead Clipper until you're ready to save that lead as a contact!
Adjusts to the page layout
If the information you'd like to extract is located just behind the Lead Clipper form, you can simply click on the hamburger menu in the top right corner and toggle the form from left to right or the other way around.
Nothing should stand between you and your new clients.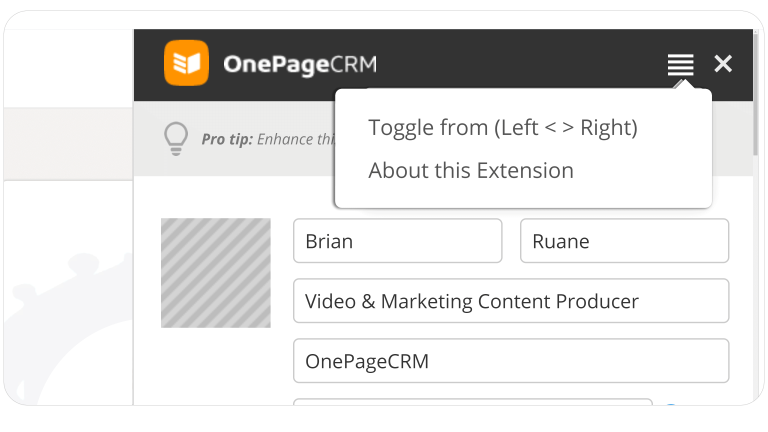 Doesn't end with scraping
Once a new contact is auto-created, we'll look for any corresponding social data and add that too. With the Enhance button, OnePageCRM will automatically populate your contacts with any publically available information.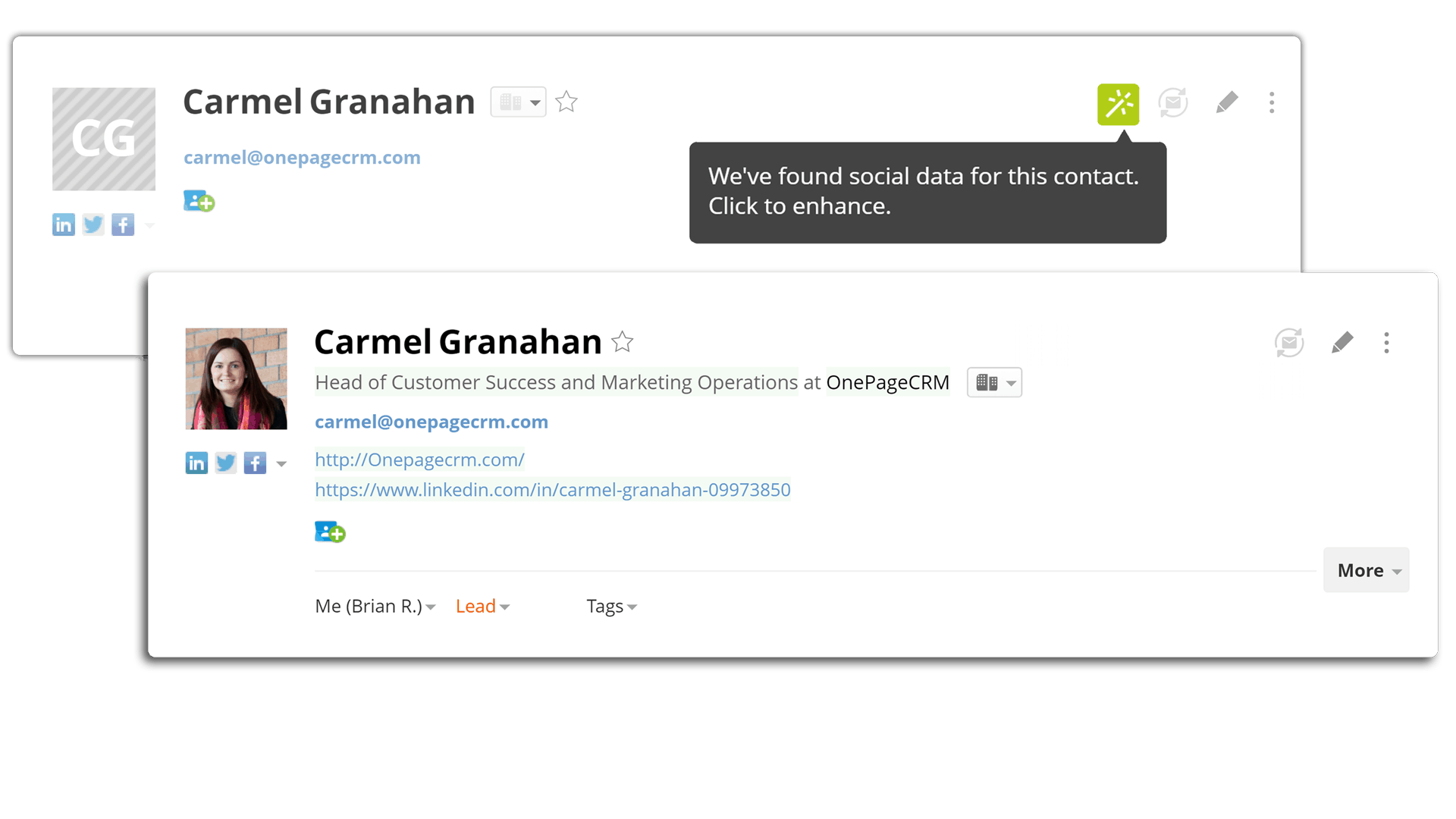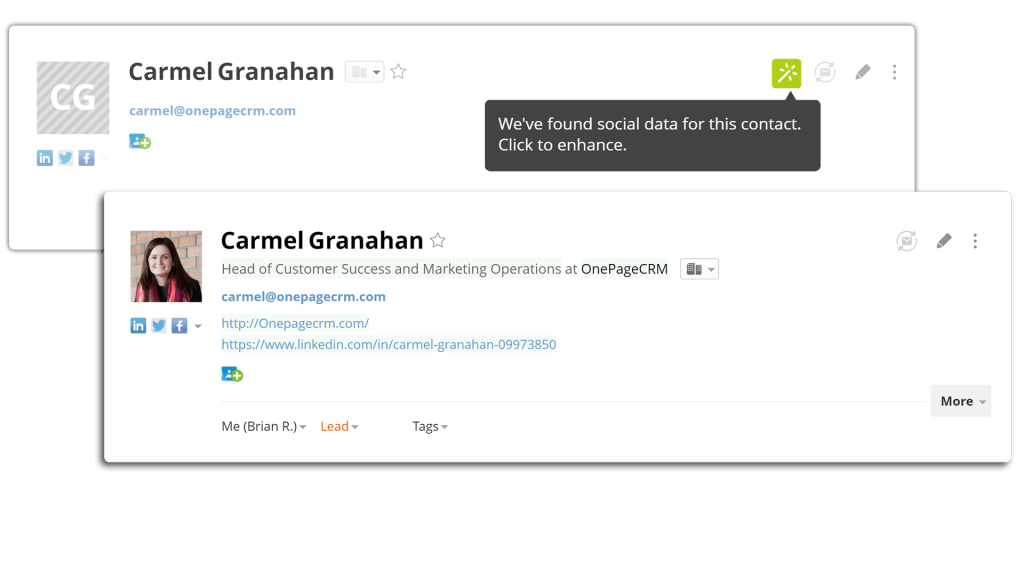 Speed up your lead generation process
At OnePageCRM, we believe that no contact should be added just for the sake of it. So whenever you're ready to create a contact from the extracted information, we'll prompt you to set the Next Action for them to ensure a timely follow-up.
And if you want to start working on the newly created contact right away and, say, create a deal to get the pipeline moving, you can follow a quick link and open their OnePageCRM contact page in just a click.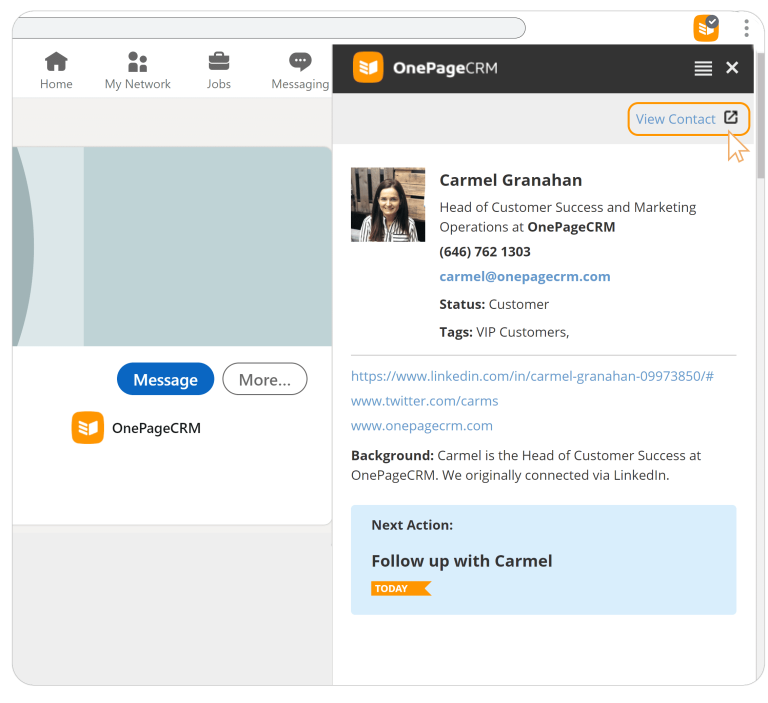 These are not all the benefits you can reap from the Lead Clipper.
By enabling this free extension, you can quickly switch between multiple OnePageCRM accounts or get desktop notifications for upcoming tasks.