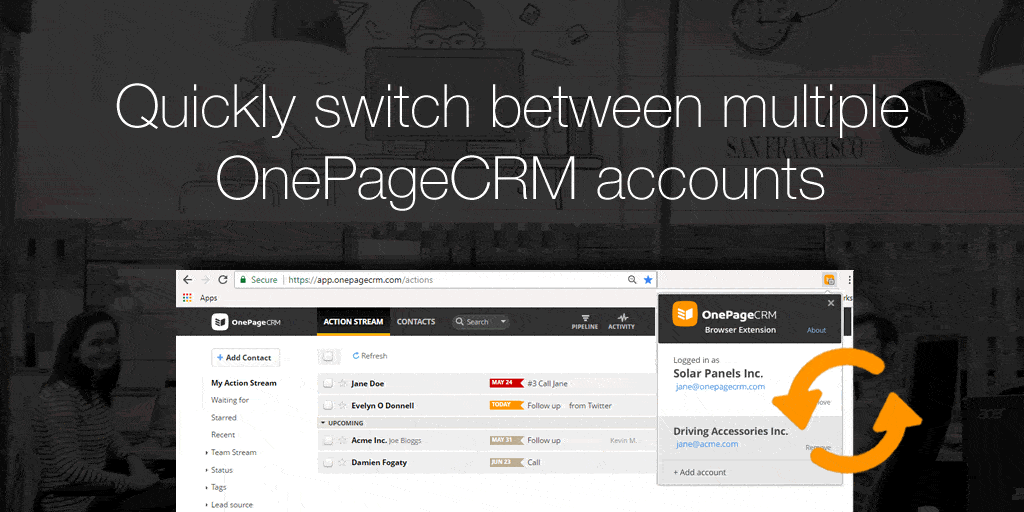 Quickly switch between multiple OnePageCRM accounts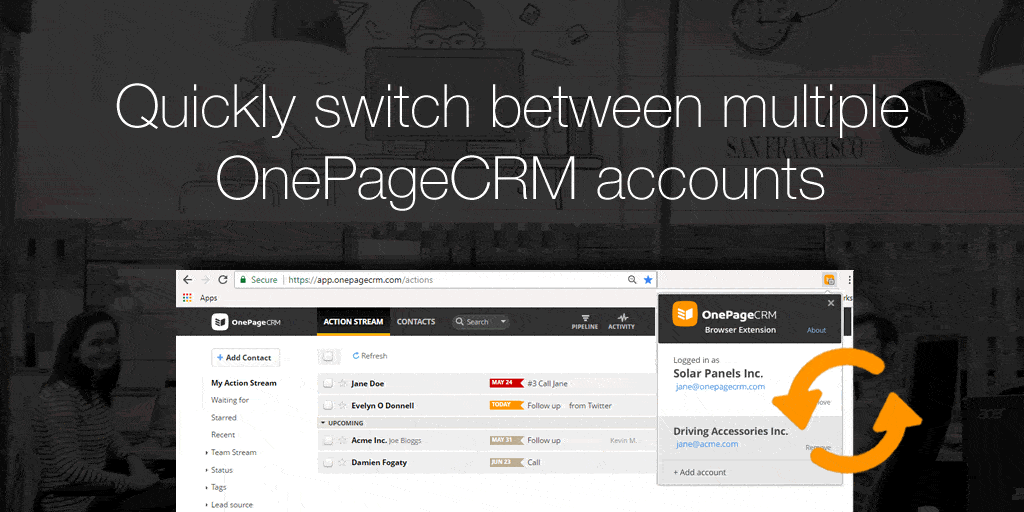 Our customers have asked, and we've answered! We've just added a new feature to our Chrome Extension: Account Switcher, for quick and easy switching between multiple accounts.
No more signing in and out or hopping between different browsers. Easily switch between your OnePageCRM accounts in a couple of clicks.
What is the Account Switcher?
The OnePageCRM Account Switcher makes it easy for you to sign in to multiple OnePageCRM accounts simultaneously so you don't have to log out of one account to get to work in the other, increasing efficiency across all business workflows.
Whether you're running multiple businesses and have separate OnePageCRM accounts, or need multiple pipelines, then the Account Switcher is for you.
How does the Account Switcher works?
By having the Lead Clipper installed on your OnePageCRM account, you'll automatically have the option to switch between your OnePageCRM accounts.
To get started with the Account Switcher, begin by adding your OnePageCRM accounts via the Chrome extension then easily toggle back and forth from one account to another in just one click.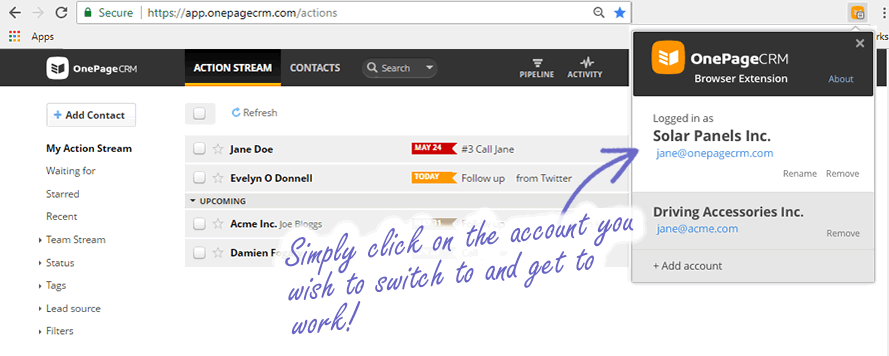 Benefits of the Account switcher
Here are just a few benefits of switching quickly between your CRM accounts:
Easily juggle multiple businesses
Owners of multiple businesses who have different clients, leads, and sales processes can use the Account Switcher to quickly switch from one account to another and save time.
Separate your recruitment and client data
The Account Switcher is also beneficial for entrepreneurs who are using different CRM accounts for the client database and for recruitment and HR purposes.
The Account Switcher helps you keep both personal and business team members' data and contacts 100% separate in a different account.
Save your agency time
Having different CRM accounts for each client means you waste time logging in and out of different accounts, in order to retrieve the relevant information for the client in question.
As agencies are often balancing multiple clients at once, it requires you to be super organized and efficient, hence the Account Switcher is ideal for saving you time.
In addition, you can react quickly and pull up the relevant information on clients when they get in contact e.g. a phone call.
OnePageCRM's Account Switcher will save agencies time, and reduce errors, giving you the ability to focus on the more important task of selling on behalf of your clients!
Generate leads faster
The Account Switcher is one of the features in the Lead Clipper, our free browser extension.
The Lead Clipper allows you to automatically extract contact details from Gmail, Outlook, social media platforms, and different web pages.
But what's great is you can parse contact data to separate OnePageCRM accounts by simply selecting the account you wish to add a new contact to. In addition, you can receive desktop notifications for time-specific Next Actions!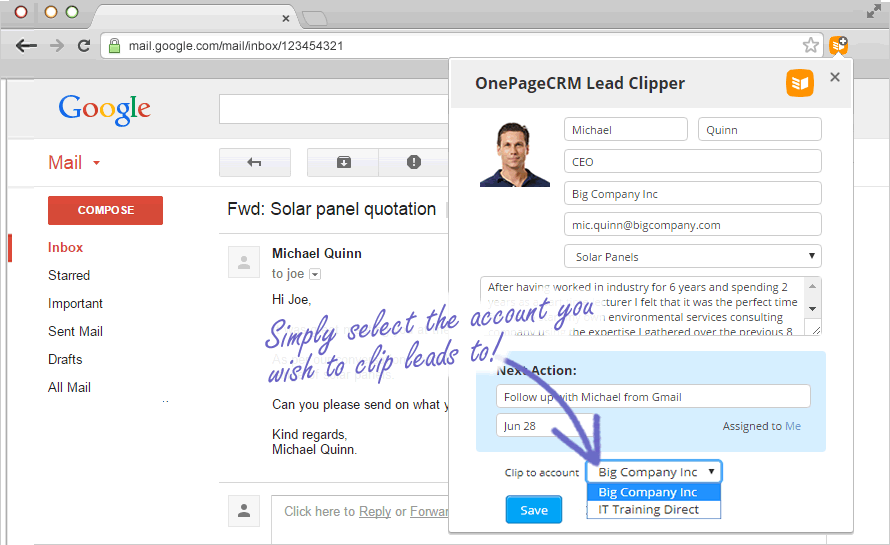 Get more clarity
It's important to have clarity especially if you're communicating with multiple clients.
The Account Switcher leaves no room for error, as it's clear which account you are currently working in. Reduce confusion and easily see which account you're logged into by clicking on the Account Switcher icon.
Improve efficiency
Enhance your work by reducing the need for repeating unnecessary tasks like logging out and back in or working from multiple browsers. In just-one-click select the account you wish to open and get to work straight away. Simple.
As with all our updates, we're excited to hear how this improves your sales process. If you have any feedback, please tweet us @OnePageCRM #AskOnePageCRM, comment below, or contact us at support@onepagecrm.com.