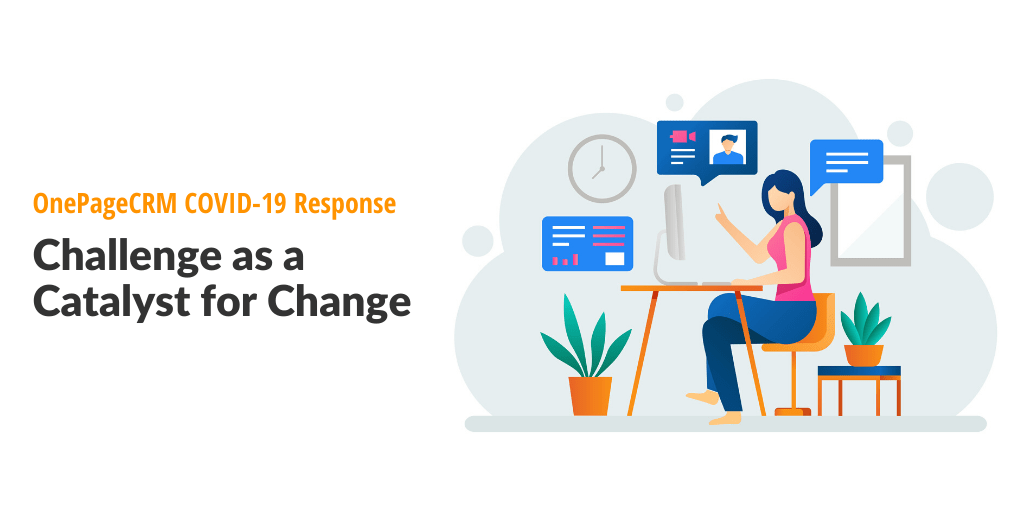 OnePageCRM COVID-19 Response: Challenge as a Catalyst for Change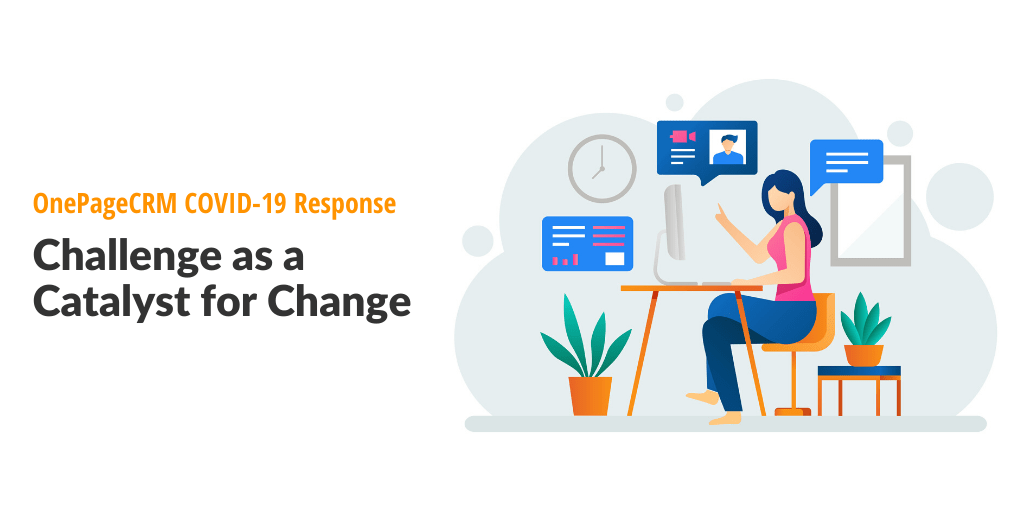 In times of crisis, it's easy to lose perspective and let ourselves be affected by the spread of anxiety. Social distancing is now a term familiar to everyone. Most of us are getting used to the new "normal" of working remotely. We're staying away from our colleagues, family, and friends to keep them safe. As Seth Godin put it, "Everything is going to be the way it is going to be," but we can choose what to do about it.
Our mission to "empower SMBs to take over the world, one sales action at a time" might now be more relevant than ever. Transforming challenges into opportunities in these unpredictable times can, in fact, be the catalyst for growth for many small and medium-sized businesses. We remain true to our company values. And want you to know that we'll remain strong, never stop caring, and we're here to help you succeed.
We've started this year like many companies out there—by setting big yearly goals. We were convinced that this was going to be the year of unprecedented growth for us. And then the news of COVID-19 broke out. We quickly realized that it was time to come together as a team and objectively review our plans for the future.
Our CEO Michael FitzGerald put it nicely:

"We started the year feeling bullish. We now need to hang onto that feeling, only be bullish about survival rather than growth."
In this post, we wanted to share how we're working through this situation. As well as give you some inside tips on how you can nurture opportunities for change during these challenging times.
Supporting our customers
World-class Customer Support
We're passionate about providing world-class customer support, regardless of the circumstances. And now, more than ever, we want you to know that we are here for you. Get in touch with us on live chat, drop us an email, or pick up the phone—we're always happy to help.
Find your team's OnePageCRM Champion
Our weekly Getting Started webinars operate as usual every Tuesday at 12 p.m. EDT (New York), 9 a.m. PDT (Los Angeles), 5 p.m. GMT+1 (London).
If you're new to OnePageCRM or are an existing user who'd like to become a OnePageCRM Champion, then this webinar is for you. There's a live Q&A at the end where you can get answers to your questions. Register here.
Power of Action Program
We always offered support to non-profit organizations through our Power of Action program. Previously, this was available for non-profits upon confirmation of the relevant documents like a 501 (C) 3. But for the next six months we'd like to extend that offer to Social Enterprises who may need a CRM to help organize volunteers as part of COVID-19. Please feel free to drop us an email on support@onepagecrm.com, and we'd be happy to help you.
Coming soon… New Exclusive Webinar
In the coming weeks, we'll be hosting a live webinar with a special guest. There we'll share top tips on how you can continue to build relationships during these challenging times. Keep an eye on our Facebook, Twitter, LinkedIn, and Instagram pages for more details.
Insider business tips: Make the most of "sales downtime"
Focus on relationships
We understand that everyone's circumstances are different. However, focusing on building relationships with your existing customers is now more important than ever. It could be a light-touch check-in call to see how everything is going. You never know, they could be just in the market for some social media training to communicate their business updates in these times. This way, once everything picks up, your company will still be on top of their minds.
We follow this advice ourselves. So don't be surprised if you get a call from a member of our Customer Success team! We're checking in to see if you or your team need some advice on your account or a dedicated bigger group training session.
"Mind your customers, it's important to contact them now more than ever—not to sell, but to let them know you are there for them. Just get in touch to say that you are there and that they can video call you at any time for help."
Get to know your market
Now is an excellent time to start researching leads and building contact profiles. In this "sales downtime" you have time to explore your prospect's Facebook profile or check out what their company got up to on LinkedIn. The OnePageCRM Chrome Extension would come in handy here. You never know, you may just discover that you both know Jim Collins 😉
Coming together as a team
As a team, we've decided to implement several measures to help us deal with the situation, not only as a business but as individuals.
Staying connected
We introduced the daily "Thirty minutes Chill and Chat." It's a meetup on Google Hangouts where everyone can join for a virtual lunch and a catch-up — just like we used to do in person.

Brought forward our one-to-ones. These are casual catch-ups with members from different teams that usually don't get a chance to chat. This way, we can connect on a personal level and see what's happening in their lives.

Started a "Recommended watch/read" channel on Slack. As we were given the "gift of time"—or so the experts say—we decided to use it to broaden our minds. Simon Sinek Ted Talks and Mailchimp Presents have been popular suggestions/watches so far.

Took up online yoga. As it happens, we're lucky to have our very own in-house yoga instructor Saba who also doubles as a Product Manager. She created an online class for the entire team to join in. So every Tuesday at 8 a.m., we jump out of bed, join a Zoom meeting, and get onto our yoga mats. It's a powerful exercise for both the body and the mind. If you don't happen to have a yogi on your team, check out some of the many free classes offered online!

Organized a remote 5 km run. This happens every Thursday at 5:30 p.m. We created a group on Strava where we can get inspired by each other's activities and give 'kudos' for good times.
Going full remote
We've never let the distance get in the way of retaining the best talent. Even prior to the lockdown, half of our team was working from across the world. So it was relatively easy for us to adapt to the new "norm." We started with a trial day to ensure our entire team was fully equipped to work remotely. This way, when the announcement came, we were all prepared and ready for take off. Here're some great tips from Inc. on switching to full remote mode.
Collaborating in the Cloud
No remote team can succeed without the right communication tools, and we're no exception. Now cloud-based apps like Zoom, Google meet, Google Drive, Slack, Help Scout, and, of course, OnePageCRM have become even more integral to our success. And often it's just faster to jump on a quick video call instead of bouncing several long emails.
Business continuity
We, as a company, would like to highlight that we're fully operational. We'll continue to focus our efforts on bringing you the best possible product and service experience. At the start of the year, we set out our roadmap, and we'll work harder than ever to achieve our goals.
We understand that it's a difficult time for everyone. But we are confident that we'll battle through this together and will come out the other side bigger and bolder than ever.
On that note, we'd like to say thank you for being a OnePageCRM customer. And we hope that you, your family, and friends stay safe. We look forward to working with you in the future!
Here's to brighter times ahead 🙂