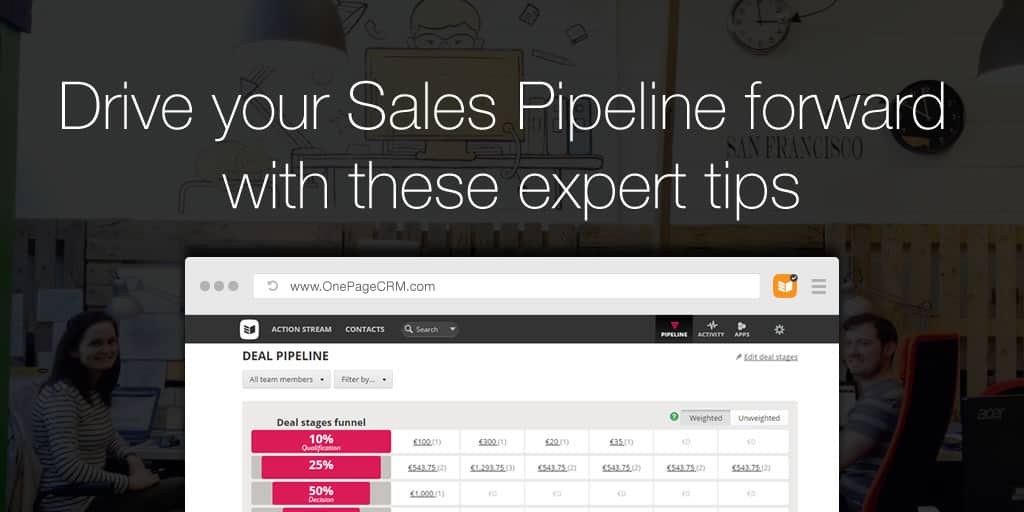 Drive your Sales Pipeline forward with these expert tips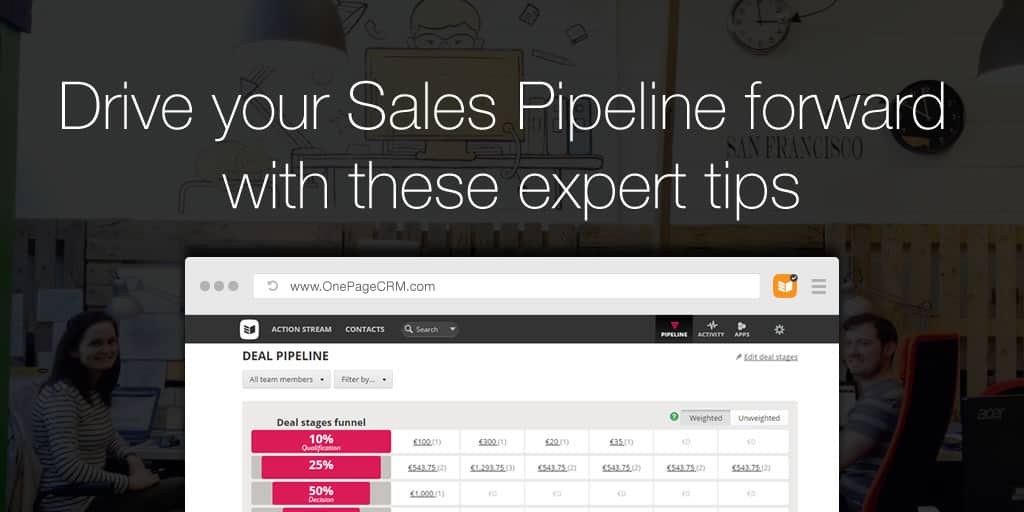 Your Sales Pipeline in OnePageCRM is a core forecasting tool and gives you a clear view of your expected future revenue.
Today, I'm going to summarize the core elements of your Sales Pipeline and highlight the pros of using it in order to better manage your deals, become more productive, and most importantly increase sales.
How to set up your Sales Pipeline?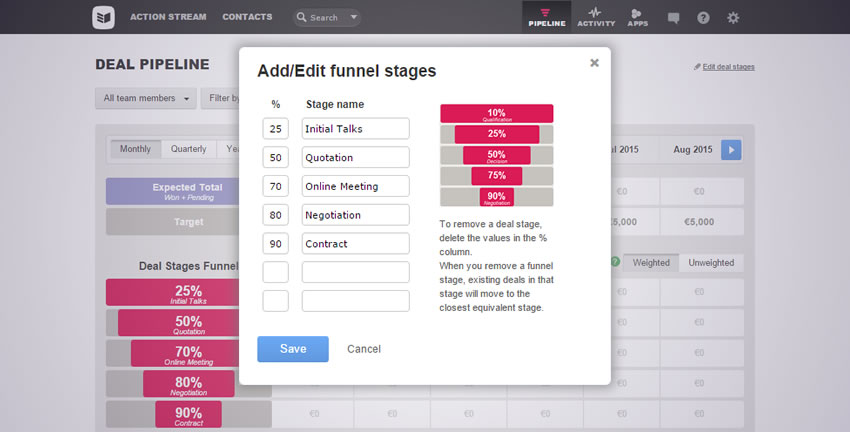 First things first, edit your Deal Stages Funnel to reflect your workflow (only the account owner/admin have the rights to change this element).
This is vital as it ensures there is a company-wide efficient sales process put in place. By actively moving the prospect through the relevant stages, you'll become more focused and driven in order to ultimately close the deal. i.e. In a B2B environment, sending a quotation and having an online meeting are very poignant stages for me so I've included both in my funnel.
The Deal Stages funnel allows you to focus on what's important. For example, when you're coming close to the end of the month and you have that one "big shot" deal at 90%—it's perhaps a phone call away from being closed—then don't wait, get on that phone and add the finishing touches!
Equally, it's important to have deals at different stages in the funnel too as it provides a good stepping stone for the month/months ahead.
What is Weighted versus Unweighted?
You can also select if your Pipeline is "Weighted" or "Unweighted":
Weighted would result in the percentage value of the Sale being shown as that value in your Pipeline.
Unweighted refers to the full amount regardless of the stage of the funnel they're currently at.
Why is sales pipeline management important?
Reason #1: Drive your salespeople
Having a visual sales pipeline helps you drive your salespeople.
A good salesperson is target-driven and strives to become the "best seller". The Sales Pipeline can help motivate your team as they can clearly identify how they're progressing with their prospects and how close they're coming to achieving and exceeding their targets.
Questions arise such as do they need to up their game this month, or concentrate on setting up leads for next month? All of which are prompted by the Target set in your sales pipeline.
Reason #2: Keep your sales organized

Time and time again, I see Pipelines with warning signs. For example, the deal wasn't closed on time or according to its expected close date.
It's important to update your Pipeline and re-engage with those prospects to see what the status is. Perhaps it's a timing error on their behalf. After all, we're dealing with busy business people. Or maybe they're just not interested. Or this may be a case of poor time management on your behalf or a superior competitor product. In such cases, it's important to mark the deal as lost and move on.
This is always a good time to request customer feedback.
Reason #3: Analyze your sales performance
The ability to "Download a CSV" for all "Pending Deals" and "Deals recently Won /Lost" allows you to do further analysis.
Perhaps you want to create a killer sales leader board to encourage your sales team. Or use the file as a clear summary of the overall deals activity for presentation to your manager or for use at a board meeting.
Why Filter your Pipeline?
Lastly, the ability to filter your Pipeline works wonders for account managers. Clearly see what deals each team member is working on and what deals they've recently won/lost.
Also, by segmenting your Pipeline by Tags / Filters you can see what segments are generating the most deals. For more info on segmentation in OnePageCRM, check out this article.
The above is just a summary of our Sales Pipeline. Once you start using it, you'll be amazed at why you didn't "tap" into it before and at how many more deals you will close. A healthy Sales Pipeline makes for a healthy business!