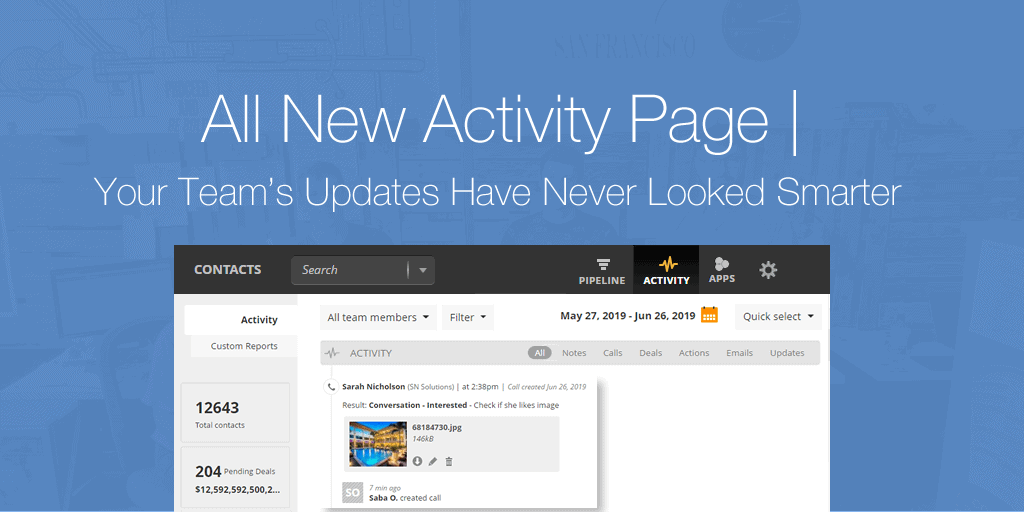 The All New Activity Page | Your Team's Updates Have Never Looked Smarter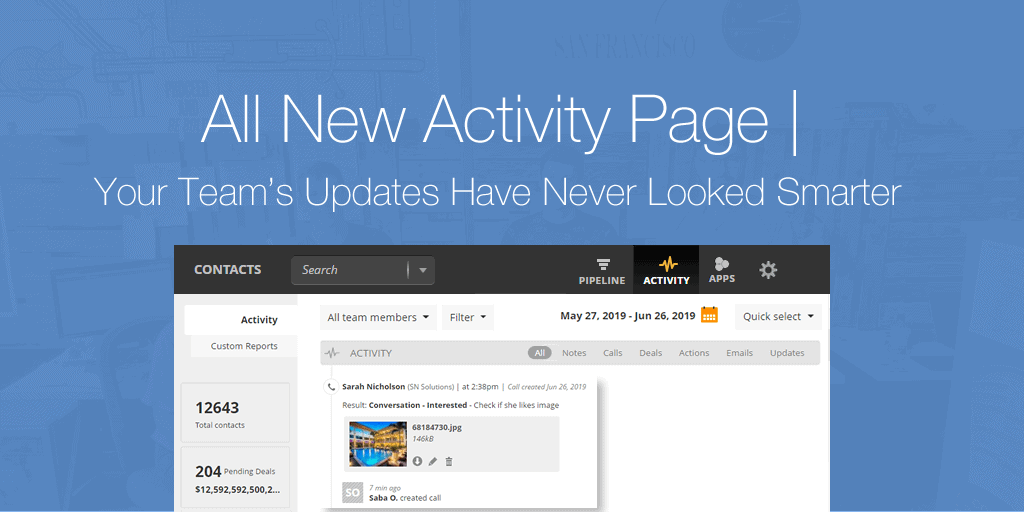 The Activity page is the beating heart of your sales process.
Every single update, every Call, and every Deal change is stored there, giving you a full, real-time overview of your sales progress. However, sales are dynamic.
If your team is as active as it should be, chances are your Activity page will get quite busy. To make navigating it that much easier, we've introduced a brand new look.
Smart, clean, and beautiful. The new Activity page makes tracking your sales team's progress an aesthetic experience.
Team progress at a glance
On the new Activity page, your updates are neatly grouped, clearly highlighting the corresponding contact, the update details, and the assigned team member.
Each update type is marked with a different icon, making it easy to identify the action and get a quick overview at a glance.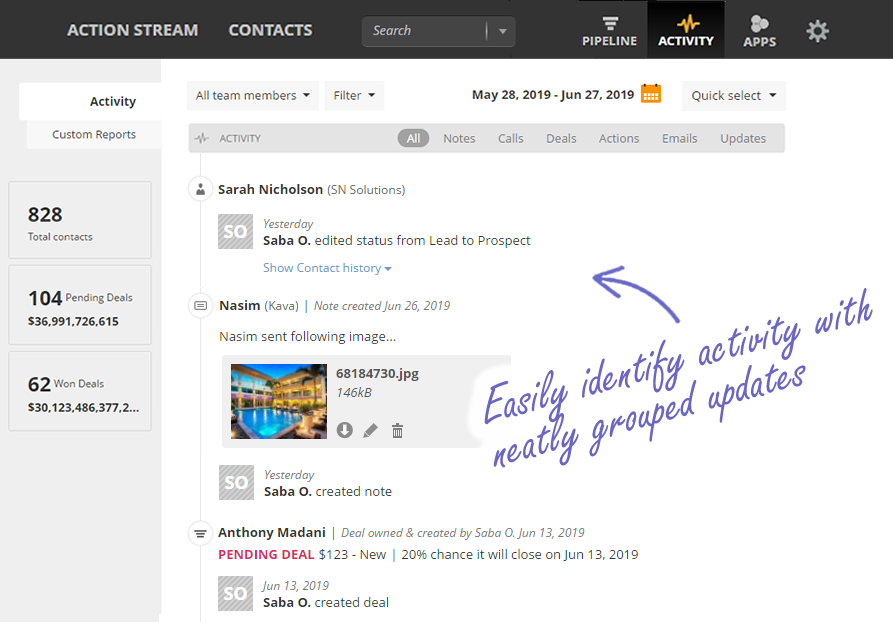 Dig deeper into details
No one is saying you have to stick to the bird-eye view.
Sometimes it's good to see the latest update in context. If you want to dig a little deeper, simply click on 'Show Action/Contact History' under the update and see how you got there.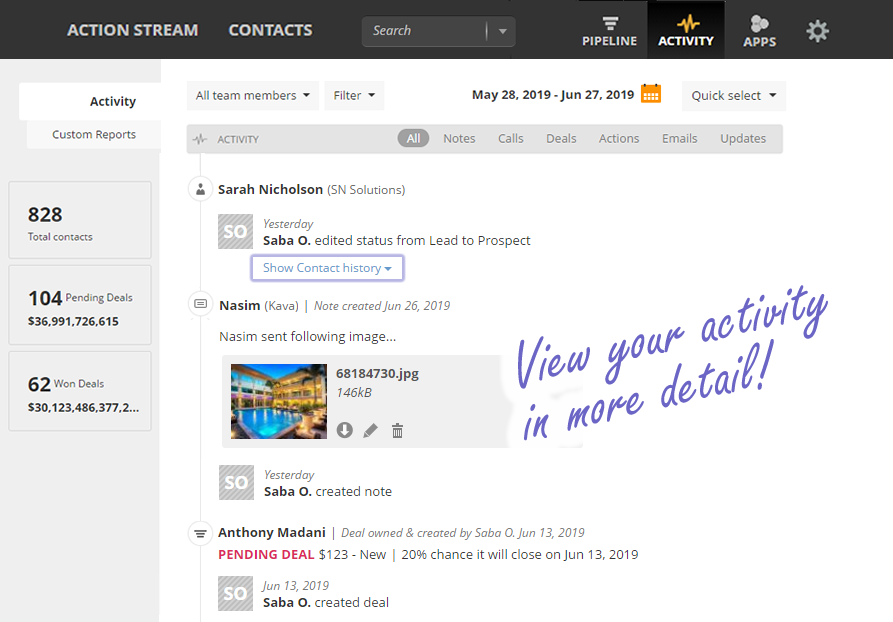 Preview attachments right in your CRM
The contact's Activity feed mirrors the structure and simplicity of the new Activity page.
To make it even easier for you to instantly grasp the updates, we've added a Thumbnail view for the attachments to Calls, Notes, Deals, and Emails.
Now, you will be able to view attached images, PDFs, documents, and spreadsheets straight from your CRM. No downloads needed.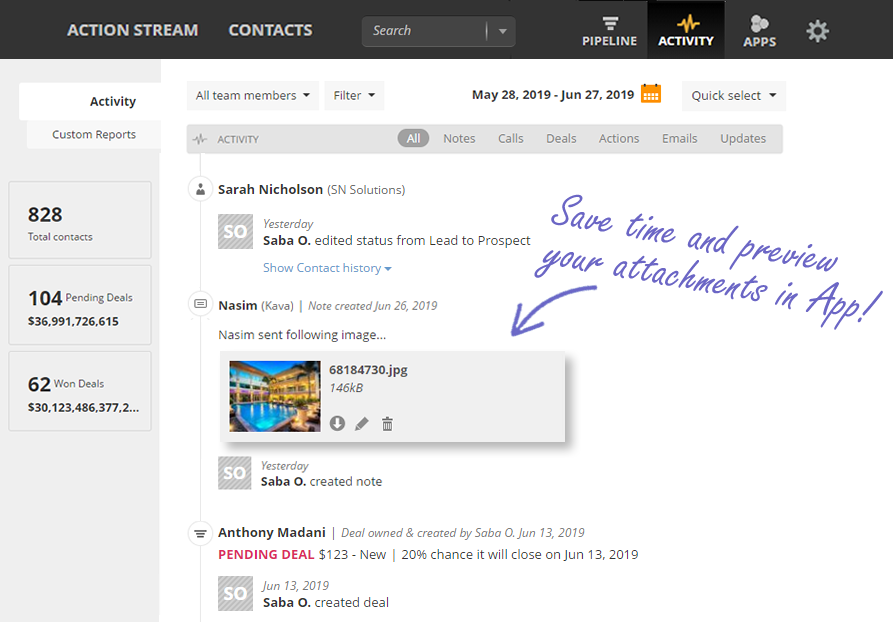 Track your contact's Status
How long has Jane been a lead? Is it possible that Tom has been stuck at the prospect stage for one month too many?
Now, you can track the history of your contact's Status right from its Activity. See exactly how many days the contact spent on each stage of the sales journey …and make the necessary adjustments.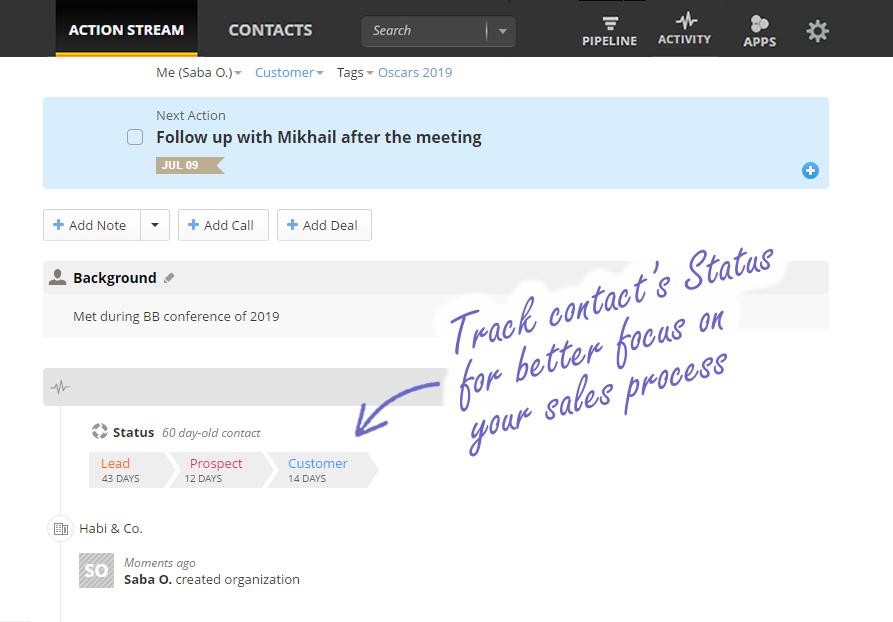 Cut straight to the chase with the enhanced search
Sometimes you simply don't have time for overviews and big pictures. You just want to jump straight to the topic or update you need.
Our enhanced Search bar now allows you to search in Activities, gathering results from Deals, Notes, Calls, and even the contact's Background!
Want to get all the updates about your latest shipment? Just enter your keyword in the bar and choose 'Search in Activity page'. All the search results will be neatly grouped for you to easily get the information you need.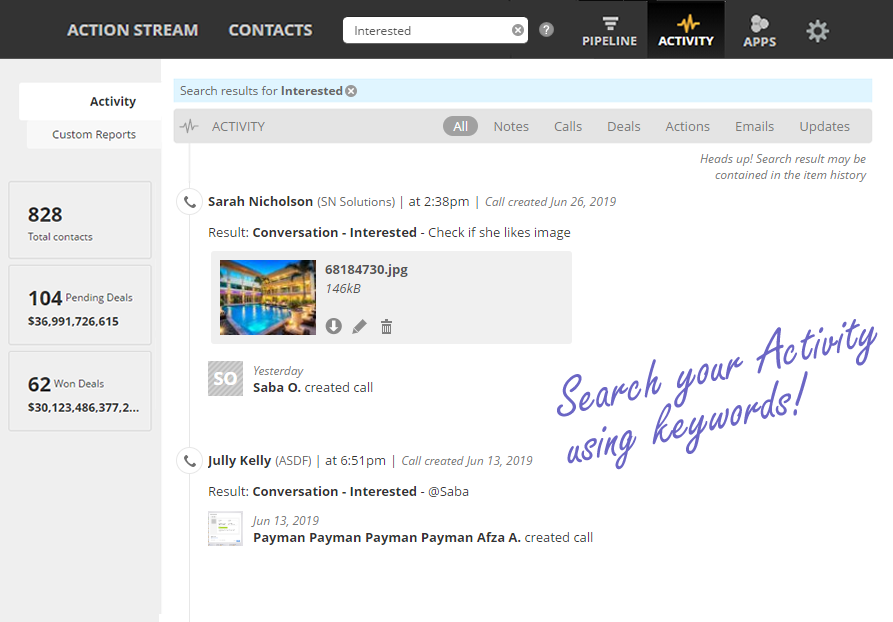 Have you taken our new Activity page for a spin? What do you think? Let us know in the comments below or tweet us @OnePageCRM!