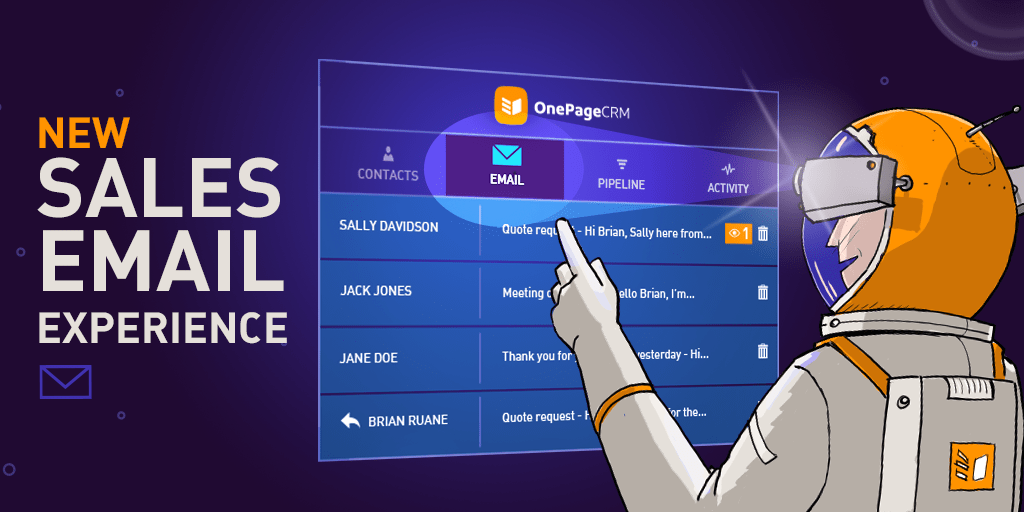 Grow sales with this powerful CRM email integration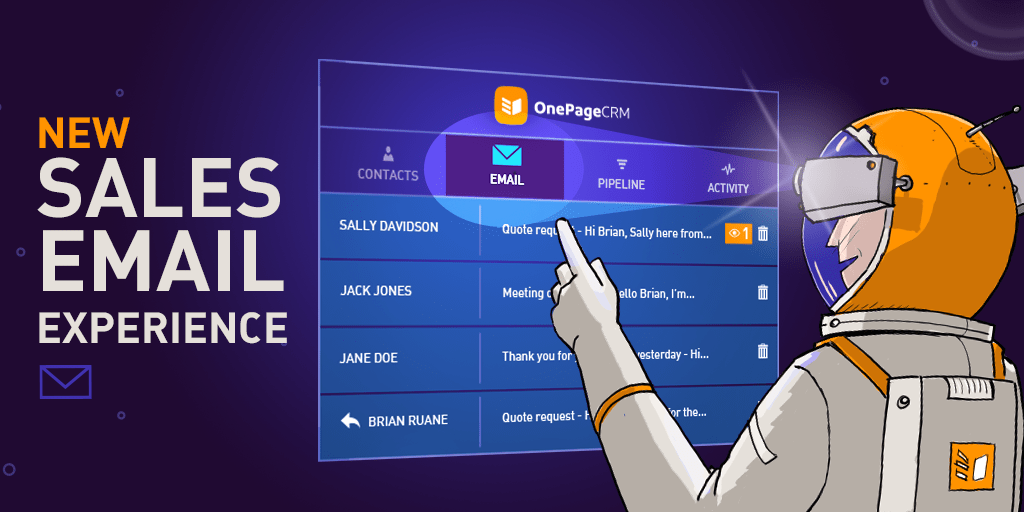 Email is King.
You probably heard that one before, right?
Nonetheless, the statement still rings true for sales. In fact, 8 out of 10 prospects would choose email over any other medium for communicating with a sales rep. And it's nearly 40x more effective than Facebook and Twitter at new customer acquisition.
So it's no surprise that a salesperson spends an average of 33.2% of their time on those sales emails. Given how important (and time-consuming) this channel is, it's essential to get it right.
That is why, we added a powerful CRM email integration to our app.
But we don't want to replace the email client you're so used to.
Instead, we want to enhance it by bringing together a number of business-focused features that your email client simply doesn't have.
From sales-focused email flow to bulk email send, and from tracking opens to retrieving email history, we make sure that your email communication is fast, efficient, and, most importantly, leads to more sales.
The benefits of using OnePageCRM email integration
If you are not familiar with how this CRM email integration works, have a look at its standout features.
1. Sync only business-related emails to your CRM
No more hopping between your CRM and your email client.
Everything you need to efficiently communicate with your prospects and build trust is in one place: the Email tab.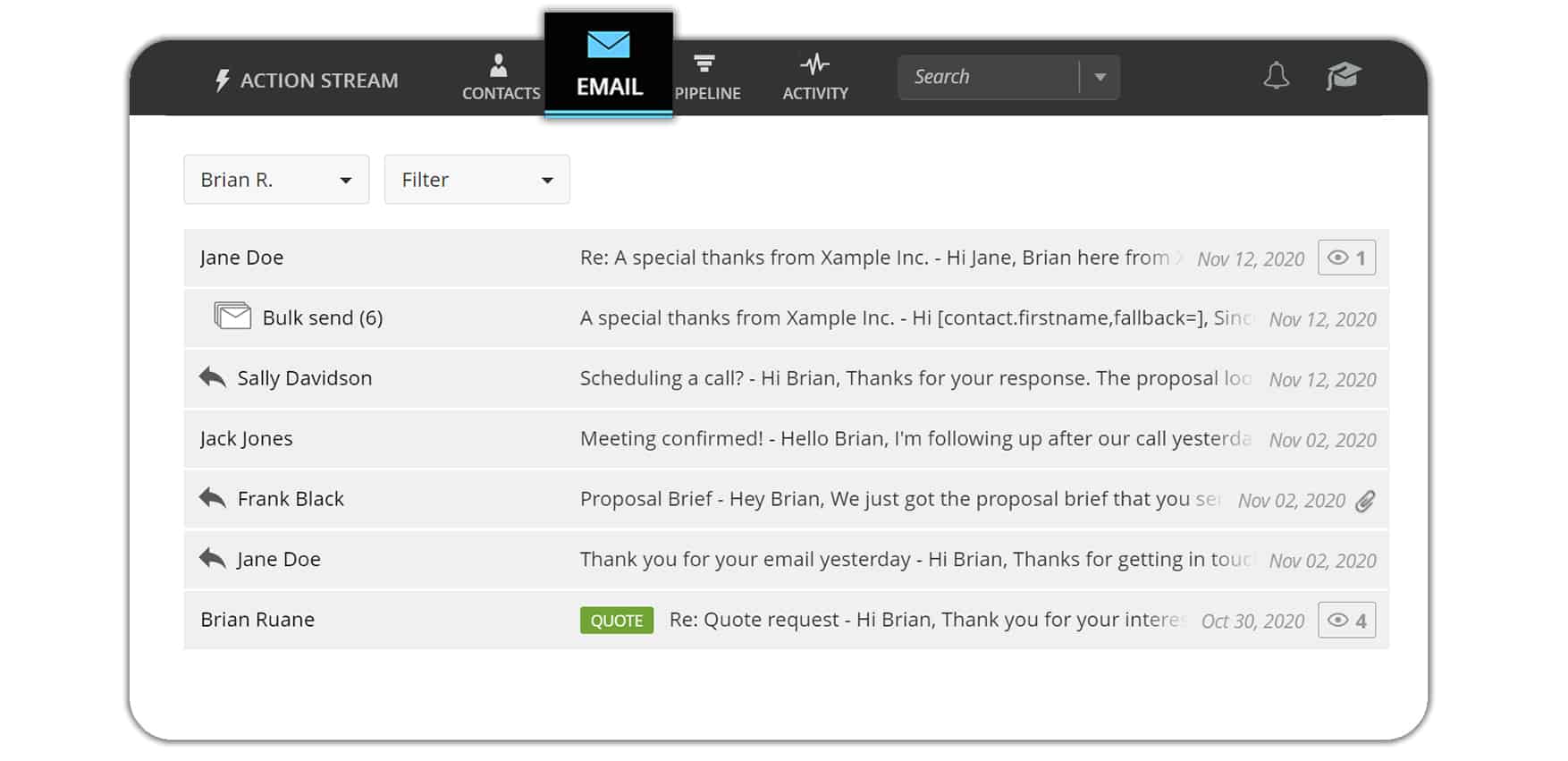 Here you can see the flow of your incoming emails. And the good news is that only sales emails make the cut!
We automatically recognize if an email has a corresponding contact in your CRM system and only store the ones that do.
This means you can stay focused on the emails from potential leads rather than get distracted by, say, the ones from HR about an upcoming Christmas party or an accidental message from your partner, asking you to pick up the milk.

2. Receive and reply to emails straight from your CRM
Your sales CRM is here to help you do, well, sales.
That is why, we made sure you can both receive and reply to emails straight from the Email tab.
You don't need to leave your CRM to reply to a lead or a client. This will save you a considerable amount of time and unnecessary jumping from one browser tab to another.
3. Have full control over private communication
You can also choose whether or not you want to sync conversations with a particular contact.
If, for example, you prefer to keep some communication private and avoid storing it in your CRM, all you need to do is toggle the Email sync for that particular contact: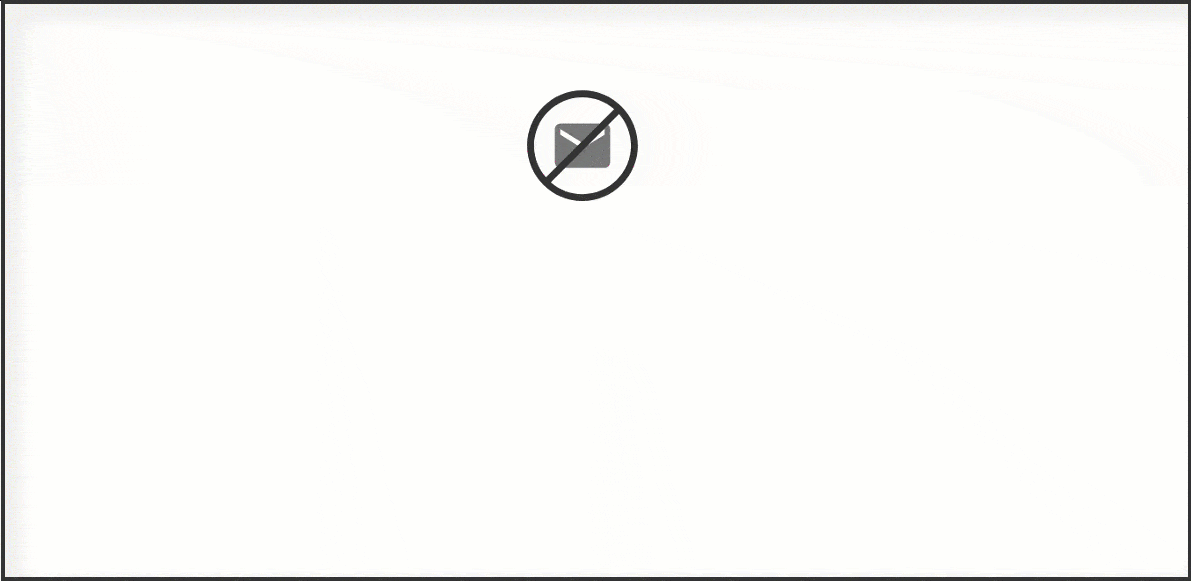 Not all emails are created equal. And some require more privacy than others. That's why, we've introduced three important rules:
You can select which email addresses to exclude.
Perhaps, you don't want to mix emails from your leads with the ones from your vendors.
All you need to do is add their email addresses to the List of globally excluded emails and your conversations with them won't be stored in OnePageCRM.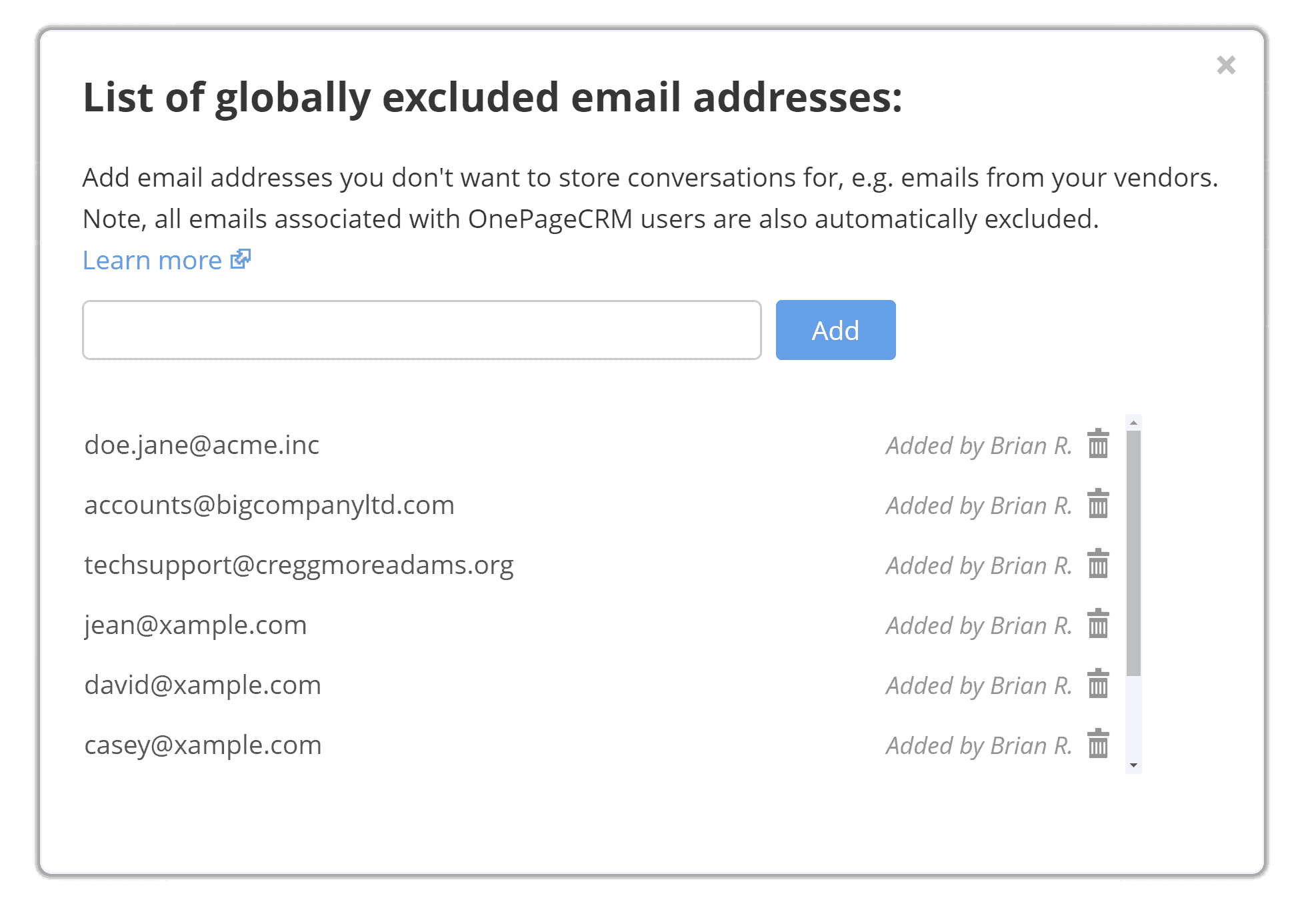 Emails from other OnePageCRM users are automatically excluded.
Some of your internal communication is better to remain private.
After all, the whole team doesn't really need to know about Jack's vacation plans. This way, we keep your email stream clutter-free and your team relationships intact.
And if you want to update your team member on a sales-related topic, you can always @mention them in a note!
You'll be notified about re-enabled sync.
Sometimes you might want to keep more sensitive conversations, like, for example, the ones related to financial or security issues, outside of your CRM.
And that's no problem. You can simply disable email sync for those contacts in just one click.
And if at any point one of your team members decides to re-enable it, you will get instantly notified by email so you can take appropriate action.
4. Track email opens to follow up at the right time
At OnePageCRM, we know how important it is to follow up with your leads (after all, that's what our Next Action sales method is all about!).
However, the sad truth is that 44% of salespeople give up after only one follow-up. But 80% of prospects say "no" four times before they say "yes".
So it really pays off to be both persistent and consistent in your follow-ups.
But that's not all.
When it comes to maximizing the effectiveness of your sales communication, timing is everything. Follow up within an hour and your chances of successfully closing a deal increase by a factor of 7.
And if the pressure wasn't already on, the research shows that your lead qualification drops 10 times if you wait more than 5 minutes to respond.
The good news is that with OnePageCRM's email integration, you can see exactly when a prospect opens your email in the dedicated Open tracking tab.
What's more, you can see how many times they opened your email, so you can assess the level of their interest and strike while the iron is hot!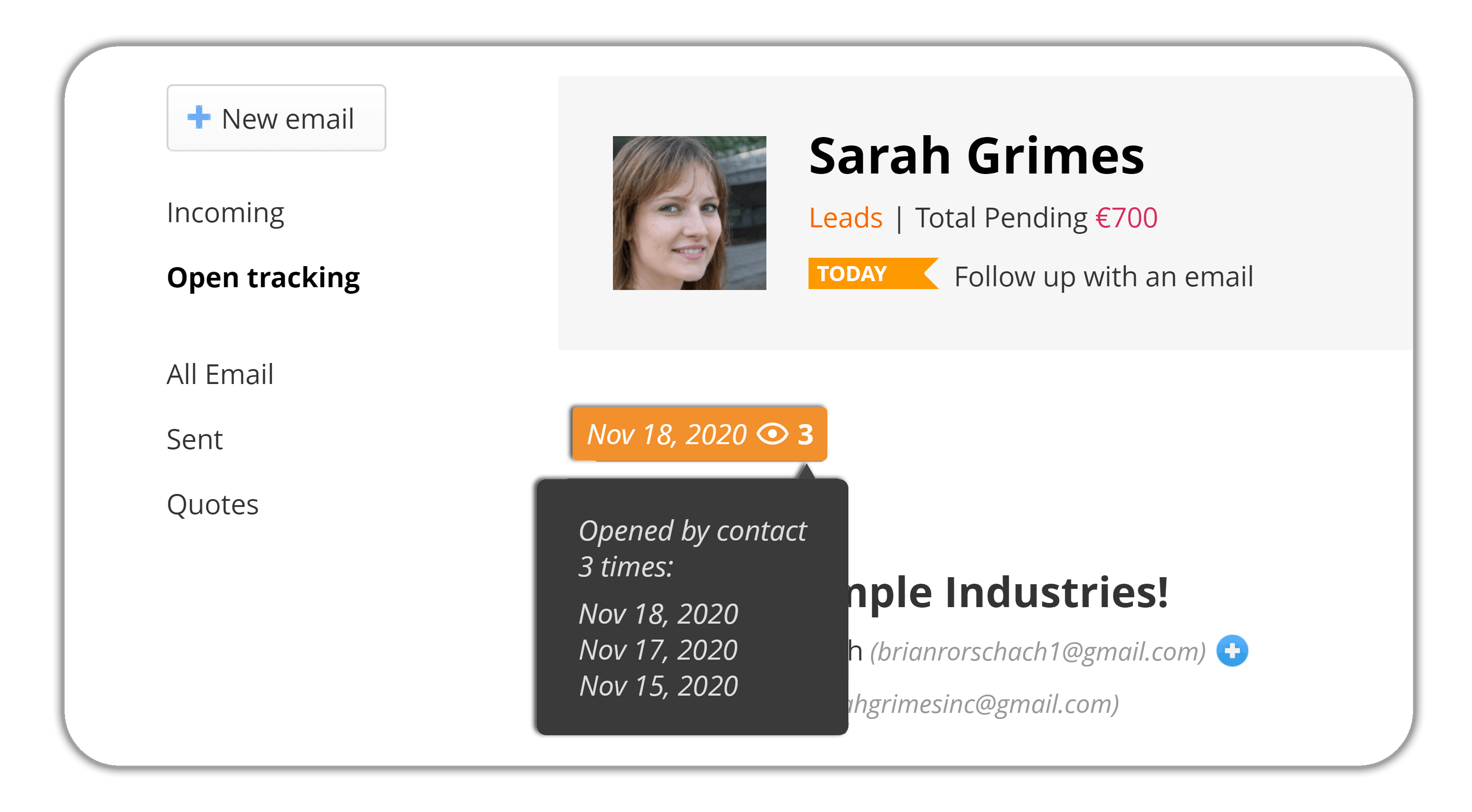 5. Fetch email history to see the full picture
As you know, the email conversations with your OnePageCRM contacts are safely logged in the system.
But what if you happened to exchange some emails with a lead prior to adding them to your CRM?
Say, your conversation with a client goes way back, before you chose to join OnePageCRM. Or, perhaps, they were CC'd on your conversation with the Head of Marketing interested in your software, and now their accounting team is interested in it as well.
So instead of having an empty new contact and trying to remember where you left off in your conversation with them, you can retrieve their email history from your email client in just a click.
Simply select the Email sync icon in the top right corner of their contact page and click Fetch Historical Emails. Simple as that.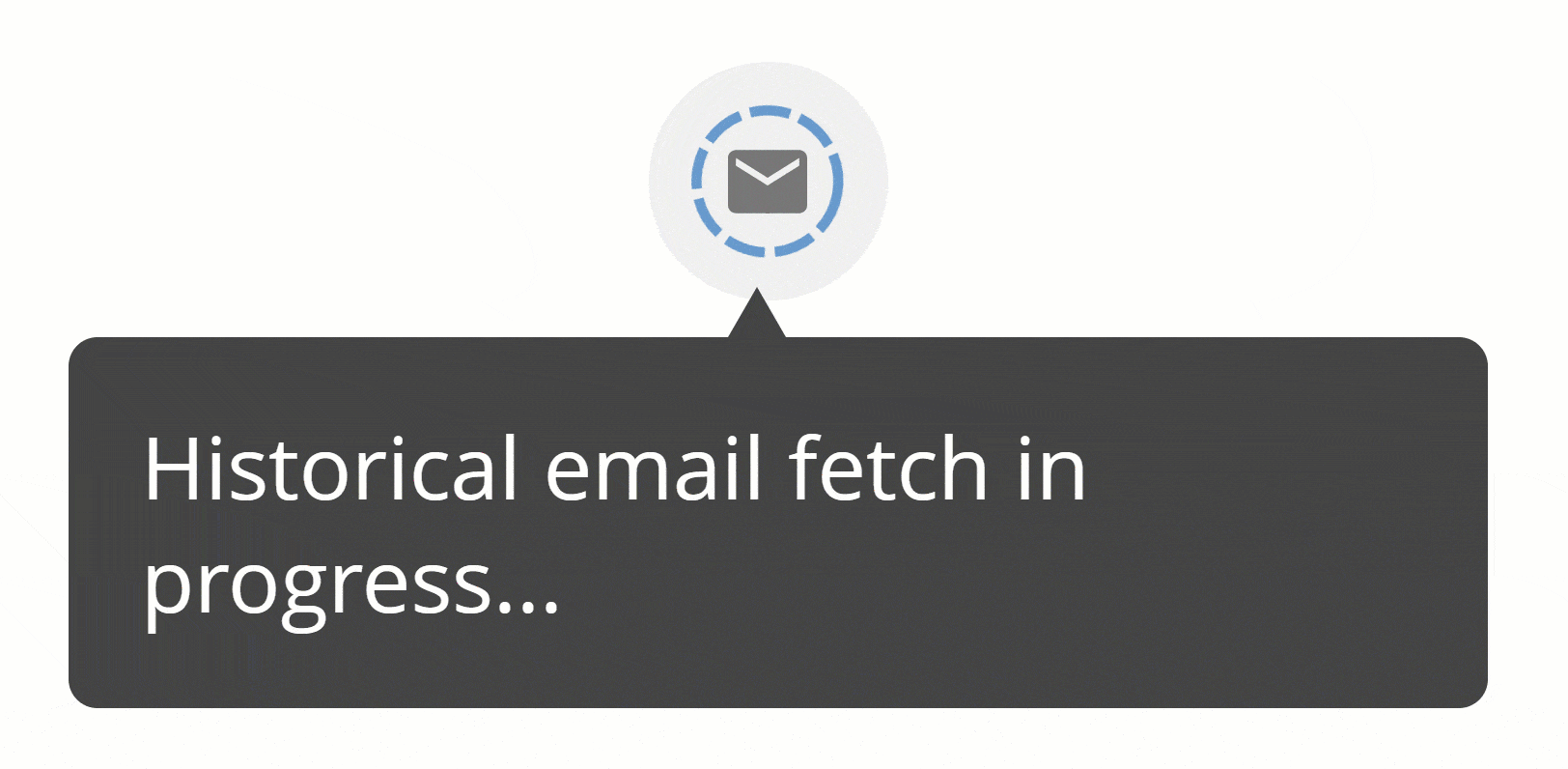 6. Increased daily email limit
Less admin equals more time spent on growing your business.
In OnePageCRM you can send emails in bulk in just a couple of clicks. And, on top of that, you can personalize each one of them, if you like, to avoid sounding spammy.
Maybe you want to give a shout-out to multiple users whose trial is about to expire and see if you can do anything to sway their decision. Or, perhaps, you're organizing a conference and want to make sure the personal invitations reach your clients.
Depending on your Pricing plan, you can send up to 450 emails in bulk!
So get on typing.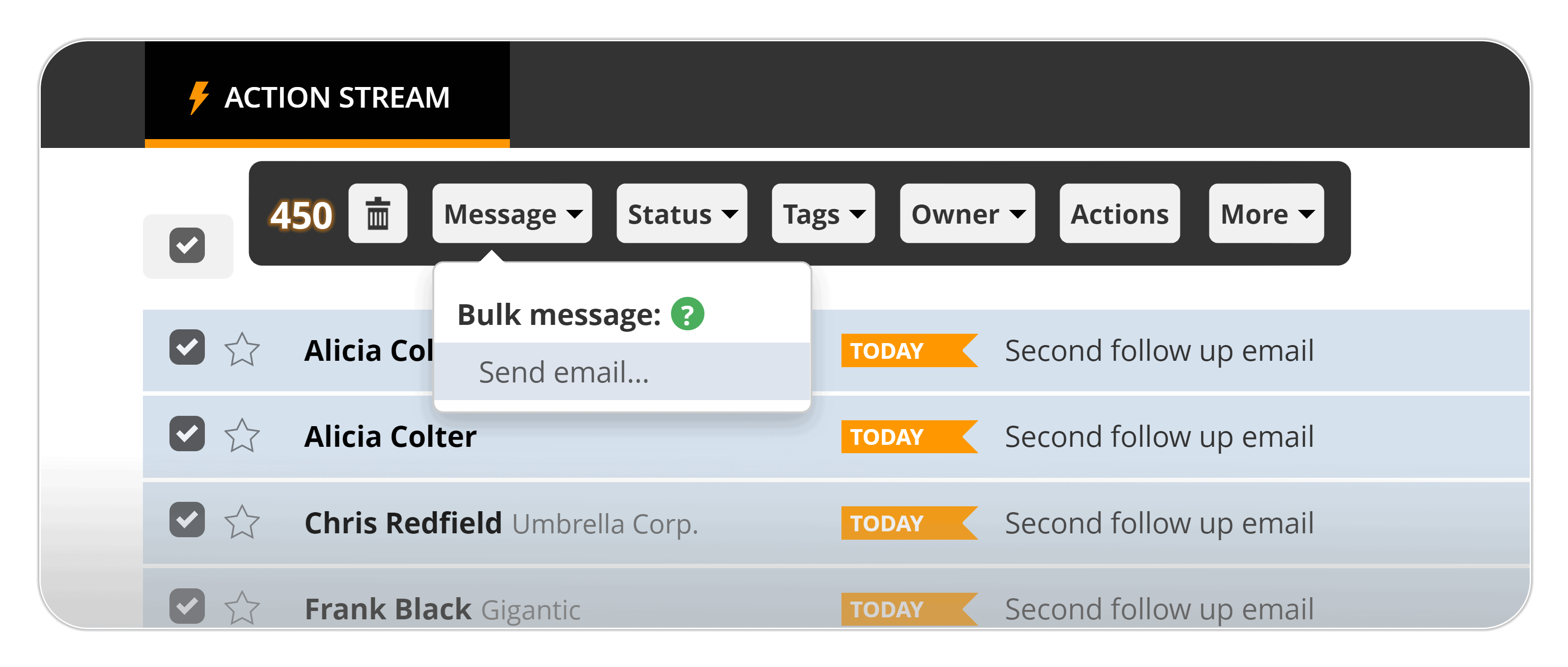 7. Create free email templates with attachments
In OnePageCRM, you can create as many email templates as you need and store them inside your CRM account.
You can insert variables into these templates such as First name, Organization name, etc. These variables will help you personalize the email templates when you send them to contacts.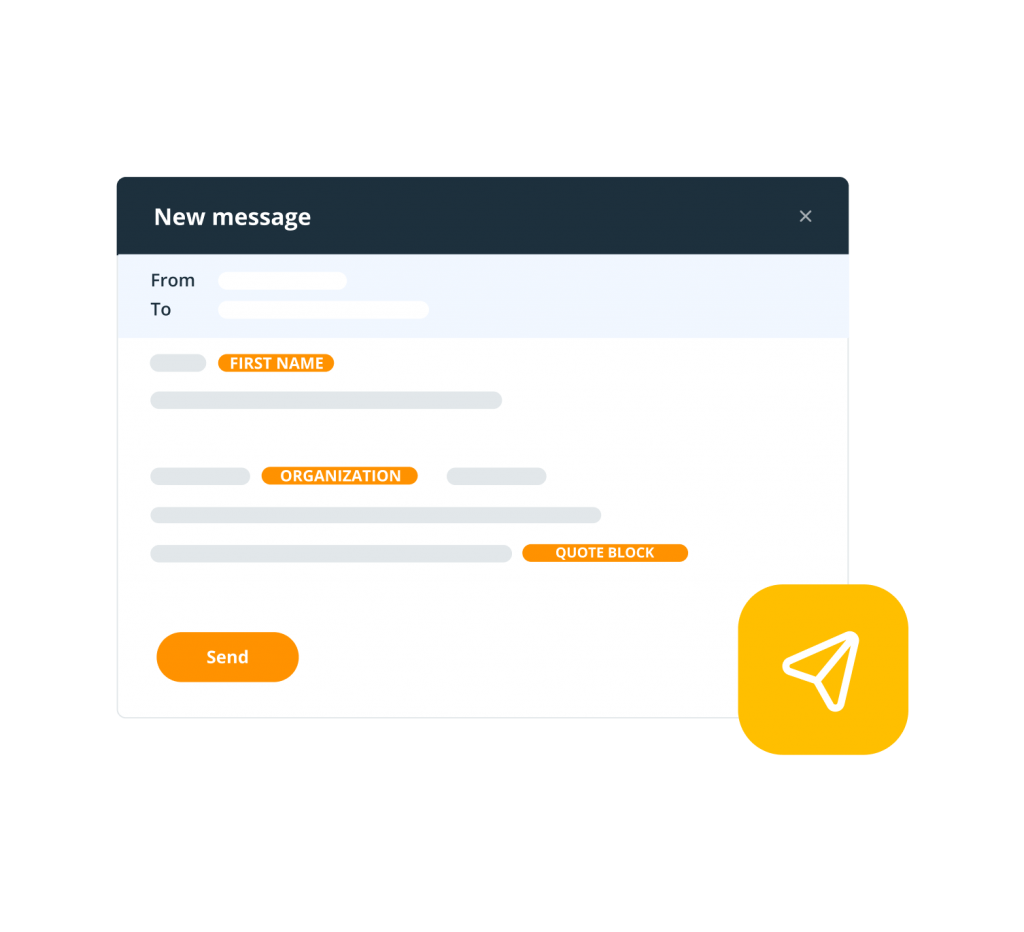 You can also attach files to email templates.
For example, if you have an introductory email with a sales pitch deck or a PDF file with quick demo of your product or services, you can attach these files to the relevant email template: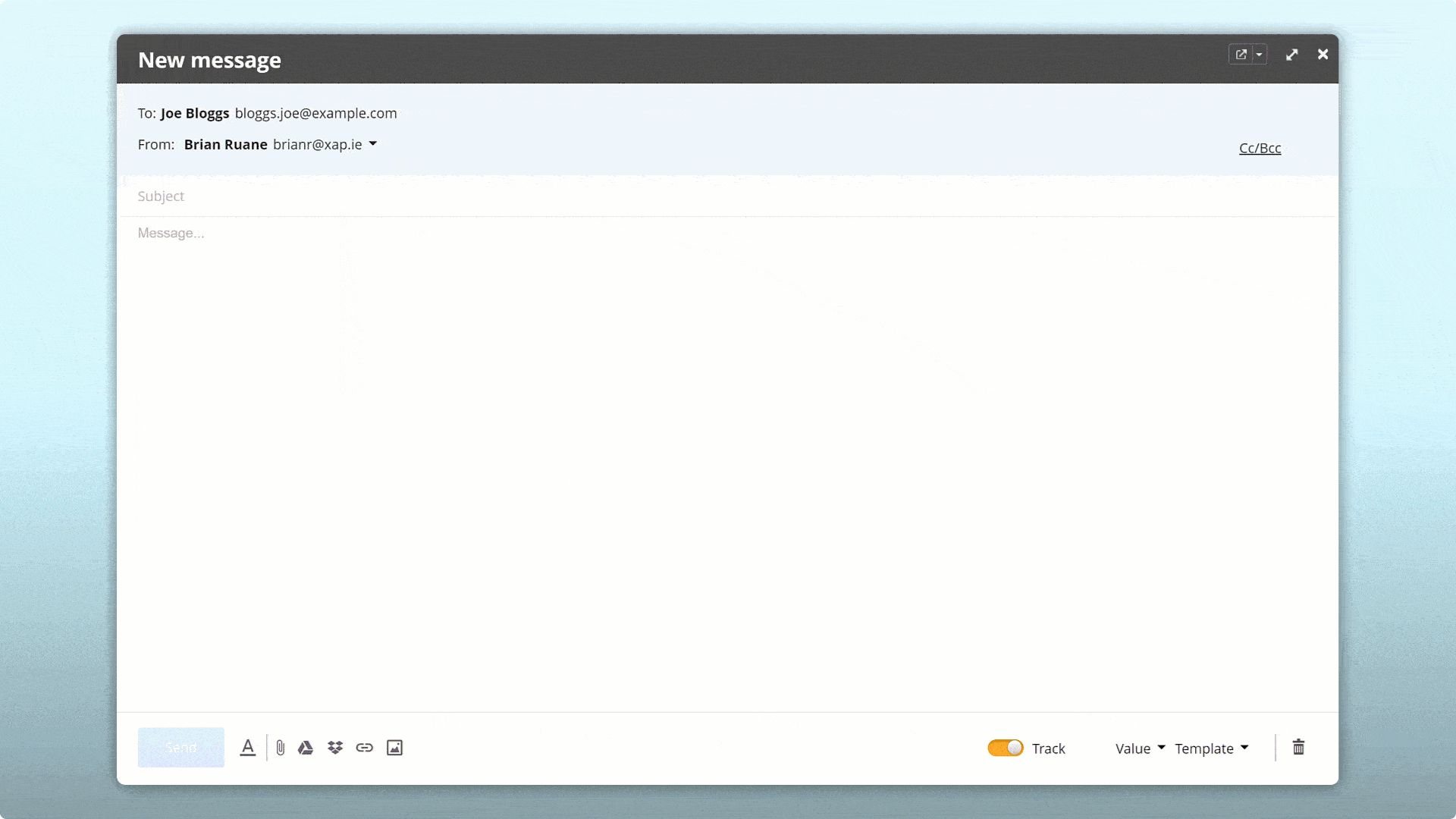 8. Delete emails from CRM in bulk
If there are any emails that you no longer want to keep inside your CRM, you can easily delete them in bulk.
Go to the Email tab and select which emails you no longer need.
With OnePageCRM, it's simple to keep your database clean.


Note. This blog post was first published in December, 2020, and updated for relevance in August, 2023.