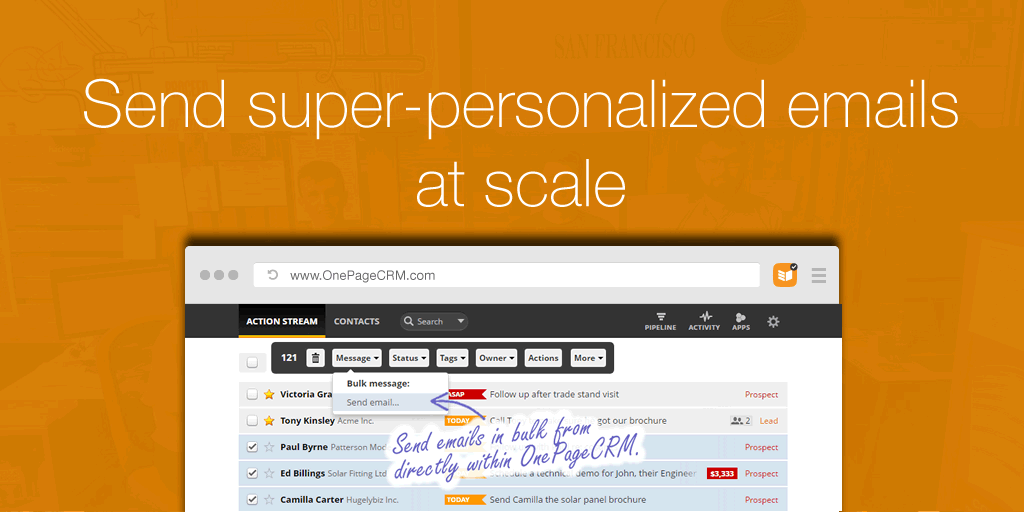 New feature: Send super-personalized emails at scale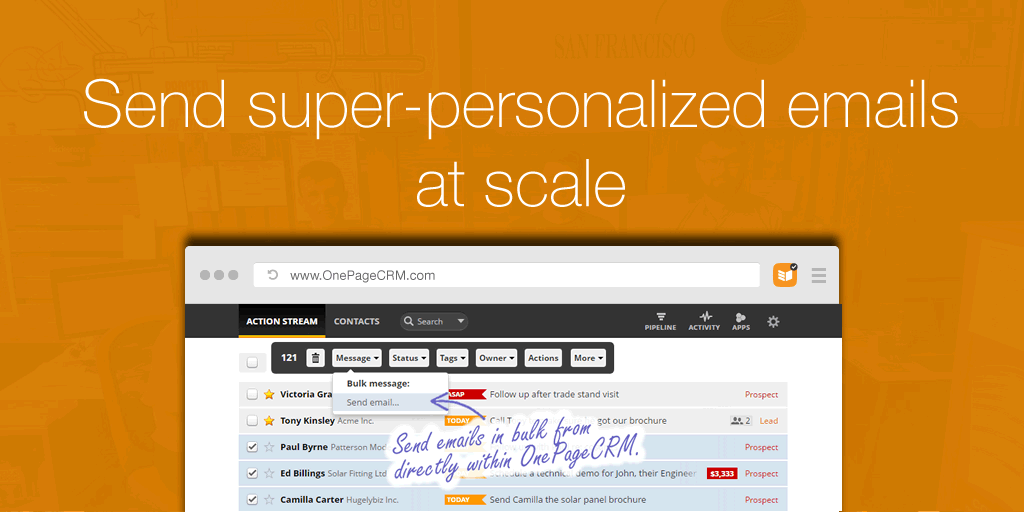 The ideal combination of our dynamic email templates and in-app Bulk Send, helps deliver fully authentic emails like no other application.
OnePageCRM's Bulk Email Send is the sweet spot between the time-consuming writing of individual emails and standard bulk-emailing applications. Using this new feature, your emails can be created at lightning speed, feel 100% authentic to your recipients, and land directly in their inboxes.
Introducing 'Super-personalized emails at scale'.
The 3 quick steps to emailing nirvana
Select contacts in bulk using the checkbox in your Action Stream or Contacts list.
Choose an email template from your template list, including variables like "Hi Firstname" (aka the good old mail merge).
Optionally tweak individual recipients to add a personal touch. That's the magic; you can quickly add a personal twist to messages so your contacts know that it's really coming directly from you.
All emails are sent from your Google Apps or Gmail email address so when an email lands in your contact's inbox they don't feel like they're part of a big marketing list that is being 'tracked'. It's a genuine conversation.
And the best part about this feature is Bulk Email Send saves you time! For a step-by-step guide to set up, click here.
The Bulk Email feature
Bulk Email send is easy to use yet powerful in its ability. If you attend events throughout the year, this feature will become your magic button.
Simply select the group of contacts you met at the event that you wish to email and enter your email text and hit send. You can even customize each individual email. How swift is that?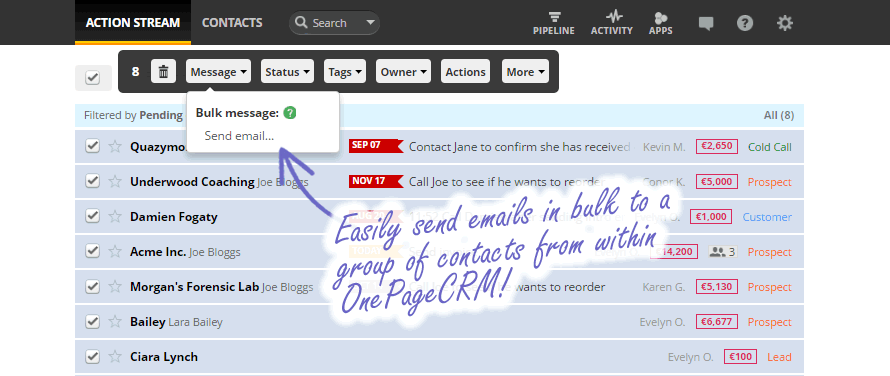 Benefits of Bulk Email
Reach 100s of customers at once: Using Bulk Email Send you can email 100s of customers at the same time.
Personalization factor: We know sending mass emails has its disadvantages because of the lack of personalization. That's why we've added the bonus feature to 'Edit individually' now you can add something personal to each recipient if you wish.
Better time management: Sales teams no longer waste valuable hours writing individual emails to their whole database, Bulk Email Send allows them to easily communicate via email in less time. What's not to love?
The templates feature
Using email templates to create messages quickly
Bulk Email Send is at its most powerful when used with email templates. Email templates help to speed up your workflow, simply pick one you've saved earlier, and voila!
You'll need to take some time to plan and set up your templates at first, but once they're up and running, they will turbocharge your email outreach.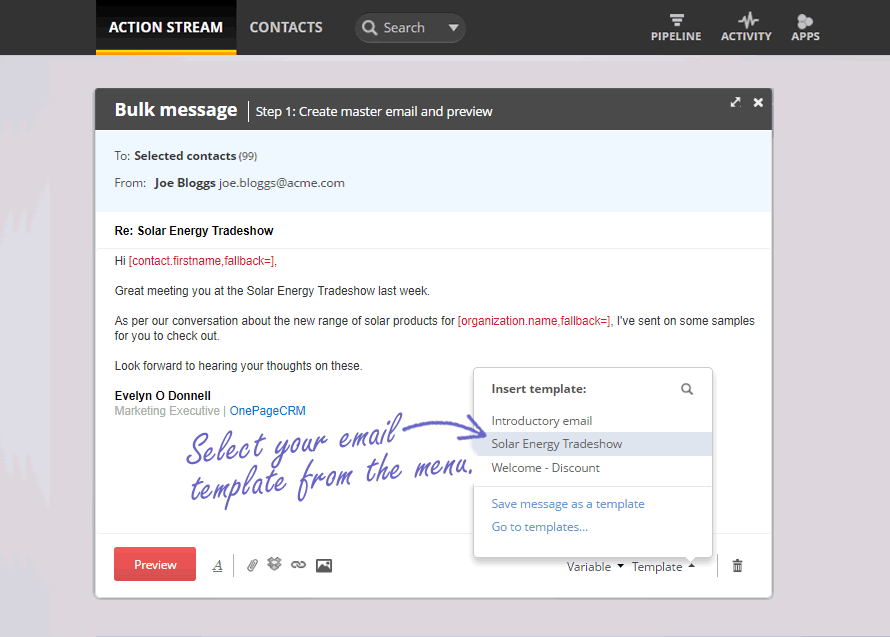 Benefits of email templates
Consistency and structure: Crafting 'best practice' email templates with a researched message means your sales team sends a consistent message to all leads and prospects.
Increased workflow: Email templates provide an easy way to manage those repetitive sales emails. Let's say you offer training courses and send a follow-up email upon completion. Simply set up an email template for easy insertion and to save time next time around.
Personalized for each contact: Use variable fields like "Dear Firstname" or get more creative like inserting custom fields in the body of messages to create accurate communication.
Reduce typos: Typing individual emails one by one to multiple customers at the end of a busy day can lead to errors. Taking the time to create email templates in your CRM will reduce the risk of typos in your content.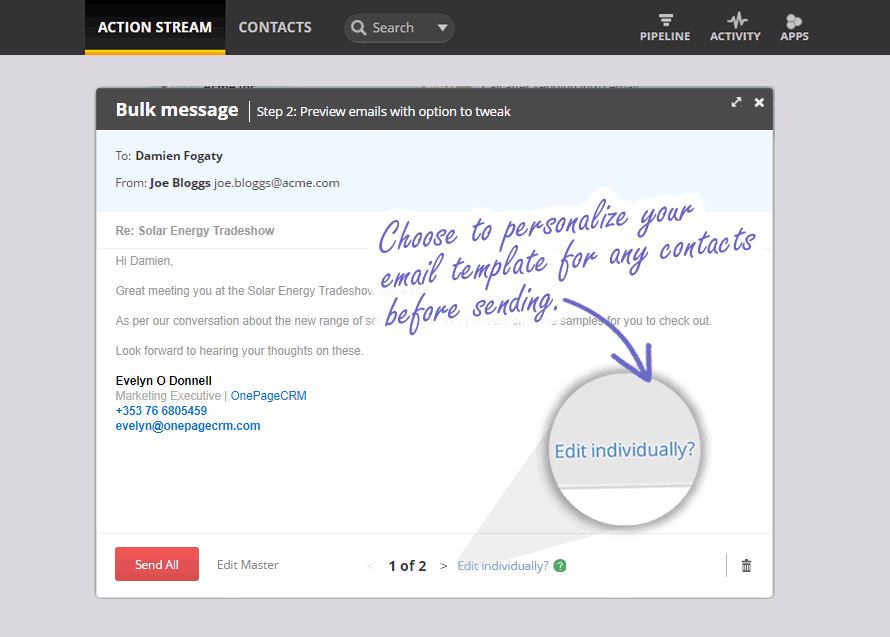 If you require private email templates we've got your backю Simply untick the checkbox 'Visible to all users' when creating your email templates and save. These will be private and only visible to you.
Bulk Email Send and email templates give you the ability to communicate with 100s of your customers at once with the potential to add some personalization. Now your sales team can ensure consistency with fast messaging.
Looking for free sales email templates?
We've put together several email templates that you can use in different situations and modify for your needs. Check out these 10 sales email templates with subject line variations and 5 more email templates for cold outreach.