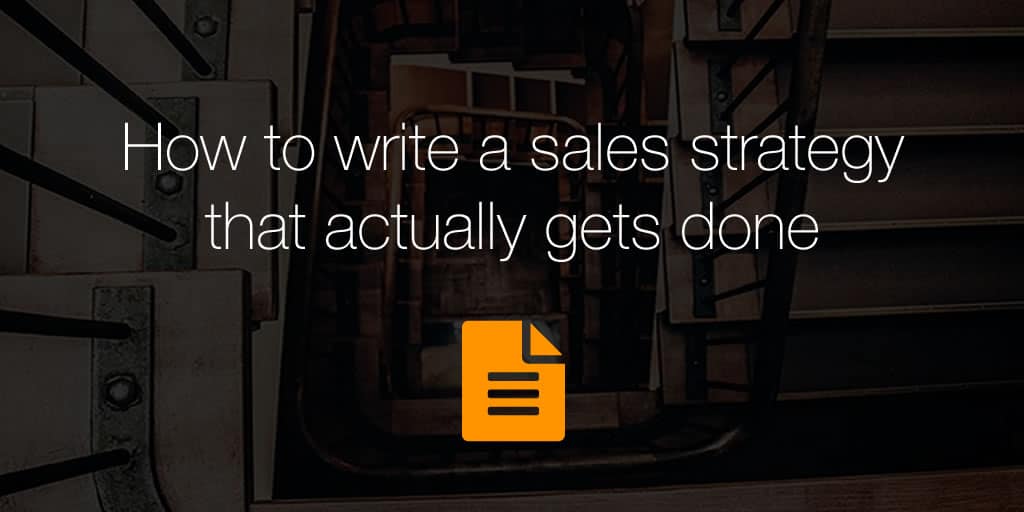 How to write a sales strategy that actually gets done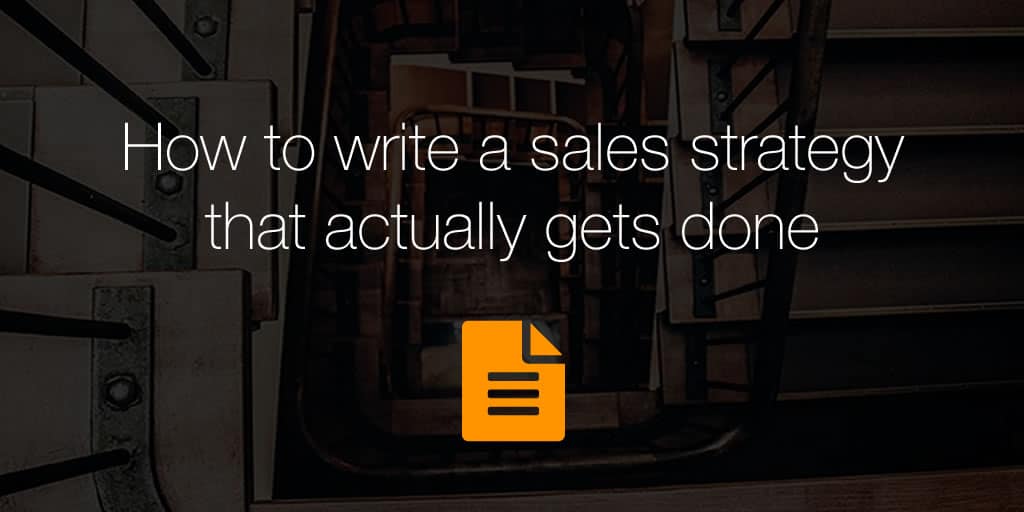 Is your sales strategy active or is it languishing in a filing cabinet somewhere, while nothing happens? Take action on your sales strategy by following the tried and tested strategy methods below.
Why sales strategy fails
There are reams of paper and terabytes of data on 'how to create sales and marketing strategy' documents. Everywhere you look, there are guidelines on length and templates for you to fill out. And while the length isn't a good predictor of its eventual success, even the shortest ones are usually between 5 and 10 pages. That's too long, because if you have to read through that document every time you want to do something, you will never take action.
That's what happens with to-do lists. Some of us try to put everything we might ever want to achieve on them, but the longer they are, the less likely it is that you will actually achieve whatever is on them. Many strategy documents are the same, trying to fit every possible scenario. In doing that, instead of being something actionable, they become sticks to beat yourself with, leaving you feeling like a failure because you haven't done what's in them.
So how do you bring your sales and marketing strategy back from the dead and make sure it's not just another piece of paper to ignore? Here are some approaches that can help you.
1. Make goals and strategies SMART…
Strategy documents can often be pie-in-the-sky, but thinking big doesn't mean you avoid action. One way to do this is to include the age-old SMART goals in your strategy. These are still a good way of approaching strategy. SMART goals are:
Specific (clear)
Measurable (with outcomes you can document)
Achievable (realistic and doable)
Relevant (relating to your business)
Time-bound (with a deadline for achieving them)
2. …or make them CLEAR
Another option suggested by Peter Economy is to make your goals CLEAR instead:
Collaborative (encouraging people to work together)
Limited (with a defined scope and time allocation)
Emotional (linked to people's passions)
Appreciable (broken down to allow for continuous small gains)
Refinable (able to be modified as needed)
In other words, instead of letting your goals fossilise, keep them alive.
3. Let your strategy SOAR
Need another strategic planning tool? Try SOAR:
Strengths
Opportunities
Aspirations
Results
As ASQ explains, this approach keeps you focused on enhancing what's working (rather than concentrating on what's not) and doing that better.
4. Use a GTD workflow
David Allen's Getting Things Done (GTD) is another useful approach for your strategy, as it incorporates both immediate and long term planning. The five steps are:
Capture (what you're focusing on)
Clarify (work out what it means)
Organise (you need a system for this)
Reflect (review often)
Engage (do what needs to be done)
5. Use MITs
MITs are your most important tasks. It's an approach that works well for segmenting your daily to-do list into the 3 to 5 things you ACTUALLY plan to accomplish each day. It's a good way to reframe your strategy and make it more actionable, so that you always have the sense that you're achieving something and moving towards a greater goal.
6. Collect data
There's nothing more likely to kill your strategy than working on outdated information. Particularly in this era, data drives everything, so collect the stats you need to ensure that your strategy makes sense.
Putting it all together
So how do you put this all together? Here are some suggestions.
First, figure out what your main strategic pathways are going to be and have a document for each of them with the top 3 to 5 actions for each of them and deadlines for achieving them. Make sure the management team signs off on it.
Second, make sure that each strategy can fit on a single A4 page – no long, intimidating documents allowed! When listing your strategy, use bullet points – that's the best way keep it from spiraling out of control.
Third, make specific people accountable for achieving parts of the strategy and important actions. Write their names next to their areas of responsibility on each strategy document.
Fourth, instead of filing it, display the document where people can see it; on a wall, on a noticeboard, wherever there's a public space where it's in the eyeline of team members every day. That ensures that no-one will forget about it, and it makes them publicly accountable for their areas of responsibility.
Fifth, schedule regular reminders and reviews. Options for this include:
focusing on particular areas at particular times of year, such as freshening your web copy in spring, or making sure your sales targets are on the mark in Autumn.
sending out a monthly internal email summarising goals and progress and urging further action.
fostering cross-team collaboration so you always have the most motivated people working on your strategy and actions.
Overall, if you want your sales and marketing strategy to need the kiss of life, then KISS – keep it short and simple.