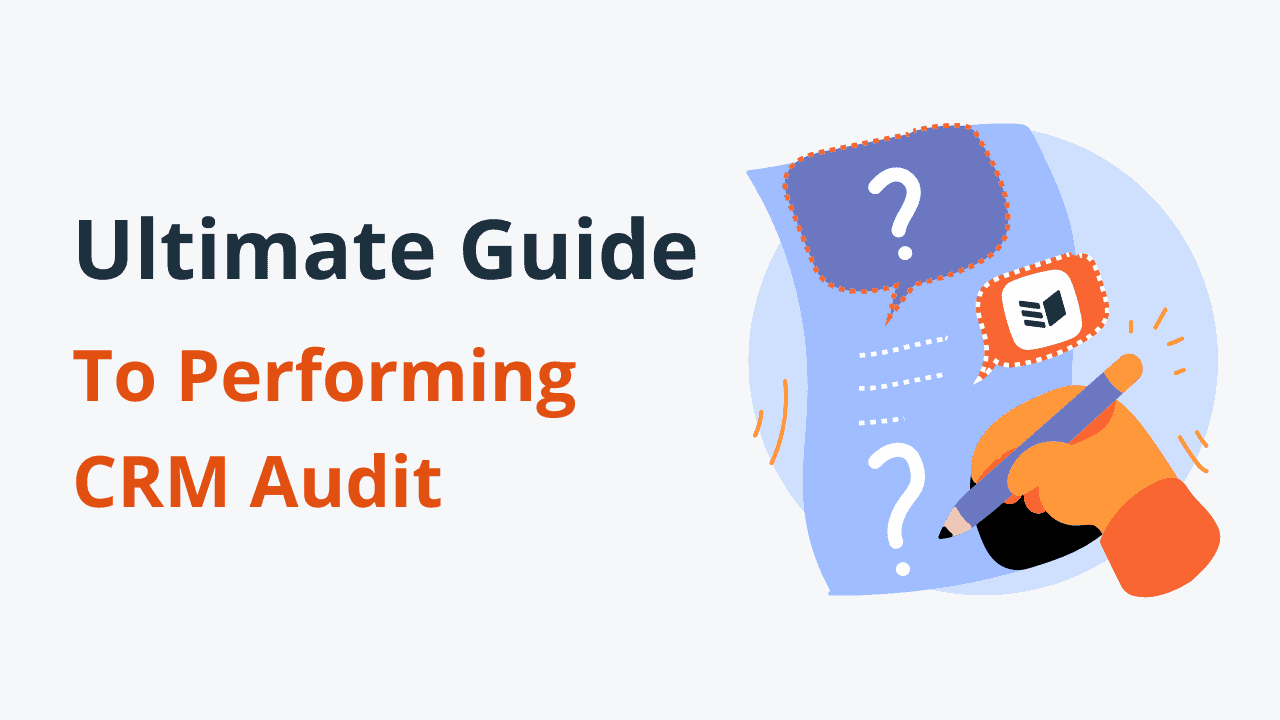 Your guide to performing a CRM audit at the end of every year in 12 steps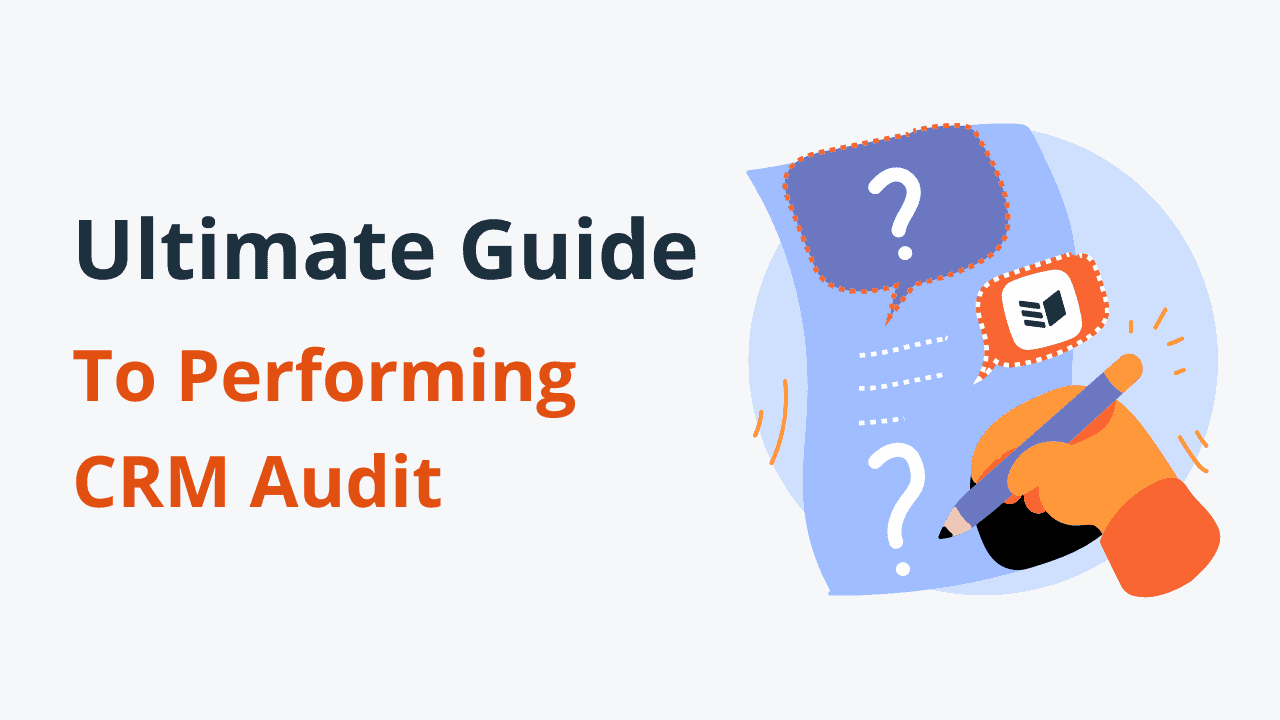 Customer Relationship Management (CRM) software helps businesses track all communication with potential, current, and inactive customers. It also integrates with other tools used to manage a company. In other words, a CRM system provides critical data and insights for your business's growth.
However, for the CRM to be effective, it has to meet the needs and processes of the business. To generate accurate and reliable insights, the data captured has to be up-to-date.
This is why you need to carry out a CRM audit.
What is a CRM audit?
A CRM audit is the process of assessing your CRM system to ensure there are no data gaps, all sales processes are efficient, and there are no issues with the system.
The audit also analyses how employees and management use the CRM software, its impact on the business, and how it can be improved to provide more value.
The data you collect will inform the audit team what to pay attention to and the business processes to be streamlined.
What do you need to review during the CRM audit?
When auditing a CRM, you need to review two aspects:
CRM usage
CRM data quality
A CRM usage review is as important as having high-quality data in your CRM.
The usage review tells you how successful your CRM implementation is. For example, many of your employees are using the system and how they are using it. If only 50 percent of your employees log in to the CRM, the data might not be as valuable as when all your employees use the CRM and log their activities.
When is the best time to do a CRM audit?
A CRM audit is a comprehensive undertaking that requires exhaustive analysis of features in the CRM system. As a result, it is difficult to audit the CRM when the business is running.
The best time to conduct your CRM audit is when you are wrapping up the business for the year. This is when various company reports, including financial reports, are prepared.
Here is a step-by-step guide to follow during the CRM audit.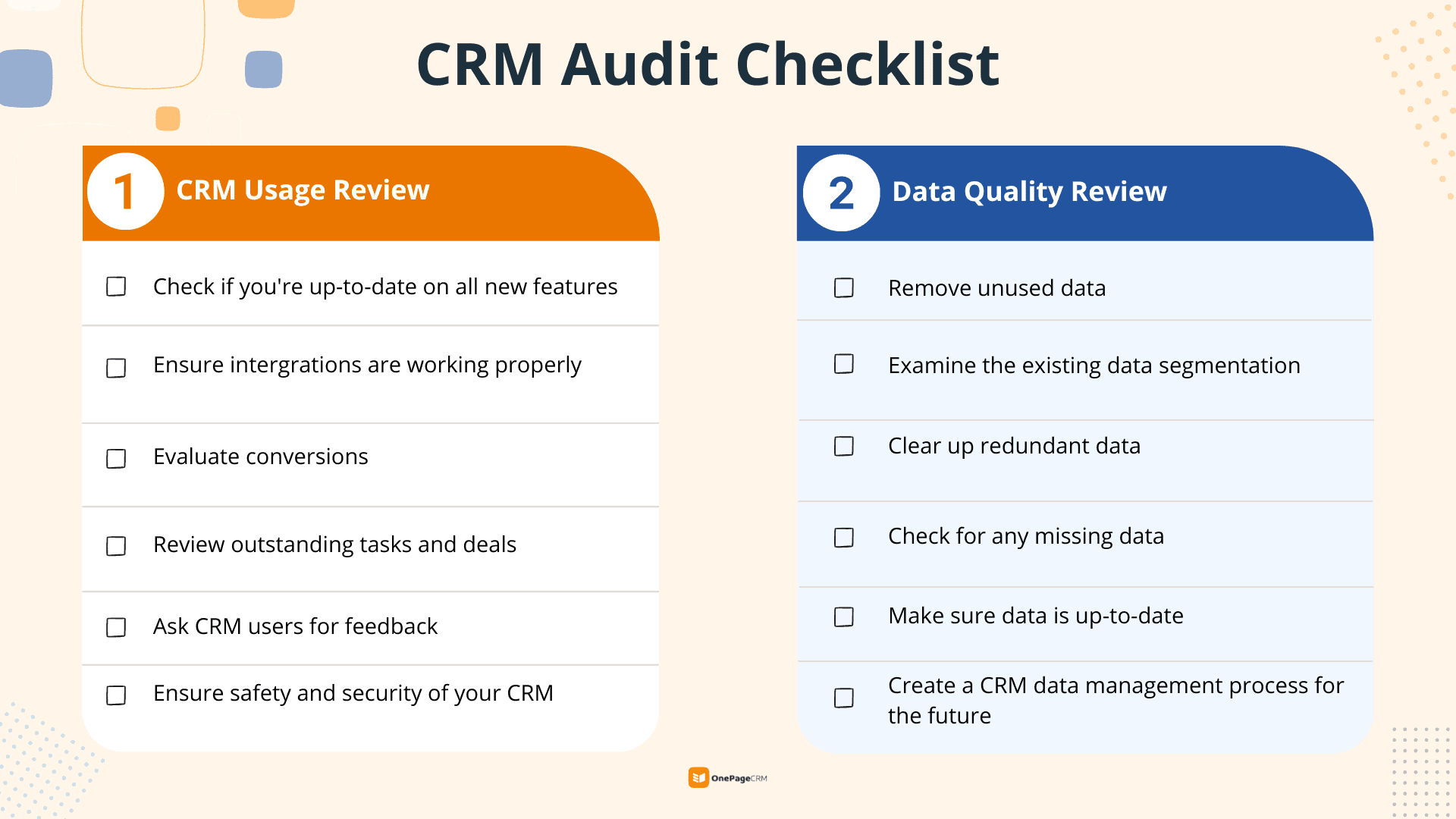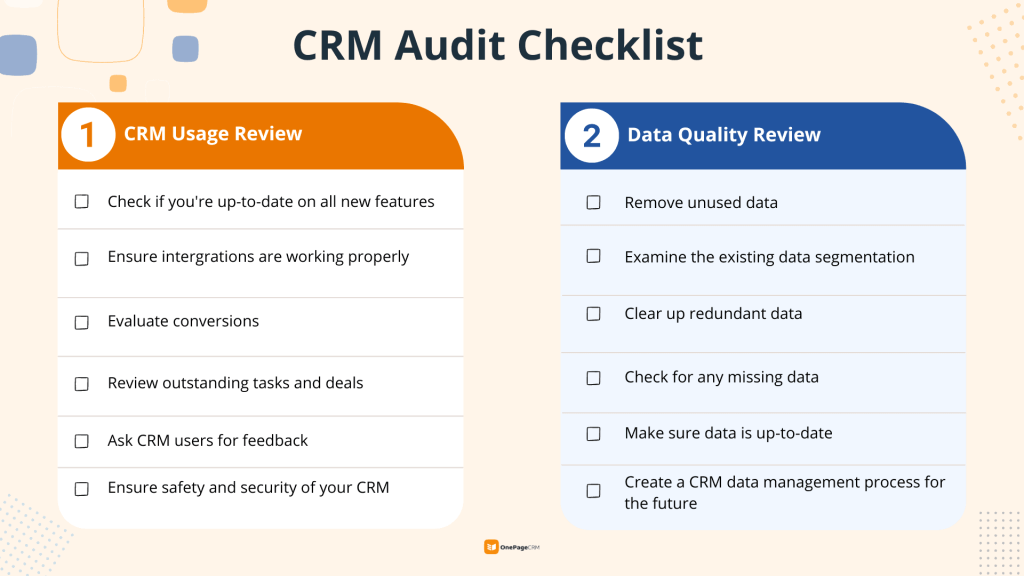 Part 1: Start with reviewing CRM usage
By reviewing the CRM usage, you can take note of why some employees are not using a CRM, follow up and put mitigation measures in place.
This is especially helpful if you are starting a business or have just introduced CRM into your processes.
The usage review looks at the following:
The number of deals closed using the CRM.
Number of calls, texts, emails, and meetings conducted.
Daily sales activities being undertaken.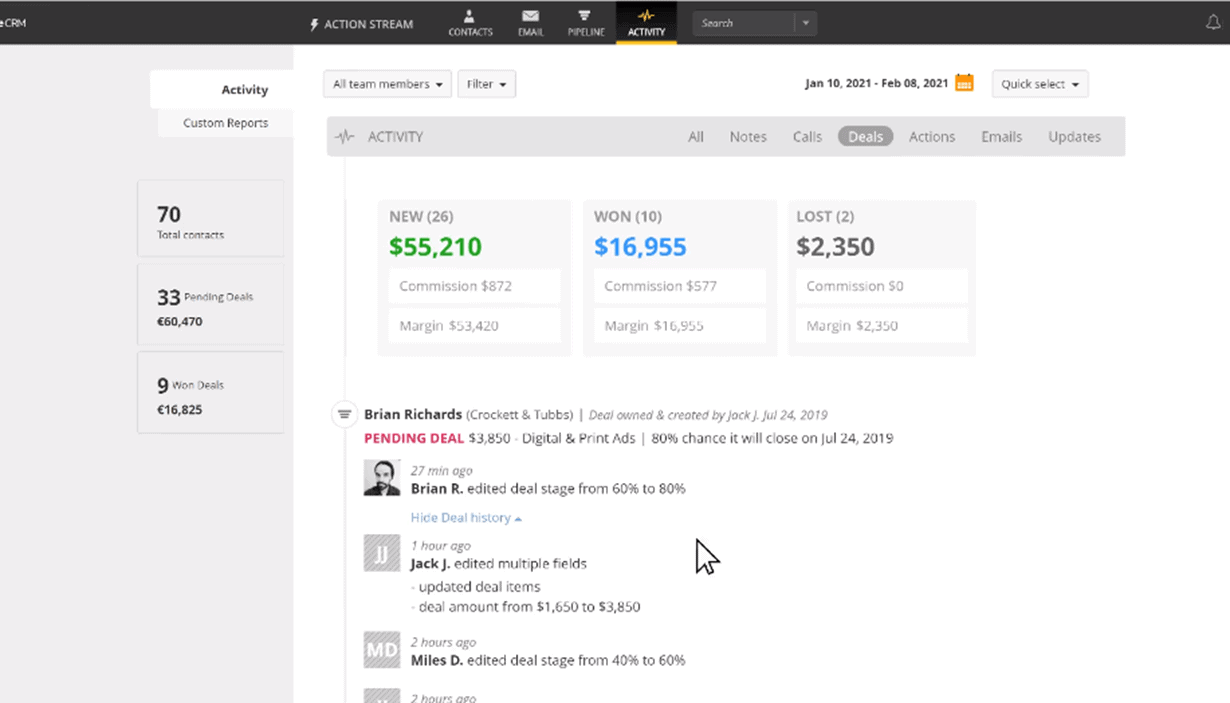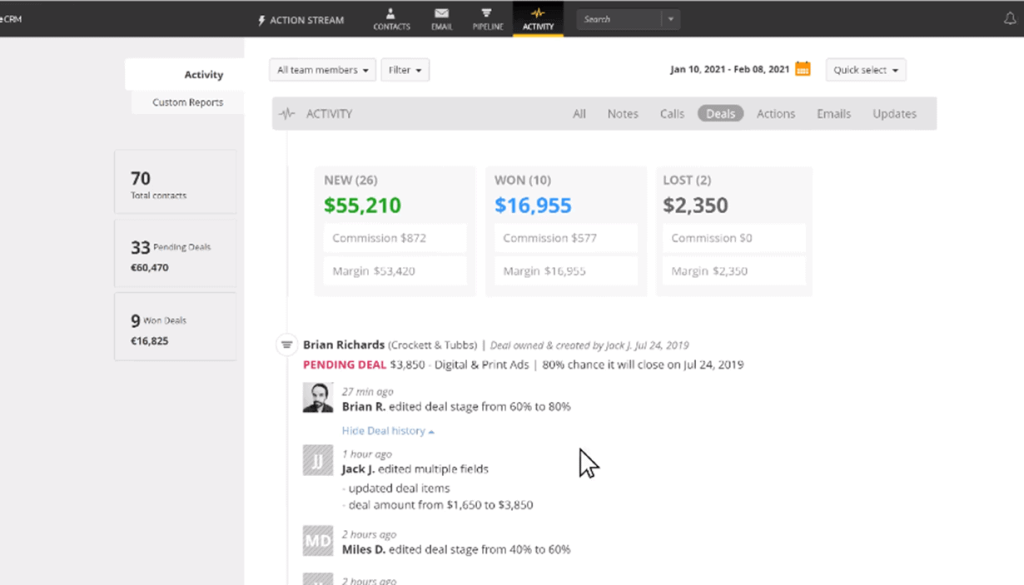 1. Double-check whether you're up-to-date on all recent CRM updates
Even if you're using a simple CRM, ensure that you're up to date on all feature updates. Even the simplest of CRMs roll out updates regularly to meet and anticipate your business needs. Some CRM updates may be clearing bugs, while others might be monumental, such as overhauling the entire dashboard.
Some updates are very easy to spot while others will require you to do a quick research. Most CRMs update their systems on regular timelines. You can subscribe to their newsletters and announcements to ensure you know when every update is due. It's also the easiest way to know what your CRM is capable of.
You might not need all new features right now but once you're aware of them, they'll be at the back of your mind. Being on top of all updates helps you fully utilize the CRM system and keep your overall business processes compliant with the ever-changing business and privacy laws.
In addition, this helps paint a clear, accurate picture of the effectiveness of the CRM system for your small business.
2. Ensure all integrations work as expected
A CRM system does not work in isolation.
For the system to be effective, it must be integrated with other communication and performance tools. Depending on your needs, you can integrate CRMs with different tools:
Accounting and invoicing software, such as QuickBooks or Xero.
Marketing software, such as Mailchimp.
Customer support platforms, for example, Help Scout or Talkdesk.
Tasks management apps, such as Evernote.
Communication apps, for example, WhatsApp or Skype.
and many more.
CRM integrations help you monitor your entire business from one platform and turn your CRM into a single source of truth. Therefore, when carrying out your CRM audit, you must ensure that all integrations are working smoothly.
Every integrated system was integrated to serve a given purpose. During the CRM audit, you need to assess its effectiveness in serving that purpose and how that aligns with the overall business goals.
To effectively test this, you can design a quality assurance checklist depending on the integration purpose. You should also use heuristics to indicate whether the system is functioning well. For example, if you send a survey of 1000 people and the respondents are more than 1000, there might be a problem.
3. Evaluate conversions due to CRM usage
A CRM is an investment. Therefore, while carrying out the CRM audit, assess the value it provides to your business.
If you have just started using a CRM, you should be able to compare the performance before and after the CRM system. Be mindful of any other changes done in the business so that you objectively analyze a CRM system's impact on your business.
However, if you've had the CRM system for a while, you can track the performance of the business and compare it with the previous year's performance. The improvement should be indexed and standardized to reflect the contribution of the CRM as an investment.
The value a CRM brings into the business should be compared with the cost of the system. The following formula can be used to calculate the CRM ROI:
(Gain/income from the CRM investment – the cost of the investment) ÷ the cost of the investment = CRM ROI
Most CRM systems can pay back their cost within a short time.
However, if you do not see the expected results, there might be two reasons:
Your company is not fully utilizing the CRM system. In this case, you cannot take full advantage of the system. You need more training and sensitization on how and why the team should use the CRM.
The CRM you're currently using might not be the right one for your business. If you have fully utilized the system and there are no results, it might be time to find another CRM solution.
4. Check for all outstanding tasks and deals
While carrying out the CRM audit, have a look at all incomplete activities, such as outstanding tasks or deals that were never closed.
These incomplete tasks and deals are sales opportunities where you left money on the table. If those activities had been finished, you would have probably made more than you did that year.
Here are a few things you can do:
Record reasons for lost deals.
Follow up and figure out why some activities were never completed.
Make sure that every task has a due date and is assigned to a team member.
This will help you improve CRM data quality and gain insight into employees' performance, your processes, or the nature of your customers. All these insights can be improved upon to grow your business further.
5. Ask all CRM users for feedback or suggestions
A CRM system is only effective if the users use it properly. While management can force the users to use the system, it is best if the system is seen as a tool that improves the users' work experience.
Better interaction with the system will see the user performance improve. For example, you can engage them through surveys, interviews, business VoIP phone, or other forms of communication that you use as a company.
You might want to ask questions like:
How often do you use the CRM?
How has the CRM made your work easier?
How has the CRM made your work harder?
What is your favorite feature of CRM?
In what ways does the CRM fail you?
You should seek to understand what is bothering them in the CRM, what might be improved, and how they wish it were improved. A CRM should enhance employee satisfaction and make their work more fulfilling.
The data can also help you refine your recruitment marketing strategy to ensure you're employing new staff that can utilize your resources.
6. Ensure safety and security
A CRM is a data-heavy system. Everything in the CRM and all other integrated systems is logged as a piece of data. Therefore, the safety and security of the CRM system and its data should be a priority.
Here are some tips you can follow to keep your CRM data safe:
Make sure employees understand the importance of data security, data violation, and its repercussions.
Implement strong data security processes to avoid data breaches that might lead to detrimental consequences.
Monitor and control access to data by installing a firewall.
Protect your CRM from viruses and malware attacks using a reliable anti-virus.
Update your operating system regularly to fix security vulnerabilities.
Use VPNs and encrypt your disks.
After auditing the safety and security of the CRM system, you should move on to analyze the quality of the CRM data.
Part 2: Analyze the data quality in your CRM
To fully enjoy the utility of a CRM system, you have to ensure that the CRM data is relevant and of high quality.
Different CRM systems record, categorize and store data in different ways. Therefore, establishing what works for your business and what doesn't is essential.
Here are a few relevant questions to ask yourself:
How flexible is your CRM? Can you add custom fields or correct existing data?
Does your CRM have all the important metrics you need?
Can you easily turn data into simple and easily readable graphs and charts?
How relevant and accurate is data in your CRM?
How often do you update CRM data?
These questions will help you evaluate the data you are receiving and the custom fields you need. A good CRM gives you quality data that is accurate and up-to-date. This quality data can be reliably used to make business decisions that are informed and well-considered.
These are the steps you should follow to ensure the quality of your CRM data.
1. Remove unused data
A CRM system collects and stores data over a long period of time. Some of the data collected may not be relevant to your business, or it might have expired. Either way, unused data in your system is cluttered and should be cleaned up.
If the data does not inform your insights, there is no point in having it in your system.
2. Examine data segmentation
To make sense of every data point, you must segment the data appropriately. You can choose how to segment data through filters, tags, or any other classification that works for your business.
During your CRM audit process, assess the effectiveness of your segmentation:
Are you satisfied with how your database segmentation?
Do you need to segment the data further for more refined insights?
Is there a different way of segmentation that would be more effective?
Are there other forms of segmentation in your CRM that you have not taken advantage of?
Examining your data segmentation shows whether you are utilizing the CRM system exhaustively. You also get to understand your data loopholes and the unused data in your system.
3. Clear up redundant data
Redundant data in your system is dangerous because it creates a false illusion. For instance, if some contacts are duplicated, and you send out an email, the same contact will receive communication twice.
Therefore, CRM data needs to be refined and contact duplicates should be merged.
Also, sometimes integrating the CRM with other business systems can lead to these redundancies. You should, therefore, ensure that the integration works the correct way and the two-way sync is enabled.
4. Check if there's any missing data
Data is a great resource, but incomplete data—not so much. Your CRM should provide you with a 360-degree view of your business.
For instance, knowing everything about a potential lead, from their need to what excites them, is a great advantage. But if you are missing their contact details, the information you have is most likely useless.
On the other hand, having a client's contact information and not knowing at what stage in your sales process they are in is also ineffective.
While carrying out the CRM audit, highlight all the pieces of missing data. This can open doors for more business.
5. Make sure that data is up-to-date
Up-to-date data ensures that you are getting accurate readings from your CRM. For instance, if someone is a new client, the communication with that client differs from those who've been with your business for a few years.
Moreover, your clients will change jobs, addresses, and places of residence. If not properly maintained, the personal information in the system can become expired data, hence unusable. For example, you can no longer use their previous phone number and address to conduct business with them.
Therefore, while conducting your CRM audit, ensure that all the data in the system is up-to-date to avoid carrying forward invalid data.
6. Create a CRM data management process for the future
After running a CRM audit, you will realize the loopholes in your data. You will also learn where data is up-to-date and where it is not. Using these insights, you must create a data management process for the future.
The CRM data management process should inform:
when to take data
how to take it
what data to take
how to classify it
how to refine and clean it up
A data management plan will ensure that your CRM has quality data at all times.
Constantly evaluate CRM processes
A CRM audit should not be the end.
The audit record should be kept for future reference, including the audit settings, entries, checklist, and other details. Then, a constant evaluation process should be established. A continuous evaluation ensures that the CRM train is always on the rails.