Choosing the right CRM solution is not an easy task.
The number of choices is overwhelming. Do you choose an industry-specific CRM or a general one? Do you need a marketing CRM or a sales CRM? What is too expensive or too complex?
Many businesses find themselves lost trying to figure out what the best CRM system is and which one can accelerate their growth. There's always a fear of choosing and losing.
We've created a list of things to consider when looking for the right CRM system (and we also included a simple question that will help you narrow down the overwhelming number of CRM options).
How to choose the best CRM?
Your CRM system is at the heart of your business so there are quite a few things you need to consider when looking for the right solution:
Identify your paint points
Write down the list of your go-to apps
Map your needs with CRM features
Refine your Google search
Find out what CRMs are action-focused
Assess CRM user-friendliness
Test mobile options
Rank your choices
Check how secure the CRM is
Read customer reviews
Talk to the support team
Register for a free trial
Don't get side-tracked by comprehensive functionality
Find a CRM that lets you build relationships
Check for any hidden costs
Let's get into more details below.
15 things to consider when choosing a CRM system
1. Identify your paint points
Before turning to Google and asking for CRM recommendations, look within your business. What problems do you have? What are the objectives you want to achieve?
Make sure to write specific answers to these questions. For example, instead of vaguely stating that you want to "improve client communication" specify what exactly you're lacking right now.
Say, you need to "introduce a consistent follow-up process" so that you don't forget about warm leads.
Here's a list of possible pain points your business might have when you find yourself in search of the right CRM system:
Forget to follow up
Spend too much time going through past email threads
Keep meeting notes in different apps
Use manual invoicing
Lose client-related documents
This is in no way a comprehensive list.
There are other problems your business might be experiencing. Identifying your main pain points is a crucial step that will help you find the right CRM solution.
2. Write down the list of your go-to apps
Do you keep work-related files on Google Drive? Do you send emails via Gmail? Do you use Evernote to keep track of what was discussed in different meetings?
There are so many apps available on the market today. A good CRM system will either have integrations with the most important ones or it will have functionality that can replace some of the apps.
Revise the app stack that helps you interact with clients or leads and run your business.
Ideally, you want to find a CRM that will either eliminate the need for most of them or seamlessly integrate with them.
After all, a CRM system is the centerpiece of all your client details.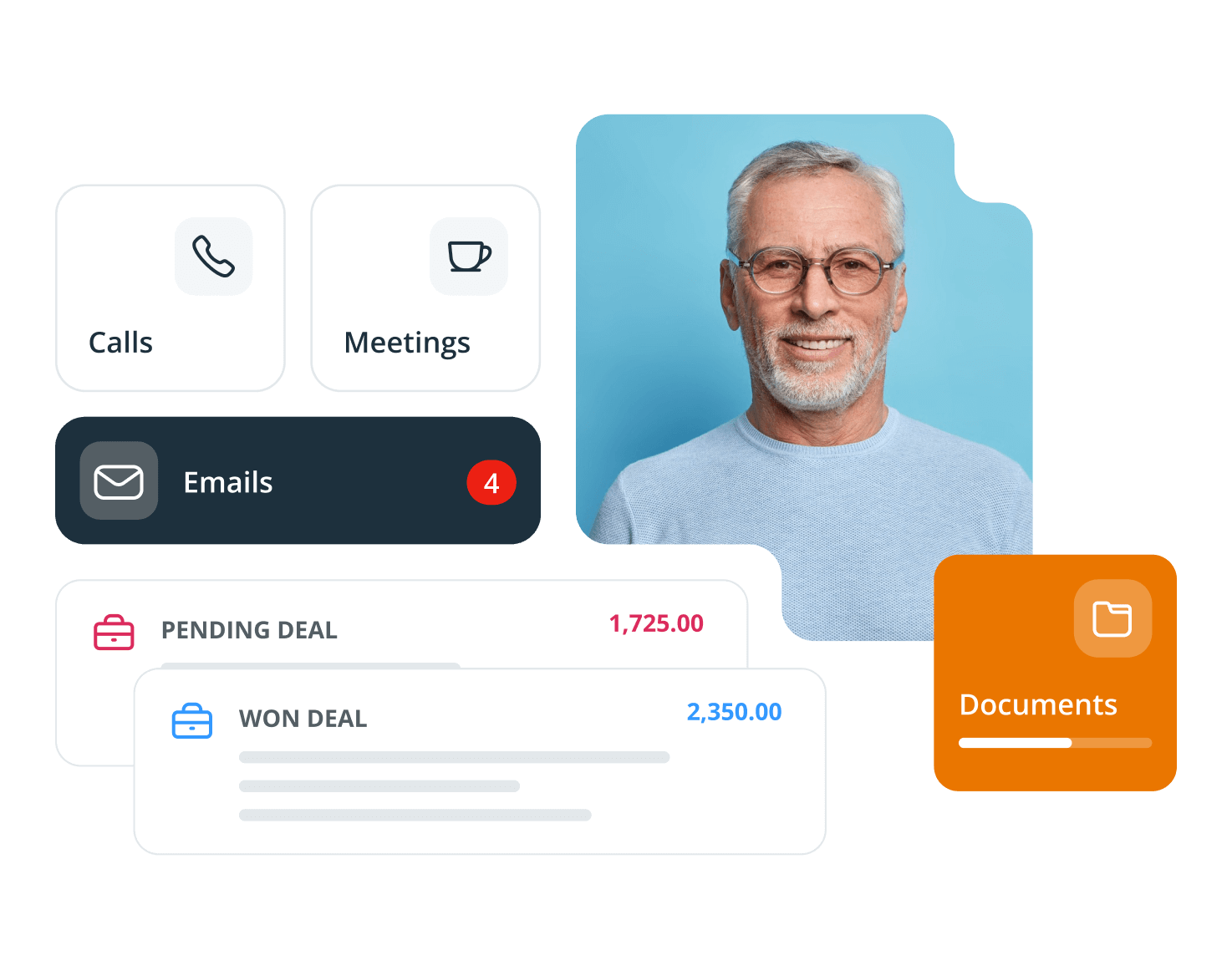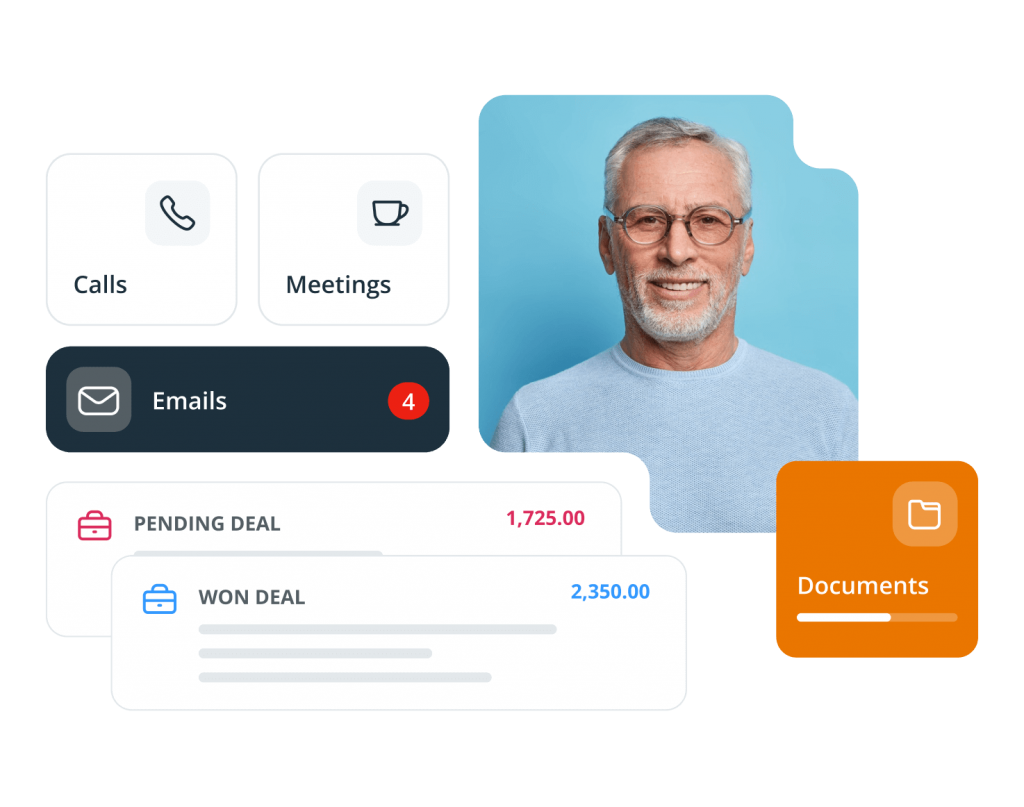 3. Map your needs with CRM features
Once you have a list of pain points and integrations you need, you can shortlist suitable CRMs. To find good CRM solutions, use Google or ask for recommendations.
When googling, don't use general queries such as: What is the best CRM for [industry X]?
This type of query will give you a limited choice. The CRM market is oversaturated and dominated by ads from big corporations, such as Salesforce or HubSpot.
Both of which are good tools but too complicated and expensive for small businesses.
When choosing a CRM system, you need to make sure that it adapts nicely to your workflow. The best CRM serves you and your team.
Cloud vs. on-premise CRM solution?
Many blog posts still mention the comparison between cloud and on-premise as an important step in your selection process.
In reality, almost all popular CRM systems are cloud-based. The exception is if you work for a large enterprise that needs a custom solution: then chances are you'll go for an on-premise CRM.
If you run a small business, an online (also referred to as cloud-based) CRM is the best choice for you. Here's a detailed comparison between
cloud and on-premise CRM systems
.
4. Refine your Google search
When googling for a CRM, use specific queries and map your needs with possible features. This can help you find the right CRM system and discover the niche CRM systems that might be hidden behind big advertising budgets.
| Pain point | Possible CRM-related search query |
| --- | --- |
| Forget to follow up | CRM with follow-up reminders |
| Spend too much time going through past email threads | CRM with two-way email sync |
| Keep meeting notes in different apps | Evernote CRM integration |
| Use manual invoicing | QuickBooks CRM integration |
| Lose client-related documents | CRM with a dedicated document page |
| … and so on | |
The more specific search queries you use, the higher your chances are to find a unique CRM system that will fit your needs.
5. Find out what CRMs are action-focused
There are industry-specific CRMs, analytical, operational, collaborative, sales, marketing, and many more.
The CRM classifications spin over several categories and might get overwhelming at some point.
That's why a simpler classification was created. It can help you select the right CRM for your business. You just need to ask one question: Is it an action-focused CRM?
The Action Stream is the standout feature of an action-focused CRM. It transforms a contact database into a dynamic to-do list where every record has a follow-up reminder (a Next Action with a due date).
6. Assess CRM user-friendliness
Is it easy to set up and use, right off the bat? The CRM you can't configure and use is … well, useless. Look for a CRM that is easy to configure, manage, and use.
It should have an intuitive, user-friendly interface. If you or your team can't figure out quickly how to add and process contacts, your CRM isn't doing its job.
For example, OnePageCRM uses a GTD-based design that resembles a simple to-do list and helps you stay focused.
7. Test mobile CRM options
Being a user-friendly CRM goes far beyond design.
Since we live in a rapidly evolving environment, we know very well that the job can be done not only in the office. Smartphones and tablets are essential parts of your sales infrastructure, so why would you pick a CRM that doesn't respect that?
Make sure that the CRM you choose is fully functional on mobile.
8. Rank your CRM choices
Once you have a list of CRMs that satisfy all or most of your pain points, compare them side by side (you can use our checklist for choosing the best CRM).
Here are the most important criteria to use:
How well do available features map your needs?
How easy is it to set up and use this CRM?
Is it both an affordable and scalable solution?
Modern CRMs can be rather complex with lots of features and different layers of functionality.
A CRM built for small businesses is much simpler and easier to use than the ones built for enterprises.
Ideally, you want to find the sweet spot, a CRM with solid features and an intuitive interface.
9. Check how secure CRM systems are
Once you shortlisted CRMs, do a simple security check. No matter how feature-rich or user-friendly a tool is, you first and foremost want your data to be safe.
Here are a few things that a safe and secure CRM system should have:
A dedicated Security team.
Thorough testing processes.
Annual security assessments.
Two-factor authentication functionality.
Several types of users with different permissions.
Data encryption and strong password policies.
Clear incident response plan procedures.
Compliance with regulations (for example, GDPR).
Regular data back-ups.
Every good CRM system has a dedicated security page on its website. It might be worth giving such pages a quick scan to better understand if you're dealing with a reliable and safe service provider.
10. Read customer reviews
You can use review platforms, such as G2, Capterra, or SourceForge. You can also do a simple Google search to find out what customers say about the CRM you're interested in.
Customer reviews are a good way to find out not only what other businesses think about CRM functionality but also about customer support and CRM usability.
It can also help you get a better understanding of what type of businesses use a particular CRM.
For example, if you're in a consulting business but notice that the majority of reviews praise the unique CRM integrations for a manufacturing business, you might re-consider whether this CRM is the right one for you.
11. Talk to the support team
Reading customer reviews or watching video reviews is one way to learn more about a CRM.
Once you identify your top choices, contact their Customer Support teams. This can help you determine how responsive and helpful they are.
If you have time, it's also a good idea to sign up for a live demo or a webinar from each of the CRM providers.
A good CRM will have a great customer support team to help you and your team make the most of their application. Make sure to assess everything before choosing a CRM. Do they offer readable documentation? How responsive is their Support? Do they have multiple training options? Is there one-on-one assistance if you need it?
Ideally, you want to find a CRM with proactive Customer Support. This is the type of Support that doesn't only answer questions but proactively offers solutions on how you can use their CRM in the best possible way.
12. Register for a free trial with your top chosen CRMs
Even if you've done all of the above steps, you still need to test the CRM and see for yourself if you're a good match.
Positive reviews don't guarantee that a CRM will be a perfect fit for your business.
Do you enjoy using it? Can you see it complementing your company culture? Is the free trial long enough to test all the features? Does the CRM deliver on its promises?
While user-friendliness is one of the most important features of any CRM for small businesses, it's also a very subjective concept.
So before making a final call, give your top CRM choices a test drive.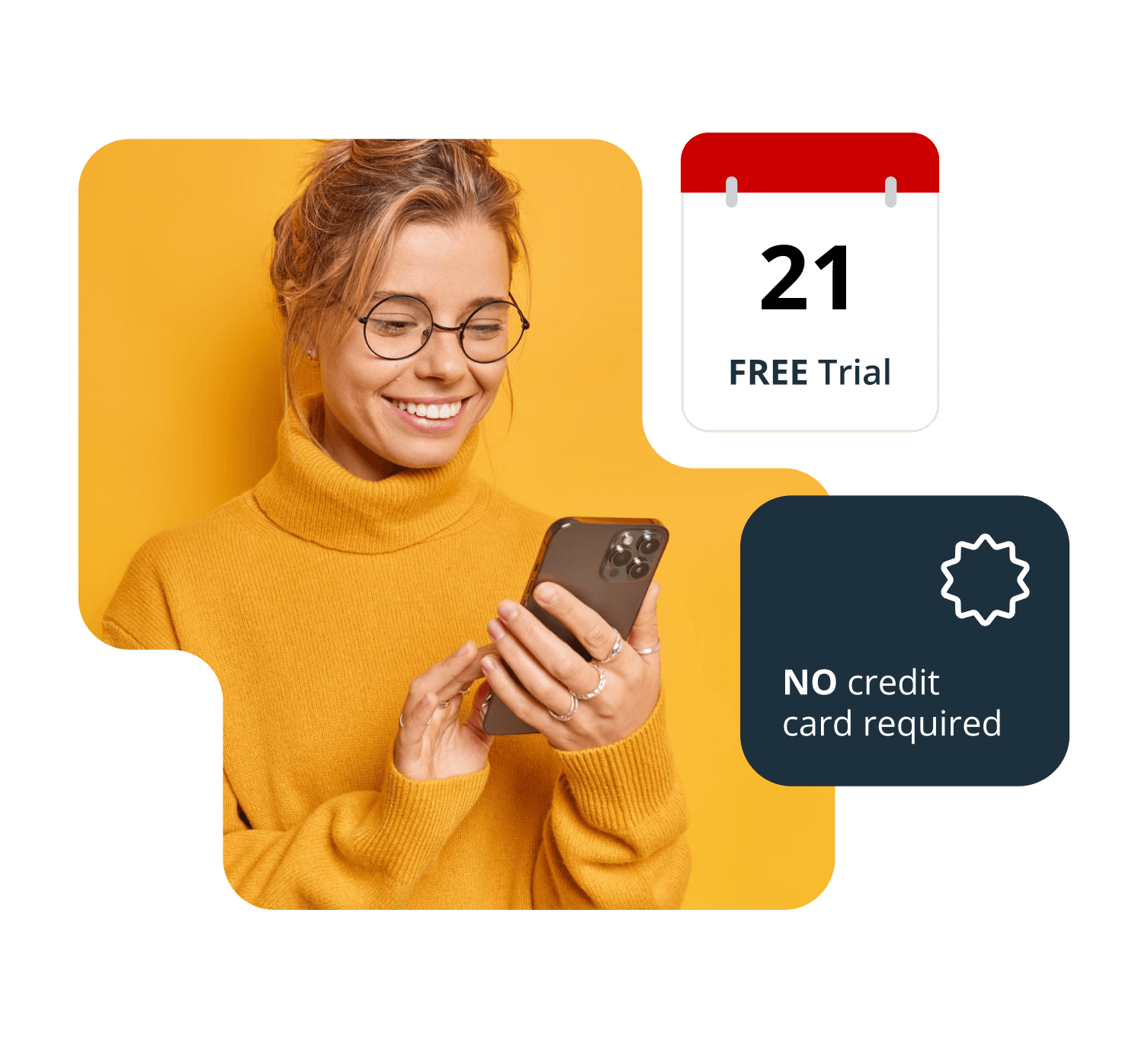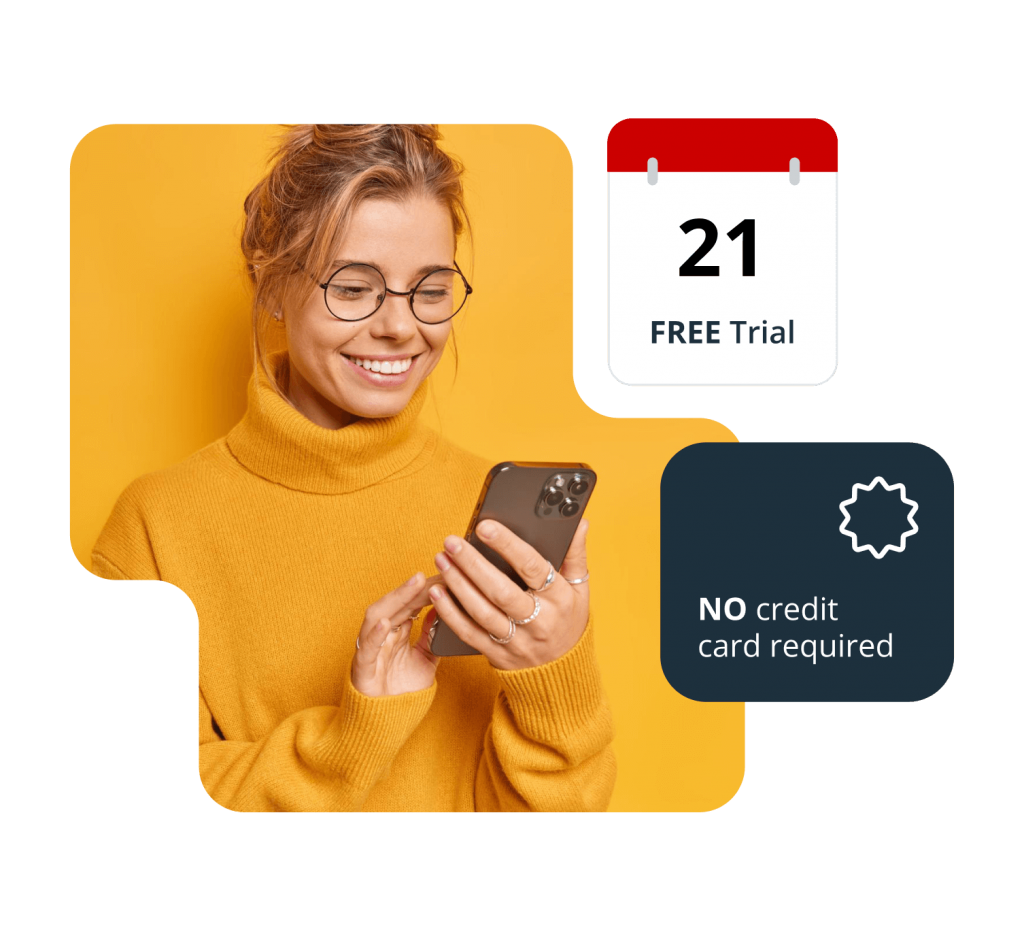 13. Don't get side-tracked by comprehensive functionality
One of the biggest mistakes businesses make is choosing a CRM system that is too complicated for them.
Bigger doesn't always mean better. In the rapidly changing world, you need to stay agile and flexible. A cumbersome system with a learning curve and complex implementation will slow down your growth.
Moreover, you probably don't need all the functionality of a complex CRM system.
If your business is happy with a simple contact management functionality and a few extra features, make sure that your CRM doesn't overcomplicate these simple tasks.
It's important to find a solution that will scale alongside your business. But you don't need an enterprise-level solution for a small or rapidly growing organization.
14. Find a CRM that lets you build relationships
As a growing business, you need a CRM that is focused on relationship-building.
Many CRMs have charts and graphs that allow you to visualize workflows, manage deals in a Kanban view, and build smart automations. These are handy features but they alone won't help you build a profitable business.
Read more
about the main problem with modern CRM systems and why the relationship-building aspect should not be overlooked.
Having long-term and trusted relationships with your clients will help you differentiate your business from competitors and grow profits.
That's why, on top of workflows and data storage options, you want a CRM with relationship-building features, such as:
Follow-up reminders: to know when it's time to reconnect with a client or a prospect.
One-page contact view: to have a full picture of every client in front of you, from meeting notes to email threads.
Email management: to communicate with clients without switching from one tab to another.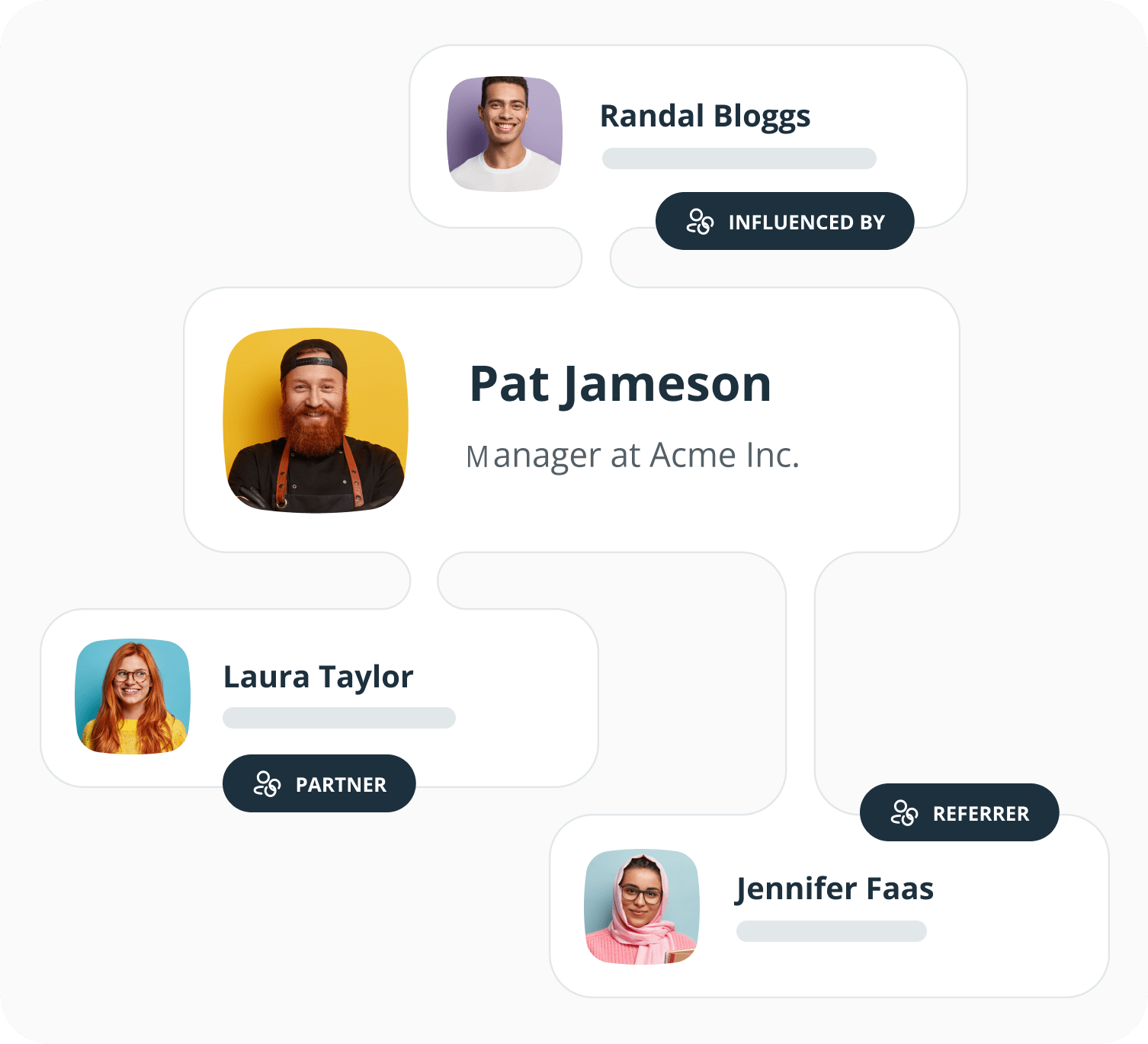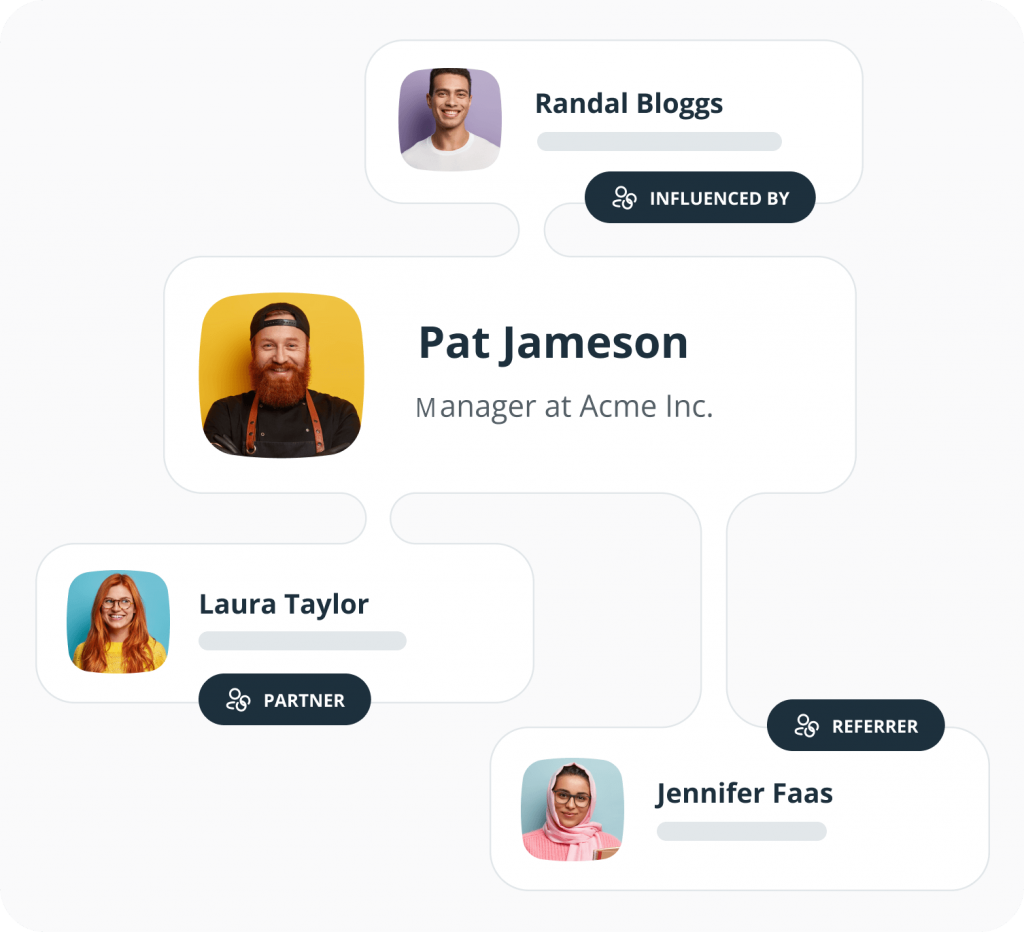 Before signing up for any CRM, get the total price for the solution.
Is there a setup cost or extra add-ons that you absolutely need to run your business? Does this CRM require paid onboarding and training?
There are different hidden costs that might be involved:
Pricing plans. Are pricing plans complicated? Can you easily compare them without worrying that you miss something important? Make sure that all plans are affordable. As your business grows, you'll need to upgrade.
Add-ons. Some CRMs have very simple pricing plans but they also have add-ons: these are additional power features. For example, a browser extension for automatically copying lead details from social media. Double-check if you need these add-ons and if there's any additional cost involved.
Data limits. Are there any storage or contact limits? How do they affect your business operations?
Integrations. Good CRM systems have integrations. Some CRMs integrate with paid apps. Find out if your CRM of choice offers any free integrations. For example, OnePageCRM has both integrations with Wufoo and Mailchimp forms and also our own Web Forms that are free for OnePageCRM users.
Customer support. Is it equal for everyone or is an individual approach provided only to VIP customers? CRM is your central database, you don't want to spend days waiting for the reply keeping business on hold.
Read more about how to avoid the most common mistakes when selecting the right CRM for your business.
Download the free e-book
Choose the best CRM for small business
Simple and powerful, OnePageCRM will help your business scale. It's a unique combination of a contact database and a dynamic productivity tool.
We created a 21-day free trial period, so you can see for yourself how easy it is to use and test the functionality of an action-focused CRM system.
Sign up for our free, no-obligation trial to see the best CRM platform in action and try it out for yourself.
Note. This blog post was first published on December 2, 2013 and was updated for relevance in October, 2023.