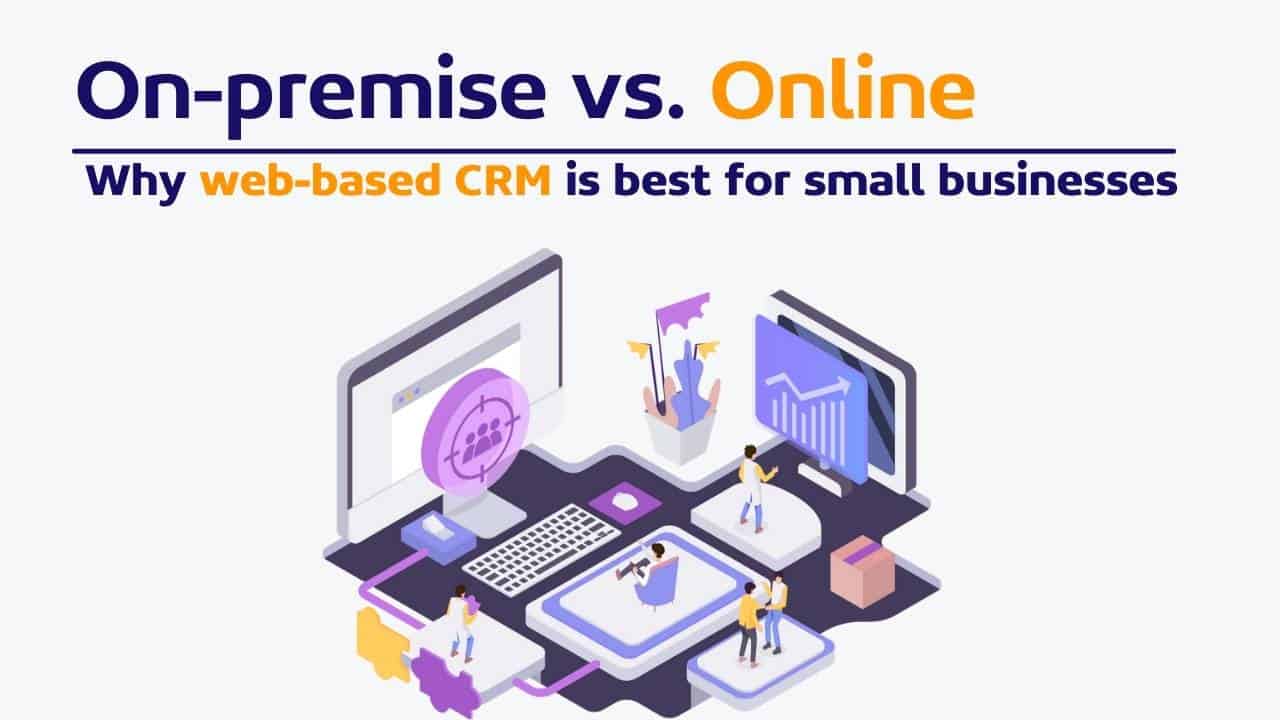 Online vs. On-premise: Why web-based CRM is best for small businesses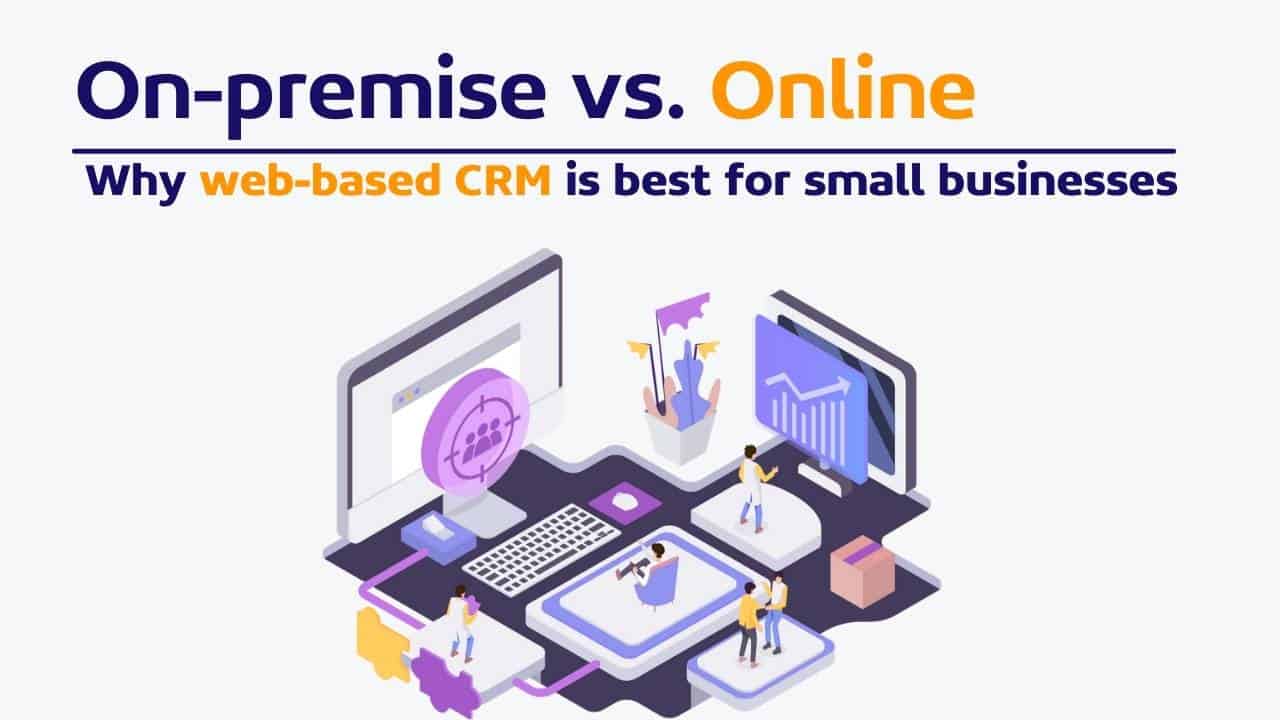 Choosing the right CRM for your business requires careful consideration. There are multiple solutions available on the market, and it takes some time to find the one that works best for your business.
A CRM system is a long-term investment. It's a tool that helps companies not only centralize their data but also manage and store it. This, in turn, allows businesses to grow faster and more efficiently.
Although there are different factors that small business owners and sales managers need to keep in mind when looking for the best CRM system, at some point, they might face the question: "Is a web-based CRM better than the on-premise one?"
The short answer is yes. In this blog post, we'll have a closer look at the six benefits of using online CRM software for a small business.
But let's first sort out the definitions.
What is an online CRM?
Online CRM is a customer relationship management (CRM) tool that is hosted on your CRM provider's server. In other words, it does not require installation on your office or home computer. An online CRM gives you easy access to your data on the go from any device.
The user pays a subscription fee and connects to CRM remotely through their web browser using a login and password. That's why an online CRM is sometimes referred to as subscription-based CRM (or Saas CRM).
There are a few more synonyms for online CRM, such as cloud CRM, web-based CRM, and hosted CRM.
What is an on-premise CRM?
Contrary to web-based CRM, on-premise CRM is hosted on your office server.
It's necessary to install and configure it. Such CRM is accessed via the Local Area Network of a company, which means it doesn't require an Internet connection.
On-premise CRM is also called on-site CRM.
5 benefits of using online CRM
Although both types of CRMs have their own advantages and disadvantages, small businesses usually prefer an online CRM.
And there are at least 5 reasons for this.
1. Small service cost
2. Flexibility
3. Data security
4. Personalization
5. Accessibility
1. Small service cost
On-premise solutions are expensive. The expenses include the cost of software, hardware, installation, and administration. Since the data in on-site CRM is stored and handled internally, the company also needs a dedicated team for maintenance support.
On top of that, the initial investment usually takes a long time to pay off. For example, on-site CRMs can be rather complex solutions that require thousands (or even tens of thousands) of dollars. While a high price for an on-premise CRM might not be a problem for large corporations, it may not be feasible for many small business companies.
The price for online CRM systems can be as low as a few dollars per month. In addition, the payment is usually ongoing, which means that you pay as long as you use the system.
2. Flexibility
Another thing to consider is the time factor: how long it will take to implement a system.
On-site CRM systems require an essential amount of work on servers and networking equipment. It might take a long time before the CRM is fully installed, configured, and available for company-wide use.
On the contrary, online CRM systems are free from technical maintenance issues. They require only a stable and fast Internet connection.
Besides, you can always stop using your current online CRM and easily switch from one web-based solution to another.
3. Data security
Although it may seem that on-premise CRMs are more secure, online CRMs provide the same level of data privacy and security:
Most online CRMs have several layers of security and allow users to enable two-factor authentication.
Their network is accessed through a secure Internet connection.
Most web-based CRM providers store data in reliable data centers, such as Amazon Web Services (AWS).
While on-premise CRMs are not always properly monitored and can be attacked by worms and viruses, leading online CRMs use world-class encryption methods that are similar to the ones in online banking.
4. Personalization
One of the reasons large companies choose on-premise CRM is the ability to custom-tailor their solution to fit their unique, complex operations. Small businesses do not have such complex processes as large corporations do. However, hosted CRM solutions also allow users to configure the software to meet their unique needs by:
Cloud-based CRM solutions are designed to be easy to use.
However, as different customers may use the CRM in different ways, it's important to have a responsive customer support team to answer any specific questions.
5. Accessibility
Online CRM can be accessed remotely. It's easy to work with a web-based CRM from literally anywhere in the world. To access your data and manage it, you only need a device with an Internet connection.
Having access to your CRM whilst on the move is also crucial to your sales success. Cloud-based CRM systems are ideal for instant data access from mobile devices. It's not so easy to access an on-premise CRM system when you're on the go.
For example, many online CRM providers offer mobile CRM apps with a variety of features that make it possible to run a business away from the desk:
Send emails and make calls straight from within a mobile CRM.
Navigate easily with integrated maps to get from one place to another.
Keep the team aligned by staying in touch on the go.
Which CRM solution is best for you?
Large corporations usually choose on-premise CRMs because they allow for more control and customization. Small businesses usually opt for web-based CRM solutions because they are cheap, convenient, and fast to implement.
Do online CRM systems increase sales?
The short answer is yes.
Cloud-based CRMs are simple to use and remove the complexity of traditional old-school CRMs. That's why businesses can focus on selling instead of solving IT-related problems.
With an online CRM, businesses can easily manage their sales pipelines, plan follow-ups, and log meeting notes.
Integrations with other cloud-based solutions bring even more advantages. For example, you can get your web form connected to your CRM or get your online CRM talking to your accounting software, be it QuickBooks, Xero, or any other accounting app.
A new and more powerful type of a web-based CRM
In the recent decade, a new type of online CRM system has emerged. They are called action-focused CRMs.
The standout feature of this online CRM is an Action Stream. The Action Stream transforms a static list of contacts into a dynamic color-coded list with follow-up reminders next to every client.
This type of web-based CRM solution helps businesses grow in a more organized way and encourage them to make the most of every contact in their database.
Note. This blog post was originally published in April 2012 but updated for freshness in April 2023.