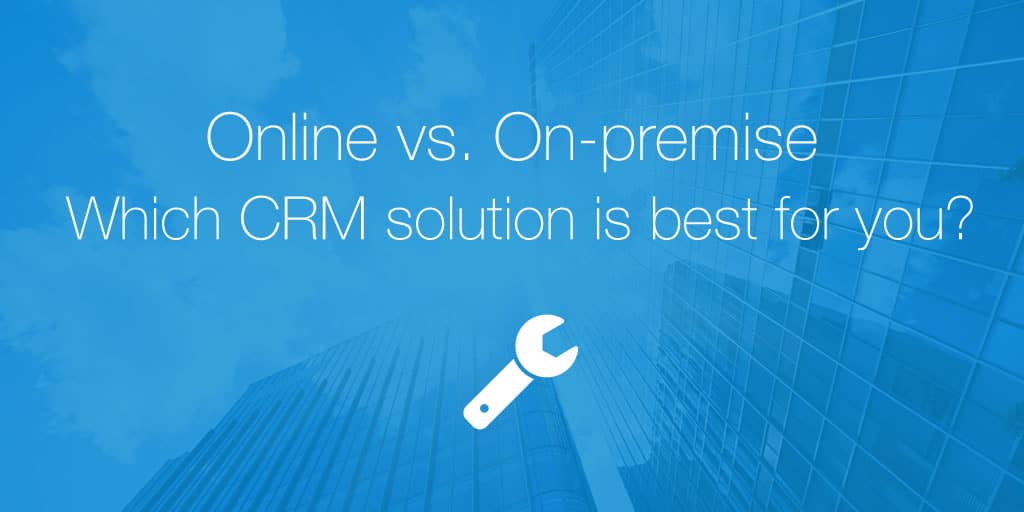 Online vs. On-premise: Which CRM solution is best for you?
When choosing a CRM for your business, it's important to understand the difference between Online CRM and On-Premise CRM solutions.
Online CRM
Online CRM is hosted on your CRM provider's server. It does not require installation on your office or home computer. The customer pays a subscription fee and connects to CRM remotely through their web browser, using a login and password. Synonyms for online CRM are Hosted CRM, Cloud CRM, Web-based CRM and SaaS CRM.
On-Premise CRM
On-Premise CRM is hosted on your office server, it's necessary to install and configure it. Such CRM is accessed via Local Area Network of a company, that means it doesn't require an Internet connection. On-Premise CRM is also called On-site CRM.
So what are the key factors to consider when deciding between Online versus On-Premise CRM solutions?
1. Price
On-Premise solutions are usually expensive. The expenses include the cost of software, hardware, installation and administration. Depending on complexity, these CRMs will cost from several thousands to tens of thousands dollars. This may not be feasible for many small business companies, but might not be a problem for large corporations. Online CRM systems can be as low as a few dollars per month, but keep in mind the payment is usually on-going, you pay as long as you use the system. At the same time, you can always stop using your current Online CRM and easily switch from one solution to another.
2. Time
Another thing to consider is time of implementation. On-site CRM systems usually require essential amount of work on servers and networking equipment, it takes more time to install and actually start using. Online CRM systems are free from technical maintenance issues. There is no need in any additional hardware or significant IT team intervention, but it does require stable and fast Internet connection.
3. Data Security
Although it may seem that on-premise CRMs are more advantageous in terms of data security, it is not the case. Online CRMs provide the same level of privacy as on-site CRMs, since hosted CRM network is accessed through a secure internet connection. Yet, it is actually safer to store your data in an online CRM, since in-house solutions are not always properly monitored and are often attacked by worms or viruses.
4. Customization
One of the reasons companies choose on-premise CRM is the ability to custom-tailor their solution, so that it met their specific needs and unique, complex operations. With a good on-site CRM you can alter the interface and develop your custom features.  Most hosted CRM solutions use the same copy of their software for all their customers, but while not customizable, they are configurable. That usually perfectly caters to the small and medium sized business industry because SMEs don't normally have the unique needs large businesses do have.
 5. Resources
To manage a CRM solution on-site a company needs to dispose of hardware and IT resources. It shouldn't be a problem if a corporation already owns servers and has an IT department. Though there would be a high cost implication for an SME enterprise to hire new staff for the sake of implementing and maintaining a CRM system.
6. Accessibility
An on-premise CRM doesn't depend on Internet connection and is always available. With online CRM, if your internet connection is weak it could be difficult to access your account. At the same time it's complicated to access an on-Premise CRM remotely, while it's easy to work with a hosted CRM from literally anywhere with an internet connection available.
For small businesses, Hosted CRM solutions is the most popular option, they are cheap, convenient and fast to implement. Large corporations usually make their choice in favor of control and the customizable features on-site CRM applications can offer.
Looking for a proven sales tool to help you close more deals? Sign up for a free 21-day evaluation of OnePageCRM and see how our Next Action Sales method can help you get sales done!