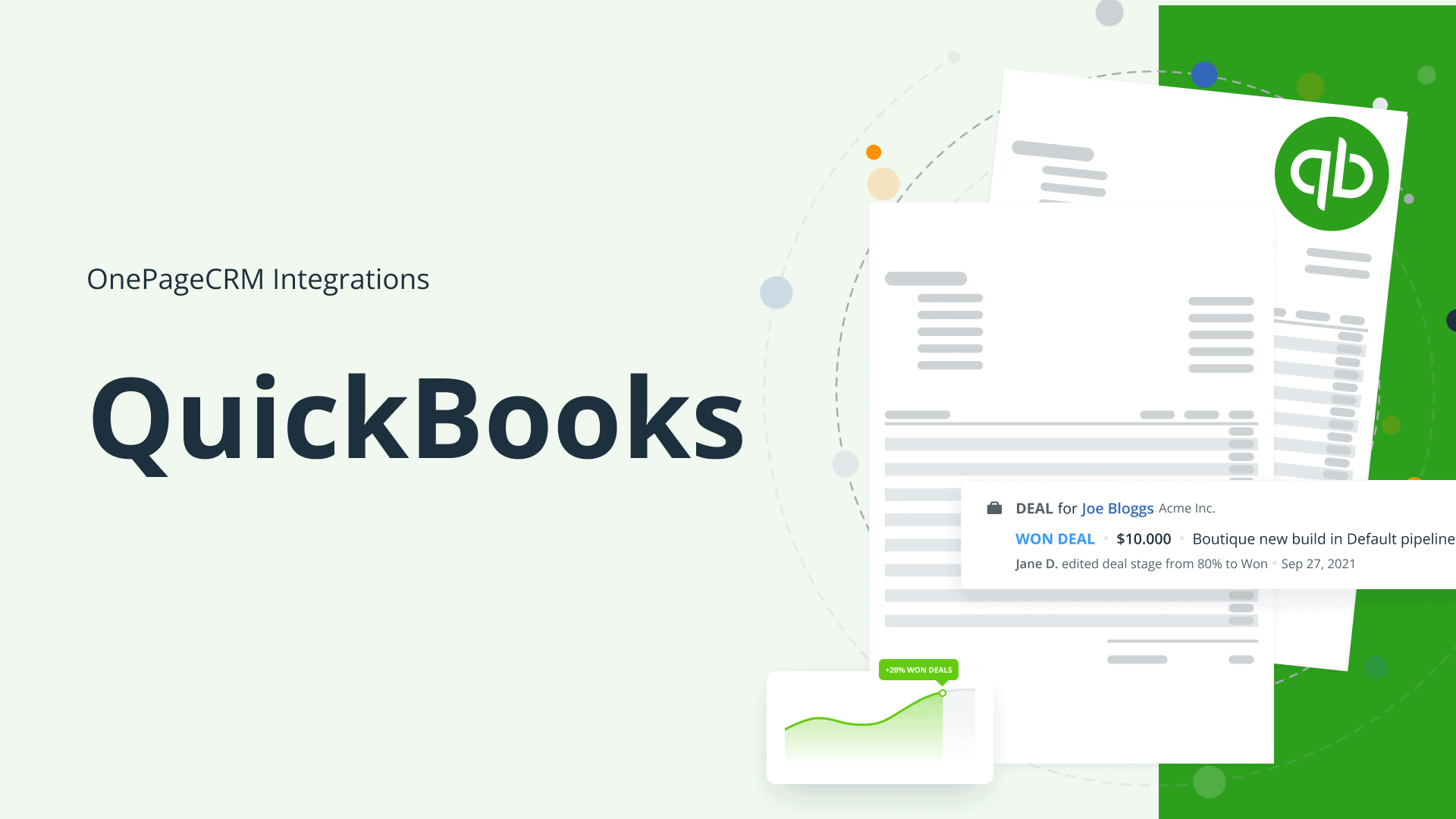 QuickBooks CRM integration: The best way to speed up invoicing and billing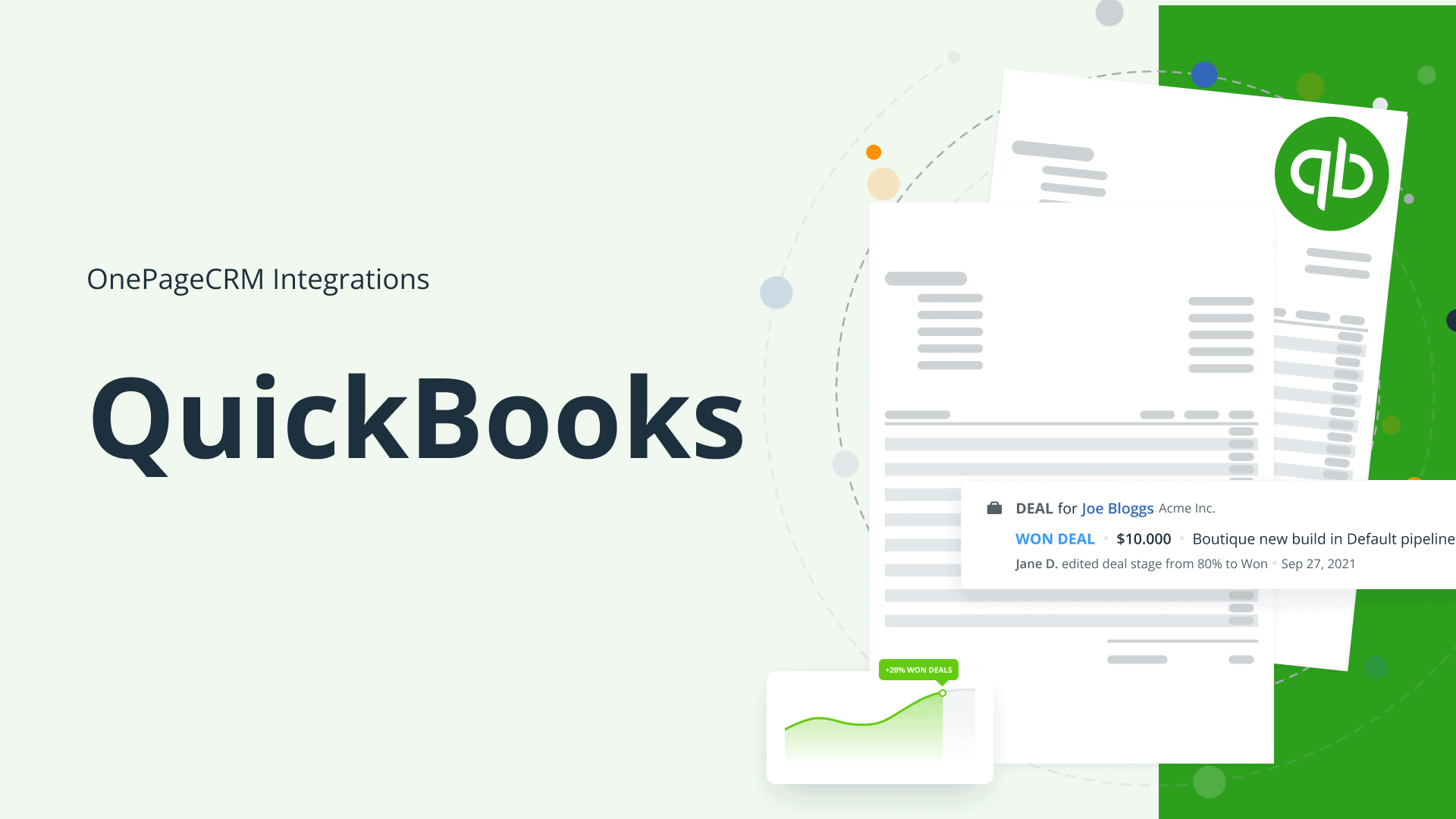 You're probably no stranger to QuickBooks, Xero, Sage, or the likes of those.
These tools help businesses easily manage finances and accounting affairs—starting from invoicing clients, monitoring expenses, paying bills, sorting out taxes, and so on.
Besides its existing integrations with Xero and Sage, OnePageCRM now integrates with QuickBooks, one of the leading accounting apps on the market. If you want to learn more about how to connect QuickBooks to your CRM, check out this Help Site page.
In this post, we'll dive deeper into how this CRM integration can help you improve your invoicing and billing processes and share a few practical tips on invoicing clients in the most efficient way.
When do you need to integrate QuickBooks with your CRM?
Let's first look at the most obvious question: When does a small business need QuickBooks CRM integration?
QuickBooks, similar to any other accounting software, has some vital information about your clients: their names, contact details, purchasing history, invoices, and so on.
Although powerful in its own way, QuickBooks is mostly great for storing and organizing financial and accounting client data. Alone, this data won't help you build relationships, generate repeat business, or expand your operations.
This is where a CRM comes into play. It helps you put this data into action.
Your CRM pulls in information from various sources and applications, including marketing tools or customer support software—financial and accounting apps, like QuickBooks, are no exception and can also be connected to your CRM.
CRMs don't only aggregate data in one place, they help you take action with this data. For example, you'll always know when you last contacted a prospective client and when it's time to send another follow-up.
By integrating different business apps into your CRM, you'll have a complete profile of every client: their emails, invoices, support tickets, and any other details that are important for your business. Accurate, easily accessible, and relevant information about your clients can change the way you conduct business.
Having a complete profile of your client is one of the main reasons why QuickBooks CRM integration is important. But it's not the only one. You might be experiencing several invoicing and billing challenges—and most of them can be alleviated with proper automation tools or a good CRM integration.
Let's have a closer look at each of them.
QuickBooks CRM integration can help you with these challenges
By integrating QuickBooks with your CRM, you can solve the most common accounting and financial problems:
Delays in payments. Sometimes it's difficult to keep up with outstanding invoices and due dates. A CRM with proper follow-up functionality can make it easier for you to keep your financial records in order.
Inaccurate data. If your processes are not automated, invoicing can result in errors. For example, if you're creating invoices manually, you might make a mistake in calculating the total cost. Besides, manual processes can lead to duplicate payments, lost invoices, or inaccurate detail. With even simple automation, you can avoid all of these problems.
No unified method of invoice communication. Sometimes your invoices are submitted one way, sometimes the other. If you have several people on the team who are responsible for creating and sending invoices, you might end up with different invoice templates. Keeping all templates and documents in one place within your CRM can help you streamline communication with clients.
Missing information. If several people are involved in the invoicing process or client communication, it's not always clear whether a particular client received an invoice, what the next best step is, and who's responsible for this account. By connecting QuickBooks to your CRM, you can see all previous and upcoming interactions with a client and quickly decide what should be done next.
Top 5 benefits of QuickBooks CRM integration
To make it easier for small businesses to overcome invoicing and billing challenges, we built an integration between Quickbooks and OnePageCRM. By connecting the two, you can reap the following benefits:
1. Keep all invoices in one place
If you ever find yourself searching for previous invoices in email threads or Google Drive folders, it's time for a proper accounting tool that integrates with your CRM. By connecting QuickBooks to OnePageCRM, you can keep all important documents on your client's Contact Page and avoid the need for switching between different tabs or apps.
2. Automatically generate professionally looking invoices
To avoid manual data entry and save time, you can automatically generate invoices in QuickBooks straight from within your OnePageCRM account. It takes just a few clicks to create an invoice which will be added to your client's Contact Page. This invoice will also be saved in QuickBooks.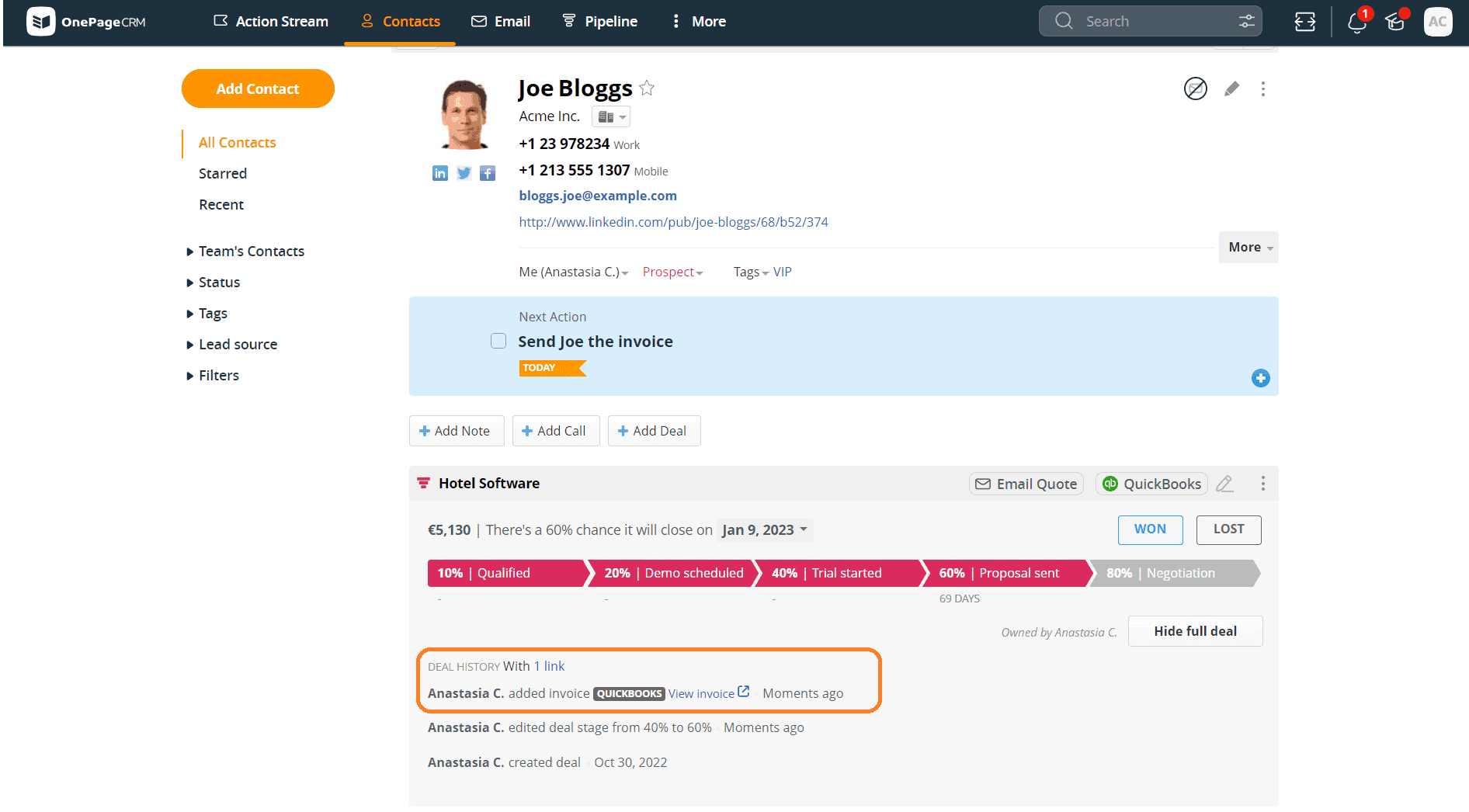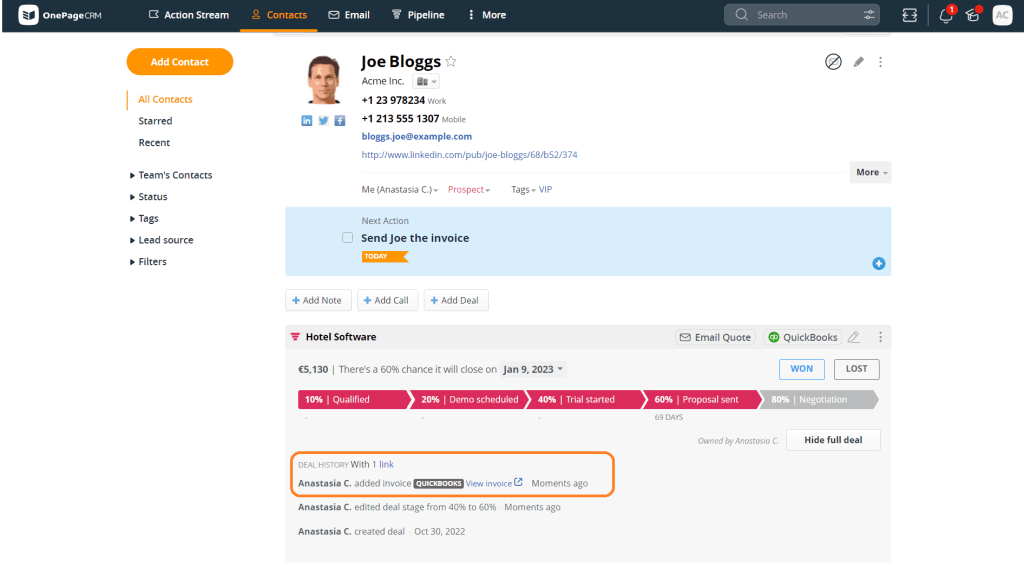 3. Add details about your services
Your invoice should contain information about the services that the client is being billed for. If you have this information filled out in your CRM, we'll automatically detect it and add it to your invoice.
In OnePageCRM, you can create a standard list of products and services with their names, descriptions, and total prices. You can attach details about the provided services or products to clients' Contact Pages.
Once you create an invoice, we'll pre-populate it with all the important data that you have on the Contact Page: the contact name, invoice date, the services provided, and the due amount.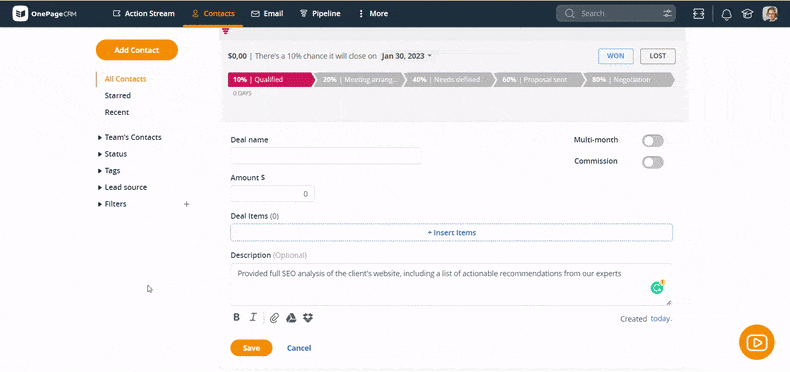 4. Send quotes and estimates to clients in a few clicks
It's a good idea to keep your clients updated about any changes or developments. Even if you're not ready to invoice yet or if there've been some delays with their order, make sure that they are not kept in the dark.
If a client is not ready to make a decision yet but is asking for an estimate, you can send them a quick sales quote with all prices and service descriptions. With OnePageCRM, it takes around 30 seconds to build a quote and email it. Once they have this information in their inbox, it'll be easier for them to make a decision or ask for clarification or more details.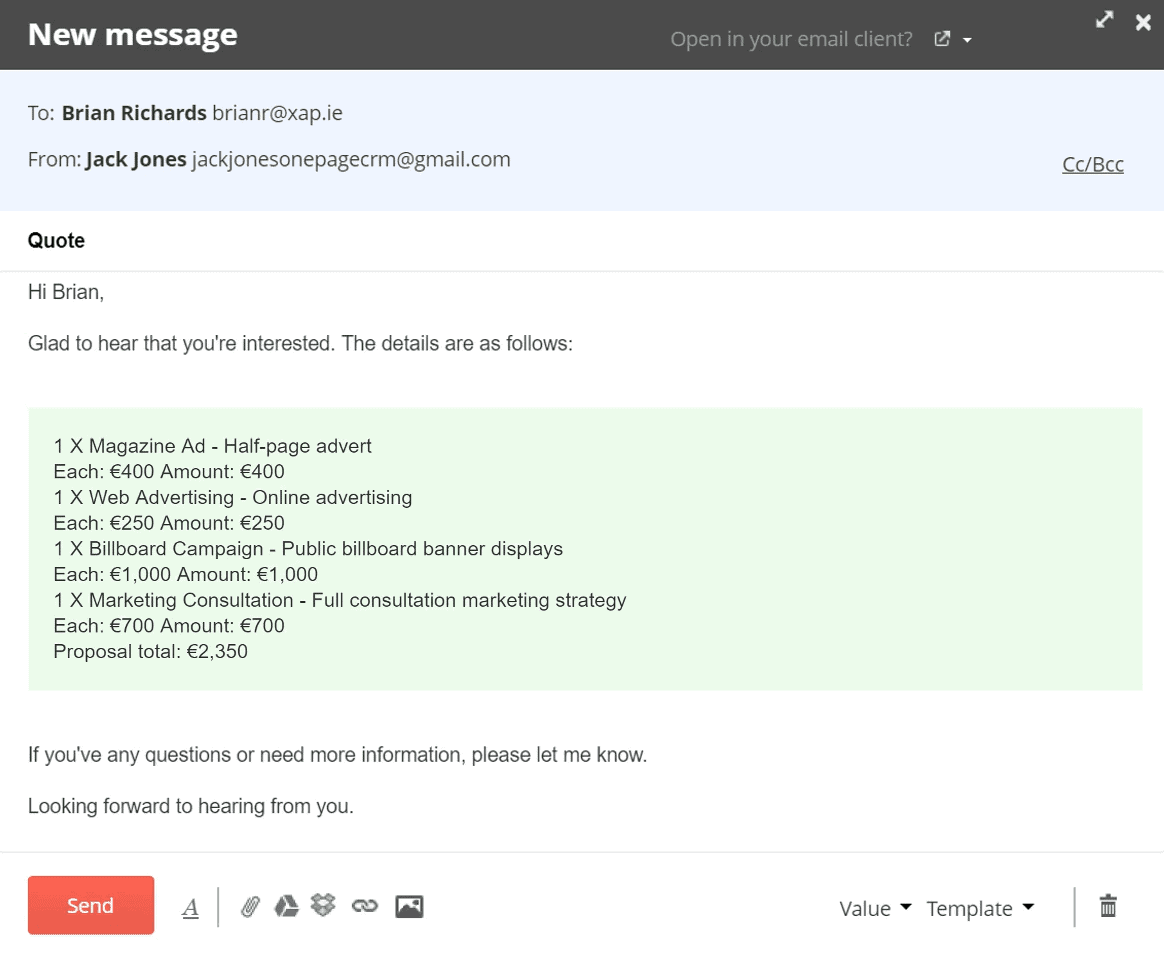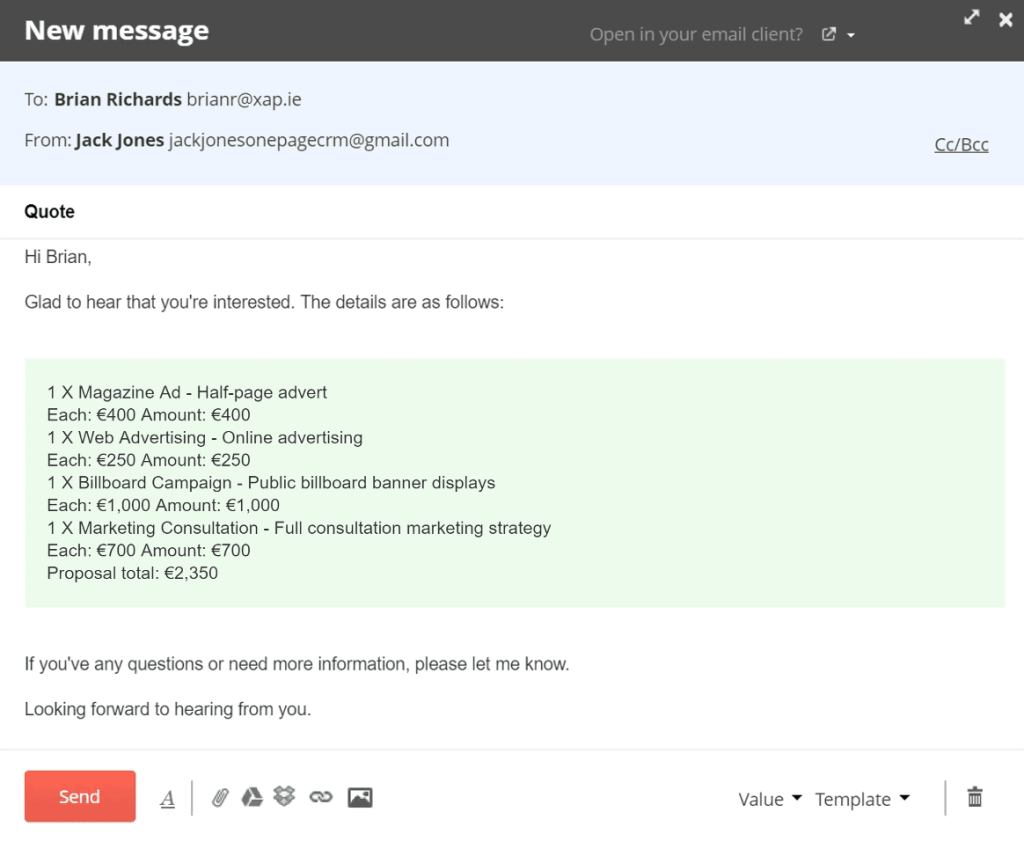 5. Seamless contact management between two apps
By integrating QuickBooks with OnePageCRM, you'll have the flexibility to add QuickBooks invoices to existing contacts in OnePageCRM and create contacts in QuickBooks from within OnePageCRM.
This seamless contact management between the two apps makes it easier for you to keep all records straight and have access to reliable and up-to-date financial and accounting information.
What is the best way to send an invoice to clients?
Enabling the QuickBooks CRM integration is one step. You also need to make the most of it and know the simple do's and dont's of sending invoices to your clients.
Here are a few best practices for invoicing.
1. Keep a tidy list of all your services
Create a standardized catalog of the services and products you provide to clients. We call them Deal Items. Deal Items are lists of your offerings with standard descriptions, prices, and quantities.
Once you have your services in the CRM Catalog, you can add them to individual deals, estimates, and invoices in just a click. Your CRM will then take this information and pre-populate the invoice with relevant details. This way, you can avoid the tedious typing and speed up your invoicing process.
2. Send an estimate before sending an invoice
Use Quick Quotes to generate estimates and email them to your clients and prospects in a few clicks. This is the quickest way to inform clients and prospects about how much your services/products will cost and not keep them waiting for your email. By providing answers and information in a fast and efficient manner, you can beat the competition and grow your customer base.
3. Check in on clients to make sure they got your invoice
Never underestimate the power of a good follow-up. For example, in OnePageCRM, every contact can have a Next Action assigned next to them. Once you send an invoice to a client, you can set a reminder (a Next Action with a due date) to follow up with them in a week if you don't hear back from them. This way, no invoice will go overdue or missing.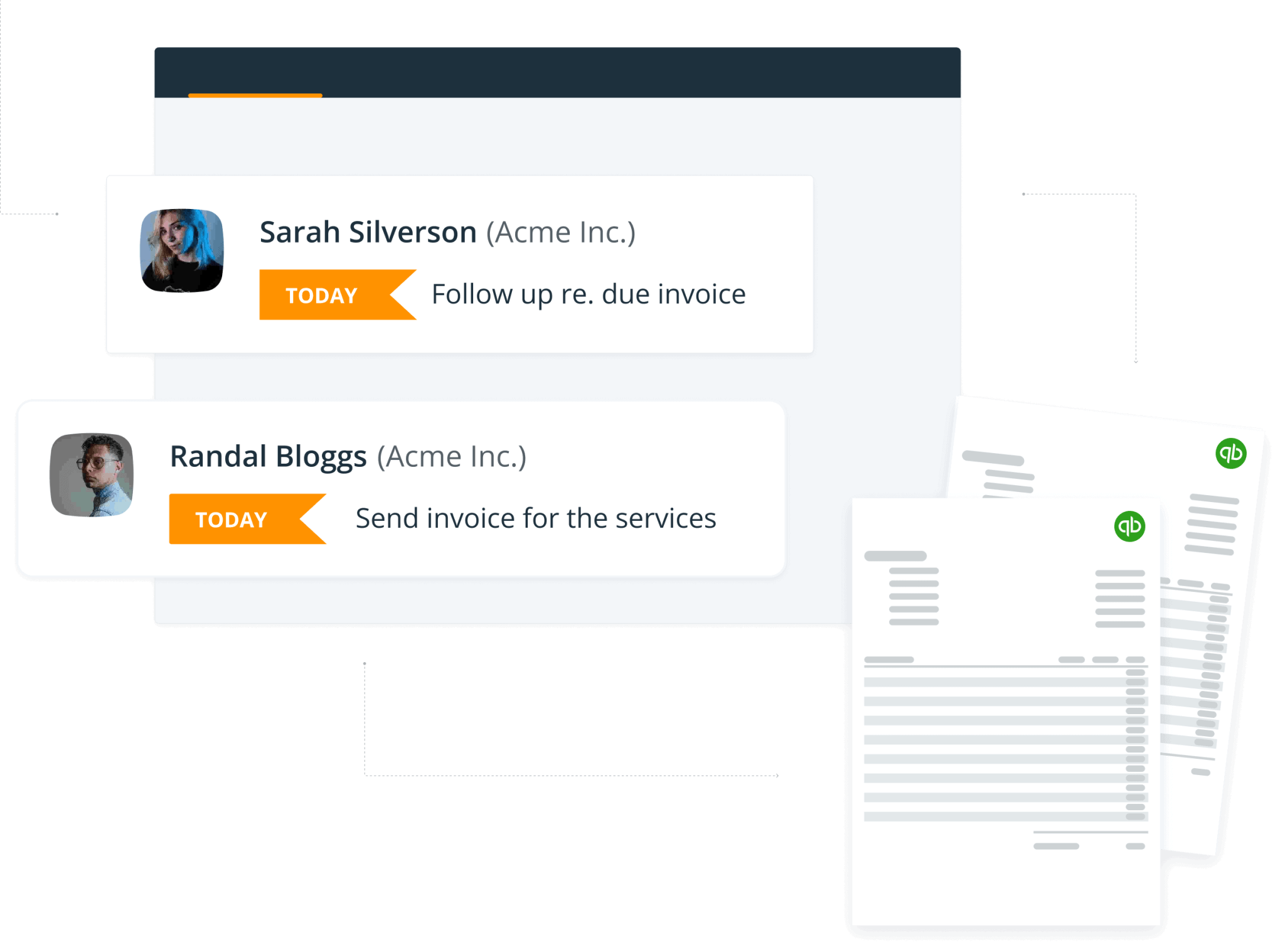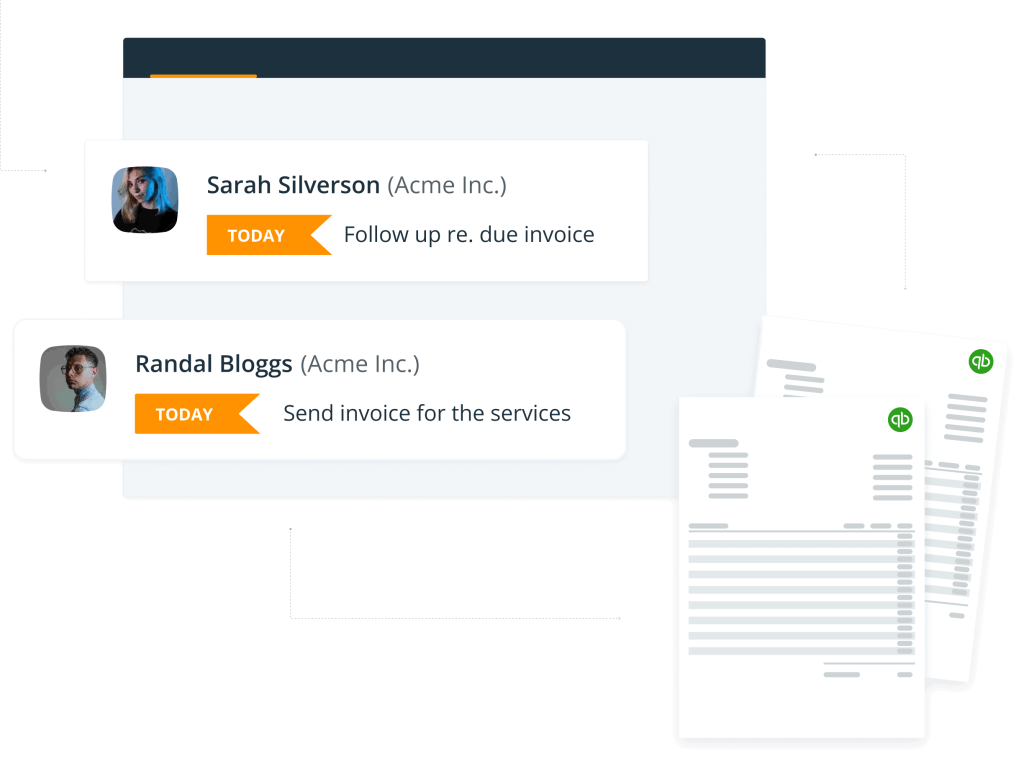 4. Keep your emails brief
You probably have many email templates for different situations. One of the easiest ways to speed up your invoicing process (and other processes as well) is to keep your email templates within your CRM.
Take some time aside to organize these templates, use variables for personalization, and add attachments, if relevant. Make sure that you have a few templates for different follow-up scenarios. Keep them brief and easily accessible.
Can you use QuickBooks as a CRM?
The short answer is no.
Not every tool that can store contact details is a CRM. In fact, data storage is only one of the three main components of a good CRM system.
Small businesses sometimes use QuickBooks (and other software that has contact information) as a CRM. In practice, a good CRM should have three components:
Data storage and management features. This is where a simple spreadsheet can be enough if you don't have many contacts or much data. QuickBooks is also good for storing and organizing financial and accounting data.
Relationship-building features are a distinctive functionality of CRM software. For example, follow-ups, email management, task management, integrations with other apps, etc. These features help businesses not only organize information about clients but also use this information to build meaningful relationships with them.
The in-built methodology is a stand-out feature of the best CRMs on the market. For example, OnePageCRM is famous for its unique Next Action principle, which is especially handy for small and growing businesses.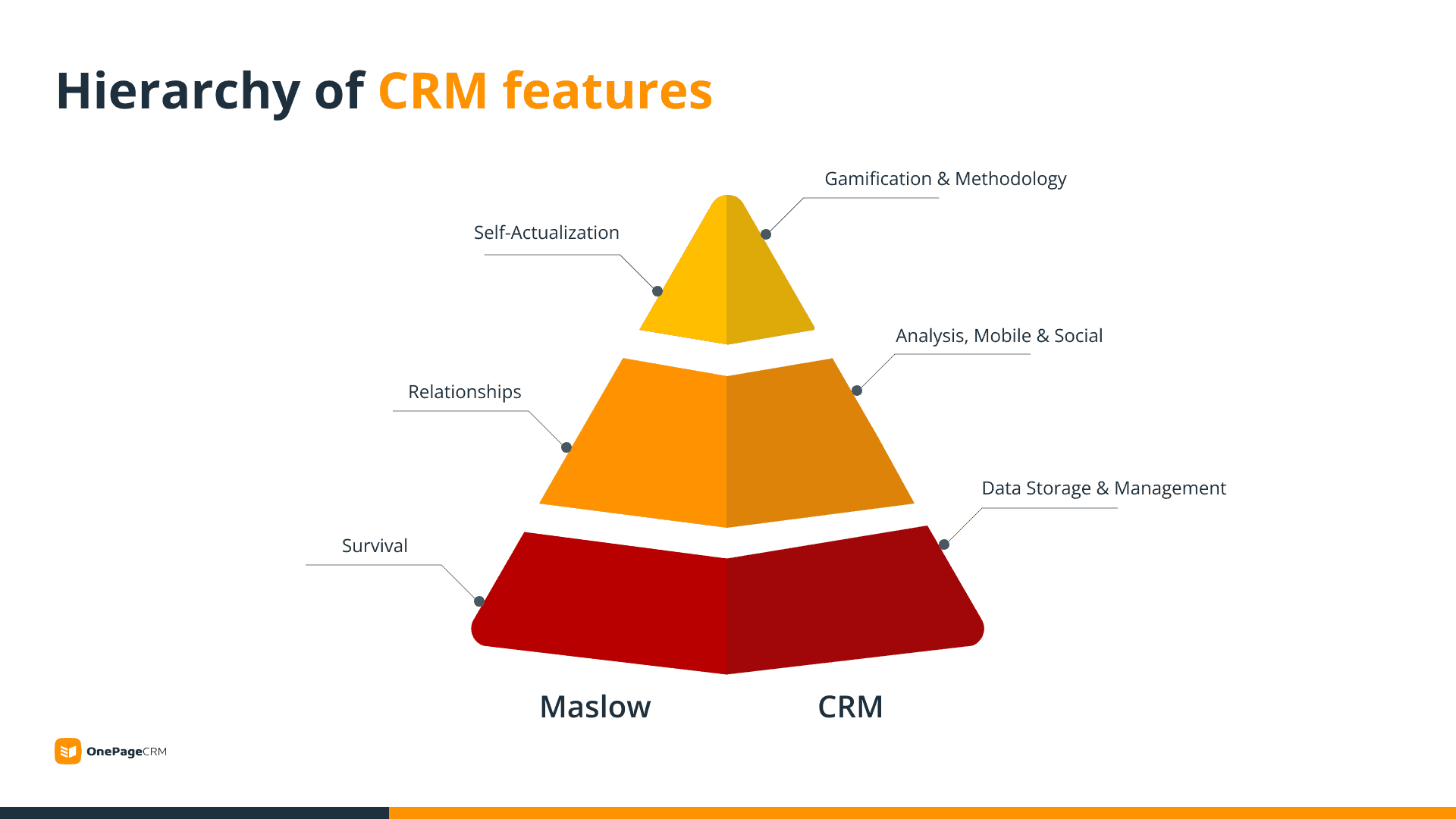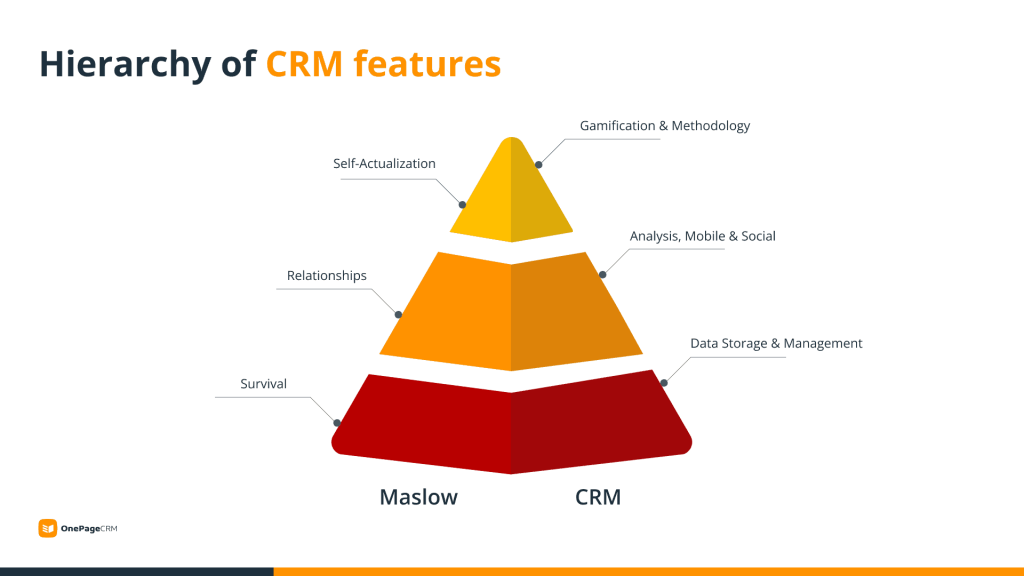 These three components make up a powerful CRM system that can act as a central and reliable database for your business. If at least one of these components is lacking, it usually means that the tool you're using might not be enough for building business relationships.
For example, although QuickBooks has good data storage and management features, it doesn't focus on relationship building and doesn't have an in-built methodology. That's why it's not a contact relationship tool and you need to integrate it with a proper CRM system.
Quickbooks CRM integration: The best way to send an invoice to clients
By integrating Quickbooks with OnePageCRM, you can process invoices faster and avoid errors. Automating invoicing and billing is one of the most obvious benefits of integrating QuickBooks with your CRM.
This integration also helps you gain full control over your sales process and transparency in your clients' profiles. Although all important information is available in one place, you don't simply store this information but can act on it by sending a timely reminder or getting in touch with clients to double-check some details.
To learn more about QuickBooks CRM integration, check out this Help Site page.
If you have any questions or comments, drop us a line at support@onepagecrm.com.