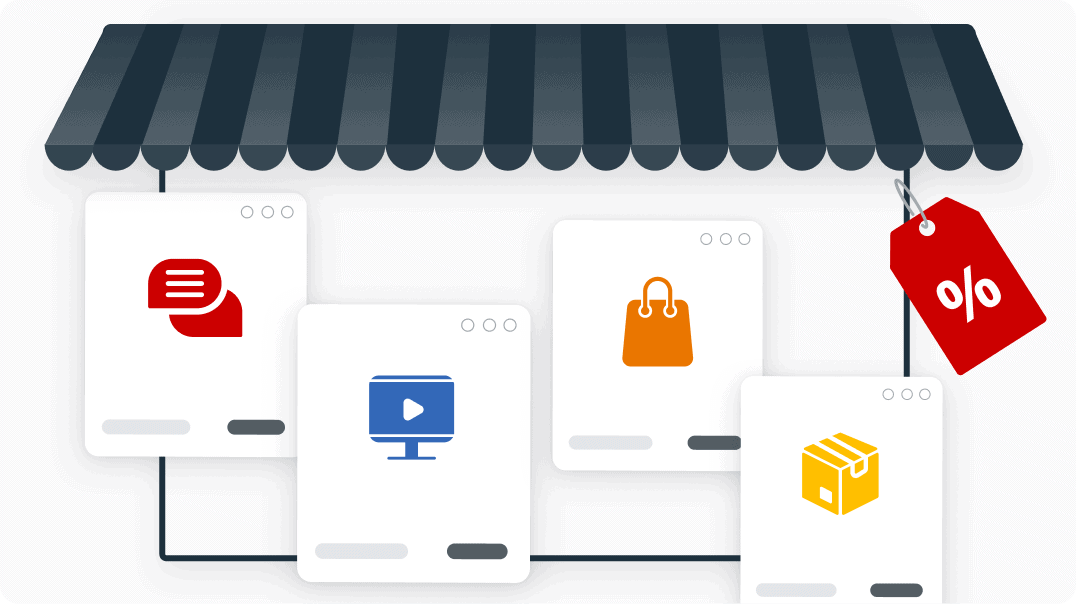 Organize services and products into a Catalog in your CRM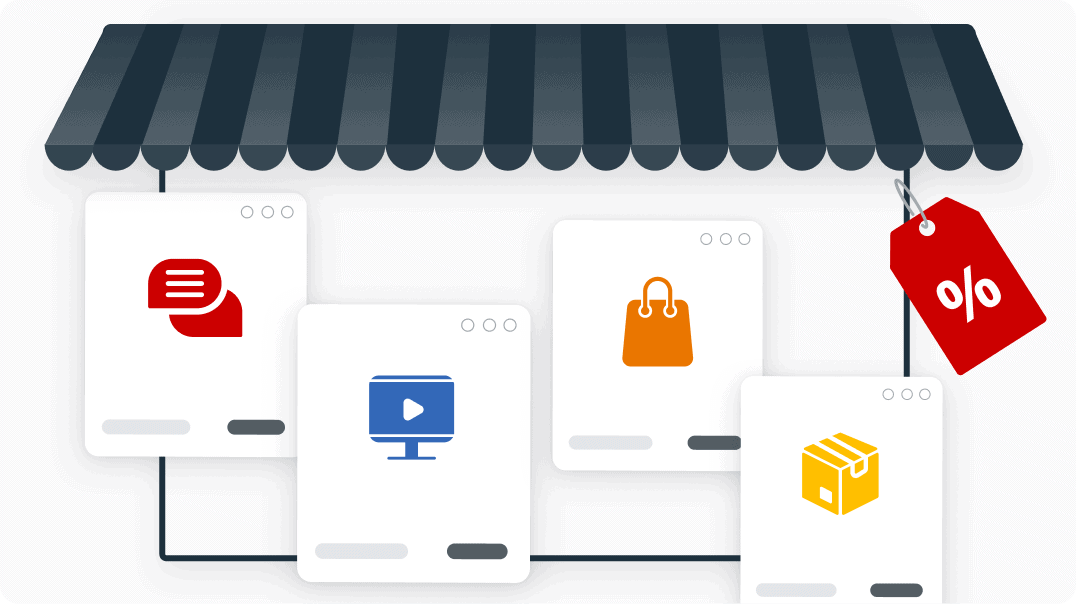 If you have a list of standard services or products that you regularly use in invoices or sales quotes, make sure to check out this recent update: Your CRM now has a Catalog page.
It's a centralized database of all your services and products, neatly organized and easily accessible across your team.
With the CRM Catalog, your invoicing and quoting processes will be even more streamlined.
Let's have a quick look at what the Catalog is and how you can use it in your business.
What is a Catalog in a CRM?
A Catalog is a collection of products and services within your CRM. Besides the names of your services, the Catalog has all the important information about each offering:
their pricing,
cost,
and description.
Once you add all services to the Catalog, you can start associating them with individual deals.
It'll take just a few clicks to create a deal and add the services that you are selling to a specific client: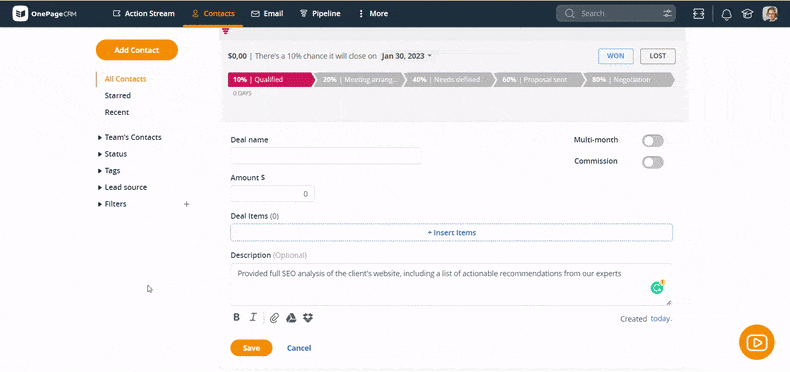 You can also bundle your offerings together.
For example, if you're a telecom provider with internet and TV services and you sell them together, you can group them in a Bundle: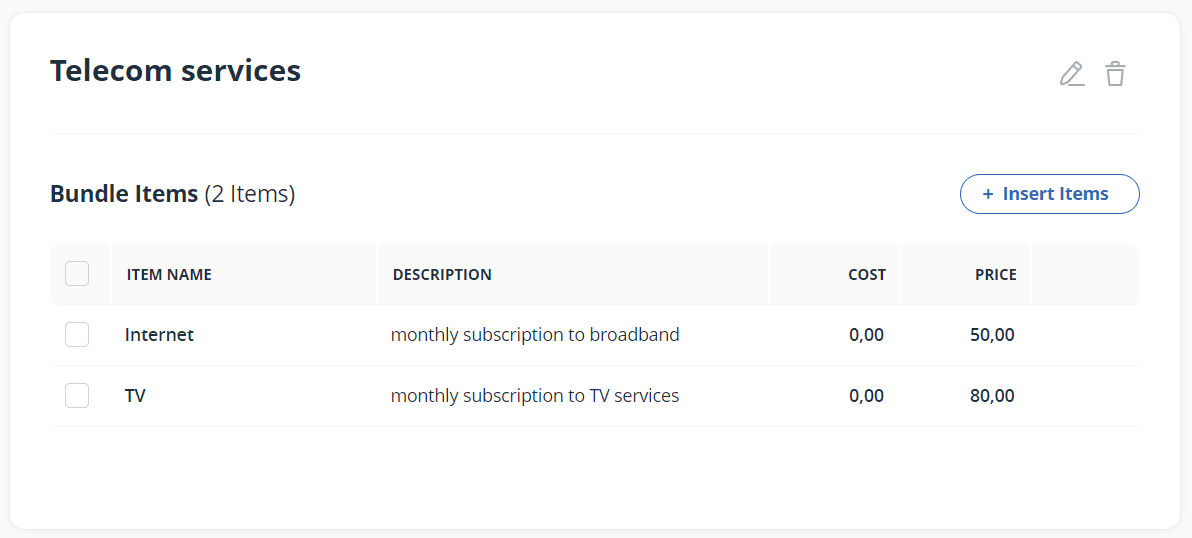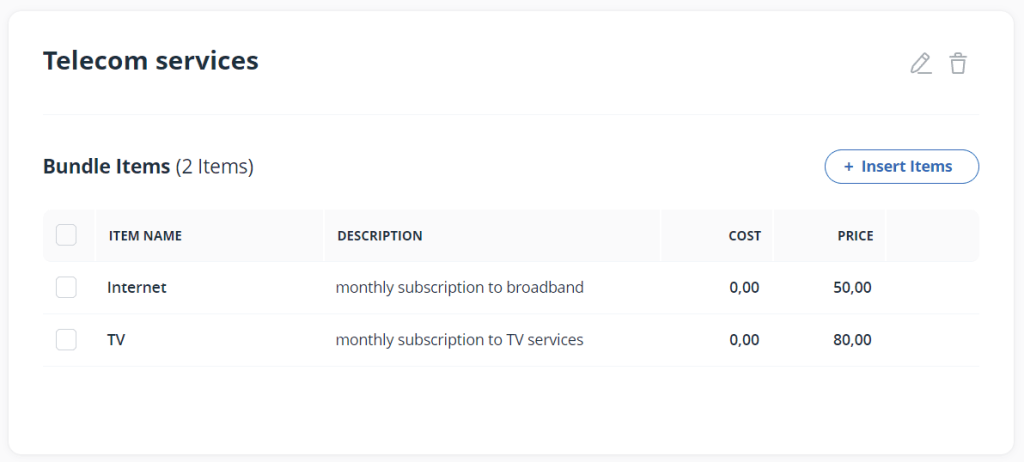 What is the difference between a Catalog and Items?
If you've been using OnePageCRM for a while, you're no stranger to Deal Items. We introduced this feature back in 2018. Previously, they were available as part of the Deal functionality.
Items are products or services that are used frequently in your sales process.
They play a significant role in your sales success and help you avoid repetitive data entry. That's why your CRM now has a dedicated page for both Items and Bundles (a.k.a. the Catalog).
In the Catalog, you can easily create a reusable list of Items along with their descriptions and prices. For example, an Item can be a "Consultation call" or "Web development". By grouping several Items together, you can create Bundles that include several of your services provided as a package.
Once your Catalog has all of your current offerings, you can start associating the Items and Bundles from the Catalog with individual deals. For example, if you helped a client onboard and train a new employee and you have a fixed price for this service, you can create a new deal for this client, quickly choose the relevant service from your Catalog, insert it into the deal, and invoice the client. OnePageCRM will automatically pre-populate the invoice with the details from the deal and calculate the total price.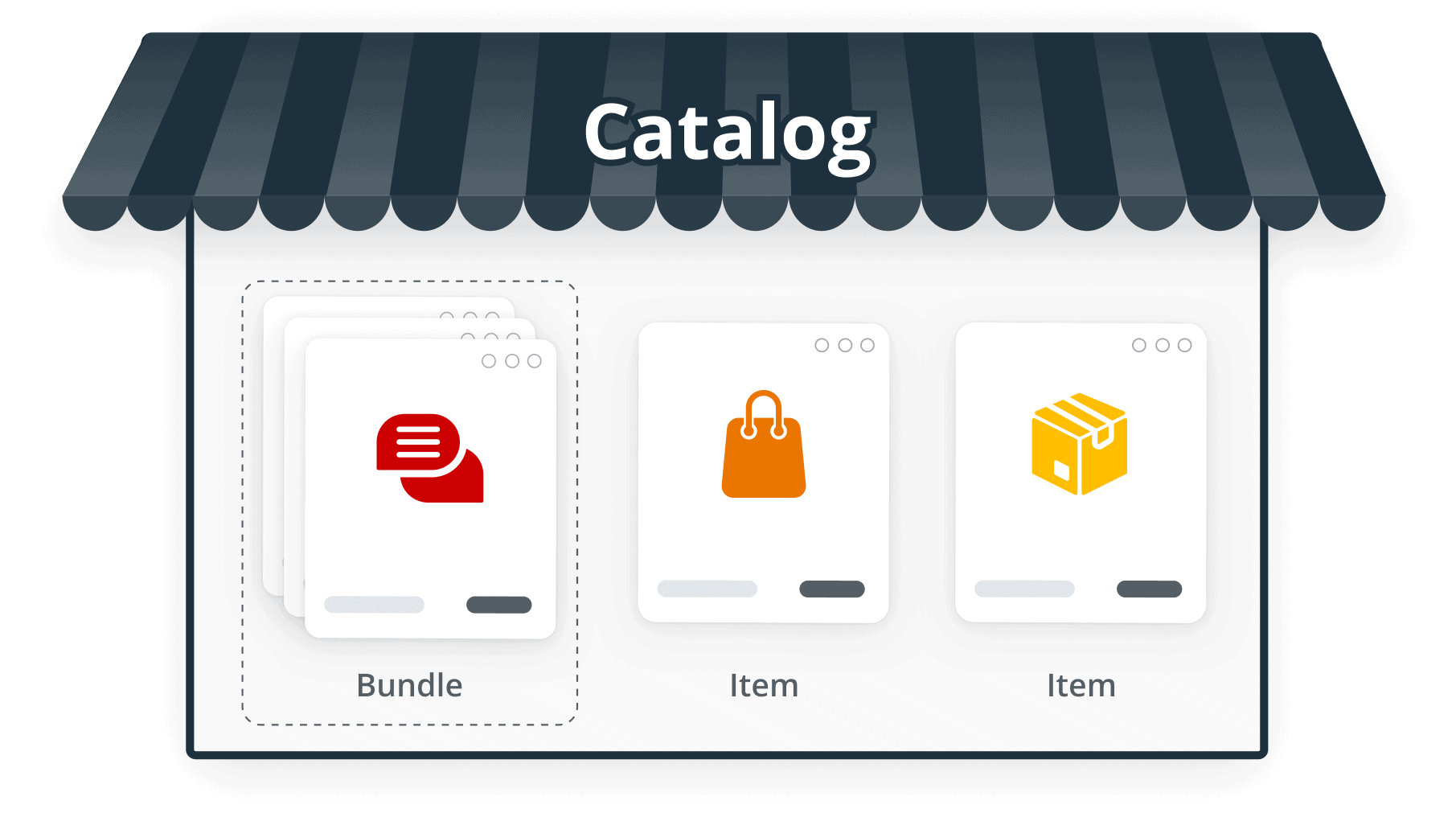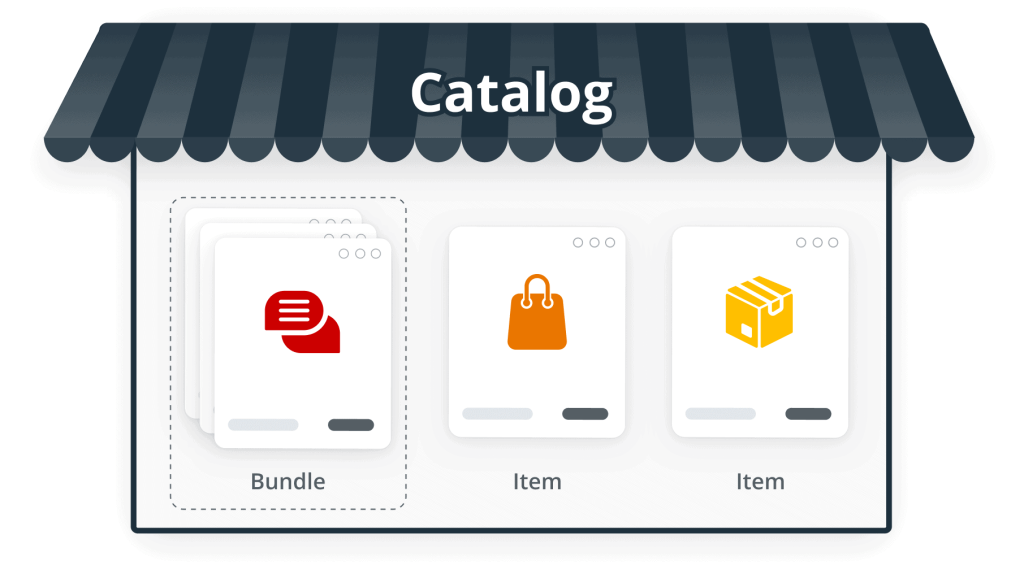 Advantages of having a Catalog in your CRM
Here are a few advantages of why businesses of all sizes keep their services and products in their CRM Catalogs.
Benefit #1: A better organized list of services
Your CRM is the single source of truth. Instead of jumping between different apps and documents, you can have the most up-to-date list of your services right within your CRM.
It's very easy to add, clone, edit, or delete any services or group them together in Bundles.
Benefit #2: Faster and more efficient communication with clients
Once you have a standardized list of services, it takes just a few seconds to create a deal and send a quote or an invoice to your client. For example, OnePageCRM integrates with several accounting apps, such as QuickBooks, Xero, and Sage. With one of these integrations, you can invoice clients straight from within your CRM.
There's also no manual typing involved: we will automatically pre-populate the invoice with all details from your CRM Catalog, such as services provided, their total price, the date of the invoice, the client's name, and so on.
If your client asks about a price during a call, you can quickly look into the Catalog and quote the price on the spot. In the Catalog, you'll find the search bar that will help you easily look for specific Items or Bundles.
Benefit #3: Easily accessible information across your team
The Catalog has the most up-to-date information about your services. If you have multiple CRM users, your team members can easily access the Catalog and use it for creating deals, sending sales quotes, or invoicing clients. No more breakdowns in communication!
With the Catalog, all information about your services is right in front of you. It takes just a few clicks to add a service (or services) to an individual deal and send the due amount to a client.
To find out how to set up a product and service Catalog, please refer to this Help Site article.