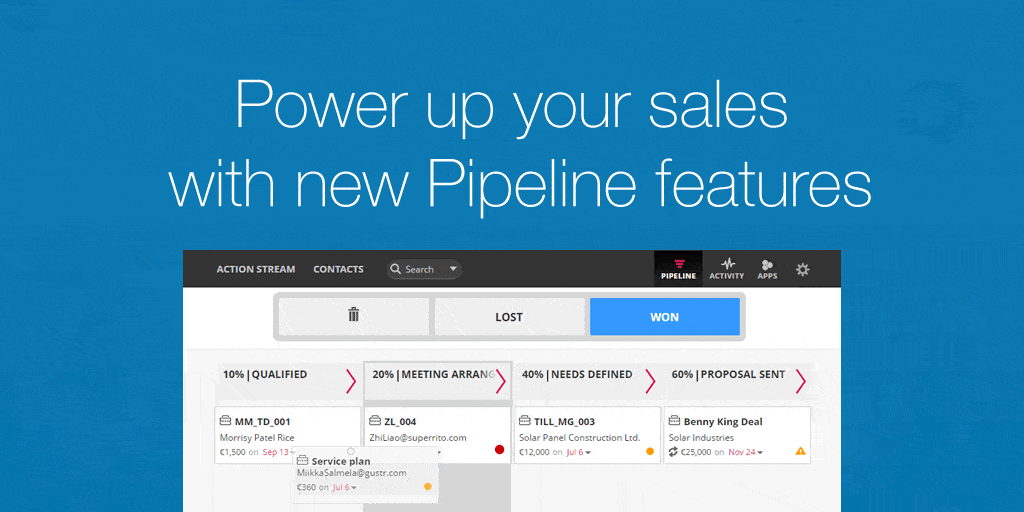 Power up your sales with new Pipeline features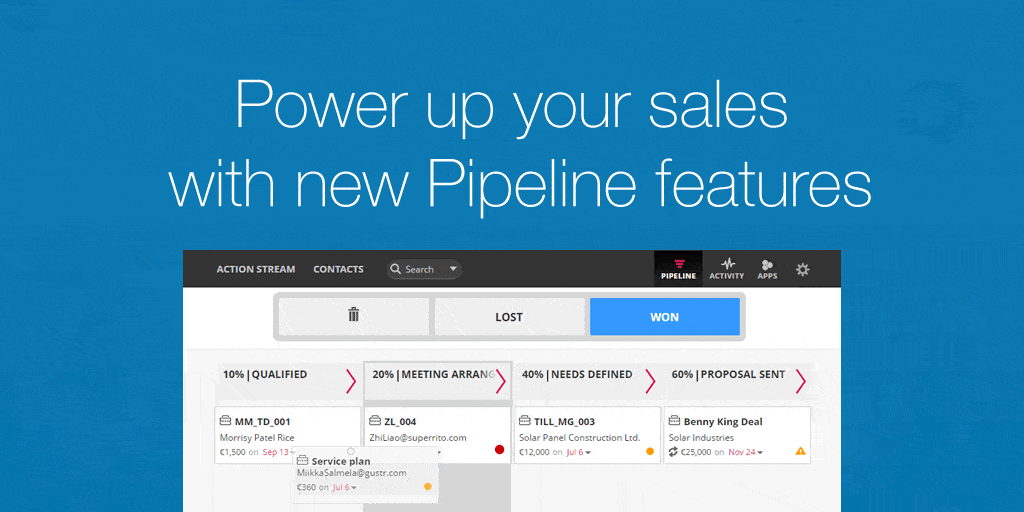 Initially, the Pipeline page was mostly used for forecasting, but now it's become an interactive tool so you can work smarter from within this page.
By smarter we mean the ability to create deals and associate with existing contacts, or even create new contacts and add Next Actions directly in the Pipeline view.
In addition, you have the option to select a Kanban view (a simple drag-and-drop tool), allowing you to work with speed while having better visibility of your deals.
Summary of the new update
Use Kanban view to quickly drag-and-drop deal cards between stages
Add, edit, view, and clone deals from inside the Pipeline page
Create new contacts from the Pipeline page
Add a Next Action to a contact from within a deal
Get a full deal timeline (history) displayed
Manually sort deal cards
Kanban Pipeline View Benefits
Visualize your workflow. Use your pipeline to prioritize and monitor your active deals, giving you greater transparency across the entire team.
Improve sales processes. You can now move deals faster than ever through the Pipeline stages with our new drag-and-drop feature, reducing clicks and giving you a better feel for deal flow.
Increase productivity. In addition to adding a deal and a new contact in the Forecast view, you can add a Next Action directly from the Pipeline. No need to go back to your Action Stream.
Intuitive and easy to use. Manual sorting allows you to sort deals the way you want to while keeping you focused.
Avoid unnecessary admin. A new option to clone a deal, ideal for those repeat sales!
Visualize and manage your deals in Kanban view
Sales managers and sales reps can work better with Kanban's clean and uncluttered view as they can now easily manage their deals directly from the pipeline page.
The ability to see the deal name, organization, contact, deal value, the expected close date, along with the Next Actions means you can work swiftly and close more deals. Great for your business if deals are a key focus!
Drag-and-drop deals in your pipeline
The drag-and-drop functionality allows you to work smarter, quicker and is convenient when you have a number of deals to update rather than having to select each deal manually. Sales reps can now keep their deals on track. Simply drag and drop your deal of choice into the next deal stage, it's that easy!
The simplicity of this feature makes closing deals faster too; to mark a deal as 'Won' or 'Lost' just drag and drop into the 'Won' or 'Lost' bar.
Easily reach your sales targets
What's more the deal values will be updated automatically across each stage. Now you can see straight away how close you are to reaching your sales targets and how many more deals you need to close in order to do so.
It's really powerful for Sales managers who like to see total sales figures at a glance and for sales reps it helps to be more productive. It's a win-win!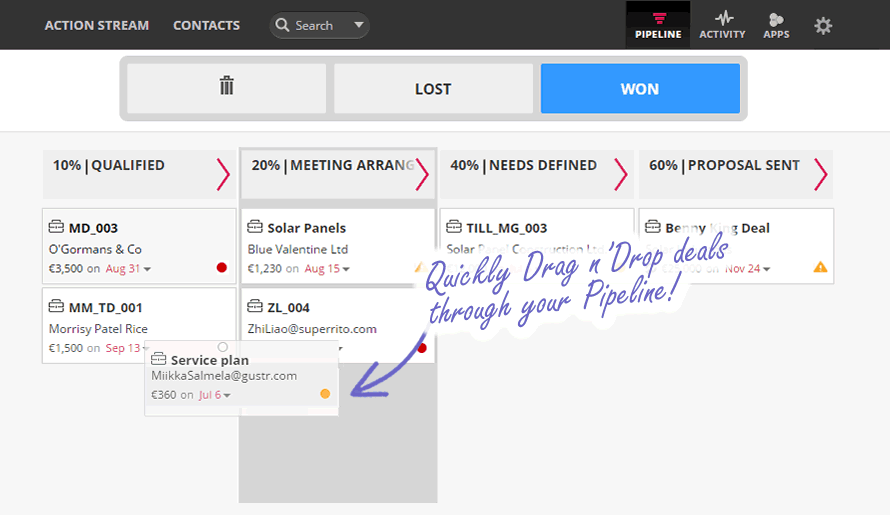 Add, edit, view and clone a deal from inside the Pipeline page
Sales is a competitive game and it's vital to be on top of your deals at all times.
Here's what you can do with the OnePageCRM's Pipeline:
add, view, edit, and clone a deal directly from your Pipeline page
view your deal stages in a format that suits you
choose between wide or narrow view to expand or contract your deals
Viewing or editing multiple deals can be time-consuming. However, this major update to the Pipeline can save you time as you don't need to leave the Pipeline page.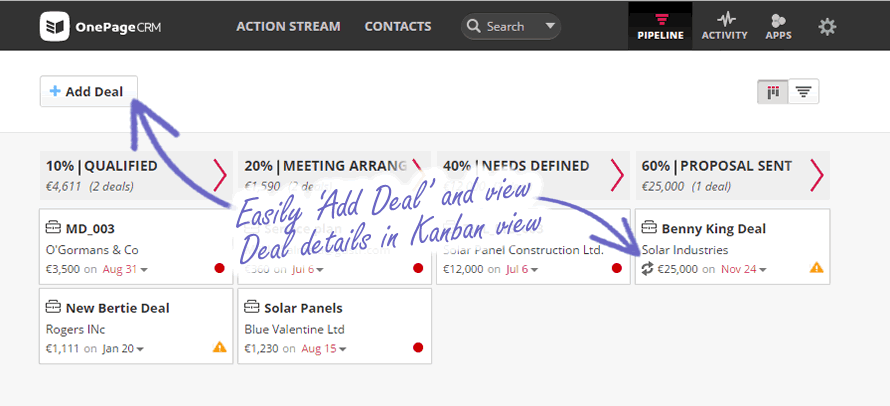 Create new contacts from the Pipeline page
Keeping things simple, it's in our nature. Now, you have the ability to add a new contact when creating a deal from within the Pipeline page, saving you time going back and forth from contacts to your Pipeline.
Perhaps you have a new contact in an organization you already do business with, simply add the new contact's name and search for an existing organization. The contact will then inherit all the details of this organization. Simple.
Add tasks to a contact within a deal
OnePageCRM is all about taking actions. Now we've given you the ability to take action right from within your Pipeline. Setting Next Actions helps to keep your Pipeline moving.
Therefore, the ability to quickly add one to a deal from the Pipeline page means you can be sure that it does not slip through the cracks and that you do not miss an opportunity to close.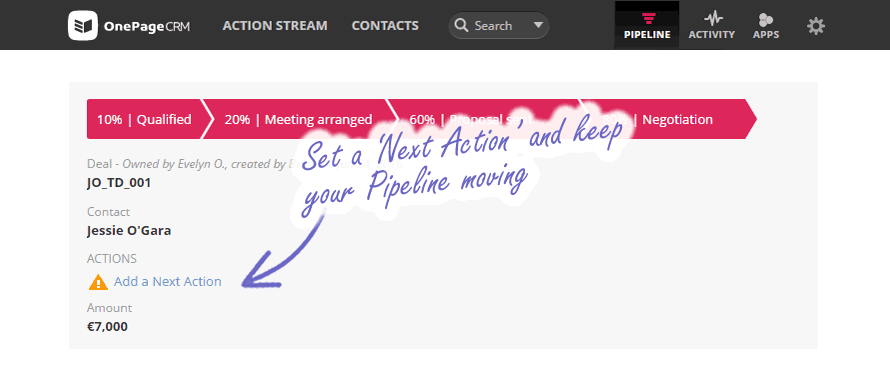 Additionally, you can see at a glance whether there is a Next Action already set for a contact or what action you need to take to help you move that deal forward. A Next Action associated with a deal is represented by coloured dots on the bottom right of a deal.
Prioritize deals with color-coding
Each colour represents a different action (same as the colours displayed in your Action Stream). When a Next Action is overdue, the dot will be red, today's Next Action will be highlighted in yellow, whilst a Next Action for the future will appear with as a grey dot.
Contacts with no Next Actions will be represented by a yellow warning triangle, so you can easily add one without leaving the page. Set your sales team up for success and immediately set actions for those deals that need a follow-up.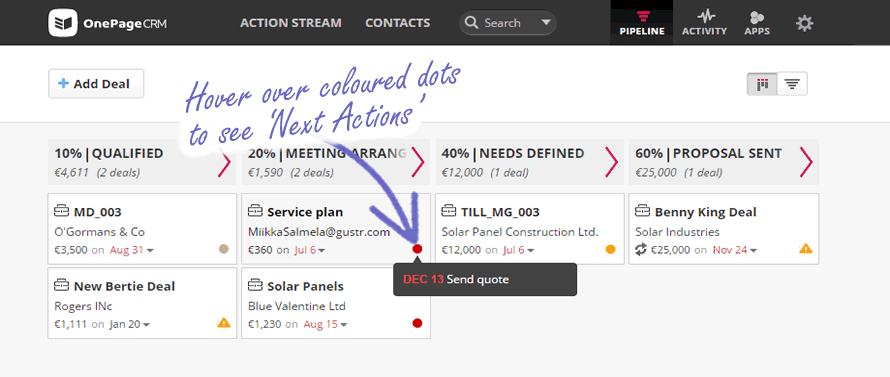 Full deal timeline (history) is displayed
You can easily see a history of events associated with a deal whether it's moving a deal from one stage to another or adding a dedicated note, it's all there under the deal timeline.
Kanban view ultimately helps you to manage and improve the flow of work, offers greater predictability and increases the value to the customer.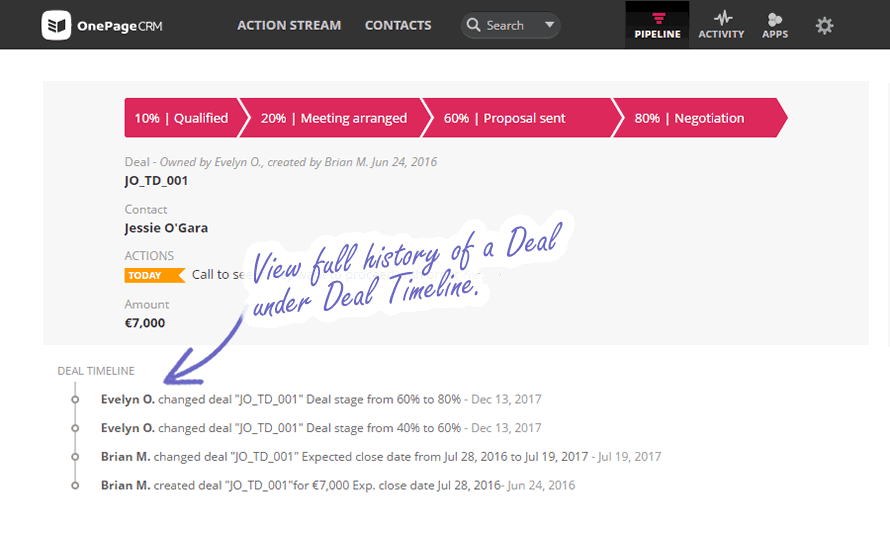 Manually sort deal cards
OnePageCRM's Kanban pipeline is unique, within Kanban view you have the ability to sort deals manually and they will remain where you place them. OnePageCRM won't interfere!
There are many variations of sales pipelines and how you manage and visualize is specific to your business.
In Kanban view you can sort deals in two ways; if you prefer to focus on the numbers you can sort by Amount or maybe you like to work towards deadlines then sorting by Expected close date is for you.
Over the last year we've worked hard to enhance our Pipeline, and after a lot of development and feedback from our customers, we are thrilled to finally announce Kanban is out of beta and available to everyone!
Kanban Pipeline view is now more interactive than ever with the drag-and-drop ability and easy deal 'add' and 'edit' functionality so what are you waiting for? Get to work today and keep your sales process moving with these exciting new additions.