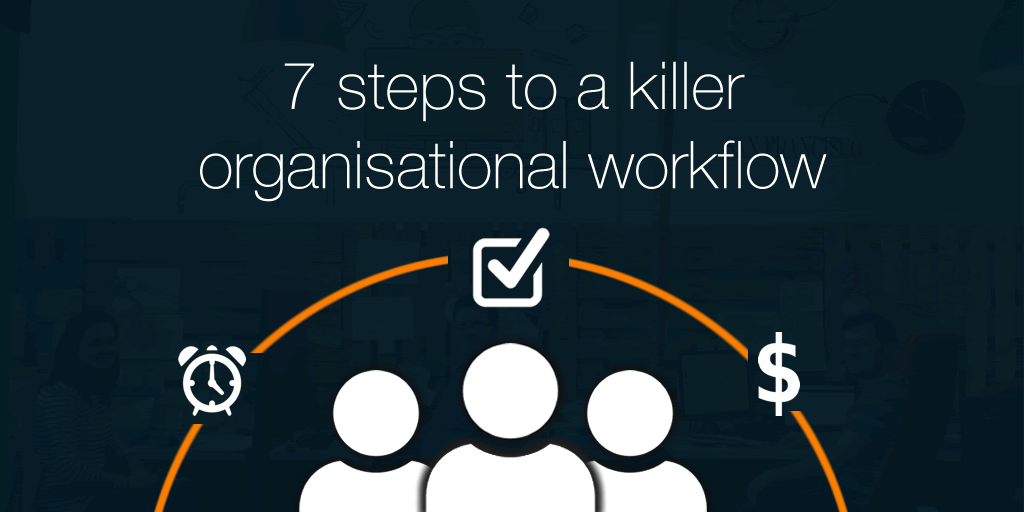 7 steps to improve your sales team workflow with CRM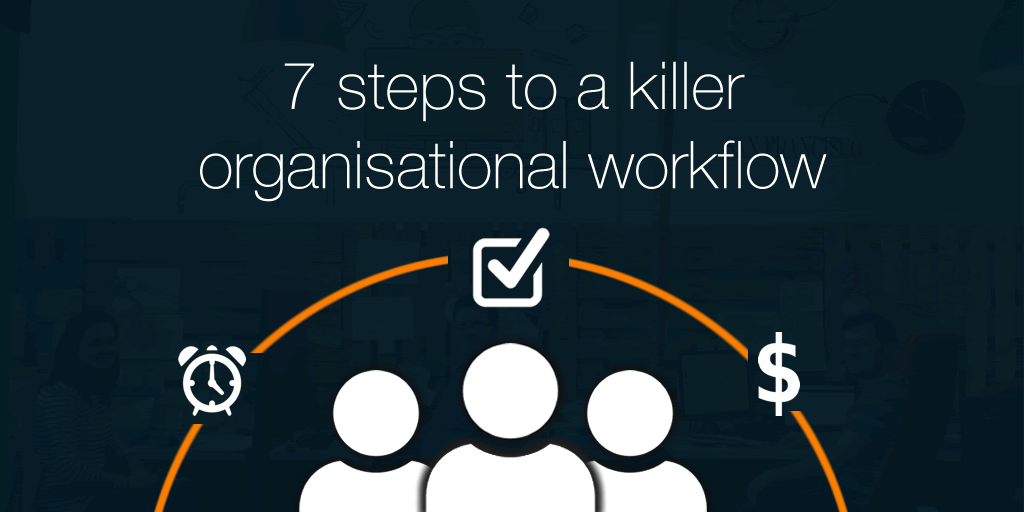 Working as part of the Customer Success team for almost three years, some of the top questions which arise are 'how do I assign another team member a task' or 'can I be notified about a project'.
Well it's easy! In today's post, we'll demonstrate how you can stay connected with your team members by looking at an example of a typical team's organizational inside sales workflow.
"CRM's are not just about managing relationships with your prospects & customers, it also involves managing relationships with your team"
What is a sales team workflow?
A workflow is a number of repeatable steps which leads you toward a specific goal.
In sales, this can include anything which moves a contact through your funnel, for example; qualifying, disqualifying, or nurturing a prospect.
A clearly-defined workflow using a CRM puts all contact data at the tip of your salesperson's fingers. This frees up their time to focus on speaking with prospects and solving their business problems at each step.
Why is sales team workflow important?
Take a marketing services agency ''Make it happen promotions".
Let's imagine they are rapidly growing in both sales and staff. Keeping all team members in the loop is vital to ensuring tasks are completed and deadlines are met, which in this industry, leads to repeat business.
Meet Jen (virtually). She's the initial point of contact for introducing the business to the outside world. As head of business development, her first task is to find leads.
How can a CRM help with improving sales team workflow?
Here are 3 benefits of using a CRM for your team workflow:
Data security: CRM is a single, secure location for contact data so it's all together and easy to access.
Structured sales process: A workflow is ordered, so adding a note, tag, custom field, or updating a status at each step helps to keep tight control over the process.
Continuous improvement: By logging all activities in your CRM, you can review and take measures to improve each step as time goes on.
Steps for using a CRM to create a sales team workflow
Once you've added CRM to your workflow, rolling it out across your sales team is easy. Your team members can collaborate with one another, assigning actions and adding notes to keep everyone up-to-date during the sales process.
This keeps communication channels open across your team and your contacts engaged with your company.
Use tools for quick lead capture
Speed up lead nurturing with CRM integrations
Assign Next Actions to follow up on time
Automate sales quoting
Pass the lead on to the next best person
Invoice your newly acquired client without leaving the CRM
Keep the contact active in your CRM
Step 1: Use tools for quick lead capture
Using the OnePageCRM Lead Clipper, Jen can quickly auto-create a lead in OnePageCRM (in one click) along with a Next Action to kickstart the sales process.
Each lead is added to the CRM with an auto-created profile, including contact details, name, and the Next Action.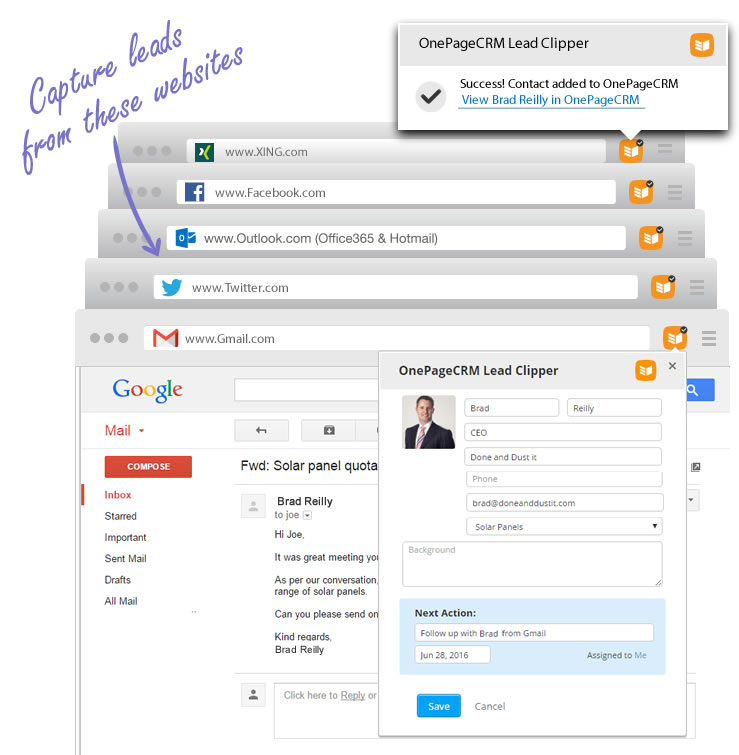 Step 2: Speed up lead nurturing with CRM integrations
Leads that come into the CRM using inbound marketing are typically somewhat qualified. Once they land in your CRM, your SDRs can begin with an initial discovery call or email and work through your sales process.
Here the nurturing really begins. Once the lead, Brad, is added to OnePageCRM, it is automatically added to a MailChimp campaign for initial engagement and further qualification.
At this stage, Jen is aiming to convert Brad from being a cold lead to a qualified lead.
Step 3: Assign Next Actions to follow up on time
Once Brad reacts (in this case, let's assume that the reaction is positive) by replying to the email, it's now time to further build the relationship using a series of touchpoints called Next Actions.
By continuing to set one Next Action at a time, Jen is nudging closer to closing the deal with Brad.
Jen may even need to involve a number of other people from her agency to complete the sale. So after she qualifies Ben, she can easily use the CRM to assign another member to do a demo before the account manager tries to close the sale.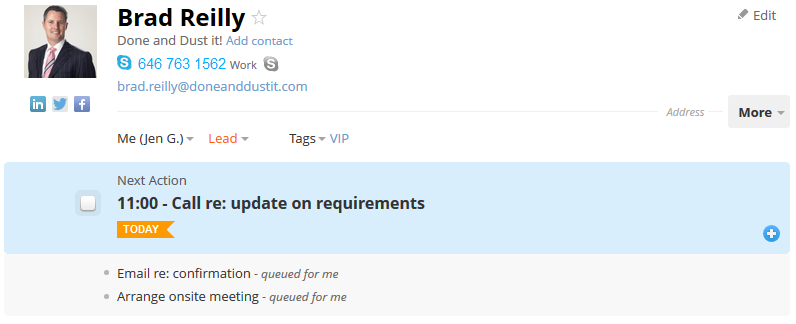 Step 4: Automate sales quoting
After three calls and an onsite meeting, Jen now knows Brad's requirements and he's quickly moved from being a lead to a hot prospect.
Time to create a deal and prepare the quotation. She can easily connect the deal and send it via Quick Quotes.

Step 5: Pass the lead on to the next best person
Jen's work is done once the order has been placed. What to do next?
Assign a Next Action to her project manager Liz to follow up with the logistics team and an estimated time of arrival.
Liz uses a Project management tool called Trello to ensure the relevant steps are carried out. She can connect this with OnePageCRM using Zapier.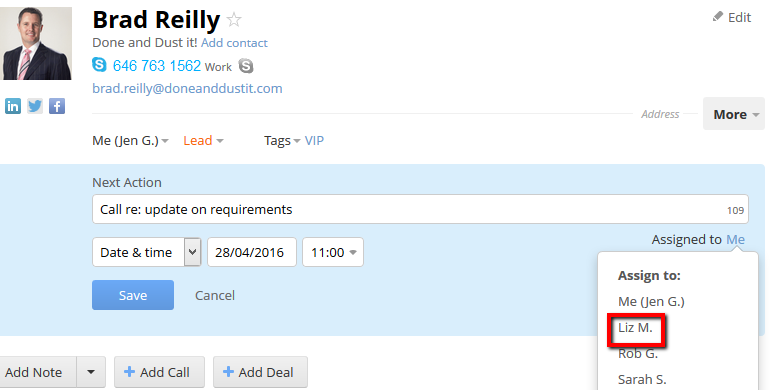 To ensure Liz is kept in the loop, Jen also notifies her of the latest note she added with full details of the order.
Jen can do this directly from within the CRM system, she doesn't need to create a separate email thread with Liz.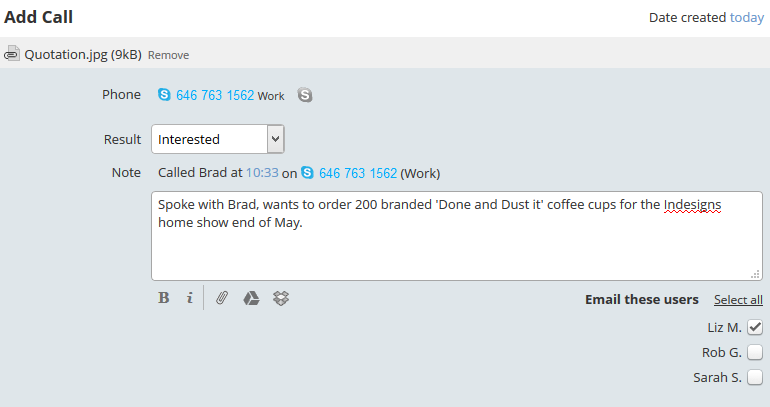 Step 6: Invoice your newly acquired client without leaving the CRM
On dispatch of the product, Liz assigns the follow-up to Rob.
Rob is part of the accounts team. One of the most critical parts of the process is ensuring each customer gets invoiced. Rob can do this using the accounting apps like Xero or QuickBooks that integrate with their CRM.
He doesn't have to recreate the contact again and he can create draft invoices over in Xero, Sage, or QuickBooks right from within OnePageCRM.
Step 7: Keep the contact active in your CRM
Here comes the power of account management.
Now it's time to assign ownership of the contact to Sarah who's the account manager. Sarah will be the principal point of contact from here.
This is the final stage in the process for this customer (for this job).
Under the Activity Summary, Sarah can quickly see all the previous notes, deals, and any email correspondence sent to Brad.
This keeps the relationship open and growing, leading to more repeat business.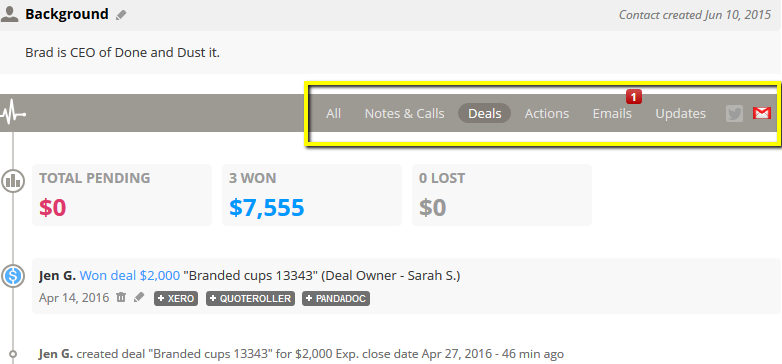 By using OnePageCRM's team collaboration features, it ensures the relevant key point people are notified when required. Ultimately, leading to smoother communication and more sales.
Summary: Benefits of using CRM for team workflow
Helps to build an efficient team workflow
Keeps relevant team members involved
Avoids duplication of work: you spend less time in your emails
Keeps all the data in one place: Full history of activity with contact stored in the one place
Infographics: 7 steps to improve your sales team workflow
How OnePageCRM can help improve your sales workflow
OnePageCRM is ideal for managing your sales workflow. With a simple, and intuitive design, the CRM system is as easy to use as email, so it does not get in the way of your sales workflow.
Completing a Next Action at each step and logging it in your CRM ensures that you will not drop the ball as they move through your sales funnel:
Assign Next Actions: Team members can assign Next Actions to each other for each stage of the sales process. Assignees receive an email notification detailing the action for the prospect.
Structured sales process: Status labels help to move prospects through each step of the process so team managers can quickly see how many leads are at each step and monitor how long they spend there before moving to the next.
Activity logging: Each action or call with a contact is logged in their timeline so your reps have a bird's eye view of the account at a glance.
Note. This blog post was first published on May 3, 2016 and was updated for relevance in May 2023.