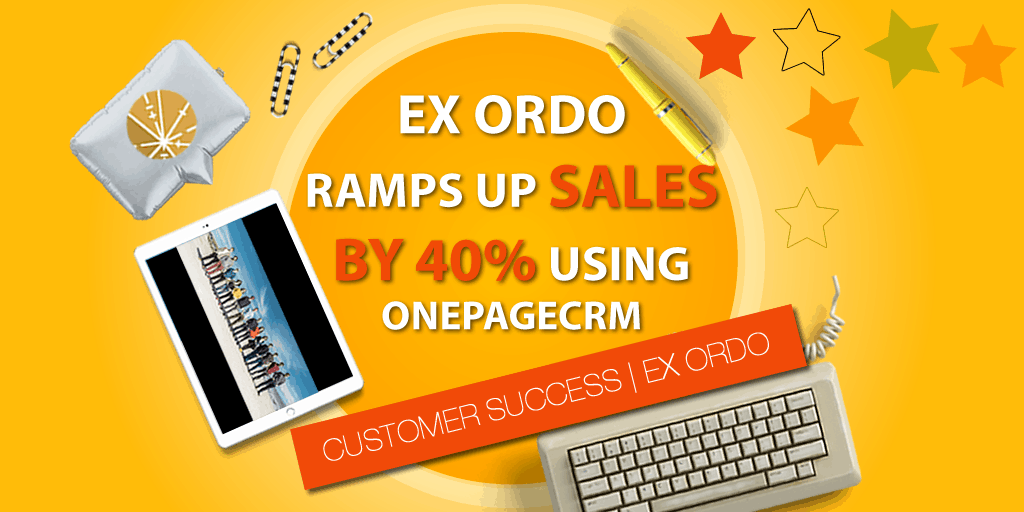 Ex Ordo ramps up sales by 40% using OnePageCRM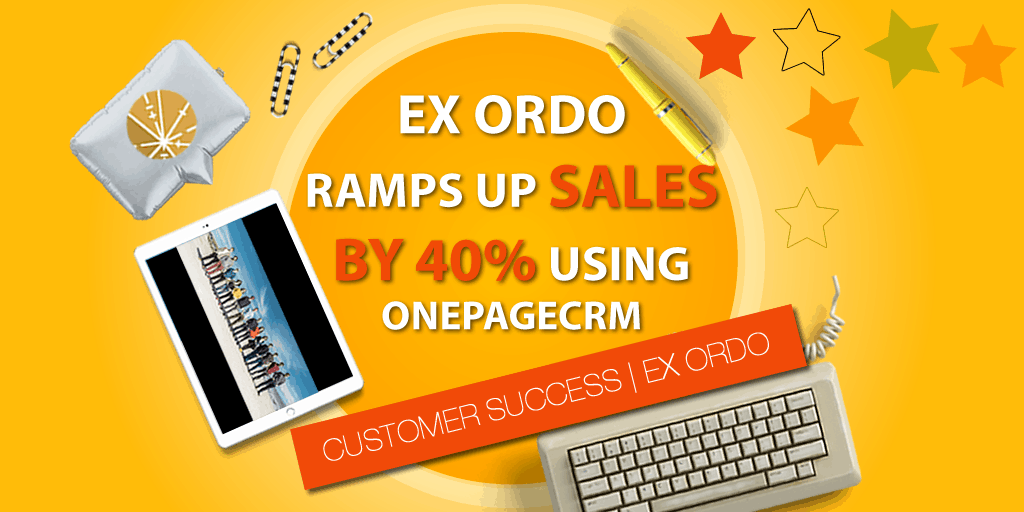 Ex Ordo has built the best software in the world for managing a research conference and powers conferences for universities, associations, non-profits, and event management companies around the globe.
In order to stay on top of queries coming in via the website, management realized they needed a centralized system to help with lead generation and lead management.
Its search for a simple and easy-to-use CRM was the answer. After trying a number of CRMs, OnePageCRM's lightweight software with a built-in sales focus was a clear winner!
Ex Ordo is a software company and a leading developer of web and mobile applications for research conferences. They work with Universities, research institutes, member associations, professional bodies and event management companies who have sought out their
award-winning Abstract Management software
.
Based in Ireland, they have been in operation in this niche market for 10 years, currently employ 14 people, supporting 60 countries across the world with huge plans for further expansion.
Seeking a CRM for business growth
With a growing customer base, Ex Ordo knew they had an opportunity to increase sales by converting more of their web traffic to leads through timely follow-ups. However, they lacked the tools to follow this through.
They had no CRM system in place, and their previous process comprised of manual data entry and multiple Excel sheets. This resulted in difficulties within internal communications, where it was unclear who had followed up. They needed a tool that was going to help them act faster and become more organized. With this, they identified the need to implement a CRM.
After a tiresome search for a CRM and finding other CRMs just too complicated for their needs, OnePageCRM came recommended by a friend. Along with this recommendation, it all came down to the ease of integration and simplicity OnePageCRM offered.
As Dermot was a GTD fan, he was intrigued as to how these principles would be applied to CRM and he was not disappointed. They got to work almost immediately and the team were set up and actively using OnePageCRM within a matter of hours.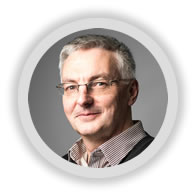 "OnePageCRM allows us to switch on & get to work straight away…It's a perfect tool and to be able to hit the ground running so quickly was great."
Head of Sales and Co-Founder, Dermot Lally
A streamlined approach to getting organized
Before OnePageCRM, Ex Ordo's sales team did not have an organized follow-up process in place – now that's all changed. After importing their data they got to work immediately by assigning next actions!
OnePageCRM makes it easy for users to set a 'Next Action' not just for themselves but for their colleagues too.
"What do I want to spend my time doing? Figuring out when I'm supposed to call somebody or actually calling them?"

The Ex Ordo team benefit immensely from an increase in communication and efficiency. There are multiple touchpoints involved in the sales process; once a sales rep completes a demo, a follow-up to include video resources is sometimes required. In the past, some follow-ups fell through the cracks as they are not always undertaken by the same sales rep who perform the demo.
Now, once the demo has been done the team member can easily assign a Next Action to the person responsible for video resources. As a result, their follow-up process is simplified, workflow improved, and benefit from smarter team collaboration across the board.
"OnePageCRM is a fantastic sales tool. It is really easy to set up and use. Every day OnePage gives me my list of people to contact that day and the specific action that I need to do. It's that simple – all the relevant info is on a single screen, and I get a great sense of achievement as I tick through the list."
All team members are now on the same page with OnePageCRM's shared CRM functionality. This was an important factor for Ex Ordo as a key aspect of their sales process is improving communication across their different divisions; Sales, Marketing, and Customer Support.
The ability to quickly view the activities and sales pipeline on an individual and team basis were incremental to their daily productivity. "The software makes it easy to share information and gives visibility across the team," says Head of Sales, Dermot Lally.
Their pipeline has been a fundamental guide for the sales team, helping them to easily see what deals they need to concentrate on and when!
The adaptability of the deal stages enabled Ex Ordo to analyze each step in their sales process carefully before adjusting it to suit their business goals. Once they customized their sales pipeline and started adding deals they hit the ground running.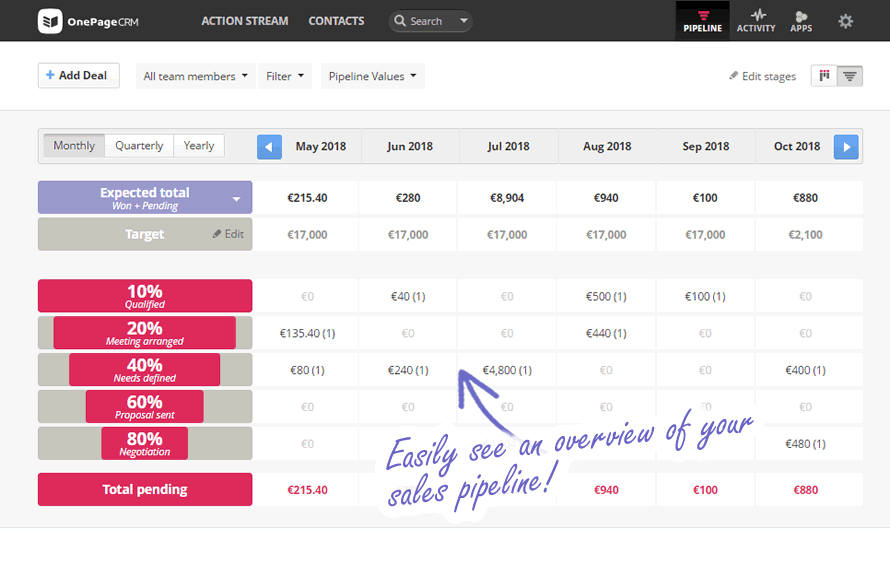 "OnePageCRM makes it very easy for us as a sales team to see where and what deal stages we need to work harder on in the pipeline."
In addition to the visibility of pending, won, or lost deals on the Pipeline page, the export feature in OnePageCRM gives management the ability to quickly export deals in advance of weekly sales meetings.
They are able to retrieve the relevant reports easily and filter accordingly for different departments so they can discuss in detail.

"OnePageCRM is like oxygen, I breathe it every day. It's always open and helps me stay engaged with my key customers and see what action needs to be taken to move a sale forward. If someone took it away from me, I guarantee my sales would be affected and I wouldn't be very happy either!"
Ex Ordo really likes the ability to integrate with the business apps they use daily and OnePageCRM makes doing so easy! The team uses Google as their email client and loves the connection OnePageCRM has with Gmail and Google contacts. They use Zapier to integrate with their other favorite apps to help in connecting their daily activities to one central location.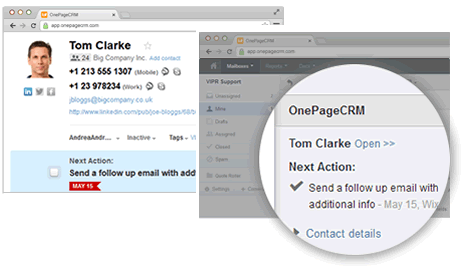 In addition, their Customer support team uses Help Scout (a Customer Service software) for managing all their support-related conversations.
Having Help Scout provides Ex Ordo with the opportunity to deliver a delightful customer experience with up-to-date and relevant knowledge.
By connecting up Help Scout with OnePageCRM, they are aligning their Sales and Customer support teams to ensure they are both kept in the loop on the status of prospects or customers.
As it's easy to use and offers greater visibility, all Ex Ordo's contacts and deals can be viewed directly within Help Scout. What's more is they can open a contact in OnePageCRM in just one click straight from Help Scout! Ideal if they need to set a Next Action to follow up.
The simplicity is what attracted the company to OnePageCRM and its easy-to-use functionality encourages Dermot and the team to be more productive on a daily basis. "First thing I do is open my email application and OnePageCRM app. It's a part of my working day," says Dermot.
Fast-tracked results lead to business growth
Since using OnePageCRM, Dermot has seen Ex Ordo go from strength to strength. OnePageCRM has enabled the team to implement a better all-round sales process by giving them the ability to prioritize leads and ensure timely follow-ups.
As a result, they have become more organized, and as an added bonus they are ultimately selling more.
The Sales Pipeline allows them to easily prioritize what deals are near closing and need to be followed up. It gives them that extra motivation to push a deal over the line.
"OnePageCRM has definitely helped us close more business."

It also gives the team a deeper insight into the revenue expected and won. The team is able to be more proactive in their approach and as a result, they have seen a sales growth of 40%.
Team communication has improved twofold and now all members are kept in the loop on what's happening with their clients. This has eliminated the need to send extra emails on custom updates. It's a win-win.
"We recommend OnePageCRM all the time! I tell anyone who's in search that OnePageCRM is a really simple, easy-to-use CRM and you will be up and running in a couple of hours!"
If you'd like to find out how OnePageCRM can work for your organization, get in touch by emailing support@onepagecrm.com or tweet us @OnePageCRM with #AskOnePageCRM.