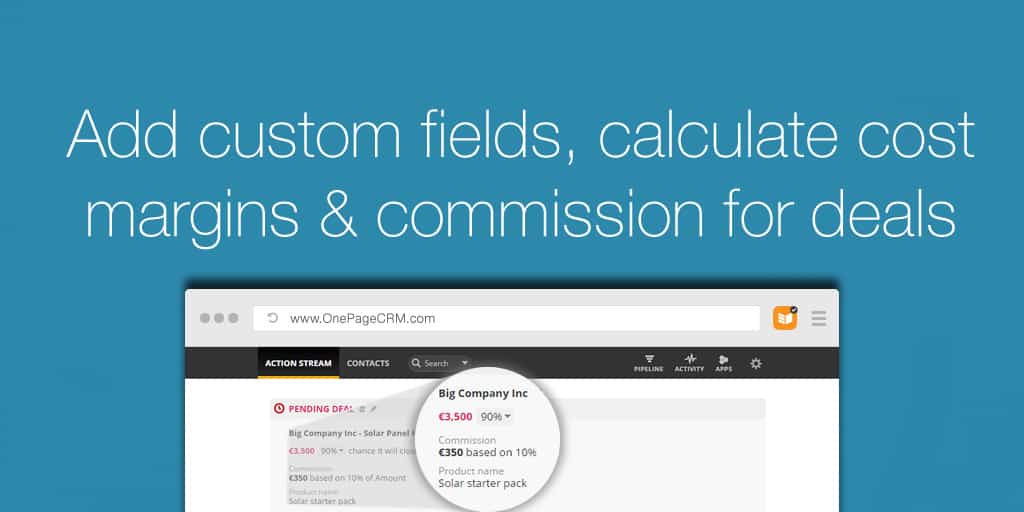 Add custom fields, calculate cost margins and commissions for deals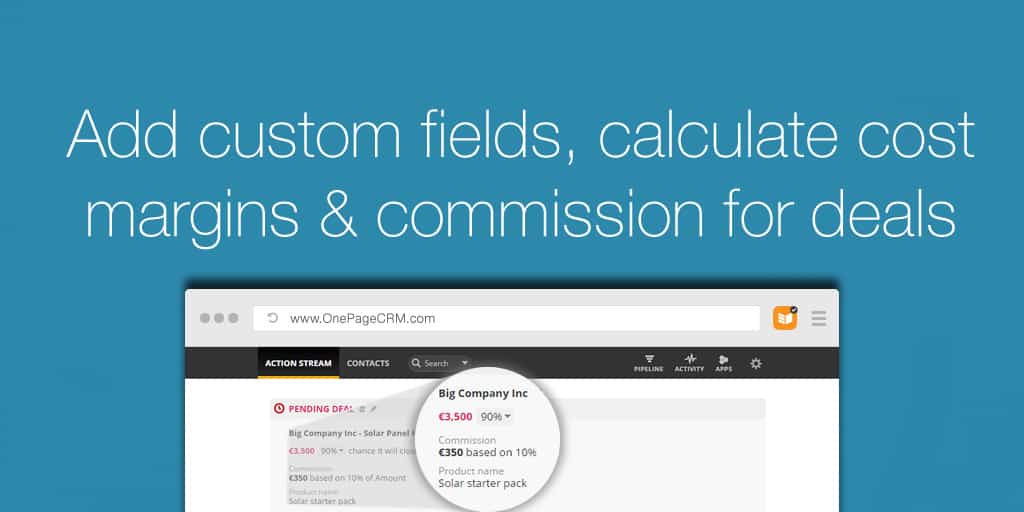 Manage your deals and margins better by using custom fields for deals.
The latest update has three main features:
Calculate the margin based on Cost (Deal amount, Deal margin & Deal cost).
Calculate commission (total).
Custom fields (Single line, multi-line, dropdown, number, checkbox & date).
Show the margin of your deal using the cost
Use the new Cost field to quickly calculate the Margin of your deals. When Cost is enabled, fill in the deal details and we'll automatically display your margin for that deal.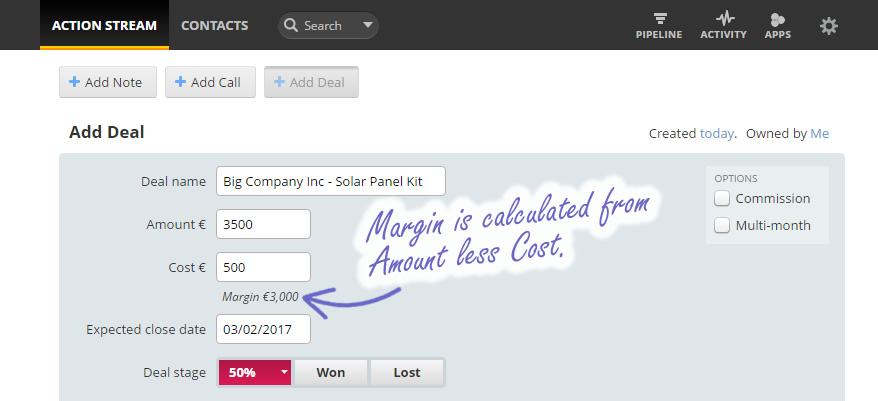 Displaying the deal's margin ensures that your salesperson stays focused on maximizing the profit while giving them some room to maneuver on price if required.
Calculate commission for deals
The second update in this release is a commission calculator. Quickly enable the Commission check box and the calculator will display the value for this deal.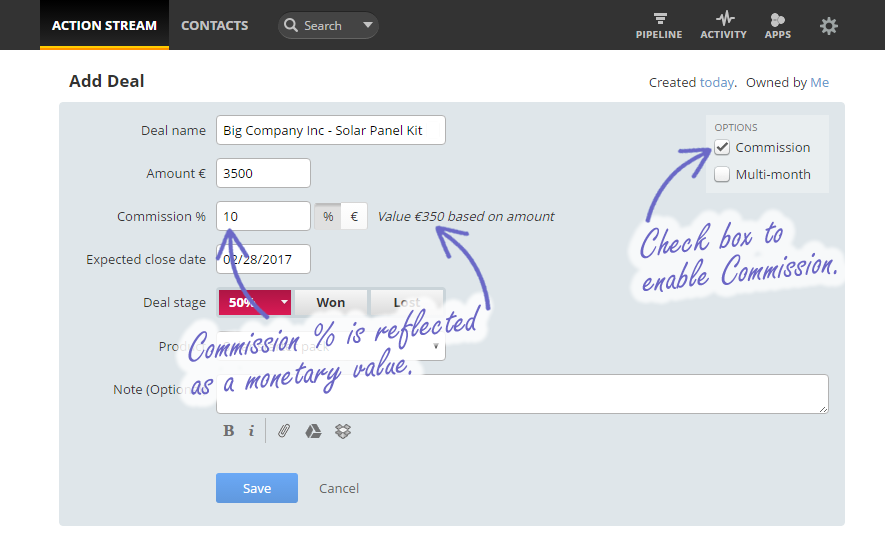 When calculating commission as a percentage, there are two options available. Calculate based on:
Total amount: Simply enter the commission % as above and it will be calculated from the Amount.
Margin-based: Enabling margin-based commission will calculate the % from the margin only.
Benefits of calculating commission:
Clarity and focus for sales reps: Sales reps can easily view their commission as a part of the overall deal to stay motivated to win the sale.
More control over commission-based earnings: A salesperson can view their Pipeline in terms of the commission they can expect to receive to stay on top of future earnings and focused on achieving the best result for both the company and themselves.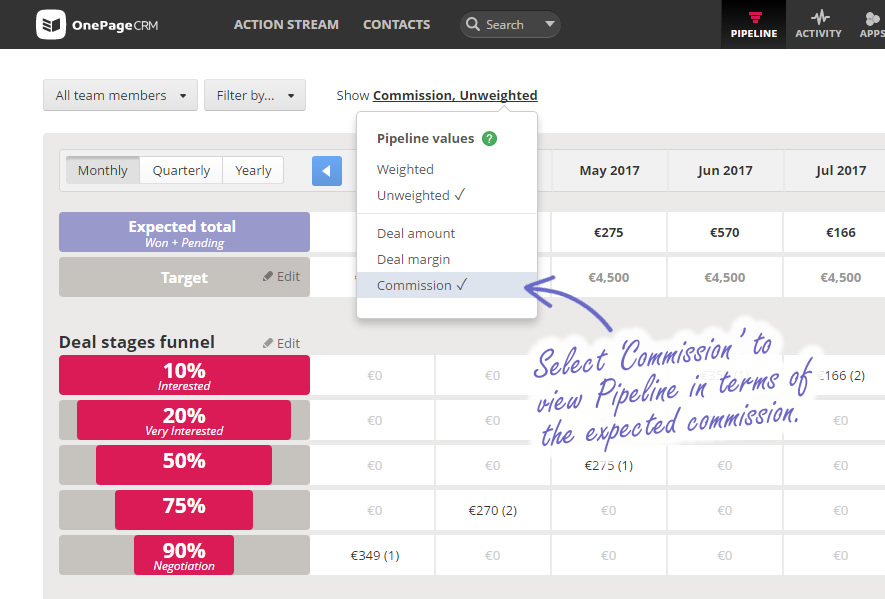 Custom fields for Deals
Custom fields allow you to assign specific information to a deal. They are ideal for logging the name of the product or service being sold, or whether the invoice has been sent to the customer or not.
Custom fields are searchable making it easy to quickly find and segment them in OnePageCRM. So if you're looking for all Pending or Won Deals relating to your 'Solar Panel' range, simply run an Advanced search and we'll display the results.
Benefits of Custom fields for Deals:
Store relevant or additional information: Adding a custom field such as the list of products or services offered by the user makes it easy to quickly identify what the deal relates to.
Segmenting: Advanced search brings up specific deal information such as a list of all people who bought a range of solar panels in the past.
Predicting demand: Searching the product/service custom fields for Pending deals allows you to keep an eye on demand for each. This allows your manufacturing or sourcing department to be prepared in advance as a deal moves towards closing and to predict lead times to meet it.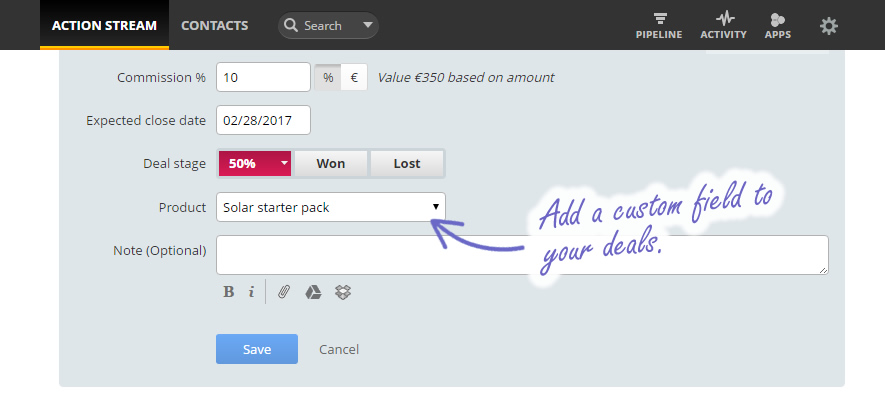 Conclusion
The margin of a deal is important for the sustained viability of your business. Use our new margin calculator to make sure that your deals bring value to both your company and your customers.
Keep your salespeople motivated by adding commission to their deals either as a fixed rate, a percentage of the total amount, or as a percentage of the margin. Salespeople can also view their Pipeline in terms of Deal Amount, Margin, or Commission.
Adding custom fields to deals gives you room to add more information to your deal which is searchable in OnePageCRM. This is useful for segmenting your deals and predicting demand for your company.