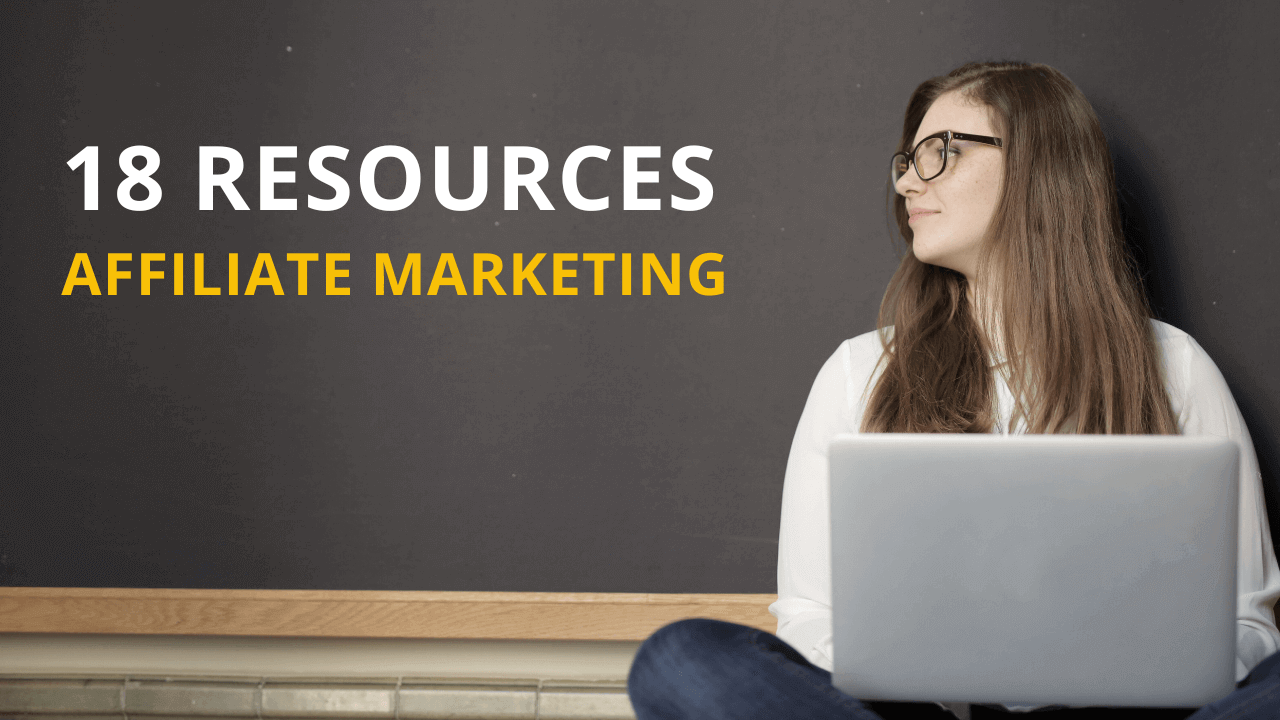 Affiliate Marketing: 18 Free Courses, Blogs, and Books (2023)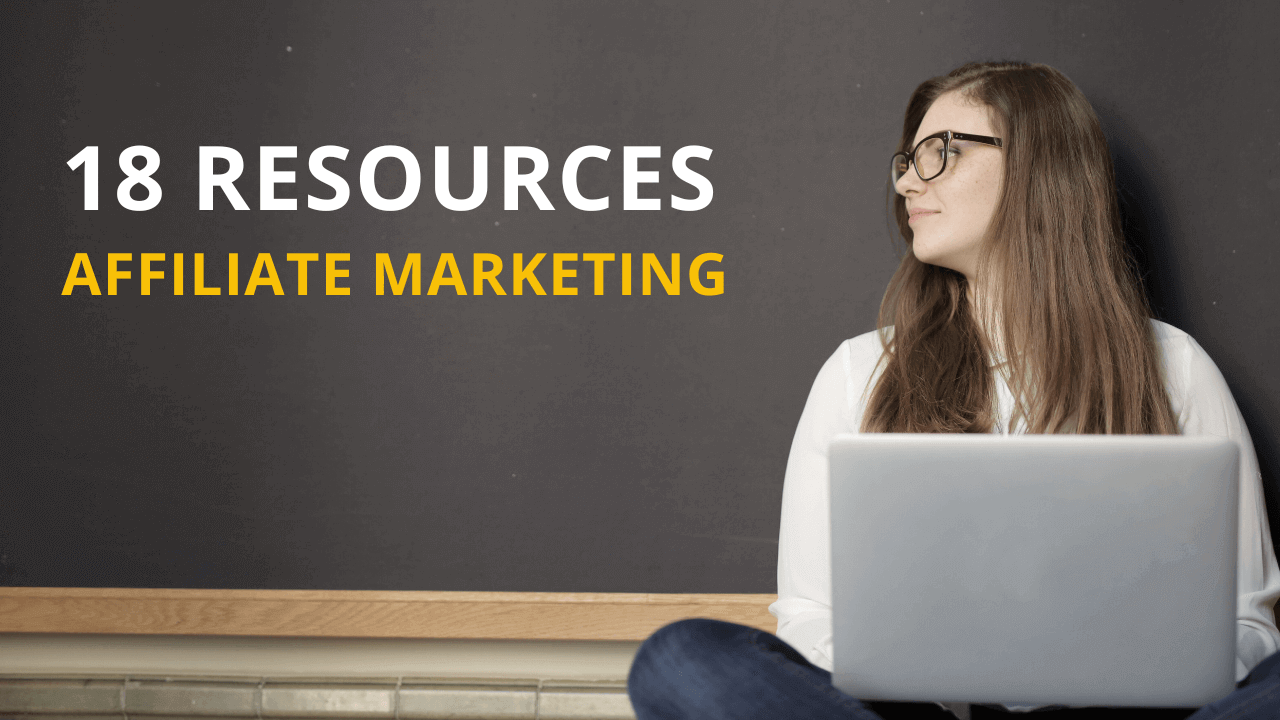 Affiliate marketing requires a combination of different skills from sales and copywriting to social media management, email marketing, and much more. Usually, big companies have separate people working on each of these tasks.
However, doing affiliate marketing is different from running a marketing department at a large organization. To succeed in affiliate marketing, you need to learn how to be good enough in all of these areas.
So let's have a look at 18 resources that will help you refresh and build skills that every successful affiliate marketer needs.
Digital marketing resources for affiliates who are just starting out
Did you know that affiliate marketing falls under digital marketing? If you're thinking about ways to improve your affiliate skills, this is a good place to start.
1. Fundamentals of digital marketing: This is probably one of the most famous free digital marketing courses on the internet. It is provided by Google and covers a wide range of topics: content marketing, business strategy, advertising, e-commerce, email marketing, search engine marketing, SEO, and much more. If you're a beginner affiliate, this course will introduce you to the world of marketing.
2. Neil Patel's Digital Marketing Blog: Forbes named Neil Patel one of the top 10 online marketers in the world. Even if you're an experienced affiliate marketer, you'll definitely find something new and valuable in his posts. His team keeps the posts practical, so you can easily implement some ideas and suggestions in your affiliate campaigns.
By the way, Neil was a guest speaker at one of OnePageCRM's webinars and shared tips on how to increase traffic to your website and click-through rate. We highly recommend checking out this webinar for everyone who wants to increase their affiliate sales!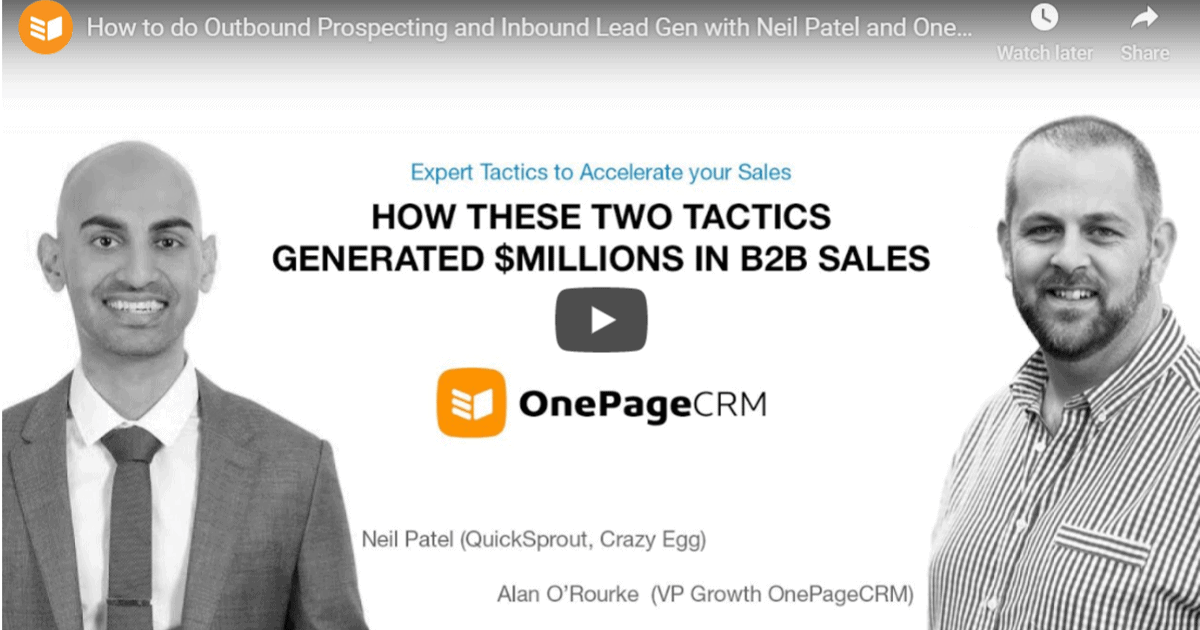 Copywriting resources for both beginner and experienced affiliates
As an affiliate marketer, you'll want to master the skill of delivering a message to your audience in the right way. It's different from industry to industry but you can easily notice that there are many affiliates to compete with. This is why your content needs to stand out…and grab attention straight away!
3. Copywriting for Conversions: This is a free video course that consists of 8 modules. It takes around 1.5-3 hours to complete and covers a wide range of topics: from writing product reviews to creating content that brings conversions (sounds like an affiliate dream!).
4. Copywriting for beginners: This course is available on the Skillshare platform and promises to show how to come up with the right words to generate sales. Finding a way to deliver your message is an important skill for every affiliate, regardless of your industry or experience. Although Skillshare requires a paid subscription, you can watch this course for free during the 7-day trial. And since this course is just 1-hour long, you can find plenty of other short courses to watch during the trial.
5. Ogilvy on Advertising: Affiliate marketing is a type of advertising so you might want to go back to the very basics. Although not all sections in David Ogilvy's book are relevant today (the book was written in 1985), there's a section on the secrets behind advertising and tips on how to write copy that people will actually read.
6. The Adweek Copywriting Handbook: While Ogilvy's book provides the foundation for anyone interested in advertising and marketing, the Adweek handbook is dedicated specifically to copywriting and provides expert advice on how to write compelling copy. And the good thing is that you can test these tips in your affiliate campaigns.

Content marketing resources
While copywriting is believed to be about persuading, grabbing attention, and increasing brand awareness, content marketing is a different kind of game. It's more connected with producing long-form educational content. If you're skilled in content marketing, you focus on building your authority and reputation in a specific field. This is an important skill for any affiliate marketer so we listed here a few resources to help you get started and improve.
7. Content Marketing Institute: If you are not a fan of videos or books, you can check out Content Marketing Institute, one of the most reputable resources on content marketing. The website has blog posts written by leading content marketers who share their expert tips and case studies. And you can also sign up for their newsletter.
8. Content Marketing Foundations: LinkedIn Learning has a variety of introductory courses. This one provides a short intro to content marketing (just under one hour). Definitely worth checking out if you're short on time and just need a starting point for your affiliate marketing skills.
9. Blogging for business: In this 4-hour free course, Ahrefs covers all the basic steps needed to create a successful business blog: from analyzing traffic potential to promoting content via different channels. Although having a blog is not a prerequisite for an affiliate marketer, you might still want to give this course a try.
10. Semrush blog: Although Semrush is a keyword research tool, they have a great blog on content marketing. Most of their blog posts are comprehensive and have actionable recommendations that you can put into practice as you go.

Search engine optimization (SEO) resources to improve your affiliate marketing
As an affiliate, you need commissions. To get them, you need more high-quality traffic and be easily discoverable online. This is why SEO is so important for anyone working in affiliate marketing.
11. Ahrefs YouTube channel: YouTube is a good alternative to courses for those who don't like schedules and curricula. When you are browsing YouTube, you are the one choosing how to structure your learning path, what videos to watch next, etc. Ahrefs has a collection of very good YouTube videos on SEO. You can find Ahrefs videos that cover theory or those that describe practical steps needed to update your WordPress website, optimize content for keywords, and much more.
12. Free SEO training: SEO for beginners: If you have WordPress, you probably know about Yoast. It's one of the most famous website optimization plugins. They have a good blog covering SEO-related topics and they also offer a free course on SEO basics if you're new to the SEO world.
13. Backlinko: Backlinko's blog posts have actionable tips, case studies, and how-to guides on on-page and off-page optimization and—very important—link building. Link building is fundamental for affiliate success. And Backlinko has a number of good blog posts on different link-building techniques.
Social media marketing resources
How does an affiliate start promoting products or services on social media? By creating and developing their social media profile first. It's not a good idea to have an account solely for promoting a specific brand. Would you follow someone who's posting only affiliate links? Probably not. That's why you first need to work on growing your social media first and building authority in a particular niche.
Once you have followership and engagement, you can start incorporating affiliate links.
14. Tips for Growing Your Followers & Going Viral: Another good course by Skillshare. Even if you're a pro at social media marketing, sometimes it's good to take a step back and listen to a different perspective.
15. Graphic Design Basics: Social media and visuals go hand in hand. While it's better to join affiliate programs that provide marketing materials, sometimes you need to create banners on your own.
16. Social Media Today: Social media is rapidly evolving. Similar to Google, there are new updates being rolled out every month on Instagram, YouTube, LinkedIn, Twitter, Facebook, TikTok, etc. Social Media Today is a website that can help affiliate marketers stay on top of social media algorithm changes and new features (they also have a newsletter if you prefer this method of communication).
Email marketing basics for affiliate marketers
Some affiliates already have email lists with hundreds or even thousands of contacts. If you're among these lucky ones, you need to learn how to leverage email marketing in your promotion.
17. Email Marketing Bootcamp: Affiliates can use emails to promote their affiliate links and get leads. If you're into email marketing, check out Mailchimp's Academy courses (they are free but you need to create a Mailchimp account first).

Sales resources that will help you increase affiliate sales
Affiliate marketing is the art and science of persuading people to buy. This is very similar to sales. It's one thing to get a lot of traffic and it's a completely different thing to make people click and convert.
18. OnePageCRM's collection of sales courses: We compiled a collection of free and short sales courses that will help you improve your sales skills.
Note. This blog post was first published in April 2022 and was updated for relevance in September 2023.