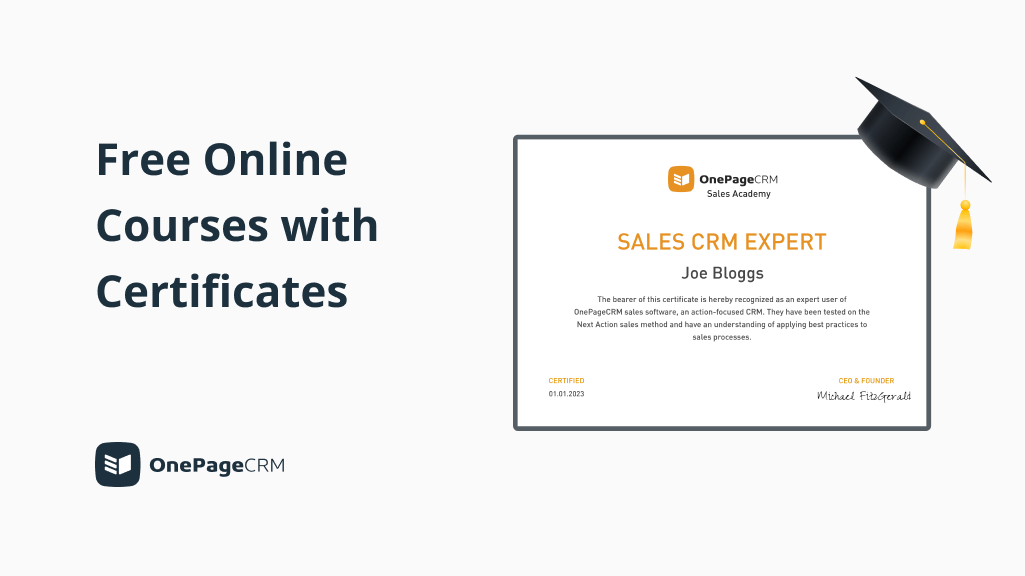 12 Free Online Sales Courses with Certificates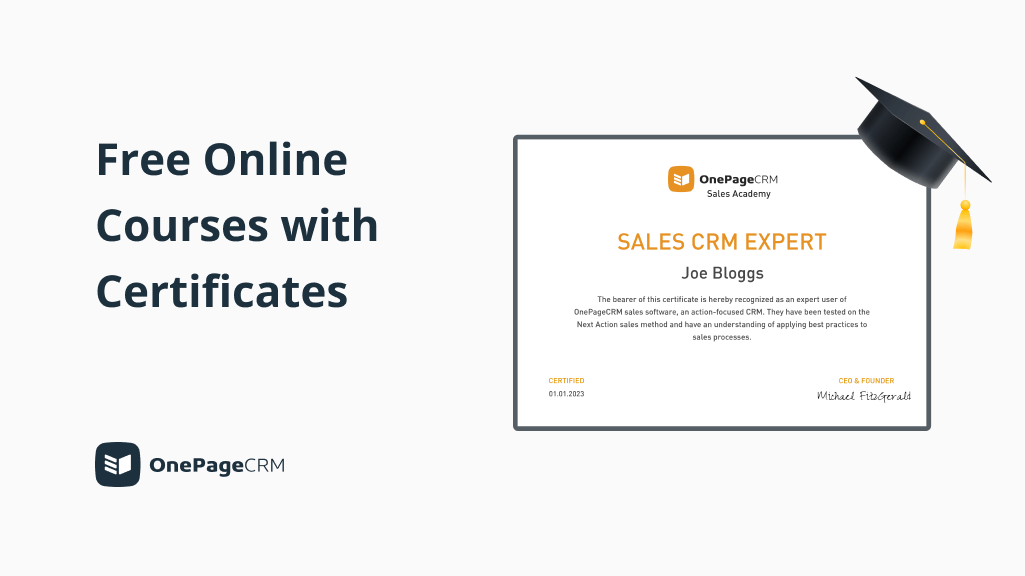 Online learning has become an integral part of our lives.
There are thousands of high-quality courses available on the internet. But while many of these courses are free, not all of them offer free certifications.
That's why we compiled a list of 12 sales-related courses that provide great insights and also include free certificates that you can add to your LinkedIn profile and showcase your achievements.
And there's more: every course takes just a few hours to complete.
The learn-as-you-go approach at its finest!
So let's have a look.
Online Courses with Free Certification for Sales Professionals
We've combined here courses that cover a wide range of topics that can be beneficial for anyone working in sales: from sales CRM to emotional intelligence and marketing.
1. Sales CRM Expert Certificate
44 minutes | OnePageCRM | Course Link
To build relationships with propspects and close deals, you need to be consistent with your follow-ups. Sales can get so busy that it's sometimes overwhelming to keep track of everything that needs to be done. In this course, you'll get a quick introduction to the unique Next Action sales method and learn how to adapt it to your work, become super productive and never miss an important deadline or follow-up.
2. LinkedIn Sales Navigator Tutorial
1 hour 20 minutes | LinkedIn | Course Link
LinkedIn is the leading B2B channel with powerful features that can help you boost your sales process and generate more leads. Besides, social media platforms are becoming one of the main lead generation sources. So why not learn more about how to leverage LinkedIn Sales Navigator for your business?
3. Fundamentals of Digital Marketing
40 hours | Google | Course Link
Sales and marketing go hand in hand. That's why we decided to include this course as well. There are 26 modules that cover different topics on digital marketing, real-world examples, and practical exercises. If you've been thinking about exploring digital marketing this year, this course will be a good starting point. And you can also get a free certificate from Google after successful completion.
4. Developing Emotional Intelligence
1 hour | LinkedIn | Course Link
Sure, Artificial Intelligence is a huge thing nowadays. Automation, coding, blockchain—all of these concepts are no longer just hype words, they are becoming an integral part of our everyday life. But with that being said, human connection is still a valuable asset. Understanding emotional intelligence and learning to be self-aware can help you build and nurture strong business relationships with your prospects and leads.
5. The Art of Persuasion
30 minutes | LinkedIn | Course Link
While salespeople should focus on the value that their products or services provide to a potential client, the skill of persuasion is a must-have tool for anyone working in sales. Even if you clearly (and unbiasedly) see that a prospect can benefit from your product or service, they might be overwhelmed by the number of choices and hesitate whether it's a good idea to buy from you.
6. The Foundations of Communication
1 hour 16 minutes | LinkedIn | Course Link
The number one thing in any type of relationship? Communication! Learning how to communicate more effectively, understanding and recognizing different communication scenarios, and being an active listener can drastically change the way you do sales and generate leads.
7. Writing in Plain Language
42 minutes | LinkedIn | Course Link
Have you ever struggled with writing a cold email or reaching out to a prospect on LinkedIn? Sometimes you know pretty well the value of your product but just can't find a way to say it in a simple way. This becomes more difficult when you sell a very technical product or service. That's why writing is one of the underrated skills of successful salespeople.
8. Time Management
1 hour 47 minutes | LinkedIn | Course Link
Productivity… One of the most discussed topics in the world. Miriads of articles and research papers have been written, read, analyzed, presented, and debated. In this short course, you'll learn the main principles of productivity and the best practices for managing your time. The sad truth is: Hermione Granger might have a Time-Turner but we don't.
9. Critical Thinking
56 minutes | LinkedIn | Course Link
Good decision-making is tightly connected with critical thinking. It is quite different from strategic thinking and is a standalone skill that sometimes gets neglected. Salespeople have to make rapid decisions, and this course will help you to learn about cognitive biases, ways to minimize poor judgments, and steps for avoiding logical fallacies.
10. Building Resilience
34 minutes | LinkedIn | Course Link
If you are asked to list the most important skills for salespeople, what would you say? Good communication, emotional intelligence, quick decision-making… and probably resilience. In sales, objections, and rejections are quite common events so it's understandable if you feel discouraged sometimes. In this short course, you'll learn what resilience is and how to increase it.
11. Unleashing Creativity
1 hour 2 minutes | LinkedIn | Course Link
It might come as a surprise to outsiders but to be successful in sales, you also need to be creative. Sometimes it's all about coming up with a witty opening line or finding a creative solution to a prospect's problem. When we settle into a routine, creativity gets clouded. This course can be a breeze of fresh air—and it's just around one hour long!
12. Selling and Marketing on Amazon
1 hour 21 minutes | LinkedIn | Course Link
If you've been thinking about selling and marketing your products or services on Amazon, it's high time to learn how to navigate these rough and competitive waters. In this course, you'll learn the key steps to successfully sell and market your products on Amazon.
Note. This blog post was first published on January 12, 2022 and updated for relevance in August, 2023.