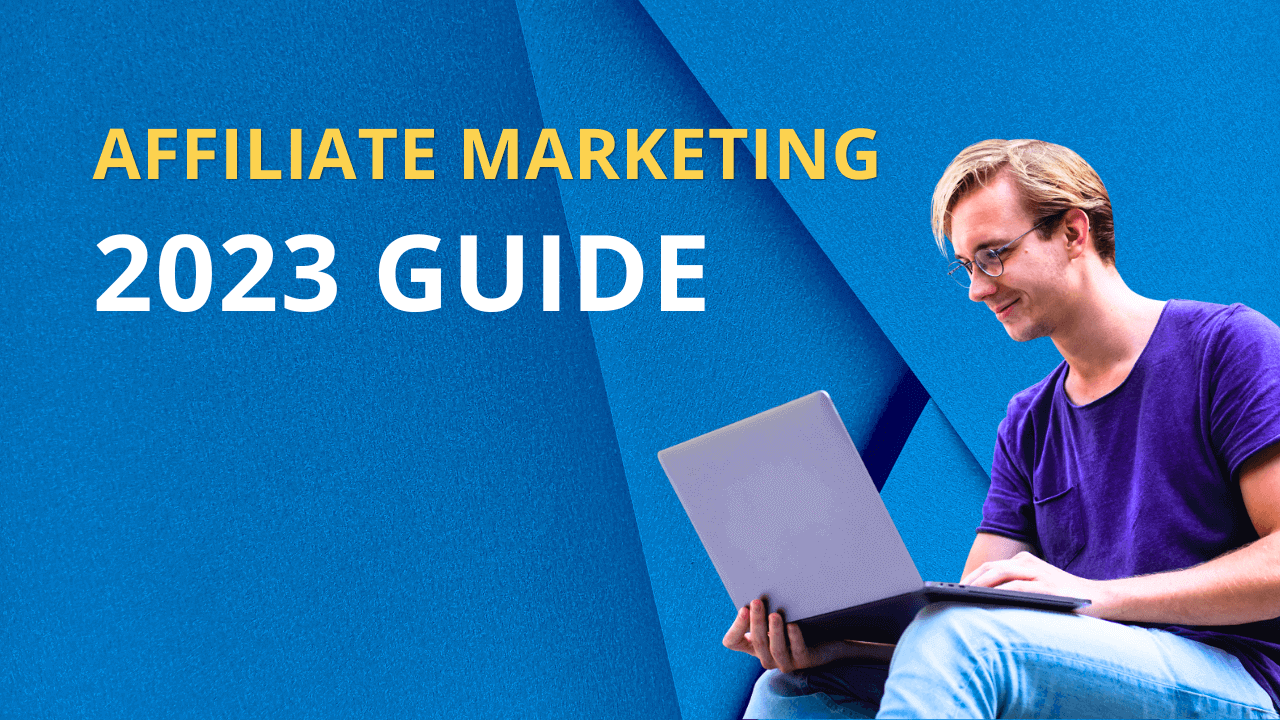 Affiliate Marketing for Beginners: How to start and earn more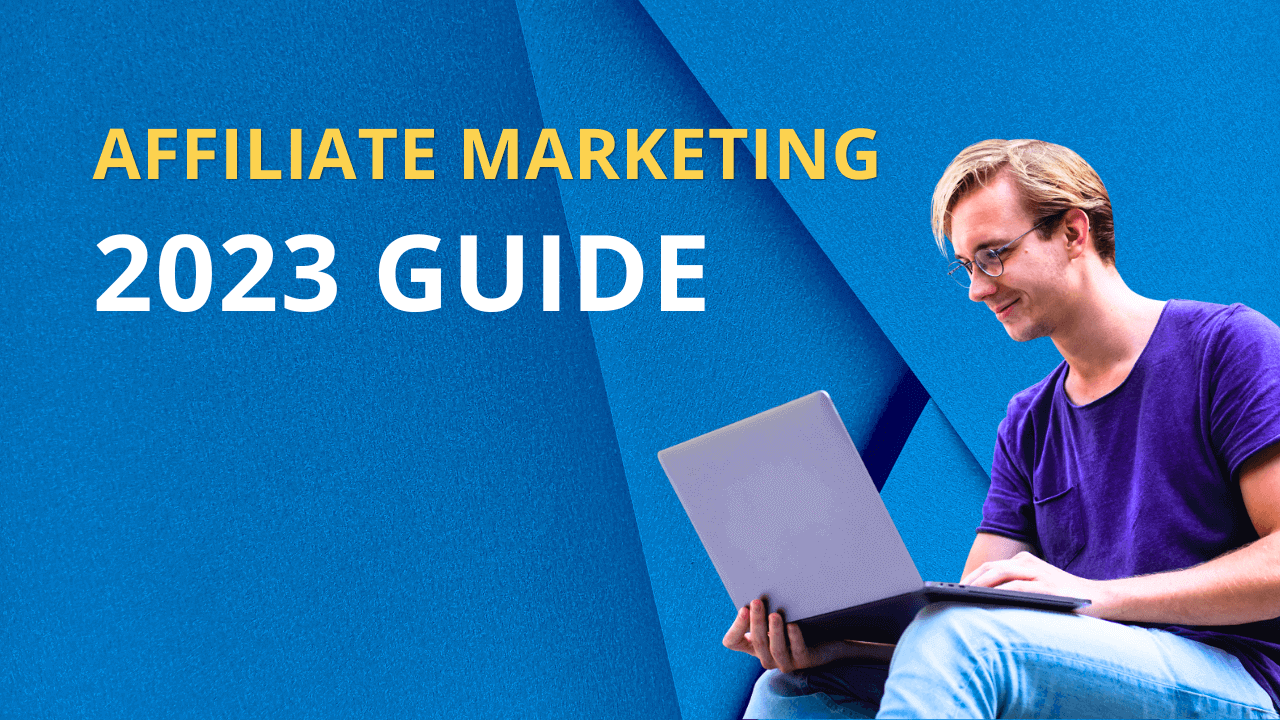 Affiliate marketing has become so popular that if you simply search for it on Google, it'll return 500 million results.
That's a lot of information to process…
Especially if you've never done any affiliate sales before.
In this article, we compiled a list of the most common questions about affiliate marketing and listed tips on how to get started and earn more with any affiliate program even if you're a total beginner.
What is affiliate marketing?
Most resources define affiliate marketing as a process. But this is a bit too vague.
Investopedia has probably one of the most accurate definitions of affiliate marketing: they define it as an advertising model.
After all, affiliate marketers help brands promote products/services, get more customers/clients, and increase sales. Sounds like something advertisers would do.
So what is affiliate marketing?
Affiliate marketing is an advertising model in which organizations (also called merchants) pay commissions to external parties (affiliates) for the desired action. This action can be either a sign-up, a subscription, a registration, or just a click.
This sounds a bit similar to influencer marketing.
In influencer marketing, businesses also partner with external parties (influencers) and reward them for promoting their products or services.
Affiliate Marketing vs. Influencer Marketing
Influencer marketing
Influencer marketing has been mostly associated with social media. If you have a large followership on social media and an established online reputation, you can work together with brands on promoting their products or services.
These can be either one-off or ongoing promotions and they usually involve a close collaboration between a brand and an influencer on how a campaign will look like and what it will entail.
In other words, influencer marketing works as a partnership: it has a negotiation process, a contract, deliverables, and so on.
Affiliate marketing
Contrary to influencer marketing, affiliate marketing doesn't require ongoing communication between brands and affiliates. Affiliates don't always have tens of thousands of social media followers and the application process is pretty easy.
To do influencer marketing, you need to have some leverage and brands interested in a partnership with you. But to qualify for affiliate marketing, you only need quality traffic.
How does affiliate marketing work?
When you sign up for an Affiliate Program, you receive an individual link that you can place anywhere on the web. If someone clicks on your link or makes a purchase, the merchant (the company you're promoting) will pay you a commission.
Commissions can be different.
Some affiliate programs offer flat-rate commissions, others have percentage commissions. Some brands pay per click, while others pay only when a purchase takes place.
While it's slightly easier to get people to click on your affiliate link rather than make a purchase, per-per-click (PPC) affiliate commissions are much lower.
Who can become an affiliate marketer?
Anyone can become an affiliate marketer.
The sign-up process is usually very easy, and there are loads of videos on YouTube that will walk you through the registration process for an affiliate network in less than 5 minutes.
Having a dedicated affiliate website is not really a prerequisite for becoming an affiliate marketer—although it definitely helps–but you need to have an audience. Even if it's a small one. How else would you earn a commission if no one is clicking and making purchases through your links?
Some affiliates have YouTube channels while others manage social media groups. If you're good with words, you might have an active account on Medium and get some visibility there too.
Do affiliates have to have an audience or followership?
Becoming an affiliate without an audience is possible too.
Many programs don't require you to have a specific level of online presence or visibility. Sometimes they don't even ask about your website. And even when they do, many affiliates use their social media profile links instead.
Not all affiliates have a YouTube channel or run their own blog. Some of them post affiliate links on LinkedIn or Facebook groups or comment on Reddit, Twitter, or Quora.
Why is affiliate marketing so popular?
Here are a few reasons why affiliate marketing is so popular:
Low entry barriers. Everyone can become an affiliate marketer. While there are affiliate programs with a complex application process, there are also smaller programs that accept almost every application and pay the same commissions as bigger programs do.
A wide variety of Affiliate Programs. Many tech companies have affiliate programs: you can choose the programs you like and get started straight away.
Extra monetization option. If you already have a website or a blog that generates traffic but don't want to overpopulate it with ads, affiliate marketing can help you monetize your resource.
3 important steps to get started in affiliate marketing
If you're thinking about becoming an affiliate marketer and ways to monetize your traffic, here are a few things that you need to do to start earning money with affiliate marketing: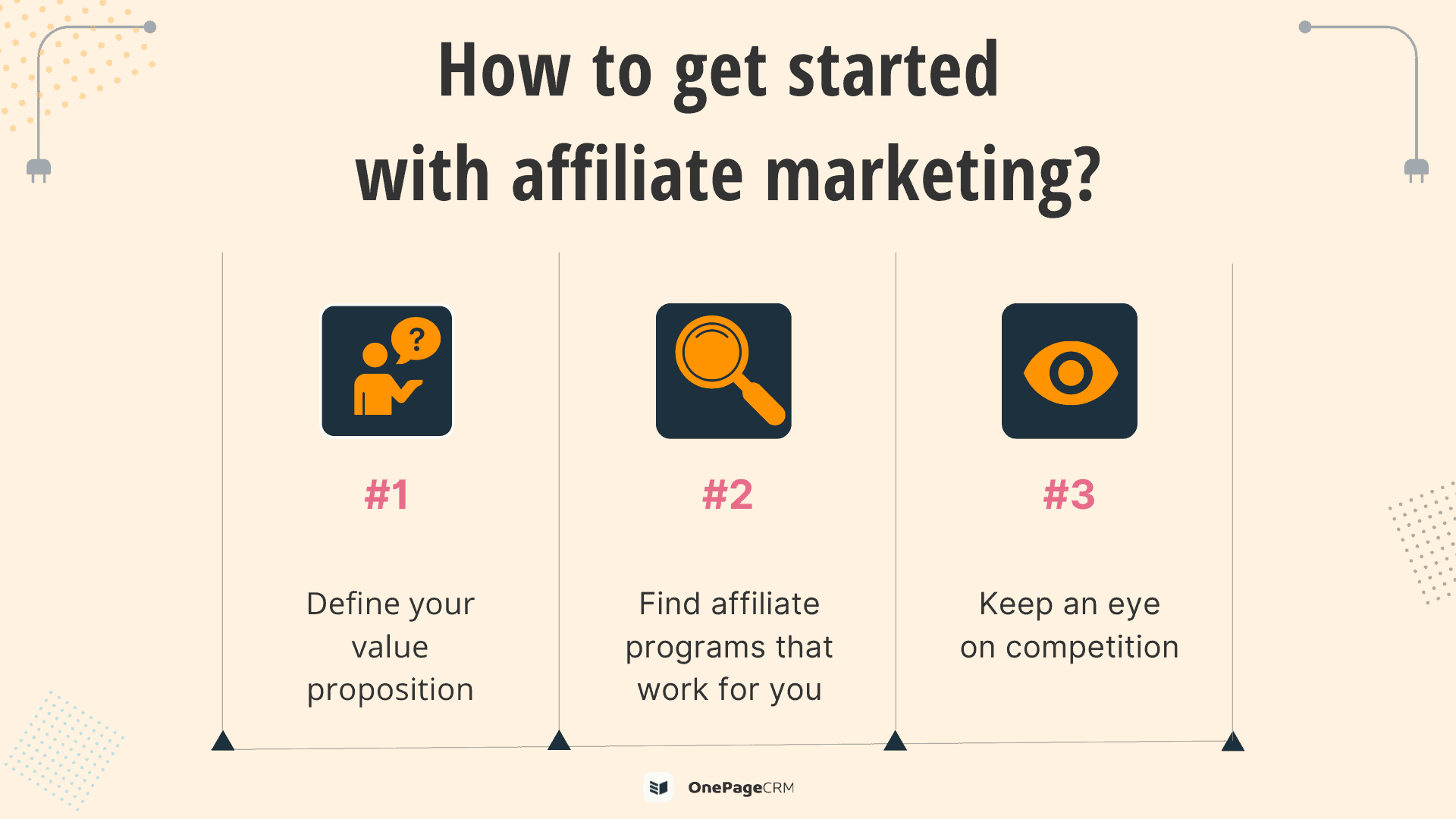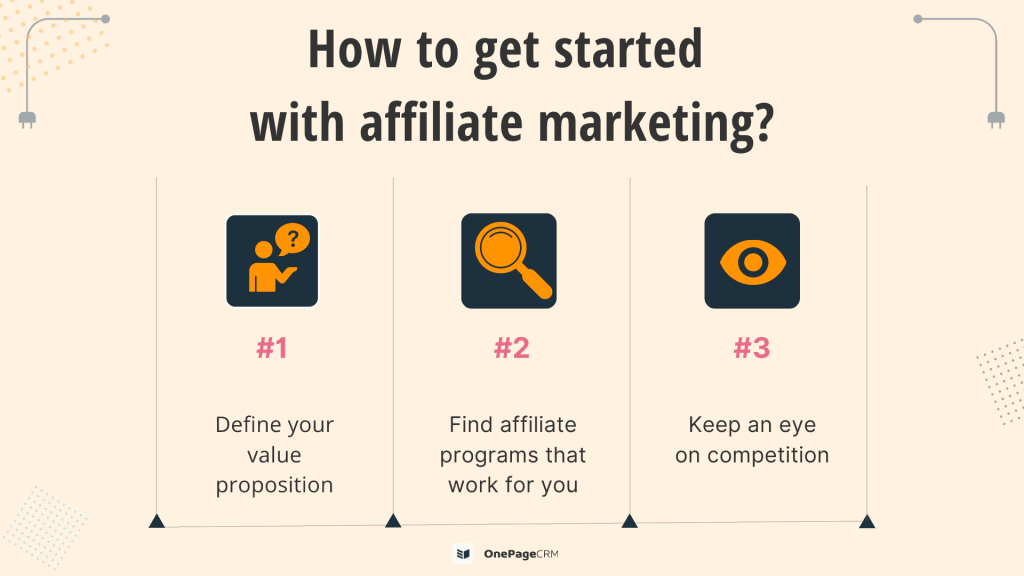 1. Define your value proposition
To succeed in affiliate marketing, you first need to offer value. It can be either by sharing your unique perspective on some topic or by organizing the already existing information in a better way. Adding affiliate links is an extra step that will follow once you have high-quality content and traffic.
Here are a few questions to get you started and going with affiliate marketing:
What value can you offer?
For example, let's imagine that you're a salesperson who's worked in sales for the last 10 years. You probably have your own share of ups and downs and can list some mistakes that others should avoid.
Affiliate marketers don't always monetize their work-related experience. You might be good at creating CVs, cooking, workouts, and many other things. You just need to find something you're passionate about, produce quality content on this topic, and monetize it eventually.
Who is interested in this information?
Once you find the thing you're passionate about, try to pinpoint your target audience. Where do they spend their time online? What language do they speak, do they use some jargon? The list goes on.
What type of content do you need to produce?
Find out what content works for your niche. If you search for "the best sales tips", Google will return a list of blog posts. For you, as an affiliate marketer, it means that you need to focus on creating a quality blog first and making sure that it's visible on search engines. For some other search queries, Google returns mostly discussions on Quora or YouTube videos. In other words, there's no one-size-fits-all solution.
Why do affiliates need to work on their personal brand?
To succeed as an affiliate marketer, you need to define your value proposition first and then build your personal brand. Affiliate marketing goes hand in hand with traffic, which depends on how authoritative you are.
John Crestani, a famous affiliate marketing influencer, mentions Dr. Mike in one of his videos as a good example of someone who leverages affiliate links on YouTube. But there's one catch here: Dr. Mike is a content creator who already has millions of followers and a reputation in his niche. Many influencers do affiliate marketing besides collaborating directly with brands on specific campaigns because affiliate marketing works well when you have traffic.
2. Find affiliate programs that work for you
You can start with the simple "best affiliate programs" search query.
You can also find out whether any of the tools that you're already using and familiar with have an affiliate program (chances are they do).
A good affiliate marketer makes sure that their affiliate links are relevant to their content. If you're creating content for the fitness industry, it'd be strange to advertise financial market solutions.
There are a few criteria to pay attention to when looking for a suitable Affiliate Program:
How good is the product/service? If the commission is very high but the product is no good, you probably don't need this affiliate program. Keep in mind that the amount of traffic you get depends on the quality of the content you publish, including how reliable and trustworthy it is.
How unique is the product/service? With affiliate marketing becoming ever more popular, it can be hard to stand out. There was a time when everyone was recommending Trello. In 2022, everyone was talking about Notion. While it might be tempting to jump on the trend, you'll be better off promoting a unique product that your audience would have never found out otherwise.
How high is the commission? Ideally, you want a very high commission but you probably know how it goes: the only free cheese is in the mousetrap. Usually, every affiliate program, even the one with the highest commissions, has a drawback. As someone who's just starting out with affiliate marketing, you can calculate an industry-average commission and then use it as a benchmark for your niche.
What do customers say about this product/service? The company (merchant) can go into many details about how great they are. But this is one side of the coin. As an affiliate, you need to go one step further and read testimonials from real customers. Is it really such a good product as the company says?
3. Keep an eye on competition
Affiliate marketing has been around for a while. If you're new to affiliate marketing, you'll have lots of resources on how to improve your skills, how to earn more with affiliate marketing, and how to succeed.
While all of this is good, you also need to keep an eye on what other affiliates in your niche are doing: what content they're producing, what products/services they're promoting, and so on.
By analyzing competitors, you can also find one thing that makes you stand out from the rest.
6 ways to earn more with affiliate marketing
Affiliate marketing is often advertised as a way to earn passive income. But this is not entirely true. It requires a substantial amount of dedication and consistency to build traffic and then convert this traffic into affiliate income.
To succeed in affiliate marketing, you need to have a solid foundation of marketing and sales skills and high-quality, unique, and also relevant content.
Here are 6 tips that will help you earn more through affiliate sales: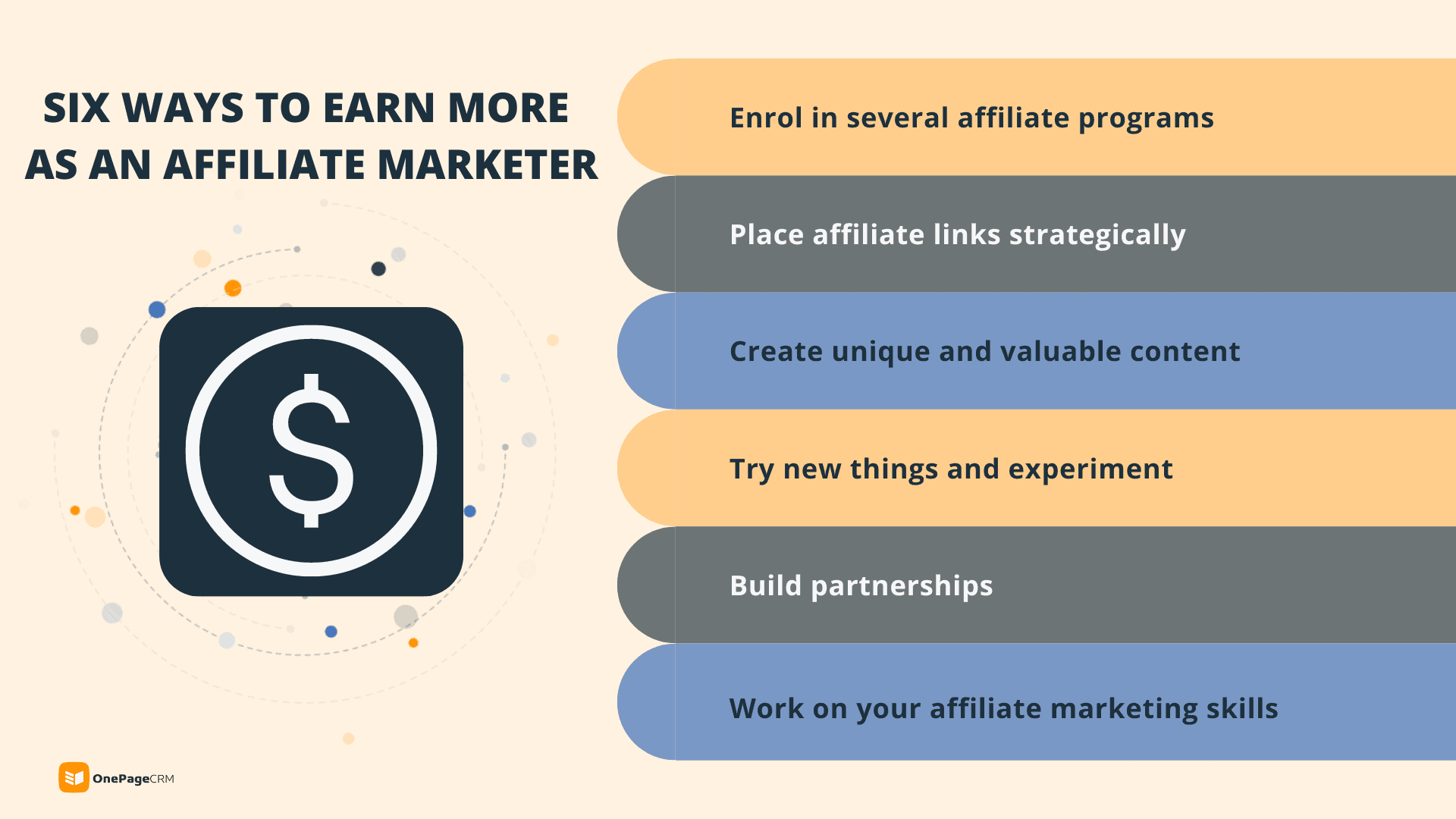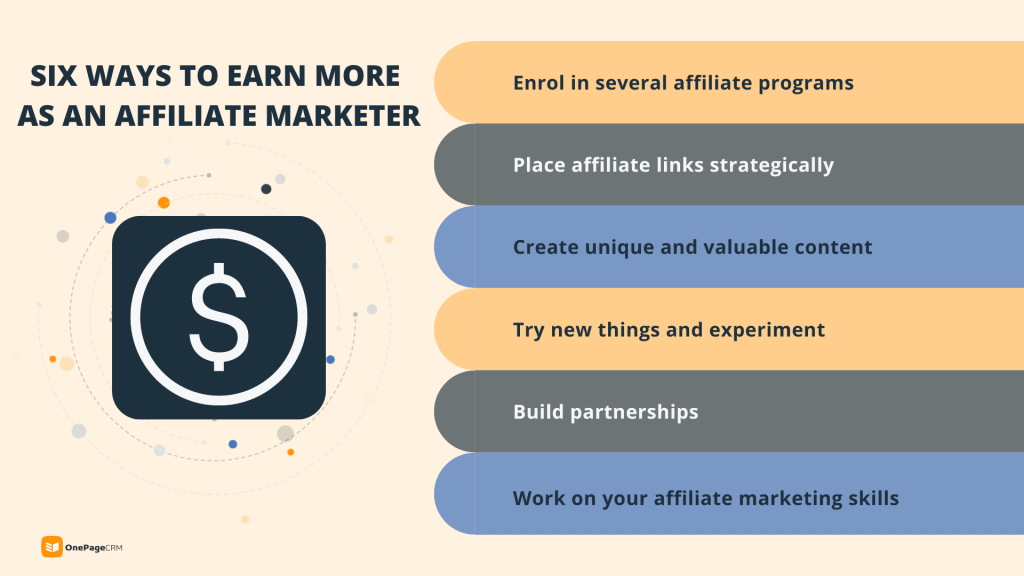 1. Enrol in several affiliate programs
Choose several affiliate programs that are relevant to your niche. Your main goal is to diversify and make sure that you don't put all of your eggs in the same basket. This old investment advice rings true for so many things, including affiliate marketing.
2. Place affiliate links strategically
If you want, you can add comments with your affiliate link under all high-ranking YouTube videos. The question is: Should you really do this? As an affiliate, you need to deliver the desired action, so make sure that you place your links strategically and that they complement the content instead of looking like spam.
3. Create unique and valuable content
You can create tutorials or reviews, and the good thing is that they don't have to be videos on YouTube. For example, you write a post to compare the pros and cons of different marketing tools that you tried. You already know the ins and outs of these products and can save time for those who need to make a choice quickly without using every single one of them.
4. Try new things to increase affiliate sales
If you've been mostly posting articles on your blog that are not getting much traffic, try a different approach. Start contributing to forums on Reddit or Quora or re-purpose some of your articles into YouTube videos. If your content is good but it's not visible, then you need to find a way to get it in front of more people. To succeed, it takes trial and error.
5. Build partnerships
Try building a relationship not only with your audience but also with the brand that you're promoting. It'll be much easier if it's a small company. Small businesses are more interested in exploring different opportunities for collaboration, even if you don't have massive followership or lots of traffic.
You can also build relationships with other affiliates and content creators. It's all about increasing your visibility and, consequently, getting more clicks and conversions through our affiliate links.
6. Work on your affiliate marketing skills
Affiliate marketing is a skill. If there's only one thing that you want to remember from this post, this is it. And like any other skill, it takes time to master.
In this blog post, we collected 18 resources that will help you upskill your affiliate marketing game and increase your affiliate sales.
Recommended reading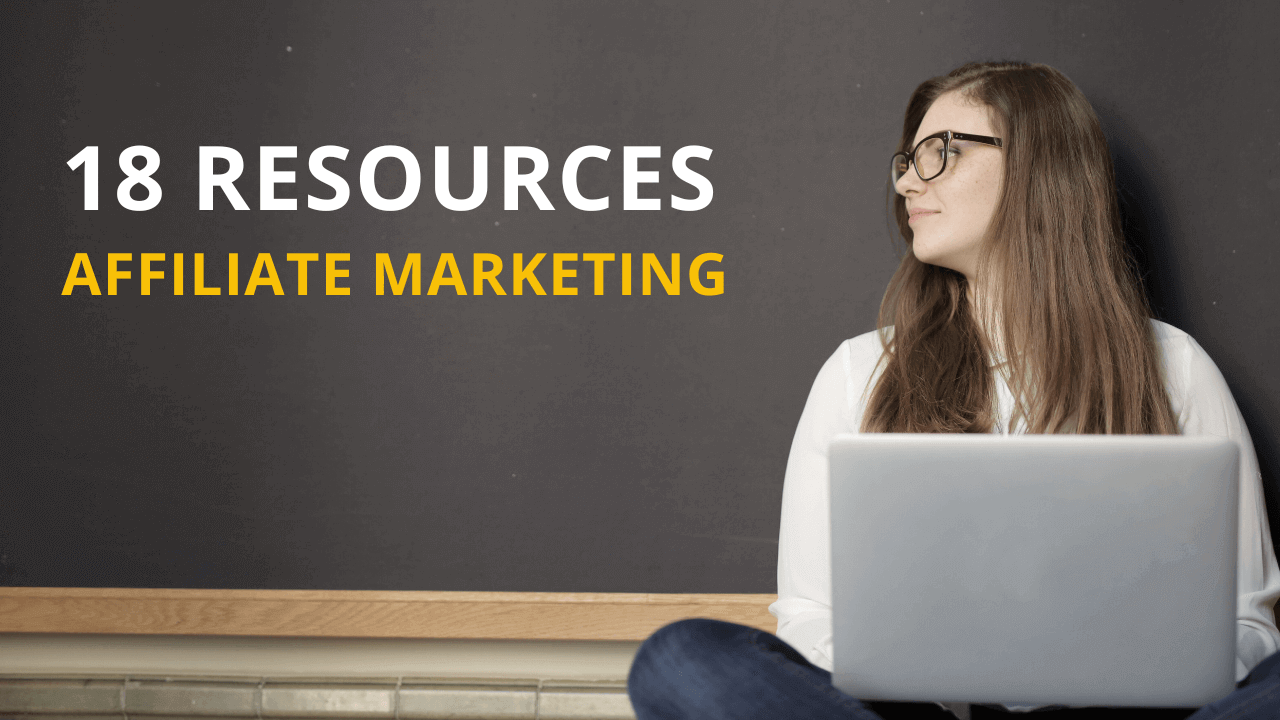 Affiliate Marketing: 18 Free Courses, Blogs, and Books (2023)
Final thoughts on how to be successful in affiliate marketing
Ideally, affiliate marketers need a broad skillset to achieve consistently high performance. But even if you lack SEO knowledge or have never worked in sales before, affiliate marketing is still an exciting business to be in. It has low entry requirements and provides a lot of room for growth and experimentation.
And if you're looking for the best affiliate program in the SaaS market, check out OnePageCRM's Affiliate Program. It has generous commissions, low entry requirements, and exclusive marketing materials (so there's no need for you to spend time on Canva…unless you want to!).