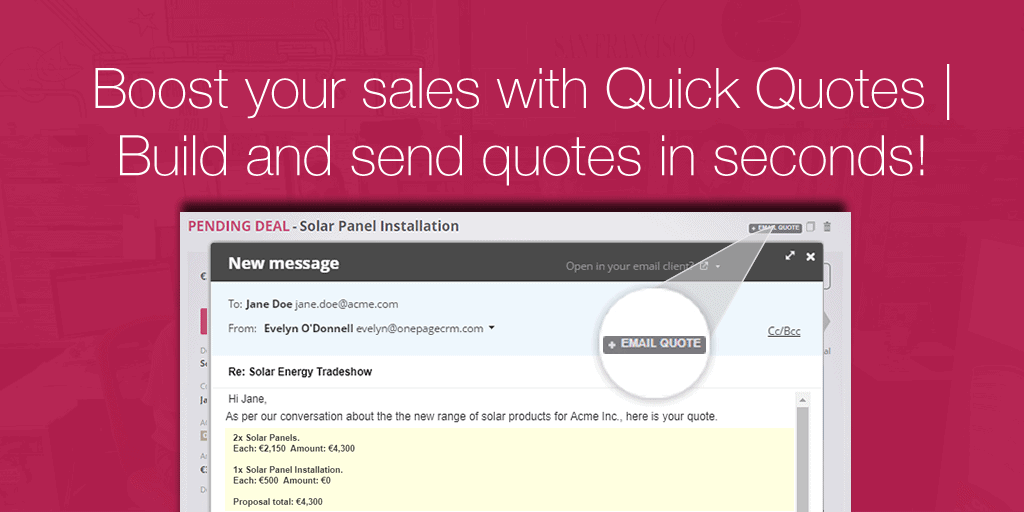 Boost your Sales with Quick Quotes – Build and send quotes in seconds!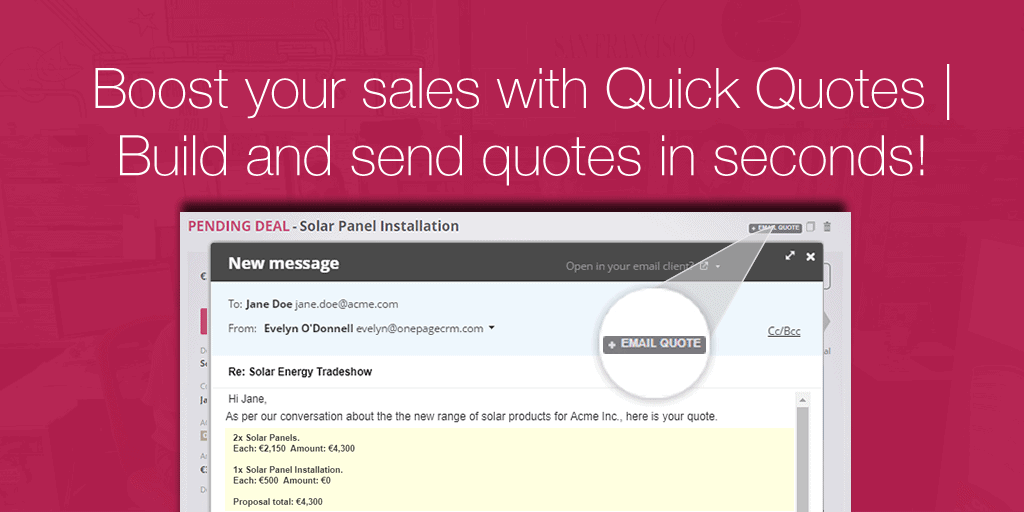 Your time is precious.
Why should you waste it on gathering deal info you already have just to send a sales quote? With our Quick Quotes, you don't have to.
When you want to send a quote to a prospect, simply click "Email quote", and we will automatically generate it from your deal's details, along with a pre-set email!
So all you have to do is review it and hit 'Send'.
37 seconds.
That's how long it will take you to create a deal and send a detailed quote! Yes, we've timed it.
How do Quick Quotes work?
With Quick Quotes, you can build and send sales quotes in seconds. No more copy-pasting or math challenges.
To send a quick quote, simply follow the steps below:
Step 1: Create a deal and add Deal Items.
Step 2: Click "Email quote" in the top right corner of the deal. The overall quote will be automatically generated, with a detailed breakdown based on your set deal items. It will be inserted into an email template. Remember, you can easily add or modify your email templates under Apps > All integrations > Email.
Notes:
Gmail and Outlook 365 users have the option to connect their account, add a signature and create email templates.
If you want to modify the format of your quote and set a default email template, you can do so under Apps > All Integrations > Quick Quotes > Quote block.
Step 3: Review your quote email, and make any necessary edits.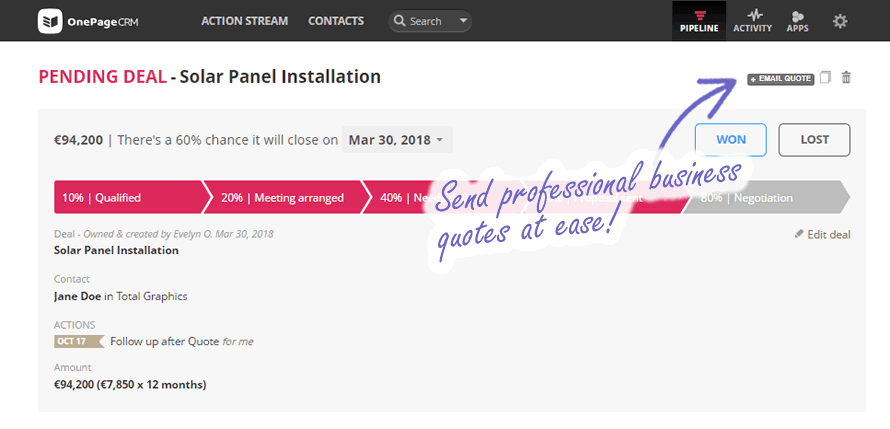 Why use Quick Quotes?
Skip the maths
Instead of trying to remember all the details of a particular deal and piece it together, you can add Deal Items from the start, and they will be automatically summed up into a quote.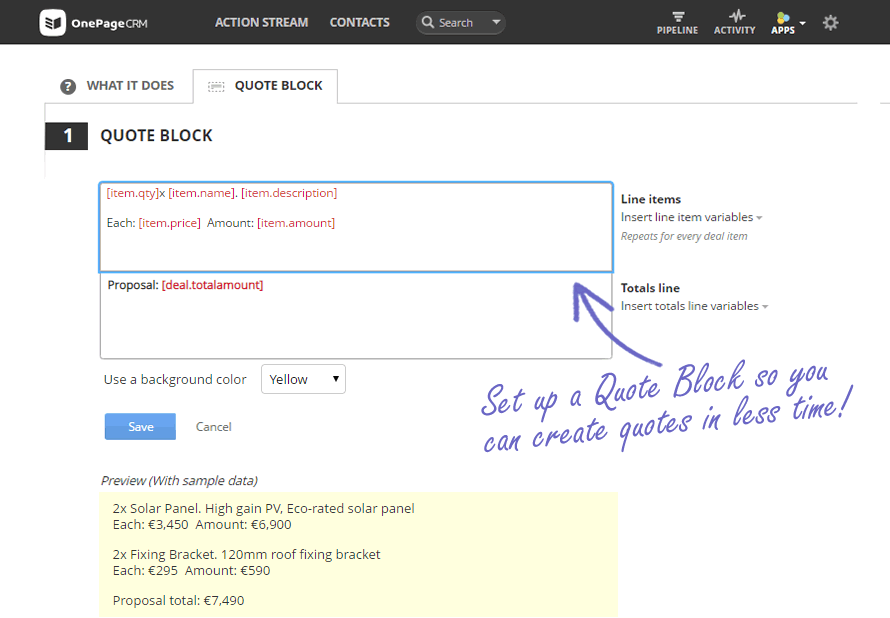 When it comes to sales quotes, it's better to be precise rather than generic.
Thanks to Deal Items, the generated quote will show a detailed breakdown of the included products or services. We know you didn't pull that quote out of thin air…and it's good to show it too.
Save time on admin
No need to type up the quote each time. It will be automatically added based on the format you choose.
To edit the quote's format go to Apps > All integrations > Quick Quotes > Quote Block or just use the default. By simply adding items like First name or Organization to the Quote Block, you can ensure that your quote emails, even if automated, are always personalized.
The faster you get your quote in front of your prospects, the faster you speed up your sales process and close more deals.
Email quotes directly from OnePageCRM
No need to hop between OnePageCRM and your email. Your quote will be sent directly from the app, with a copy of the email stored in the contact's Activity.
This way, the other members of your sales team will stay in the loop, and you will always know the status of each deal!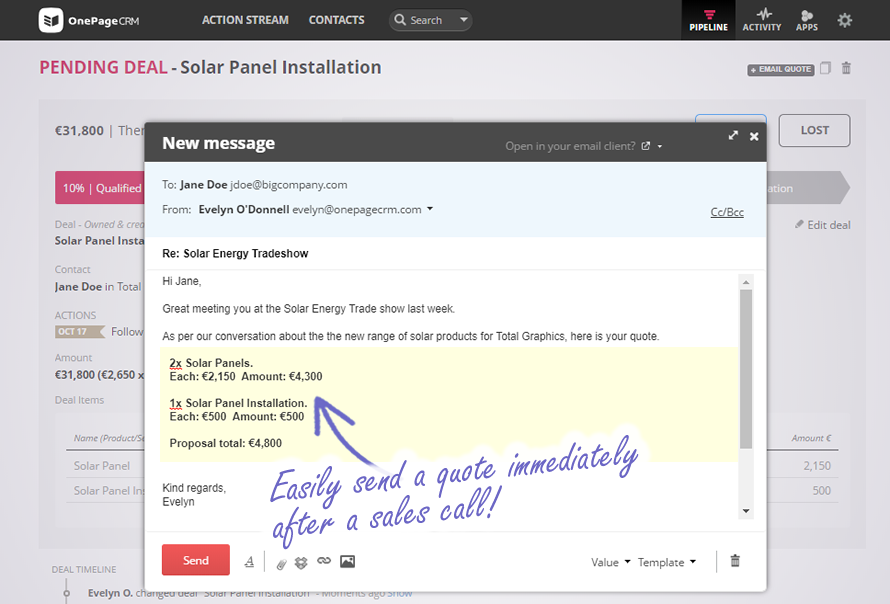 It's no secret Quick Quotes saves you time, helps eliminate mistakes, and creates quotes faster!
Are you using Quick Quotes?
Let us know your feedback by tweeting us @OnePageCRM #AskOnePageCRM, comment below, or drop us an email at support@onepagecrm.com.