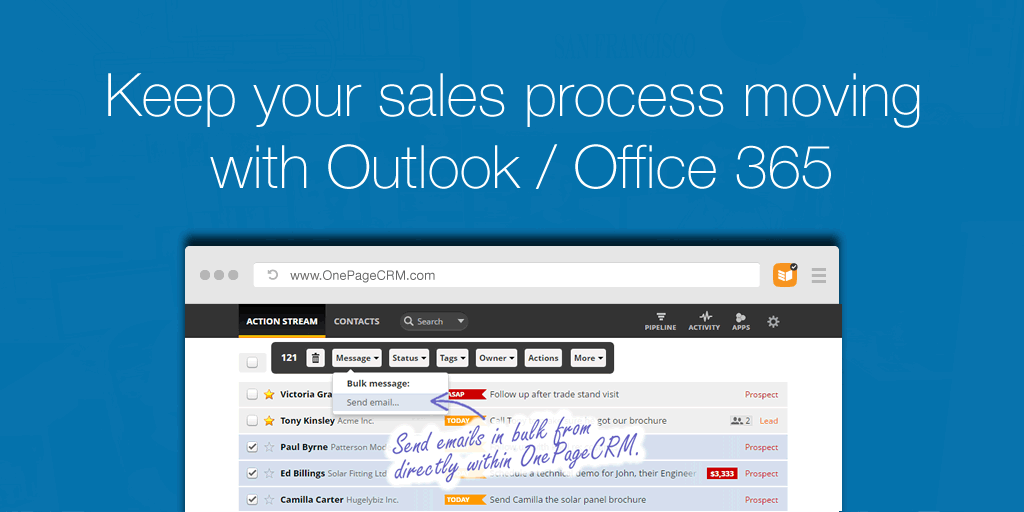 Keep your sales process moving with Outlook / Office 365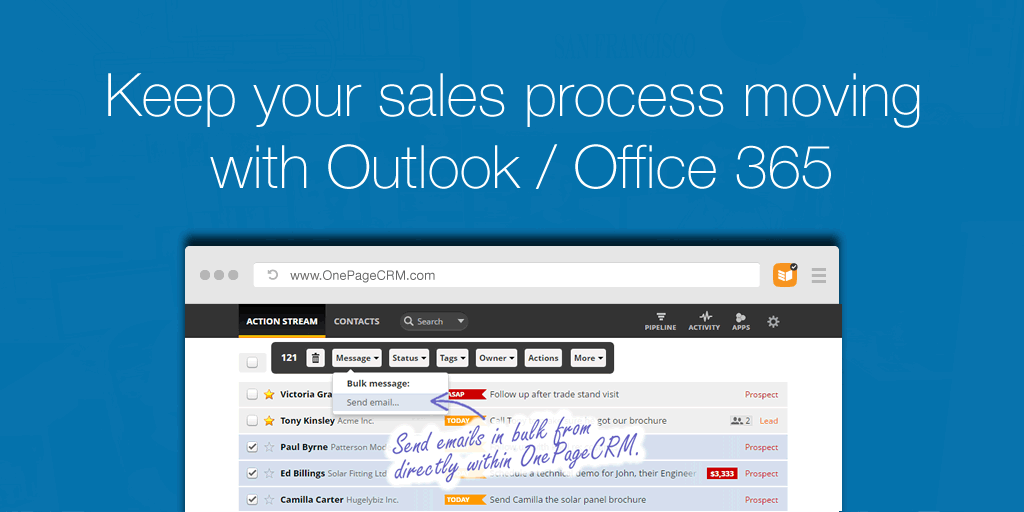 Horray! OnePageCRM's powerful bulk email send and templates are now available for Outlook / Office 365 Mail users.
You can now reach more prospects in less time while still keeping that authentic feel. Unlike marketing emails, these emails are sent from your own email client making sure they get to your inbox faster than your competitors.
We've also included a super feature—the option to personalize bulk emails with a phrase whilst yet working from your template. What's not to love?
Check it out for yourself!
How to set up Outlook / Office 365 Mail
To connect, simply open a contact, click on an email address and you'll be given the option to connect up your account.
Or go to Apps > All integrations > Email and select Outlook / Office 365 from the dropdown. Once configured, you've got the option to update your preferences and add an email signature. 
Click here to see the full details.
Send personalized bulk emails in three simple steps:
Creating your templates.
Select your contacts in bulk.
Add the human touch by adding a personal phrase to individual emails.
Save time with email templates
What's not to love when it comes to email templates?
Templates and bulk emails go hand in hand to speed up your workflow. To set them up simply go to Apps > All integrations > Email > Templates > + New Template. Add your content and save, it's that easy.
You can even add your variables like First Name, Last name, Organization, etc. to ensure that it stays authentic.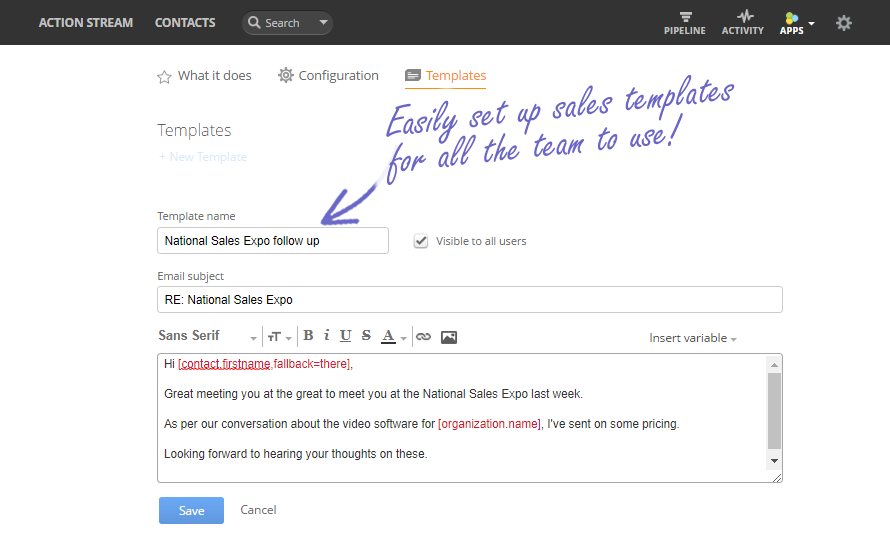 Send emails in bulk
Do you send lots of repetitive check-in emails to your sales prospects?
Using OnePageCRM's bulk email send for Outlook / Office 365, you can now save time sending these emails. Simply click on a saved filter or manually select contacts from your Action Stream or Contacts list.
The bulk toolbar will become visible and select Message > Send email… draft your email or choose from one of your templates and hit send.
You can use the 'Edit individually' feature if you wish to add that extra magic human touch.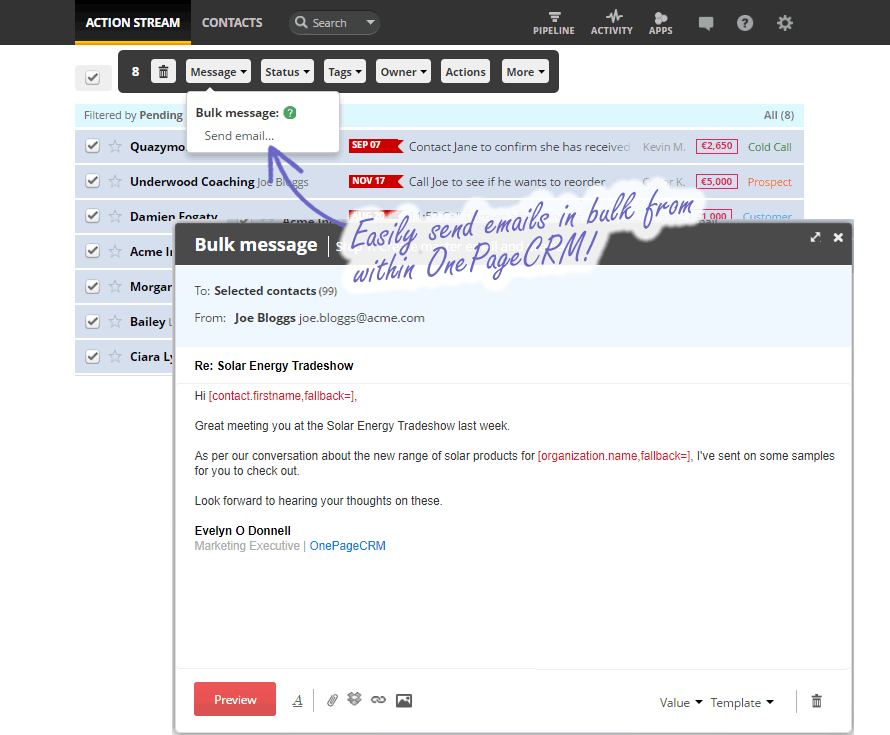 Add a personal touch with Super Personalization
And now the wow factor, the sweetest ingredient of them all—super personalization.
You can now tweak individual emails to give them a more personal touch.
Once you've selected your contacts, and chosen your template, you can then "Preview" and "Edit individually" so you can add in that extra touch like "Great to meet you at the National Sales Expo recently" and then use the rest of your template.
Easy!

Benefits of connecting Outlook / Office 365 with OnePageCRM
Faster follow-up process
OnePageCRM's Outlook / Office 365 bulk email send will save you time and enable a faster and more efficient follow-up process. Now you can send hundreds of emails in the same time it would take to send one. Nice, eh?
Increase deliverability
We all get inundated by emails every day, many we don't even open.
Ensure your email doesn't fall into this category or worse still is stuck in spam. Unlike marketing apps, OnePageCRM's Outlook / Office 365 bulk email send emails are sent from your own email client, therefore, increasing the likelihood of your emails being delivered and opened. Salespeople need sales tools not email marketing apps and that's what we've created.
Better overview of emails
Easily view email correspondence between sales reps and prospects or customers. Your outbound emails will automatically be saved under the contacts activity timeline.
So the next time a contact calls unexpectedly you'll have all the relevant details at hand. No more back and forth between your email client and your CRM.
Improves Communication
Storing emails in OnePageCRM ensures all team members are kept in the loop about upcoming deals and related emails. For example, if your team member offered a discount to a customer over email and the customer calls you to proceed with the order, you can quickly pull up the contact details and check email correspondence to confirm this. No second-guessing needed.
What's more, using email templates means your sales team can send a consistent message to all leads and prospects thus reducing communication barriers and ensuring all the team are signing off the same hymn sheet.
So what are you waiting for, connect your Outlook / Office 365 mail account to OnePageCRM today!
As with all our updates, we're excited to hear your feedback. Let us know by tweeting us @OnePageCRM #AskOnePageCRM, comment below, or contact us at support@onepagecrm.com.