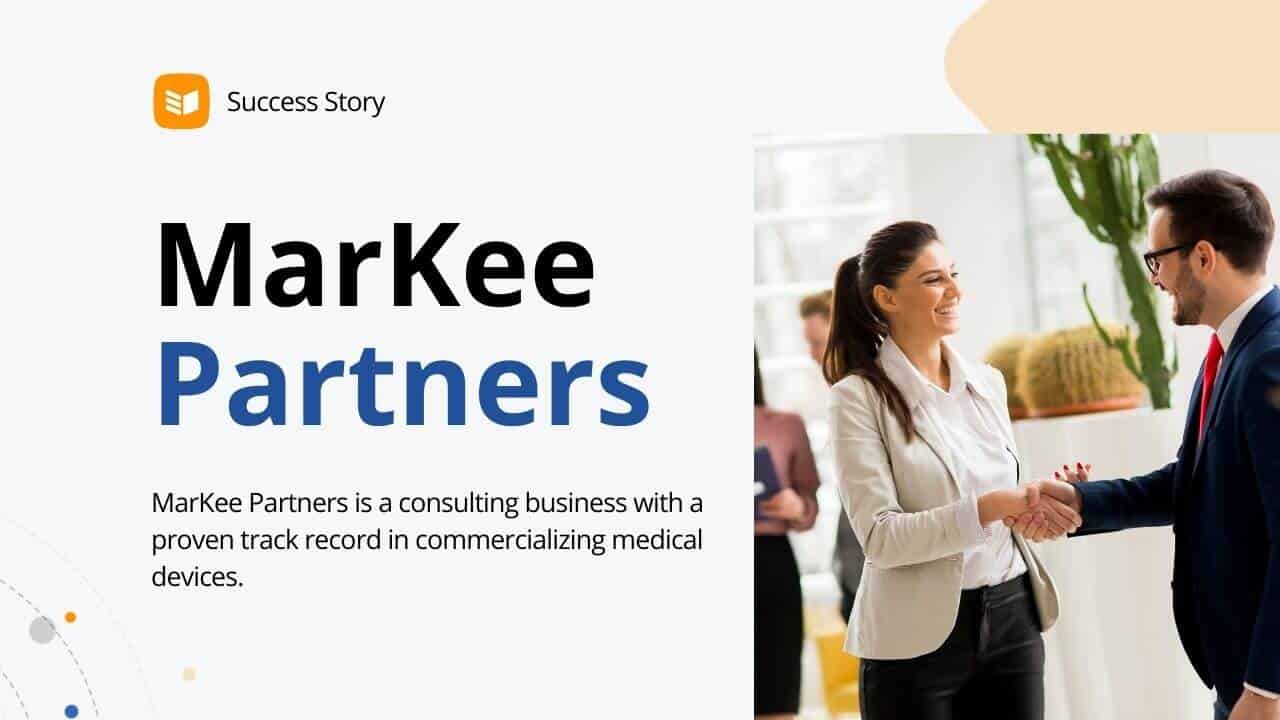 Customer Story: Using a simple CRM instead of Trello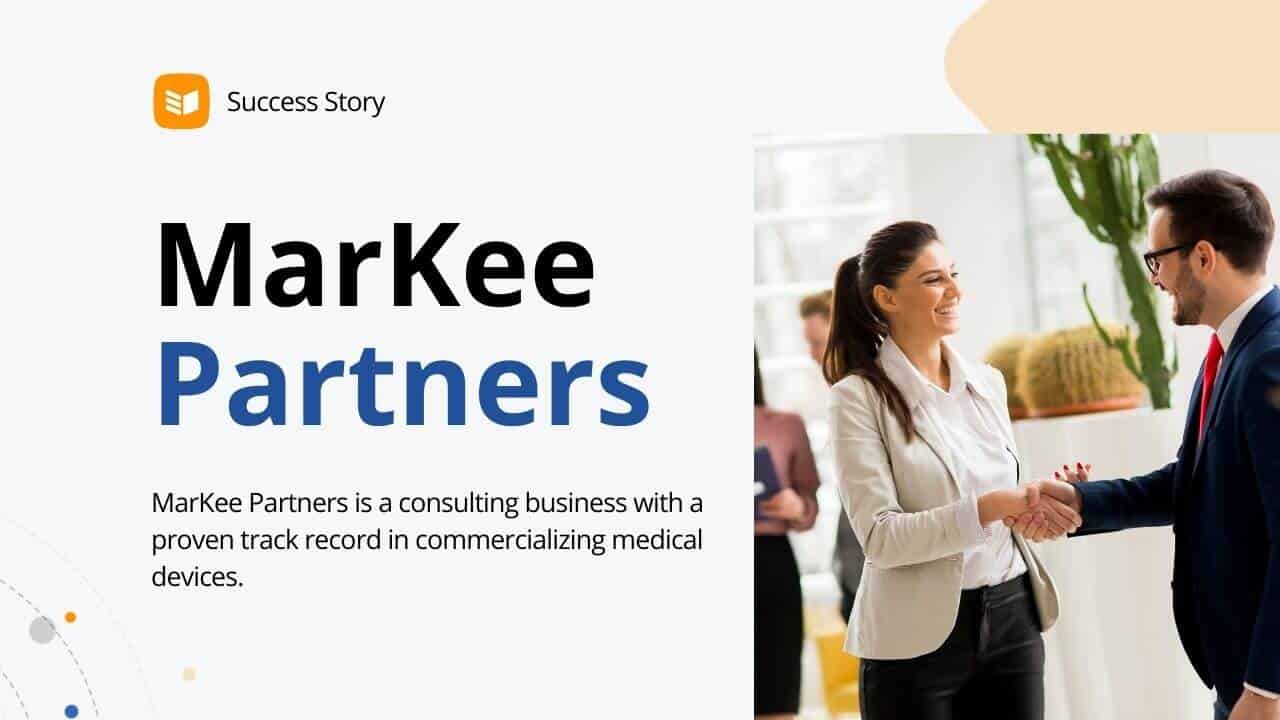 MarKee Partners
is a consulting business with a proven track record in commercializing medical devices in new and existing markets. MarKee Partners helps founders and investors assess the viability of their ideas and turn a concept into a profitable business.
To help their clients commercialize products, MarKee Partners needs to be aware of the recent market trends, do thorough research, reach out to different investors, provide actionable and personalized recommendations, and also use an effective follow-up system.
Previously, MarKee Partners used a project management tool and spreadsheets to manage their communication with clients and business operations. But once their business started growing, they found that this approach was not effective anymore.
That's why Barry Marston, one of the MarKee Partners founders, started looking for a tool that would help them qualify leads faster and improve business operations.
This is where OnePageCRM came in.
On the way to finding the right CRM
Barry Marston tested several CRM systems in order to find the one that was simple but also had all the important features that their rapidly growing business needed. He set some time aside to compare different solutions, read testimonials, and find out who used these tools and why they chose them.
While doing the research, Barry noticed that many CRMs were packed with lots of features he didn't need. They overcomplicated the simple tasks that his company wanted to do.
He was pleasantly surprised when he found OnePageCRM with its unique mix of an easy-to-use interface and robust functionality.
"OnePageCRM is the right combination: simple to use but it has very deep capabilities."

— Barry Marston, MarKee Partners Co-Founder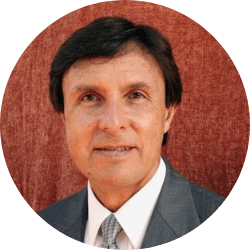 Making the most of OnePageCRM
A clutter-free interface and simplicity are not the only things that stood out for MarKee Partners in OnePageCRM.
We talked to Barry to find out more.
Here are the top 6 reasons why MarKee Partners use OnePageCRM to grow their business and streamline processes.
1. Next Actions and the Action Stream
With its unique Action Stream feature, OnePageCRM encourages users to set tasks and follow-up reminders next to every contact in the CRM and then it automatically sorts them by urgency.
This way, business owners and sales professionals can start every day with a clear plan of what to do next and who should be contacted today.
MarKee Partners use this action-focused functionality in their business too. They keep all leads in OnePageCRM with a task (a Next Action) assigned next to them and a due date.
"Quick and easy. That was what we were looking for."
When talking to new clients, Barry never forgets to follow through on his promises. If he promised to share a marketing report with them in a few days, he just types this information into OnePageCRM and the system will remind him once the time comes.
This doesn't only benefit the client relationships but also makes them easier to manage: there is no need for separate tools (all relevant information is right within the CRM).
2. The magic of the one-page concept
Previously, Barry's tasks were scattered around different apps and hand-written notes. Now everything is recorded in OnePageCRM. It became the centerpiece of their consulting business.
For example, when they are on a call with a customer, they can switch to OnePageCRM, type in their notes, and set a Next Action with a due date—and that's it, no back and forth.
Every contact in OnePageCRM has an individual Contact Page. It is very similar to a profile. All important information is recorded there: from their contact details and meeting notes to their email conversations and sales deals.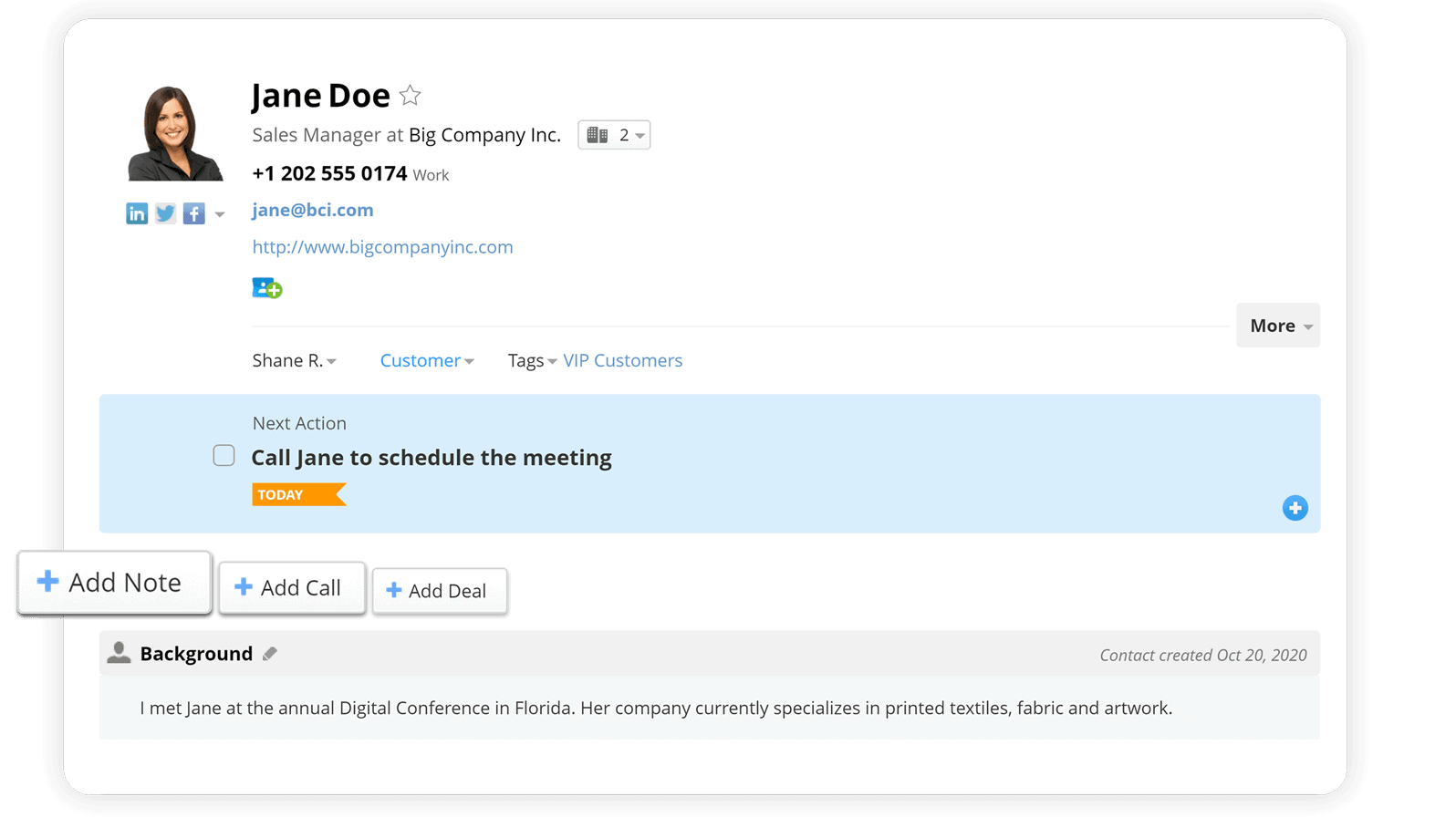 You probably know the struggle of trying to find that one email on what you agreed upon with a client. Sometimes you have to go back through all emails to find that conversation. You might also have taken quick notes during your meeting with this client and then saved them in Evernote or some other note-taking app. Keeping client-related information in different apps means that it's much easier to lose it or even forget about it.
With OnePageCRM, all client-related information is right there in front of you, on one scrollable page.
"The interface is easy to use. I can get wherever I want to go without having to read a book. It's very intuitive."
3. Better than a project management tool
The Action Stream feature sets OnePageCRM apart from other customer relationship management tools. Besides having the standard A-to-Z list of contacts, OnePageCRM automatically sorts all leads by the urgency of their assigned Next Action.
"OnePageCRM is our planning mechanism. We had used Trello before as a business planner. And then I went like: you know what, OnePageCRM is just as functional, plus I get to stay in contact with my clients and assign information to a specific customer rather than switching back and forth between applications, which was driving me crazy."
Besides the Action Stream, Barry also uses the pipeline feature in OnePageCRM to visualize their progress with different clients. It helps MarKee Partners see what stage each project is at. The Kanban view is an easy way to keep things on track and moving.
By having a clear picture of their operations, MarKee Partners can also update clients on the fly. If a client asks "How many qualified leads do we have?", it takes just a quick glance at the pipeline in OnePageCRM to give the client an overview of what is happening right now and what is planned for the future.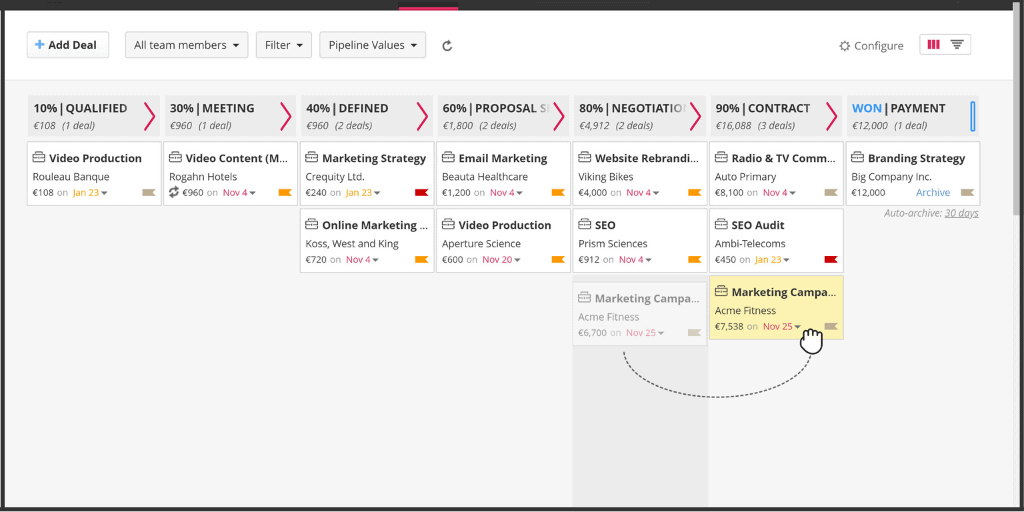 4. Email management features
OnePageCRM also has an in-built inbox that syncs with Gmail and Outlook. This way, OnePageCRM users can store all client-related emails right inside their CRM.
Barry mentioned a few benefits of this feature:
Only client-related emails are kept in OnePageCRM. This means that no spam, personal communication, or internal conversations will take up space in your CRM.
Everyone on your team can have access to these emails and see the history of all client interactions. Even if one of your team members goes on holiday, you can easily take over the conversation where they left it.
You can also send emails from within OnePageCRM. We don't create a new email address but use your real email alias instead (for example, jane.doe@acme.test). This means that these emails won't be flagged as spam.
You can not only send and receive emails with OnePageCRM but also enable open tracking, send bulk emails to hundreds of contacts, create and use free email templates, and much more.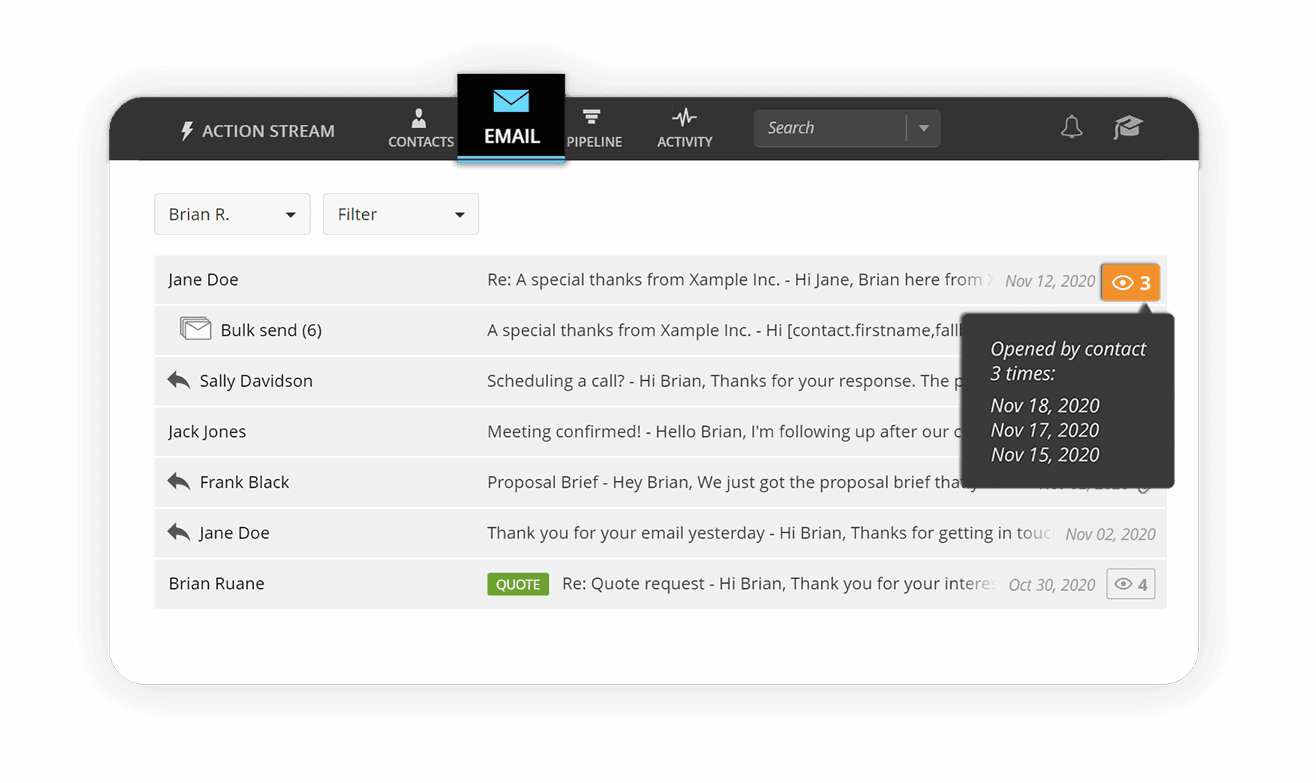 5. Various CRM integrations
"When I saw the number of integrations you have, I was pretty excited. Instead of closing and opening applications, I can do lots of the stuff right in my CRM."
MarKee Partners integrated OnePageCRM with Outlook and also Mailchimp.
The Mailchimp CRM integration is good for mass communication. MarKee Partners use this integration when they need to send a newsletter to multiple clients. As Barry noticed, repetition in sales is necessary. With the Mailchimp integration, this repetition is not as time-consuming as it was back in the days when sales reps had to dial every contact individually.
6. Excellent support
OnePageCRM is well-known for its white-glove customer support. We use our CRM system and its principles to make sure that every client receives a personalized experience and is seen and heard.
When we asked Barry why he chose OnePageCRM, here's what he said:
"Whenever I called or asked questions about OnePageCRM, I got a response. That's so rare anymore. Your customer service is great, your training materials are great, and you have videos on specific topics. All of that made it much much easier to transition to OnePageCRM."
Simple and scalable CRM for consulting businesses
Rated by Forbes Advisors as one of the best simple CRMs of 2023, OnePageCRM is also a very scalable system. Despite its simplicity, it offers powerful support to a growing business.
Barry admits that they still have many more features to explore. OnePageCRM was built to scale with clients' needs and we keep on constantly improving our product to make it the most effective CRM for professional services and consulting businesses.
"What OnePageCRM does, and this is also what we try to teach our clients to do, is to find out what the customer wants. Find out what their unmet need is. How can we make it better? Talk to them instead of trying to tell them what they want."