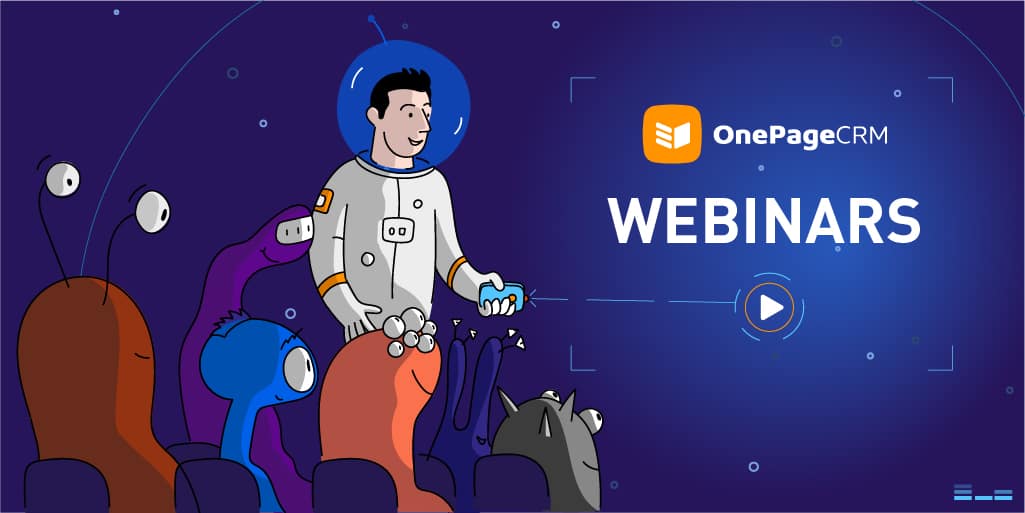 How can you make the most of your sales CRM? What does it mean to be a OnePageCRM Champion (and how can you become one)? What can you do differently to boost your sales and build client relationships that last? How can you get your team on the same page and ensure nothing slips through the cracks? What can you do to minimize admin and focus on sales?
Join the OnePageCRM Customer Success team and top industry experts for these on-demand and live webinars to find the answers and expand your knowledge and skills!
Upcoming OnePageCRM Webinars
Getting Started with OnePageCRM
---
When: LIVE Every Tuesday @ 12 pm EDT (New York) / 5 pm GMT+1 (Dublin, Ireland)
What's it about: See OnePageCRM in action and get all your questions answered in a LIVE Q&A session.
Learn how to:
Make the best of OnePageCRM (and see if it's a good fit for you).
Set up your account, import contacts, and bring your team on board.
Create deals, manage your Pipeline, forecast sales, and log activity.
Connect your email, set up templates, and send emails in bulk.
Generate leads in a click from any web page.
Integrate your favorite apps, and more!
Become a OnePageCRM Champion
Check out these pre-recorded webinars to learn how to make the most of OnePageCRM for a powerful boost to your sales.
---
---
---
---
---
---
Sales Talks (with Industry Experts)
---
---
---