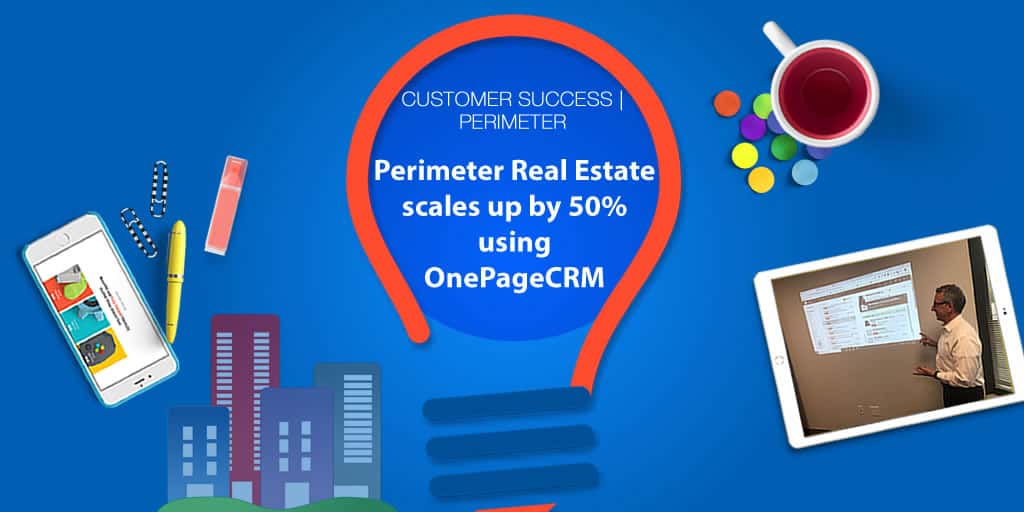 Perimeter Real Estate Scales Up by 50% Using OnePageCRM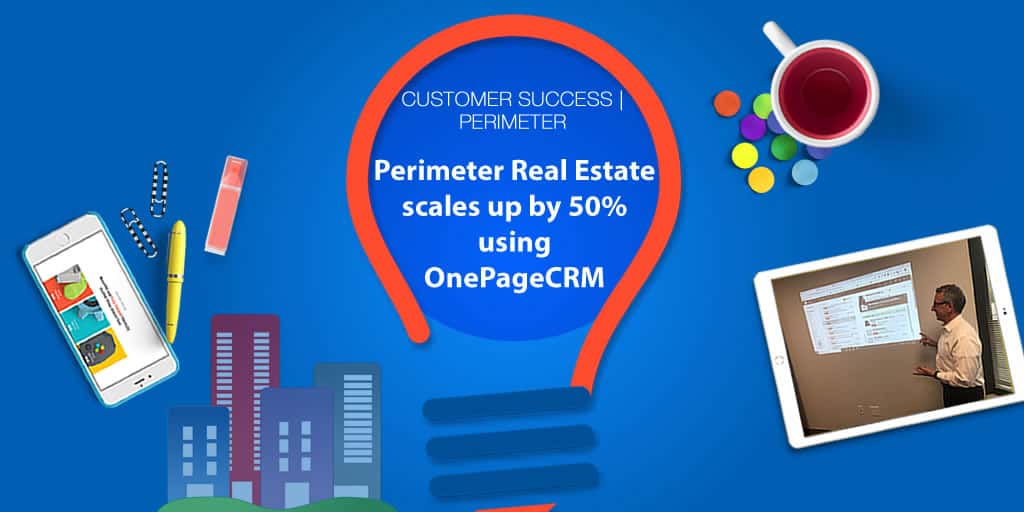 Since 1982, Richard has built an outstanding career in the Real Estate industry. He joined Perimeter Commercial Real Estate (PCRE) in 2018.
For him, the Real Estate business is all about taking advantage of each opportunity; this is the main reason why finding a system to help him stay organized and on top of each follow-up was crucial.
Prior to using OnePageCRM, Richard used stacks of business cards and spreadsheets to collect the information from his leads. When he went in search of a CRM he found it difficult to find software that completely fulfilled the way he was prioritizing and organizing his contacts information.
He was in serious need of a real contact relationship management tool to boost his sales and conversation rates and he found just that in OnePageCRM.
With an extensive professional network and strong partnerships with property owner and investors,
Perimeter Commercial Real Estate
(PCRE) is a full-service commercial brokerage firm assisting tenants, buyers, landlords and sellers around the USA. For over 7 years, PCRE have been changing the real estate game by offering independent brokers and affiliated agents the ability to achieve extraordinary results in an increasingly competitive market.
Part of PCRE commercial success comes from their experienced team of commercial real estate professionals. Committed to providing unparalleled personalized service along with the most exclusive real estate services available in the world, PCRE have the industry expertise and personal touch to fulfill any designed-build, development and property management needs.
Seeking the right platform for a new strategy
A major part of Richard's sales process involves collecting lead information and phone numbers through third-party vendors.
He kick-starts his follow-up process by canvassing door-to-door and scheduling follow-ups as a result. However, as a busy realtor, it was very hard to keep track of everyone he'd called and prioritize all these follow-ups. The stack of business cards on his desk was just not making the cut, he knew he needed a better system to help him get organized and improve his follow-up process.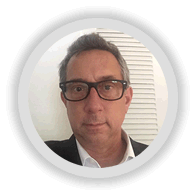 "Sometimes you just forget to call people, and even though you know you were talking to them and you've built the relationship, you simply didn't follow up!"

Richard Smith
Coming from an intense and experienced CRM search, Richard was very determined to find a CRM that would help him organize his contacts and sales in the easiest and most efficient way. After a few days of using OnePageCRM, he immediately saw how his primary concerns were being overcome.
"I looked at least a dozen of other systems. I've used Salesforce, Act, Pipedrive and Next Door among others. However, once I got hold of  OnePageCRM, I was hooked immediately".
Opening the door to an improved sales and management process
In order to streamline the follow-up process, Richard started using OnePageCRM's Saved Actions and has benefited immensely. He can easily create a set of tasks and quickly apply them all at once to his leads, making it easier for him to schedule those follow-ups.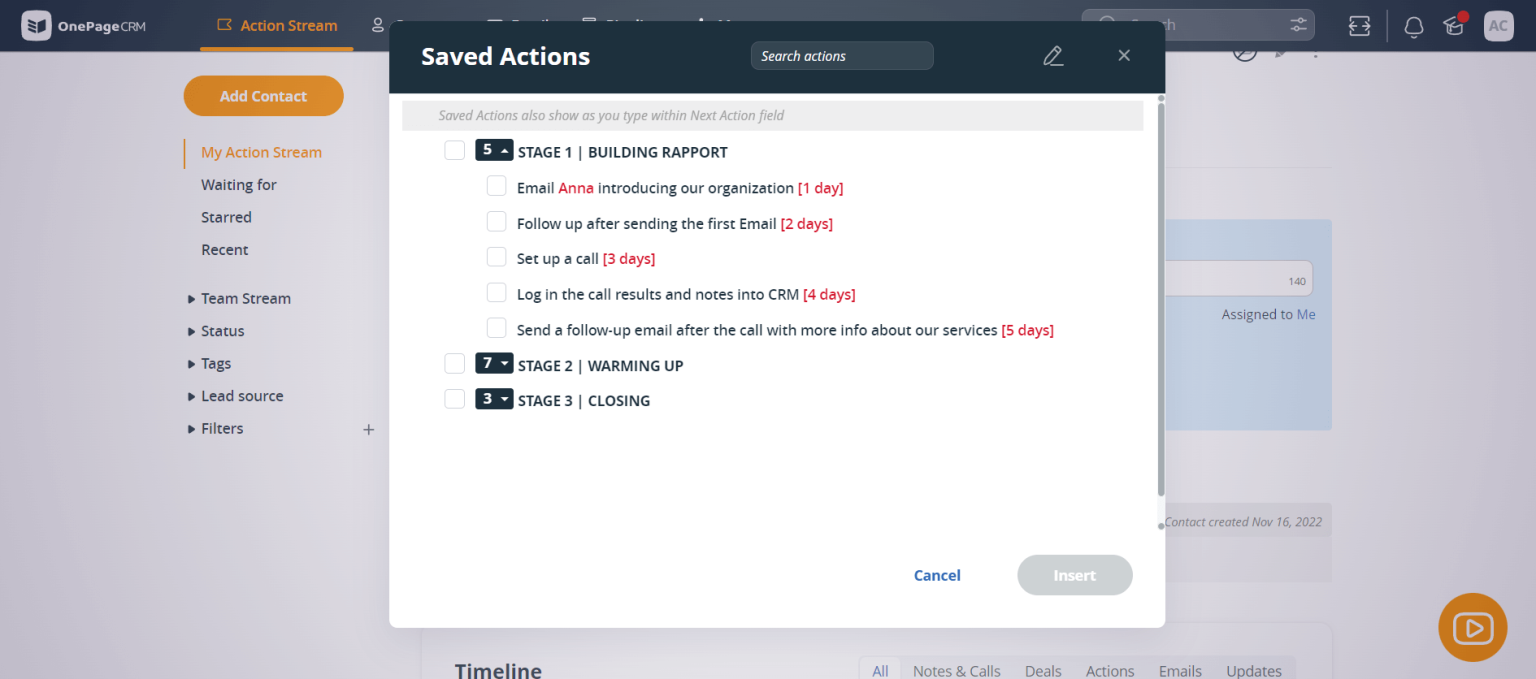 In order to better organize his sales, Richard is a deep advocate of collecting as much information as possible about a deal as it helps him to visualize the other partners involved.
He uses Tags in OnePageCRM to log the external vendors involved in a deal, whether that's the name of the referral; the attorney, the architect, or other brokers. They are all in one place and easily accessible.
In addition to that, by accessing his CRM's pipeline he gets better visibility of all his Deals and his expected revenue for the future in one main screen. The interactive Pipeline has helped him predict, motivate and close more Deals than ever before.
"I use the Pipeline daily. I use the Kanban view and that's brilliant as I can see all the details about my Deals and the Stages they're  at, it's amazing!"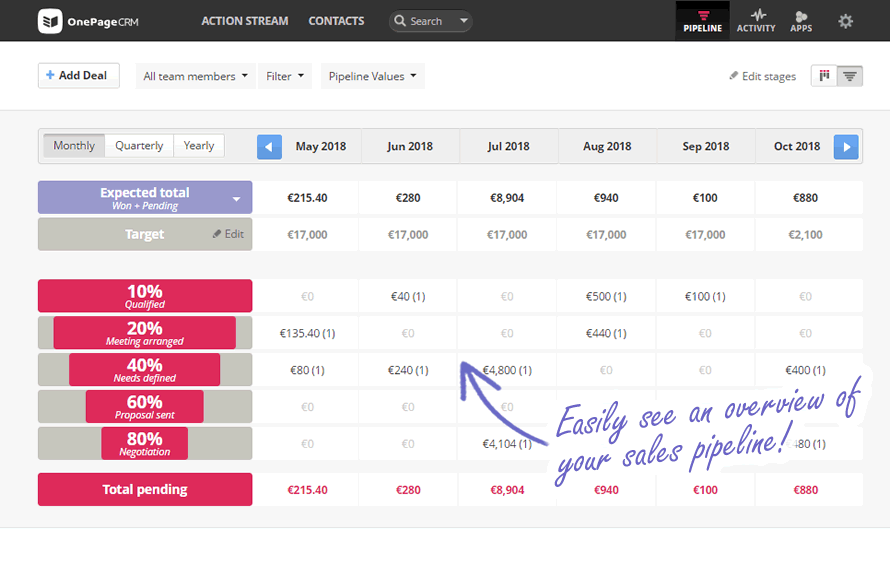 But the benefits didn't stop there.
At first, it was very time-consuming to manage his contact details as he had to manually add them to his CRM from Outlook.
But now, by using the Lead Clipper he's able to easily capture contact information from an incoming email and add them to his OnePageCRM account in just one click.
"Outlook is a great tool and I like the OnePageCRM Outlook Contact Clipper a lot as it helps me to easily populate the information from my contact once you get an email address".
Raising the bar with remarkable results
Richard couldn't be happier with his decision to start using OnePageCRM.
Since he started his journey with OnePageCRM, he's experienced truly remarkable results. After only a few months of using OnePageCRM, he's quadrupled his lead to opportunity conversion and his close rate is up by an impressive 50%.
"What OnePageCRM has done for me is massive. It's kept the deals in front of me and helped me with my follow up process so I follow up when I'm supposed to, it's that simple".

He would definitely recommend OnePageCRM to any other real estate broker who wants to ramp up their proactivity and supercharge their contact management and organization skills.
"I tell people this all the time: OnePageCRM is easy, it makes the process kind of fun; it's a great program, it has great support! If you reach out to them they get back to you right away, so you got to try it!"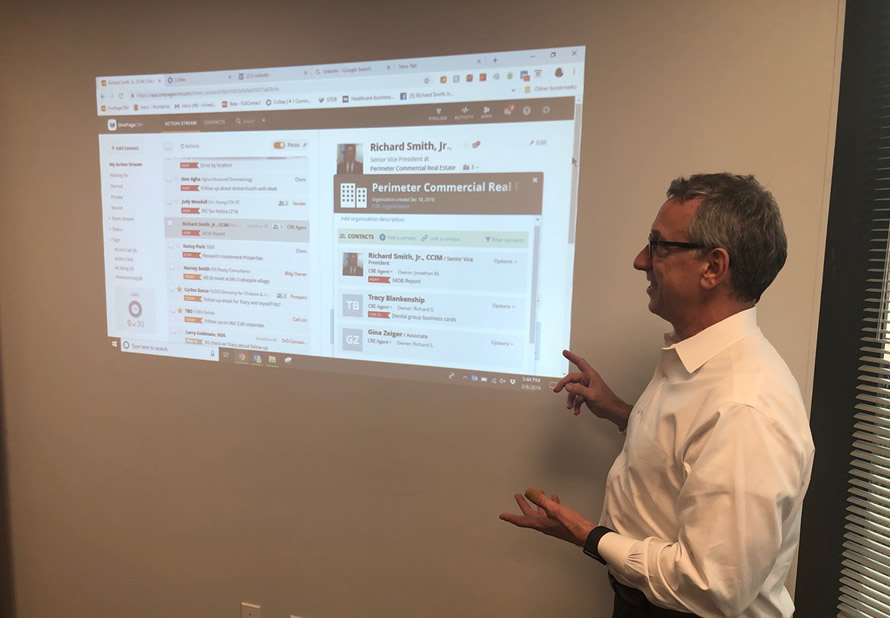 Richard has found the system very user-friendly and is impressed by the outstanding customer support, customizable fields, and integrations with Outlook along with others to interact with his leads for the better.
Not to mention the significant growth in his revenue.
"I feel working in OnePageCRM makes the follow-up much easier. It's not a challenge anymore. It's clean, it's bright and very user-friendly! It gives you enough details. That's why I use OnePageCRM".
If you're a professional real estate broker and want to know how to grow your business faster by building stronger customer relationships, get in touch by emailing support@onepagecrm.com or tweet us @OnePageCRM with #AskOnePageCRM.