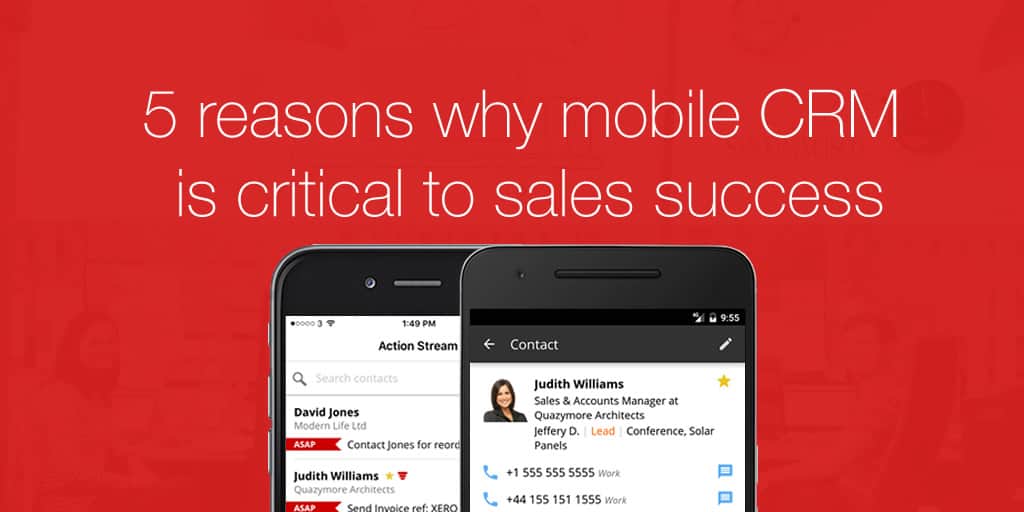 What is mobile CRM? (+ its 5 benefits)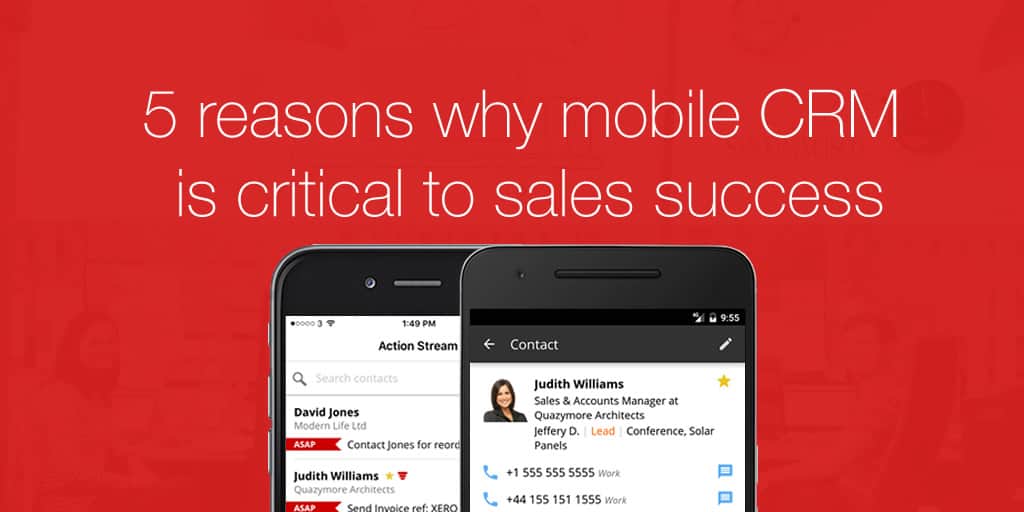 In today's fast-paced business world, one thing is crystal clear: staying connected with your customers is an absolute must. And that's where a mobile CRM comes to the rescue.
In this blog post, we're going to dive into what mobile CRM is all about, why it's a game-changer, and the top five benefits it delivers to businesses.
Whether you're running a startup or a seasoned corporation, mobile CRM is the tool that can supercharge your customer connections and sales.
So, let's jump into the world of mobile CRM.
What is a mobile CRM?
Mobile CRM is an app on a phone or tablet that helps businesses keep track of their customers and communicate with them better. It's both a digital address book and messaging system. A mobile CRM helps companies stay organized and provide better customer experience.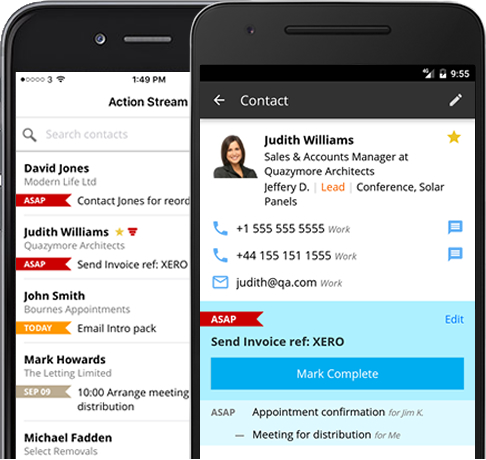 Why mobile CRM is important?
Adults spend over 3 hours each day on a mobile device according to eMarketer.  If the average person works 9-5, then these 3 hours could potentially account for approx 30% of one's working day. Mobile devices have become an important part of our lives.
In 2016, access to the web via mobile devices finally overtook desktop usage according to StatCounter. 
"Sales reps saw productivity increase by 26.4% upon adding mobile access to their CRM application."
That's why it's so important to have a mobile CRM. It gives you instant access to your client and lead database even when you are not in the office.
5 benefits of a mobile CRM
Mobile CRM lets companies interact with their customers using mobile devices (phones and tablets). It helps businesses keep track of customer information, communicate better, and provide a great customer experience.
1. Real-time selling
A mobile CRM allows you to manage sales quickly and stay connected with customers and prospects. According to Forbes, sales reps spend 50% of their working day selling remotely. This statistic highlights the value of a mobile CRM.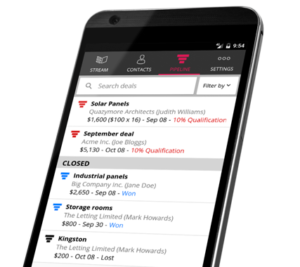 Having access to real-time data helps sales reps sell smarter and find new opportunities while aiding them to make faster decisions.
With a mobile sales CRM, sales teams can easily view and manage their sales pipeline and move deals through each pipeline stage helping you to reach targets even on the go.
High-performance sales teams are keen to use software that enables them to be more prepared for meetings, more responsive to customers, and sell more.  Mobile CRM is what sales reps need.
"Businesses witnessed 10% increase in cash flow by using a CRM mobile app."
With the ability to be able to update and receive new leads from anywhere, this ultimately leads to better customer retention and shorter sales cycles.
2. Increased productivity
A mobile CRM helps salespeople get things done and sell more on the go.
Being able to update information on the go is key to maximizing your time.
Notes and contact information at your fingertips
You can easily access your contacts and organizations, track your call results, and notes history, and view and update your sales pipeline. This gives you the extra confidence to personalize your outreach: you have all the information before a sales call or meeting.
Having the ability to update the most relevant information about a lead at any time also allows you to make sure that all important data is logged in.
Call, send SMS and access maps on the go
With a mobile CRM, a salesperson can quickly search for a contact and then call that person directly from within the app (see Speed Dialer). After completing the call,  the user can easily log that activity and then schedule a follow-up activity.
They can also open up Google Maps if you have an address saved for a contact, perfect for when they are on the road and need to do a site visit.
With a mobile CRM, you can also send emails without having to leave the app. A copy of that email will be stored in your CRM account for future reference. It works as a refresher on past conversations while giving you the confidence to communicate with customers on the go.
Pro Tip
. OnePageCRM has a mobile CRM app that is a combination of both: a simple database and a dynamic to-do list. When you log in to the app, you are welcomed with the
Action Stream
—your upcoming sales tasks for today. This enables you to get straight to work knowing who to follow up with and when, ensuring you never miss a follow-up even when you're on the go.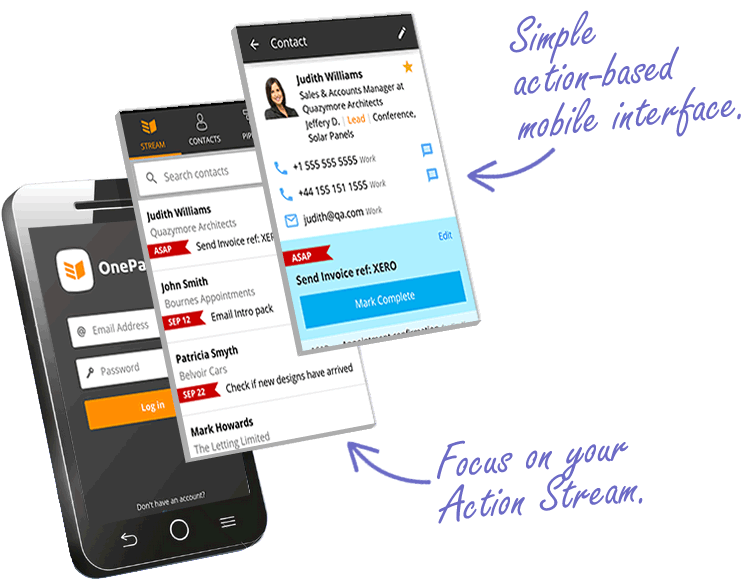 3. Push notifications
Another important feature of a mobile CRM is push notifications and in-app messages.
They can be highly effective if they are sent at the right time and contain relevant information. For example, OnePageCRM uses push notifications to remind users of time-sensitive actions. 
Salespeople are busy nurturing leads and closing sales, these notifications are spot on. They are sent at the right time (when an action or follow-up is required) and only include the information required such as contact name and the action due.
If a team member assigns you a task or a contact, or mentions you in a note, a push notification will be sent to your mobile device.
4. Reduced data entry
Having a mobile CRM can reduce data entry immensely.
You can use voice typing for notes, add contacts whilst at a sales conference and tag them, or import contacts directly from your address book, really handy if you have connected with prospects at recent events or networking meetings. 
It takes 30 seconds, eliminating a huge task when you return to the office.
A large sales team can find themselves following up with the same people twice or maybe not following up at all. This is mainly due to customer information not being updated in real-time often leading to extra admin work. Time can be wasted checking if other colleagues have reached out and when.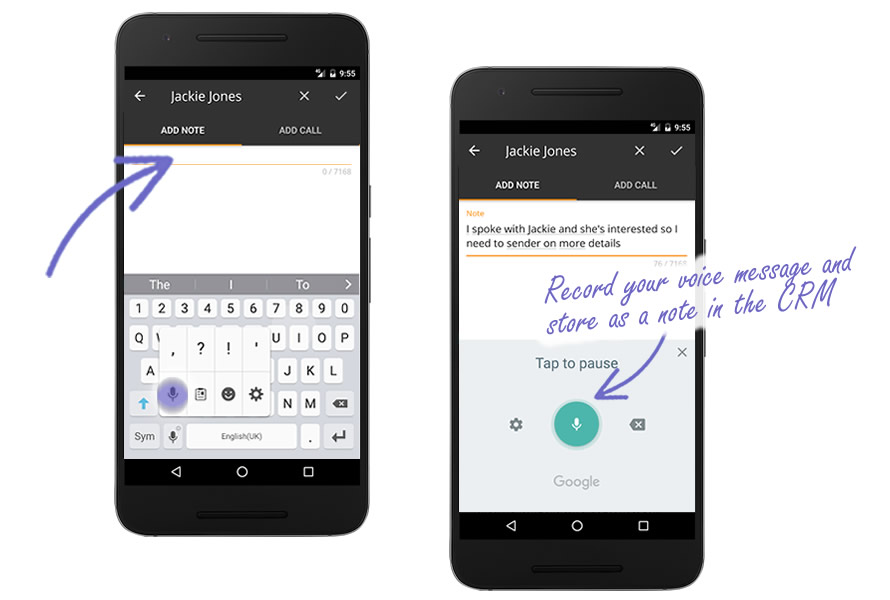 5. Improved communication
Sales reps are on the go and out of the office the majority of the time.
In large sales teams, it can be difficult to get everyone into a meeting to discuss their sales activity and overall business sales strategy. A mobile CRM allows everyone the ability to view other team members' activity.
This is very useful if you are unable to meet in person or have a conversation. From their mobile CRM, sales reps can view any notes, calls, and deals associated with their team members' contacts.
If you're just out of a killer meeting and want to inform another team member of how it went, simply add your notes in the Add Call or Add Note section and include @Brian (for example) and Brian will then get a notification of the details of that note. Thus, eliminating the need to call/email them separately.
Pro Tip
. You can also add
tags and filters
to your contacts to help other team members easily find and manage while on the go. Find contacts based on different criteria; e.g: leads from online advertising. Save the filter in the desktop app and run it on mobile.
Go mobile and always be selling
A mobile CRM helps your sales team be more prepared when it comes to sales pitches and meetings, be more organized, and be in constant contact with customers and prospects, focusing you on the sale and ensuring you react to follow-ups in a timely manner.
By incorporating a mobile CRM today you will ensure sales reps have the tools they need readily available to achieve their overall sales goals when in front of potential customers.
Here's what one of our customers said after using the OnePageCRM's mobile app:
"I use my Cell phone for 90% of my business. To be able to put the information in from my phone is PERFECT. Thank you, Roger".
The mobile CRM ensures you focus on taking action while you're on the go. Try it out for yourself!
Note. This blog post was first published in November 2017 and updated for relevance in November 2023.