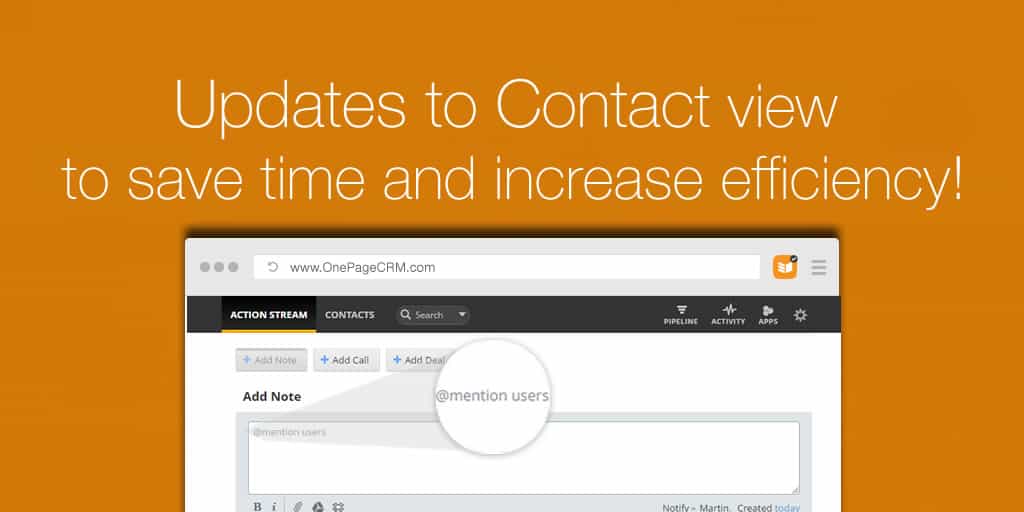 Updates to Contact view to save time and increase efficiency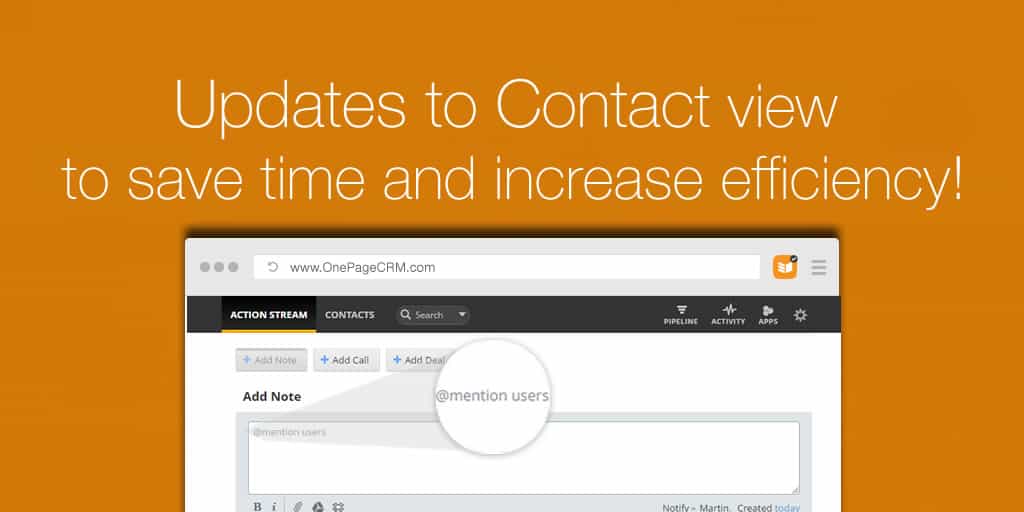 We've added some great updates to the contact view in OnePageCRM to help you become more efficient in how you work.
It's now easier to notify another team member on a note or a call note, quickly add attachments with our new drag 'n drop feature and move deals faster from stage to stage.
Easily mention your team members in a Note or a Call Note
Shared knowledge is important when working on a team. If you need to inform another team member about the results of a recent meeting or call, the new @mention option makes it easier than ever!
Simply use the @ symbol followed by their username in OnePageCRM and the mentioned user will get an email to notify them that you've added this note. Simple.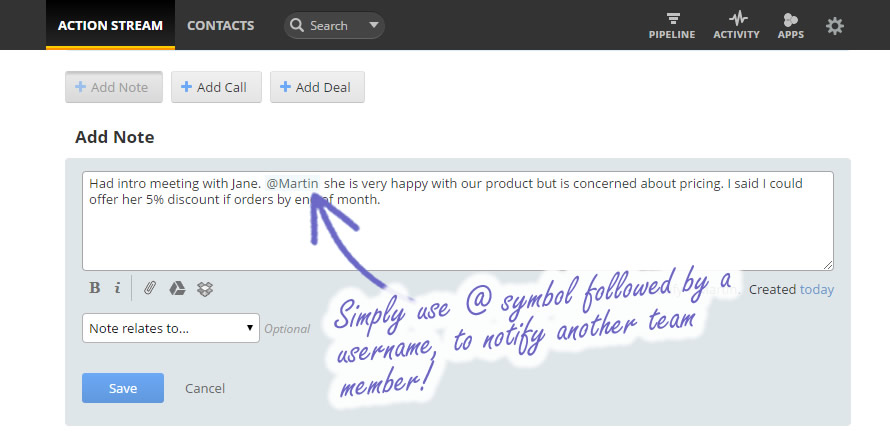 Benefits of @Mention
Better time management: Saves time and notifies users faster.
Reduced clicks: You no longer need to select the 'Notify other users'' option to select the team member, once a you use the @mention in your note or call text, they get an email.
Quicky attach files to contact with drag-and-drop
We know it's important to have all files relating to a customer in one place and with this new enhancement making it easier, there are no more excuses not to.
You now have the ability to drag 'n drop files to attach to a contact in the Add Note, Add Call, and Add Deal sections, enabling you to work faster while in contact view.
To attach the file, all you need to do is open the add note section of a contact and select the file from your computer and drag it into this area. It's that easy!

Benefits of drag-and-drop functionality
Improves productivity: Eliminates clicks and manual searching for files.
Work quicker: Easier to select a file and attach it to a contact.
More organized: Never lose important files again, save them all in the one place.
Clarity: You can easily see all files associated with your contact at a glance.
Update Deal Stages faster
The newly updated deal view in the Contact view gives you a clearer overall picture, encouraging you to move deals forward and reach those monthly sales targets! You no longer have to manually select the deal stages, making it easier and faster to update!
To move a deal to another stage, simply open the contact in Contact view and click on the preferred deal stage you want to move the deal to and it will be updated.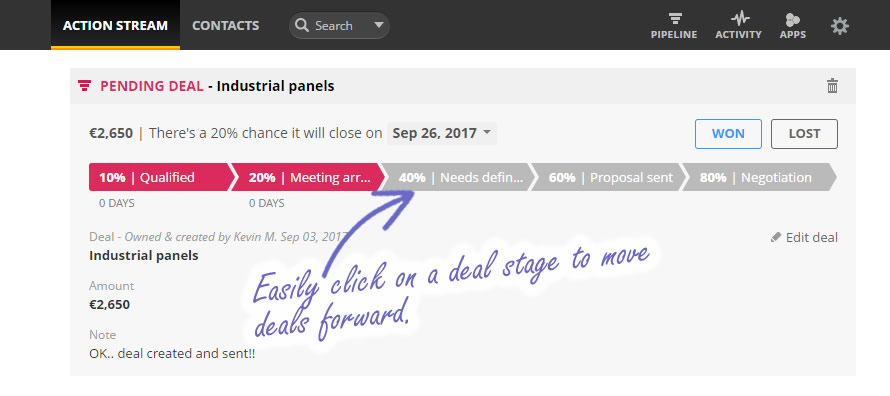 Benefits of the new deal view
Work faster: It's now faster to move a deal from one stage of the pipeline to another.
Better visibility: Easily see the full picture of a deal.
We understand the importance of what selling means to you, and that is why we want to make it quicker for you to keep data in one place and update and notify other team members.
These new updates in Contact view will not only allow you to become more efficient but will simplify your workload both individually and as a team.
As with all our updates, we're excited to hear how this improves your sales process If you have any feedback, please tweet us @OnePageCRM, comment below, or contact me at support@onepagecrm.com.