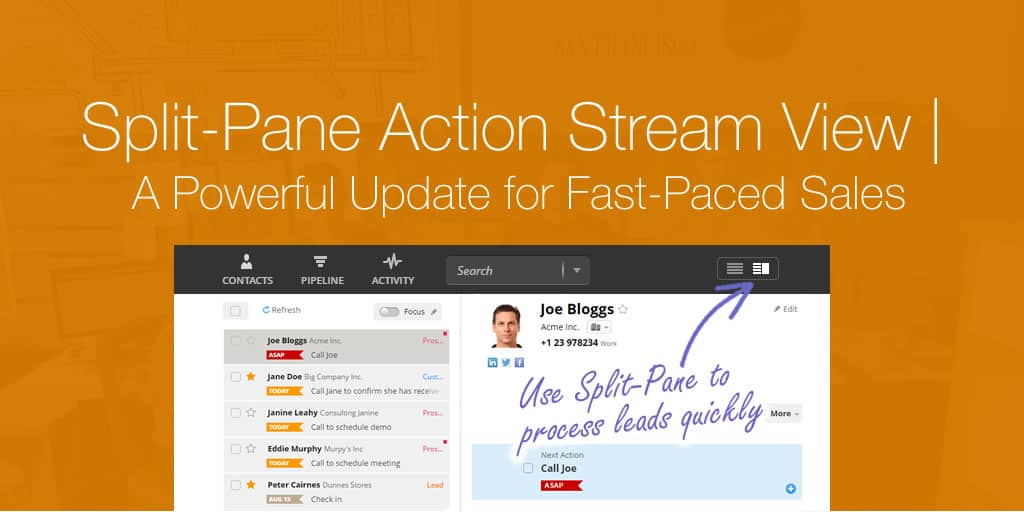 Split-Pane Action Stream View | A Powerful Update for Light-Touch Sales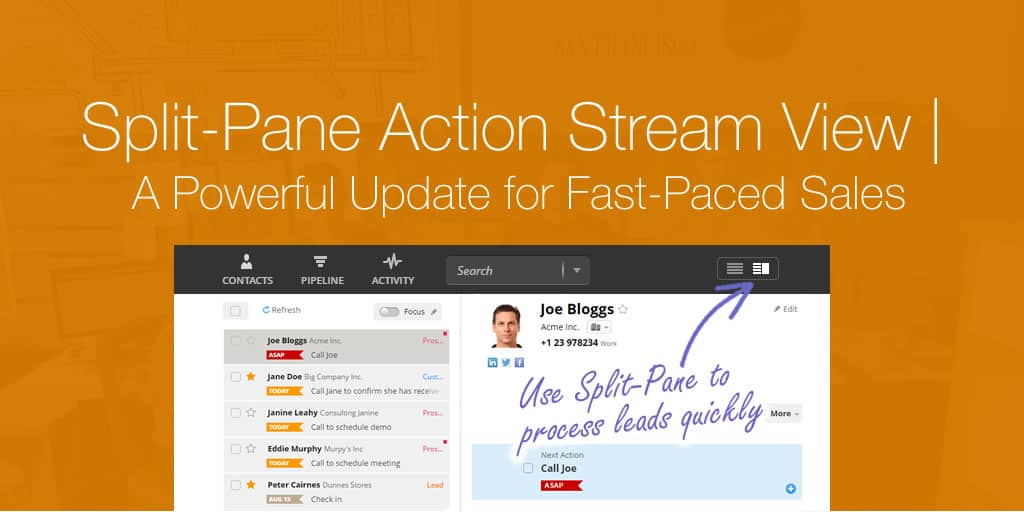 Back when we started OnePageCRM, our goal was to create a CRM system that was as easy to use as email. We have come a long way since then. And while our features have become more advanced and diverse, we always held on to the core principle of 'email simplicity', built around contacts and follow-ups.
Today, we are excited to announce the release of the Split-pane view that mirrors the familiar simplicity of the email interface in our Action Stream!
Please welcome the fastest way to qualify leads, get a bird's eye view and update your contacts and their statuses, and have all the information you need to take action at your fingertips.
Single-column vs split-pane view
Sometimes you want to dive deep into the contact, work closely with it, and add additional details or deals. You'd like to give it your full attention. In this case, the ultra-focused 'one-column' view of the Action Stream and the Contact page is your best fit.
However, at other times all you need is an overview of your contacts that you can quickly go through without delving too deeply. With the Split-pane view, you can see your Action Stream on the left and the associated Contact details on the right, giving you a perfect snapshot.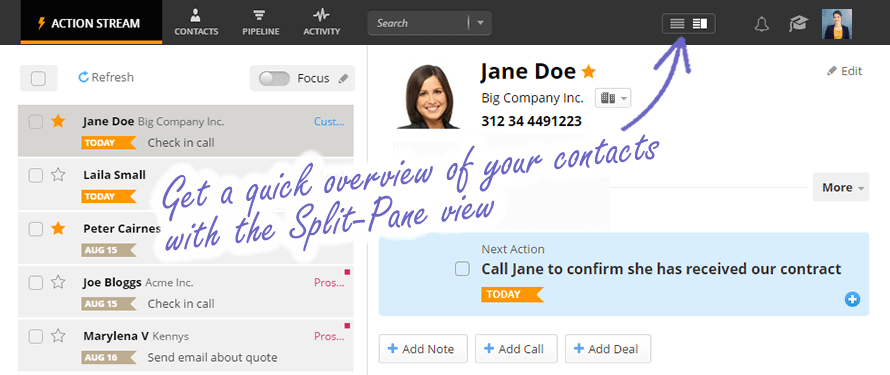 The best thing is you don't have to stick to one view or the other.
You can easily switch between them by clicking on the icon in the top right corner.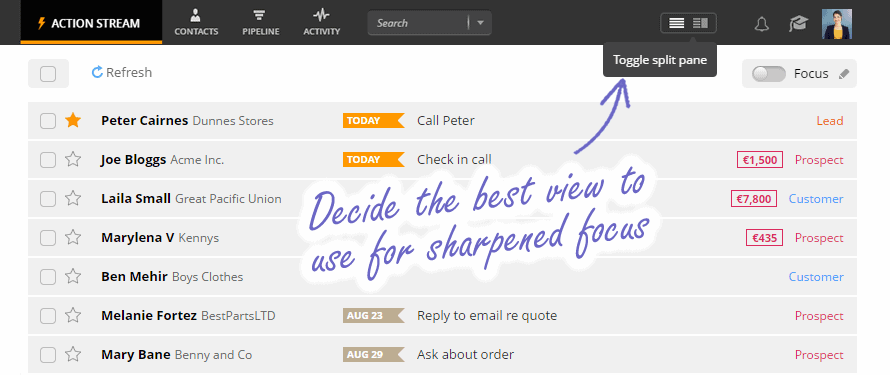 The fastest and most efficient way to qualify your sales leads
One of our users once said that we were the first system to beat Excel at lead qualification. There are many softwares out there turning it into a complicated and often cumbersome process. While, in fact, all you need is a list of leads and a way to efficiently track your progress.
With the split pane, you can easily go through your leads and leave notes, set Next Actions, or update their statuses, without leaving the Action Stream.
With nothing holding you back or distracting you and no wasted time on exporting any .csv, you can focus on one simple thing — speed-qualifying those leads!
High-level view, lightning-fast updates
The perks of the split-pane view don't end with lead qualification.
Imagine, you just returned from a conference, with great connections made and good leads acquired. What you need now is a light-touch follow-up to help nurture these relationships.
With the Split-Pane view, you can quickly work through your lead list, leaving brief notes and deciding on the Next Actions, without leaving your Action Stream!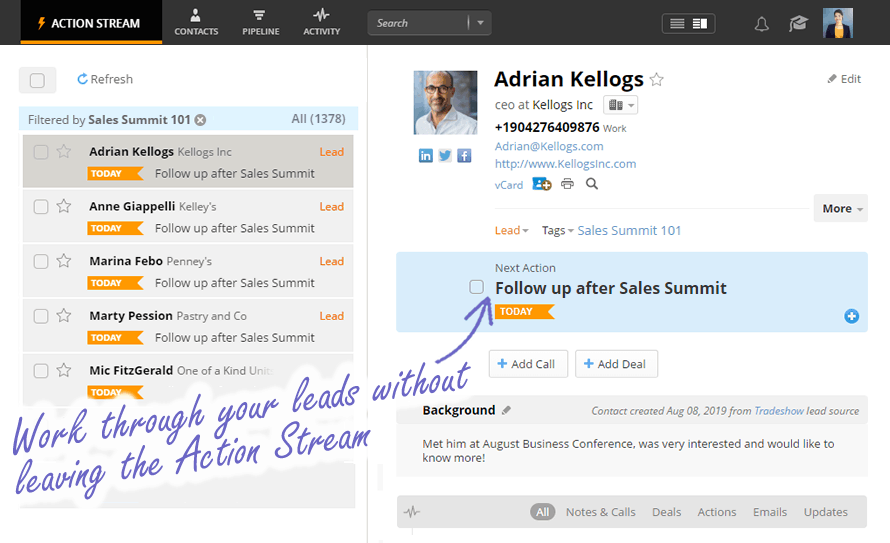 UI Update: Even more intuitive and action-focused
We believe in action-focused sales, and our app's interface is a direct reflection of that.
With this update, we are excited to introduce a number of UI changes that, we hope, will directly contribute to your productivity and a feel of after-sale zen.
Improved focus with smart icons
We made sure the four pillars of our app — Action Stream, Contacts, Pipeline, and Activity — are directly in your line of sight. With Action Stream being the heart of OnePageCRM, it became the focal point of the interface.
Notifications and Help and Learning sections received a makeover as well, making it even easier for you to navigate.
Intuitive navigation
We put a 'face' to your account, so all you need to do now to access all account-related links (including Apps and Integrations) is click on your own image in the top right corner!
Aside from receiving a revamp, Help and Learning section now also gives you an opportunity to stay on top of our latest Product updates.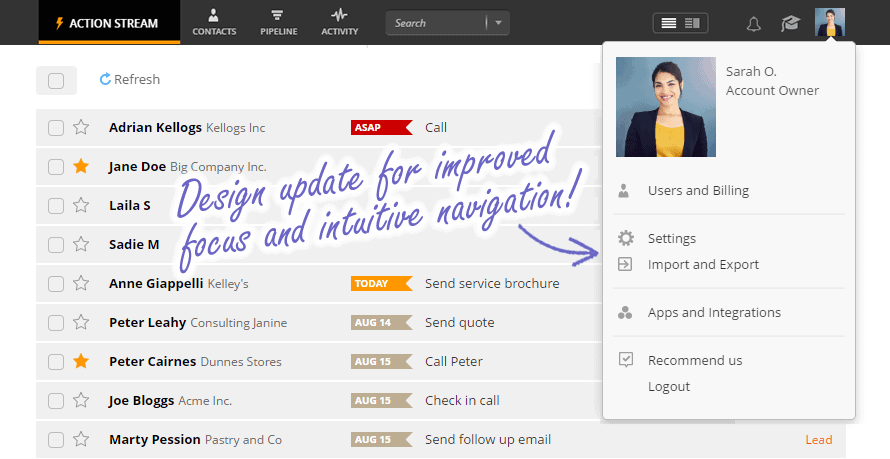 With all the listed pros and use cases, at the end of the day, it's up to you to decide which view (one-column or split-pane) suits you best. And we know, change isn't always easy. But trust us. Give it a go, stick with it for two weeks and you might never look back.
If you'd like to check out the story behind OnePageCRM and our UX, click here.
Have you tried the split-pane view already? What do you think? Let us know in the comments below or tweet us @OnePageCRM!