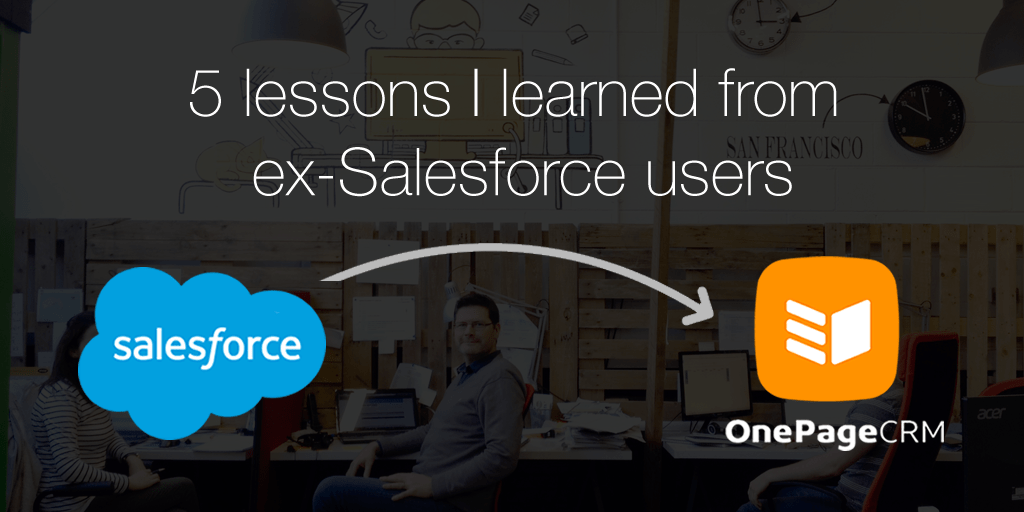 5 lessons I learned from ex-Salesforce users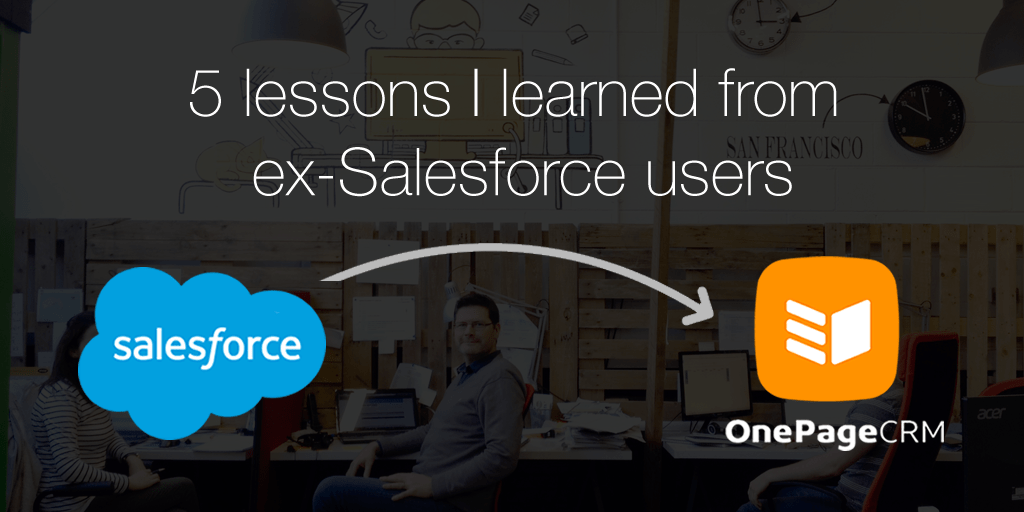 As the first to market, Salesforce is one of the go-to choices for many companies around the world when it comes to choosing a CRM system.
However, the past 16 years have seen it languish in its position as a top dog. What is it they say? Complacency is the enemy of empires.
Biggest complaints about Salesforce
Here are the biggest failings of the Salesforce model according to our ex-Salesforce customers:
Once the cheapest alternative on the market, Salesforce's current price points are out of touch with modern-day valuations. Salesforce attests to offering the most comprehensive system on the market.
However, full functionality comes at a hefty, hidden price. While a monthly subscription of $25 per user is justifiable, the limited functionality under this plan and the additional expenditure required to make the app functional are deceiving.
We have had multiple customers migrate to OnePageCRM for this reason alone; with one solo entrepreneur stating:
"I just couldn't justify the $1300 dollar monthly spend required to run the system."
2. Cumbersome interface
At what point does full functionality become too much functionality?
Well, it appears Salesforce passed this threshold some time ago. Number two on our list of Salesforce customer grievances—complexity. It seems somewhere along the way, Salesforce lost sight of the core functions of CRM, at the very basic—contact management.
If your customers can't get to grips with the basic functionality of your system, how can they be expected to maximize the potential of the product?
"I recall that Salesforce.com was fairly easy to use 10 years ago and is now very complete but cumbersome."
3. Not responsive support
As a company responsible for breaking the mold, you would hope Salesforce would pride itself on being responsive and supportive of smaller, growing businesses.
Though past years have seen Salesforce solely target enterprise accounts with varying success. Many of the ex-Salesforce users that we talked to complained about the Saleforces's level of customer support.
"I have been trying to work with Salesforce and they just never followed through with helping me set up."
4. Time-consuming
The biggest complaint we get from salespeople who have migrated from Salesforce is its usability.
After years of building and adding features to a once streamlined system, Salesforce has become the untamed beast of sorts. The power and functionality are there sure, but no one knows how to manage it.
Salespeople spend more time feeding their CRM than their primary job function—selling!
"Sales is the result of actions and interactions with customers, not entering mountains of data. Programs like Salesforce literally train sales reps to hide in their cubicles all day."
5. Multiple data entries
Since Salesforce is a very comprehensive application, it takes a lot of time and effort to keep it clean. Many salespeople end up spending their time on data entry rather than on hitting their sales targets.
"The same info often needs to be entered in multiple times within Salesforce. Creating a contact, then creating a lead… And sometimes you need to have the same info in other systems as well. It's hard to know which is the single source of truth.
Get sales done with a simple CRM
Salesforce is a great app for senior management to have visibility over the sales pipeline.
However, sales teams need a proper tool to follow up, nurture deals, leave notes, and collaborate with other client-facing teams. This is where Salesforce becomes very frustrating for many salespeople around the world.
What's the #1 functionality salespeople want from their CRM? To help them sell of course!
This is where OnePageCRM comes in. It's a combination of a simple contact database and a powerful sales tool.
"Your Next Actions Sales Method is exactly how my sales process works. I would say a 30% improvement since I switched, in fact I make $3,000 to $4,000 a month more with OnePageCRM than before."
We understand that the secret to sales isn't charts and graphs, it's sales actions. That's why our Next Actions sales method and Action Stream are so effective. OnePageCRM lets you focus on selling rather than managing admin.
Note. This blog post was first published in June, 2016 and updated for relevance in September, 2023.