How do you choose the right CRM software for your business? The truth is, there's no one-size-fits-all solution. It depends on your business needs and sales process.
Are you looking for an enterprise or a small business system?
Do your salespeople do most of their work on the go? If so, pay a close attention to the mobile apps offered by CRMs.
Does your sales communication mostly go via email? Then you need your CRM software to have a strong email integration.
Do you feel like way too much of your salespeople's time is spent on admin tasks rather than selling? Check out the CRM sales automation options.
Below, we've compiled a list of the key CRM features of Pipedrive, Insightly, and OnePageCRM to make your decision making process that little bit easier.
Target Market

Ease of Use (G2 ranking)

Capterra User Rating

Free Trial

Price

(per user/ per month)

Platforms

Google Apps Rating

iOS App Rating

Contacts

Data Export and Import

Email integration

2-Way Email Sync

Customizable Email Templates

Bulk Email Send

Merge Fields for Emails

Mailchimp Integration

Deal Management

Customizable Sales Pipeline

Sales Quotes

Sales Forecasting

Custom Fields

Custom Reports

Customer Support

API

Knowledge Base
OnePageCRM
Small and medium size business
9.3/10
4.8/5
21 days
$12
Web/ iOS/ Android
4.4/5
4.6/5
unlimited

(automatic)

(phone, email and chat)

(open)
Insightly
Small and medium size business
8.3/10
3.9/5
14 days
$29 – $99
Web/ iOS/ Android
4.0/5
4.5/5
free up to 2,500
NO
NO

(premium plan only)

NO
NO

(manual input)

NO

(free up to 2 fields)

(email only)

(open)
Pipedrive
Small and medium size business
8.9/10
4.6/5
14 days
$15 – $75
Web/ iOS/ Android
4.3/5
4.5/5
unlimited

(premium plan only)

(premium plan only)

(premium plan only)

NO

(premium plan only)

(premium plan only)

(email and chat only)

(open)
| OnePageCRM | Insightly | Pipedrive |
| --- | --- | --- |
Target market

Small and medium size business
Small and medium sizebusiness
Small and medium size business

Ease of use

10/10
8/10

Capterra rating

4.8
4.6
3.9

Free trial

21 days
14 days
14 days

Price
(per user/ per month)

$12
$29 – $99
$15 – $75

Platforms

Web/ iOS/ Android
Web/ iOS/ Android
Web/ iOS/ Android

Google Apps rating

4.3/5
3.8/5
4.3/5

iOS app rating

4.7/5
4.4/5
4.5/5

Customization

Reporting & analytics

Customer support

(phone, email and chat)
(email only)
(email and chat only)

API

(open)
(open)
(open)

Knowledge base
All information, prices, and data correct as of July 2020. To report any incorrect or outdated information, please get in touch with us.
5 key things to consider when choosing a CRM:
---
1
Primary Use(r)
---
First things first.
What do you need a CRM system for? Are you looking simply for data storage or something to push you to get out there and do sales? Do you want to have an all-in-one package or a focused solution?
Then, decide who will use the system most.
Is it a sales team? If that's the case, pay closer attention to the CRM's collaboration features and the ways to keep the team members up to date. Check if the CRM you're evaluating allows you to notify your team members of the recent updates or provides a simple way to work together on a lead or a deal.
Is your expected primary user a sales manager? If so, it might be good to review the available analytics and reporting features. Check if a CRM allows you to create and receive custom reports and easily review the recent sales activity of each team member.
Is it a salesperson themselves? Then focus on features that push them to make a sale. Are there prompts and reminders, does a CRM make their life easier with automation features, do they view the whole updating of the CRM process as another admin task or does it help them stay focused?

2
Ease of Use & Onboarding
---
You don't really want to spend weeks figuring out how to work your CRM and then trying to convince your team to use it. In fact, 72% of CRM customers would trade functionality for ease of use.

So consider the following:
How long does it take you to set up your CRM software?
Do you need an external trainer or can you do it yourself?
How long does it take you to import and then pull up the data you need?
How easy is it to collaborate with your team and stay on the same page?
Can you easily get the Help information when you need it and how often do you need it?
How good is the User Experience and how straightforward is the User Interface? 
Quick tip: when evaluating several CRMs, try ranking each point from 1-10 and compare the results.
3
Integrations
---
CRM is rarely used in a vacuum. The best CRM should effortlessly integrate with other apps and processes you already have in place.

For example, if you use email to nurture your leads or build stronger relationships with the existing clients, your chosen CRM needs to have good email marketing integration.

If you use web forms for lead generation, it might be good if the collected leads get automatically added to your CRM, so you can action them later on.

And if, say, your sales and customer support teams often work hand-in-hand in lead nurturing and creating upselling opportunities, you might want to ensure your CRM integrates with your help desk software.

4
Budget
---
While you do need to make sure that the selected CRM is in your price range, it's important to pay attention to several points:

Look for transparency. While some CRMs might advertise the features you need, a closer inspection can often show that they are only available on higher plans.

Pricing format. Are you charged per user or per account? Is there a minimum number of users you need to have to qualify for your preferred price plan? How big is the price jump between the plans? Is there an annual subscription discount? Can you take your CRM for a free spin and if so, how long is the trial?

Freemium model can be deceiving due to the existing pricing gap. That means that while the basic features are offered for free or at a lower price, if, for example, you require more advanced customization or reporting functionality, you might have to deal with significantly more expensive upsells.   
5
Support
---
No matter how easy-to-use is your chosen CRM, it's important to have a helpful human on the other end ready to offer you advice, support, and show you how you can make the most of the software. There are several things to consider here as well:

Type of support. Are they ready to answer your questions via email or phone? Is there a live chat available as well?
Response time. How long do you have to "wait on the line" until somebody gets back to you? Is the response time restricted by a time zone? Does the CRM team offer weekend support as well?

Fix vs educate. It's the old "teach a man to fish, and you'll feed him for a lifetime" thing. Does the support team fix your problem without explaining the reason for it? Do they offer webinars and jump on a screenshare when needed? Is there a Help site or a Knowledge base where you can look things up yourself and learn?
 Human touch. It's always great to receive a personalized response that you feel is coming from a living person rather than a bot. Check if they take time to understand your problem and follow up with you later on to see how you're getting on. 
What makes a great CRM?
---
The best sales CRM is a tool that helps you, well, sell. It needs to be easily customizable to fit your business needs and sales process. And most importantly, your sales team needs to love using it!
OnePageCRM is the 1st action-focused CRM. We keep it simple: the moment you complete a sales action (for example, make a call or send a quote), we push you to set the next one. This way, you follow up with every lead, nothing slips through the cracks, you close more deals, and build client relationships that last.
We keep our app clutter-free and help you focus on one thing: sales. We automate most of your admin tasks, so you can spend that time on closing.
Action every contact, always know what needs to be done next, keep the team on the same page, and take control of your sales.
Why choose OnePageCRM over Insightly or Pipedrive?
Focus 100% on taking action. NOT data entry.
Follow up with every lead, on time, every time.
Keep all the information you need to close a contact on one scrollable page.
Generate leads in a click from any web page. 
Send personalized emails in bulk right from the app. 
Build deals and send sales quotes in seconds.
Save time with smart sales automation features.
Generate and send custom activity reports.
Integrate with your favorite apps like Gmail & Outlook365, Mailchimp & Mailchimp forms, Unbounce, Wufoo, Xero, Help Scout, Evernote, Google Apps, Zapier & more. 
Reap the full power of sales CRM on the go with native iOS and Android apps.  
Enjoy the perks of the world-class, above-and-beyond customer support.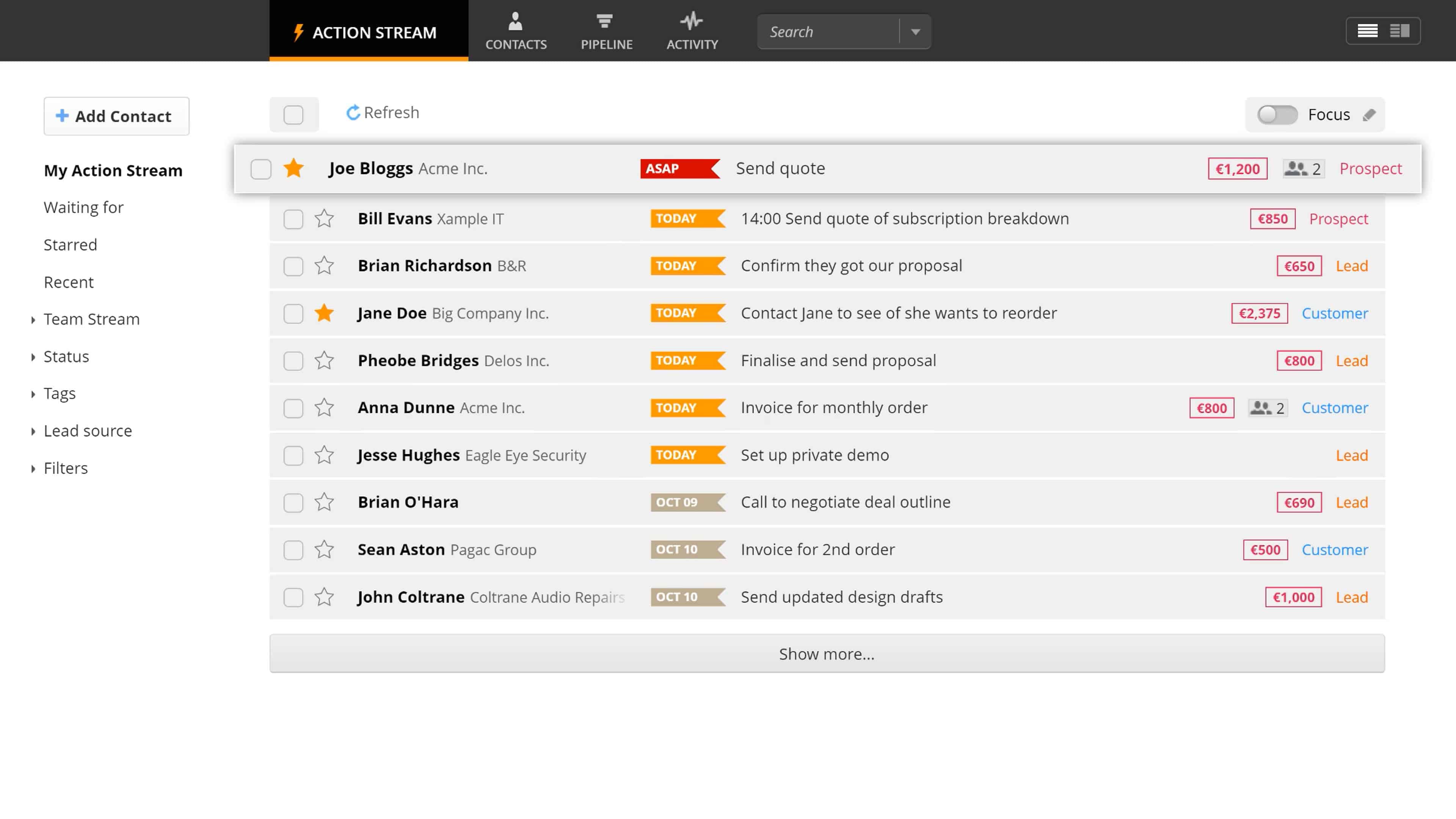 Over 11,000 happy users love OnePageCRM

"From someone who's worked on every platform from ACT to SalesForce, I can say with confidence that this system works the best!"
Debbie Templeton
Director of Sales – Insider Digital Media

"OnePageCRM has been a game changer for our sales team. It has completely simplified the sales and lead generation process for us."
Harrison Kelly
Director of Sales – InnoSoft Canada Inc

"Hands-down one of the most intuitive and 'keeping it simple' CRM systems there is, whilst having so many features."
Patrick Synge
Head of Sales at Degustabox