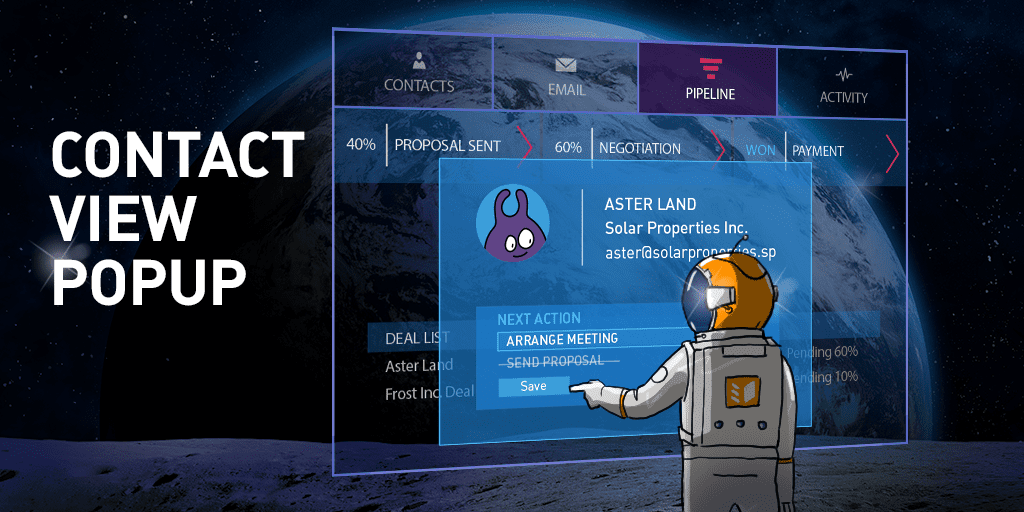 Access Contact Details from Any Page with the Contact View Popup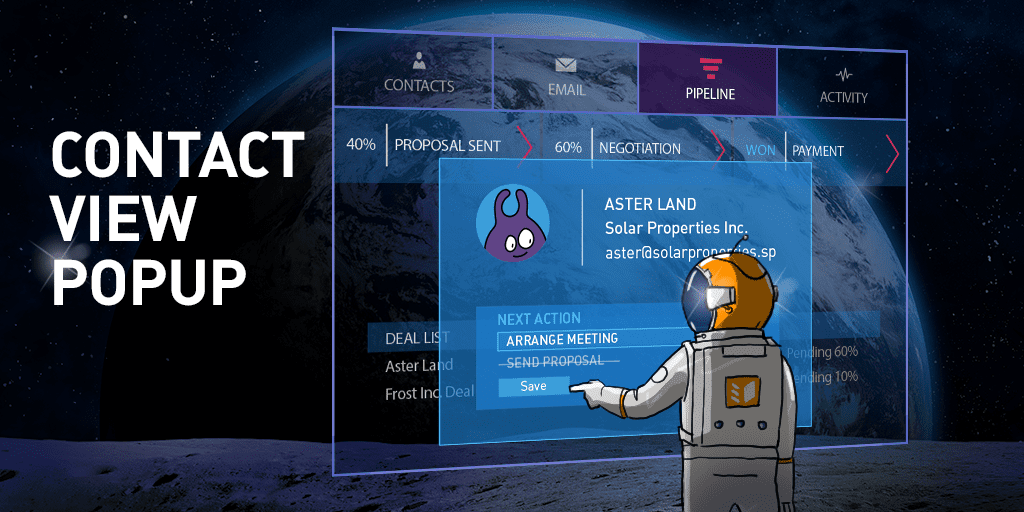 At OnePageCRM, we believe that staying focused is key to sales success and develop ways that help minimize distractions and let you focus on closing. That is why we ensure that all the information you need for your current sales step is kept on one comprehensive page. Be it the Action Stream with all your contacts and their associated Next Actions, a scrollable Contact page with all the relevant contact information and details, an Email hub for all your sales communication, a Pipeline where you can manage all your deals and KPIs, or the Activity with live updates on the progress of your team.
And with this update, we made it even easier for you to stay focused on your current task and have all the contact information you need right there in front of you. Introducing the Contact View Popup.
Now, you can view, update actions, add notes, calls, and deals without leaving the Pipeline, Email or Activity pages!
See how it works in the video below.
Always have the full picture with the contact's information in front of you
Do you need to check the contact's background to personalize your email? Or, perhaps, you've just moved your deal to the next stage in your sales cycle and want to update the Next Action accordingly.
Simply click on the contact's name, and we'll open their profile in a popup. So you can make all the necessary edits or get the important information, without the need to go back and open the Contact page.

You can open the contact view popup from inside of the Email message, the Deal List, the Deal view page, or the Activity page. All you need to do is click on the contact's name.
Update the contact information without opening the Contact page
You can update the contact straight from the popup. Be it completing or setting a Next Action, enabling/disabling the email sync, adding notes, calls or deals, updating their status, tags, owner, background, or existing deals. You can do it all, without leaving the tab you're in.
Want to have a closer look at the contact and see it in the context of your other leads and their Next Actions? Simply click on Open in Action Stream in the top right corner of the popup.
Have you tried using the Contact View Popup already? We'd love to know what you think! Let us know in the comments below or tweet us @OnePageCRM.