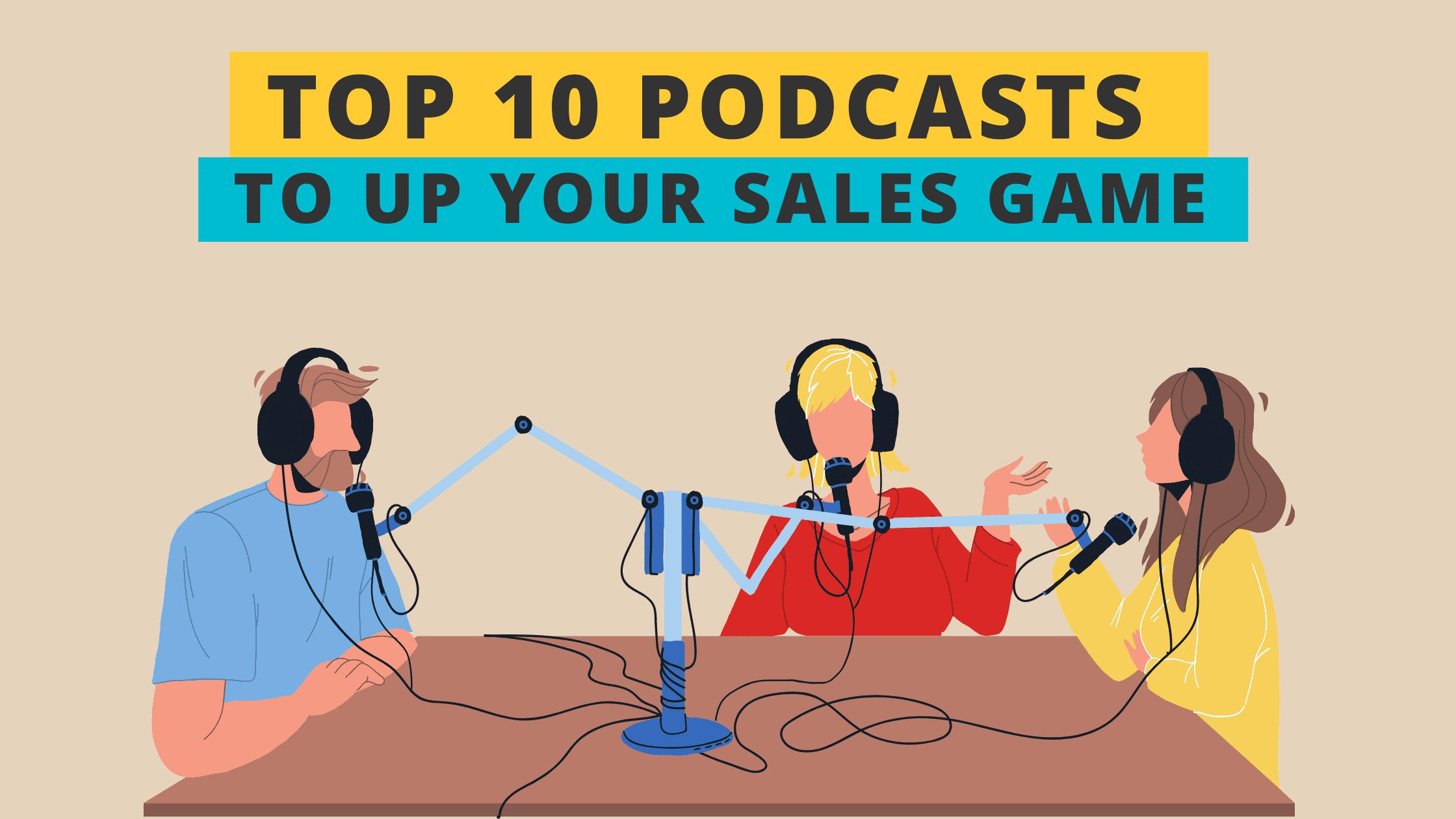 Top 10 Podcasts for Sales Professionals 2021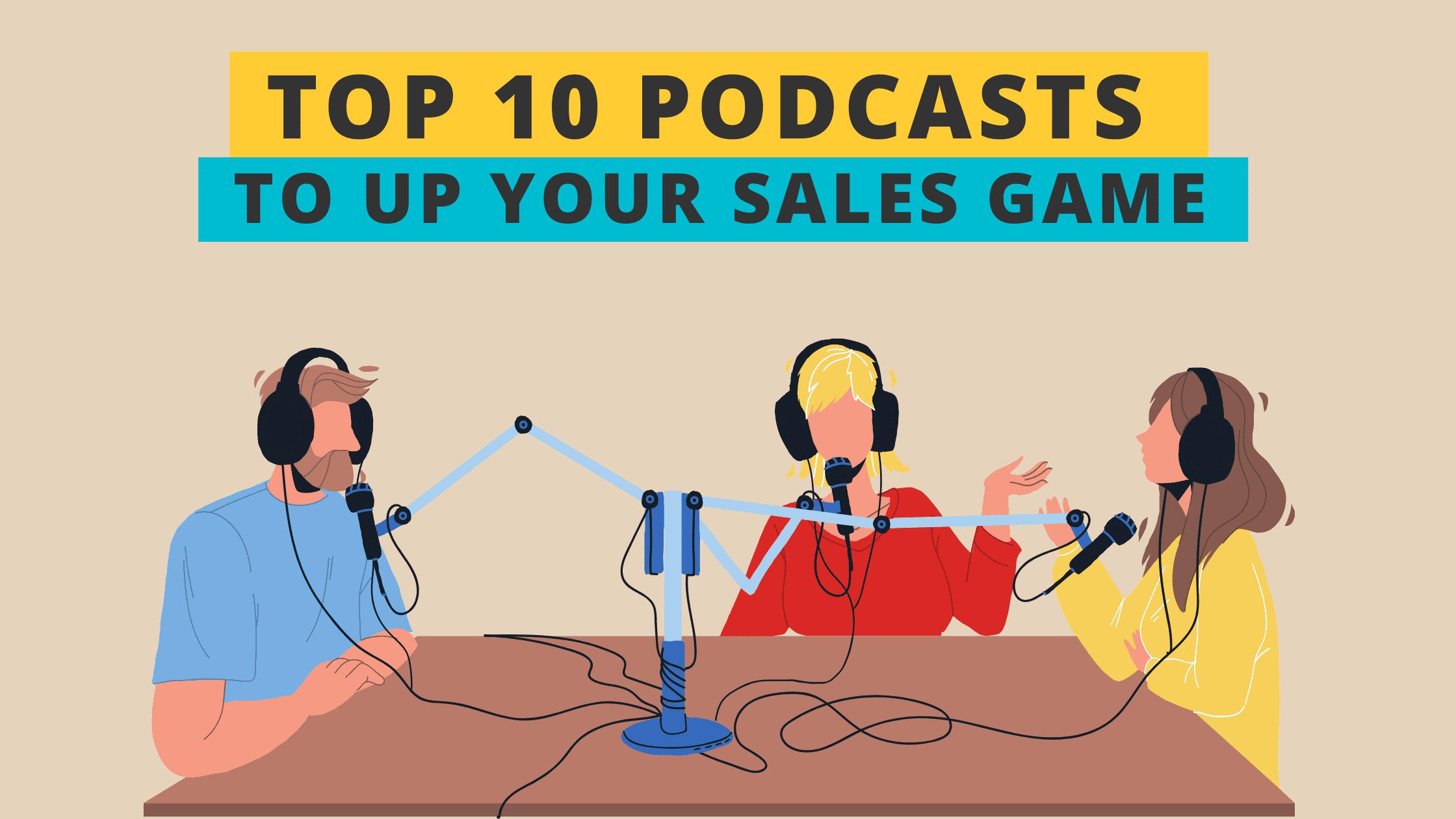 Did you know that 16 million people in the US are 'avid podcast fans'? (Nielsen)
There is a reason for it. Podcasts allow you to listen to several topics of your interest without setting aside any specific time. They give you the power of multitasking. You could be out for a drive, walking the dog, making dinner or simply running errands on your way back home, and still have the luxury of consuming the content you love!
As a salesperson, we know how hectic your work schedule can get. And we also know that you're always looking for ways to level up your sales game. That's why, we've compiled a list of the top 10 sales podcasts for 2021 that will help you learn from industry experts, grow as a sales professional, and boost your performance at work.
So plug in your headphones and get listening!
Hosts: Jeffrey Gitomer (Best-selling author) and Jennifer Gluckow (Sales expert)
Average episode length: 20-30 minutes
When: Every Tuesday
Where: iTunes, Spotify, Stitcher, Overcast
What do you do when a charismatic combo of two powerful personalities from the sales world come together to discuss the art and science of selling?
You listen without interruption.
Jeffrey Gitomer is the author of notable books like Little Red Book of Selling, The Sales Bible, Little Gold Book of Yes! Attitude, and many more. Jennifer Gluckow is a sales trainer, networking expert, and an author popularly known for her book, Sales in a New York Minute.
Together, Gitomer and Gluckow invite leaders in sales, marketing, and personal development for conversations on sales strategies, growth and sales mindsets, business challenges, sales tech, and more. They also run live Q&As and Monday Motivation series for their listeners.
Hosts: Jason M. Lemkin (Founder of SaaStr) and Harry Stebbings (Founder of The Twenty Minute VC)
Average episode length: 20-40 minutes
When: Twice a week (usually)
If you're remotely associated with the SaaS industry, you know the charisma of Jason M. Lemkin. Often referred to as "The Godfather of SaaS", Lemkin and the founder of the largest media firm in venture capital, Harry Stebbings, host weekly interviews with investors, prominent leaders, and experts from the SaaS industry.
Their conversations mainly revolve around achieving success in the fiercely competitive SaaS sales industry, increasing Annual Recurring Revenue (ARR), entrepreneurship, and more. SaaStr episodes can well become the most magical 30 minutes of your day.
Host: Sam Jacobs (Founder & CEO of Revenue Collective)
Average episode length: 30-40 minutes (Tuesdays), 5-10 minutes (Friday)
When: Tuesday and Friday
Where: iTunes, Spotify, Stitcher
Hosted twice a week, Sales Hacker is an absolute must for your podcast library. Every Tuesday, Sam Jacobs gathers a round table of top sales leaders, VPs, investors, and founders to share practical tips on B2B sales strategies, powerful sales tools, and technology to help you skyrocket your sales.
On Fridays, Jacobs does a Friday Fundamentals episode. While shorter than Tuesday episodes, those touch upon the basics of sales process and techniques. Friday episodes are mostly 5-10 minutes long and are easy to fit into your busy work schedule.
Host: Barb Giamanco (CEO of Social-Centered Selling)
Average episode length: 20-30 minutes
When: Once a week/fortnight (usually)
Where: iTunes, Spotify, Stitcher
Named as one of the best resources for female sales professionals, Women in Sales features a female sales leader in every episode. Some common topics covered in the podcast include career advancement in sales, leadership, overcoming adversity, social selling, and more.
Regardless of your gender, this is a must-listen podcast for anyone and everyone closely associated with the sales industry.
Host: John Barrows (Leading sales trainer)
Average episode length: 40-50 minutes
When: Monday
Where: iTunes, Spotify, Stitcher
Every Monday, B2B sales leader and founder of JBarrows Consulting, John Barrows gives actionable tips on closing more. Given his client records like Salesforce and LinkedIn, it's evident that his sales tips have proven effective before.
In his podcasts, he shares advice and anecdotes from his career. He also invites several business leaders to discuss career advice and personal branding.
Host: Will Barron (Sales coach)
Average episode length: 35-45 minutes
When: Almost daily
Where: iTunes, Spotify, Stitcher
Award-winning show, The Salesman Podcast is one of the most downloaded B2B sales podcasts. Barron helps sales professionals find the right buyers and win deals in the most efficient and ethical manner.
With an episode going live almost every day, you are never going to run out of advice coming from Will. His podcasts often focus on several soft skills such as body language, storytelling and more, essential for succeeding in the field of sales.
Hosts: Bryan Neale (B2B sales leader) and Bill Caskey (Sales coach)
Average episode length: 15-20 minutes
When: Monday
If you're looking for power-packed tips on selling, then this is the podcast that will change your sales game. From lead generation to cold calling, Neale and Caskey discuss the technicalities of the sales world and help shift your selling mindset. Their episodes can last from ten to thirty minutes, and you can be assured of entertaining and useful content that will help you get ahead in your sales career.
What's more? Listeners who download their app get access to their LinkedIn group to connect and exchange experiences with sales professionals from across the world.
Hosts: Tom Ziglar (CEO of Ziglar, Inc.) and Kevin Miller (CEO of Free Agent Academy)
Average episode length: 40-60 minutes
When: Monday and Wednesday
Where: iTunes, Spotify, Stitcher, Podbean
Zig Ziglar was one of the greatest salesmen the world witnessed and Tom Ziglar is well worthy of his father's legacy.
Ziglar and Miller invite famous speakers (including the likes of Seth Godin) to discuss business, sales, professional performance, positive influences, and personal development.
Most episodes last for 30 minutes to an hour and are inspired by Zig Ziglar's philosophy. In this podcast they don't only focus on sales, but also cover other topics like self-improvement and wellness.
Host: Donald C. Kelly (Public speaker and B2B sales pro)
Average episode length: 20-30 minutes
When: Thrice a week (Usually Monday, Wednesday and Friday)
Where: iTunes, Spotify, Tunein
Do you want to learn how to deliver better value and close more? Say no more!
Donald C.Kelly touches on several pain points and challenges that salespeople face, thrice a week for 20-30 minutes. So whether you're a sales newbie or an experienced professional, you'll be able to find loads of actionable tips from Kelly and the industry experts he invites on a regular basis.
Host: Jeb Blount (Keynote speaker and Sales trainer)
Average episode length: 5-10 minutes
When: Once in two weeks
Where: iTunes, Spotify, Stitcher
Salespeople are always short on time. So, we got you something that offers maximum value in minimum time. Jeb Blount delivers episodes that are less than 10-minutes long on negotiation strategies, overcoming the fear of rejection, closing bigger deals, and more.
Yes, some episodes can stretch for as long as an hour, but there are many short ones to fit in your hectic work schedule and be inspired.
There you have it. The top 10 sales podcasts to be on top of your game in 2021.
Would you like to up your sales even further?
Join the OnePageCRM Sales Academy!

Our easy-to-understand videos will help you upgrade your skills and become a certified CRM Expert in under 30 minutes.
Written by Harshita Srivastava