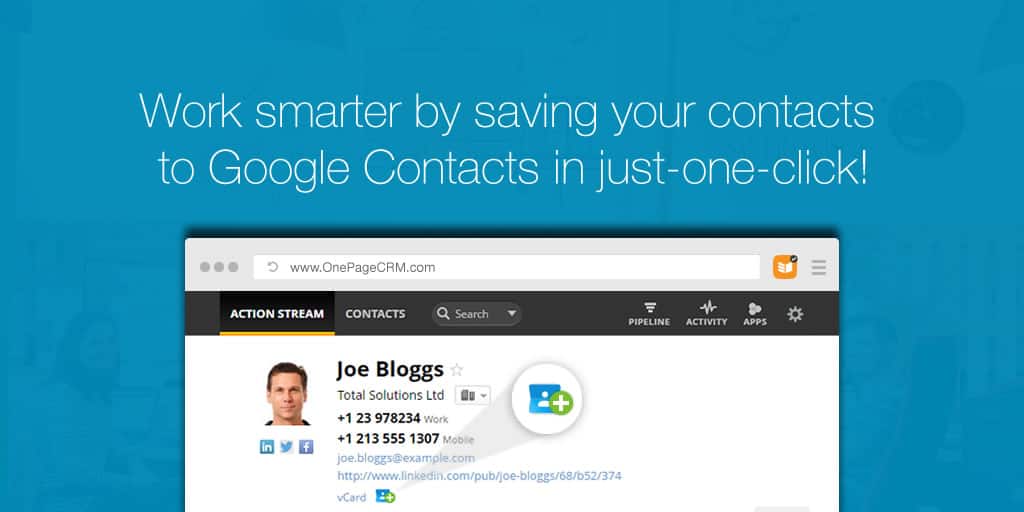 Work smarter by saving CRM contacts to Google Contacts in just one click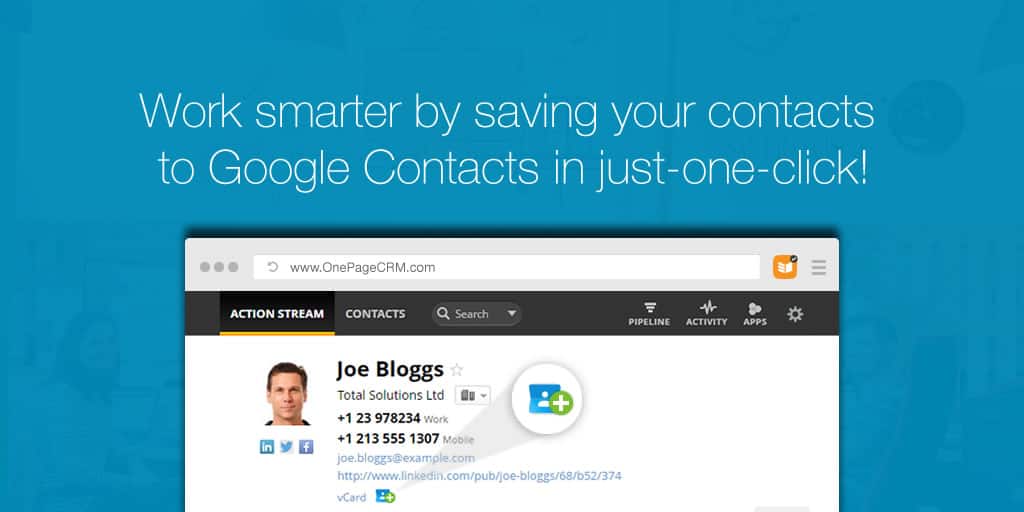 Our new Google Contacts CRM integration allows you to quickly and easily add contacts from your CRM to Google Contacts in one click.
You have different business apps and systems to help you work better, stay more organized, and ultimately grow your business faster. However, not having all the relevant information about your existing and potential clients in one place, can cause frustration… and delays.
In today's overly competitive environment, your business needs to be a few steps ahead.
Our new CRM integration with Google Contacts is here to help you grow faster and more efficiently—and also increase your business's productivity.
How does Save to Google Contacts feature work?
By having your Google account connected to OnePageCRM, you can create contacts individually and in bulk in your Google Contacts.
An added bonus is you can make calls quickly from your CRM and easily see incoming calls from your clients and prospects on your mobile. This helps you stay organized, reduce admin and work smarter.
Benefits of Google Contacts CRM Integration
1. Eliminate double entry
Eliminate the need for double data entry and reduce your workload by simply adding contacts from OnePageCRM to your Google Contacts.
For example, if a new lead comes in via your website and is stored in OnePageCRM, open the lead and in one click save it to Google Contacts. Simple.
This prevents you from wasting time copying and pasting. Instead, this powerful integration gives you the time to focus on the more important task of selling.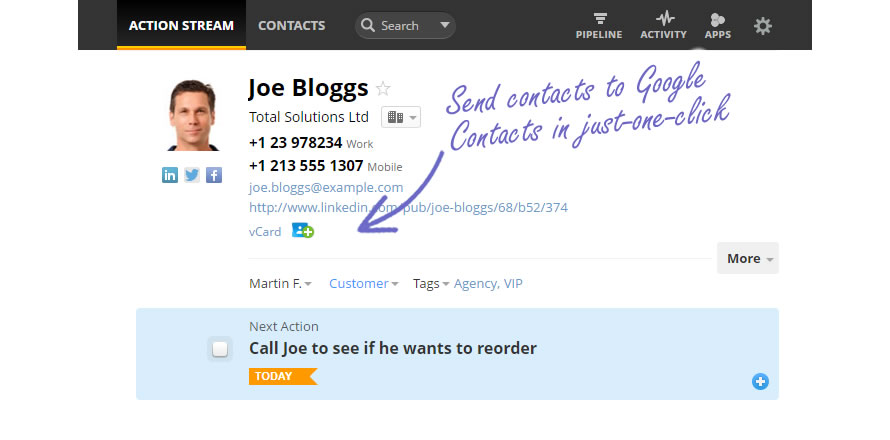 All the important information will be pushed such as name, address, phone number, email address, job title, company, and even a profile picture (if available).
Additionally, background information will also be transferred and stored as a note in Google Contacts. This is really handy if you want to see at a glance how you met your customers.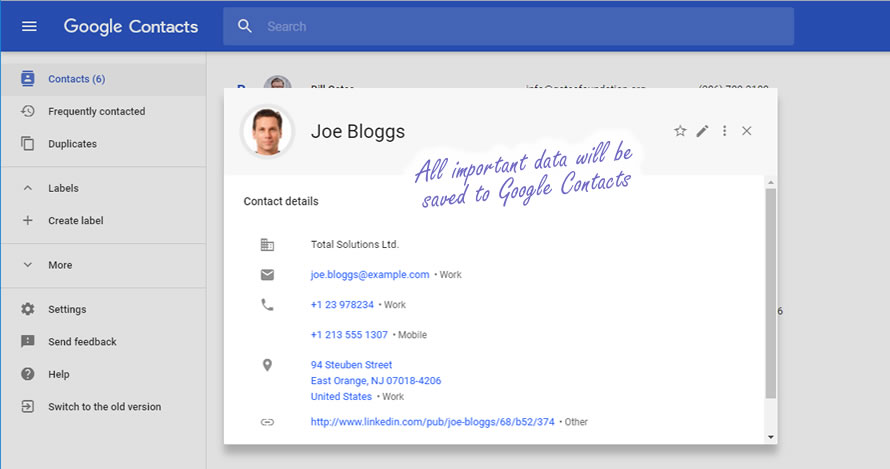 2. Increase productivity with bulk save
Do you have thousands of contacts saved in your CRM?
Become more efficient and save time by bulk selecting all the contacts you wish to transfer and simply clicking save to Google Contacts.
The powerful thing about bulk update is you can bulk update new or revised information you've added to previously added contacts. In some cases, you may need to add new phone numbers to customers but you want these new numbers to be reflected in both systems without having to do so manually.
To ensure all information is up-to-date on both applications, just select the contacts in OnePageCRM and click save to Google Contacts again. Pushing this updated information is easy.
Not only will these contacts' new phone numbers be updated in Google Contacts but they will not be stored as duplicates. A cleaner more streamlined address book will allow you to stay focused on what really matters.
With fewer clicks and less manual work, it's a win-win!
3. Improve efficiency and have more control over your Google Contacts
This quick process to add to Google Contacts allows you to stay in control of what data you push over there.
What often happens is that you may set up a sync and it's working away in the background, unknowing to you causing chaos in your address book.
Bulk save is more efficient and a better way to save contacts.
4. Personalization with incoming caller ID
When it comes to selling, being personal is key.
Sales reps can easily identify customers when calling on your mobile.
If you are out of the office and receive a call, customer details will show up on the caller ID. This way, you can start the conversation with a personal greeting.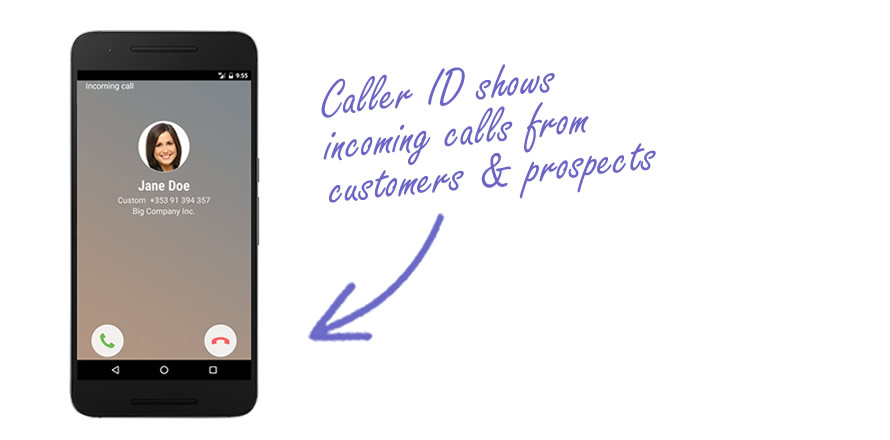 Why connect your CRM to Google Contacts?
Google Contacts stores contacts online and may be one of your go-to tools for staying in touch with clients and prospects.
Log in to your Google account and access customer details anywhere. For those sales reps who are on the move, you can now access customers' phone numbers, addresses, etc. from your mobile. Never lose a contact again!
Having all contact information identical between your business apps is important for staying focused and increasing productivity.
This one-click save to Google Contacts will not only reduce data entry but allow sales reps to focus on selling to customers and prospects rather than updating their contact information.
As with all our updates, we're excited to hear how this improves your sales process. If you've any feedback, please tweet us @OnePageCRM, comment below, or email us at support@onepagecrm.com.