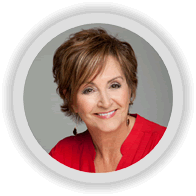 Trish Bertuzzi is the the author of The Sales Development Playbook as well as President and Chief Strategist at The Bridge Group. We asked her what advice she would give to newly minted SDRs.
1. Know your buyer
You need to know everything about your buyer, especially if you are selling to a sophisticated buyer who has much more business experience than you do.
"If you're selling to CFOs, go talk to the CFO in your company, " says Bertuzzi. "Go talk to the CFO at the company that your parents work for. You're not going to get a ton of consistent answers, but you're going to get an understanding not only of how CFOs think, but what words they use so you can speak their language."
What's their job? What does a day in their life look like? What challenges did they face? How are they currently addressing those challenges? How are they measured?
2. Immerse yourself
Once you have had those initial interactions, find out where your buyers hang out. What groups do they use on LinkedIn? What associations are they in? What publications are they reading? Are there books that they're all talking about lately?
"Get in tune with what their community is talking about"
"Get in tune with what their community is talking about," says Bertuzzi. "That's going to give you credibility when you actually have that conversation, the fact that you have the finger on the pulse of their community. Immerse yourself!"
Only once you are immersed in the buyer's persona, can you talk to them about what you do and how you can help them to build a better business.
3. Record your calls
Record as many calls as possible so you can listen to yourself. Listen to your tone. Do you sound confident? Are you nervous? Do you use filler words or too much slang?
"You want to listen to make sure you're listening," says Bertuzzi. "When we have SDRs record their own calls, a lot of times they're like, "Oh my God the guy just told me exactly what I wanted to hear but I was so busy thinking about what to ask them next, I missed it!"
Whether you're a new SDR or you've been selling for 30 years, sometimes you need to listen to yourself in order to learn that hard lesson.
4. Use your personality
It's easier to start a conversation with anyone if you make it personal in even the smallest way. Buyers know you're calling them to sell, but in the short term, just try to establish a relationship.
"Be human!" says Bertuzzi. "That's one thing we've moved away from with all this automation, you're human! Use your personality! Are you funny? Are you technical? Use your personality to establish that relationship."
5. Get a mentor
The American Association of Inside Sales Professionals offers a free mentoring program. Many members of Bertuzzi's team mentor two or three sales development reps. Mentoring doesn't just help you but your mentor too.
"There's not a time that I've ever had a conversation with a sales development rep that I didn't learn something,"
"There's not a time that I've ever had a conversation with a sales development rep that I didn't learn something," says Bertuzzi. "There's so much changing, and people are thinking of such innovative ways to do their job better, that it's a two-way street."
Infographic – How to manage, pay, reward and set quotas for your sales development team (SDRs).
Research into the top B2B companies reveal how they organise their sales teams and reward their sales development reps (SDRs). The report from this years research by The Bridge Group reveals answers to the most common questions on how best to build and manage a high-performing sales team.

Looking for a proven sales tool to help you close more deals? Sign up for a free 21-day evaluation of OnePageCRM and see how our Next Action Sales method can help you get sales done!